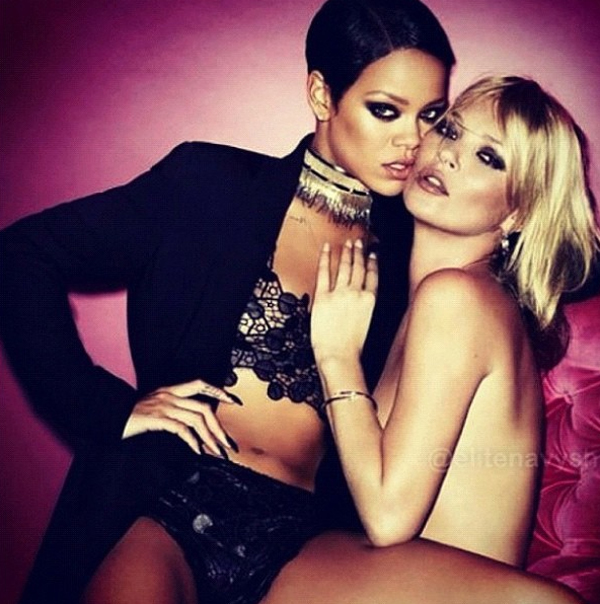 For whatever reason, Kate Moss and Rihanna posed together in a new, boob-snuggling spread for V magazine (the "girl power" issue with ScarJo as Janet Leigh on the cover). Actually, I know why Rihanna did it — because she believes that she's the epitome of "girl power" even though she's not only musically collaborating with her abuser but also dating him again too. That's a topic for another day though.
As for Kate's involvement, well, she's interested in all the publicity she can get for her new coffee table book, Kate: The Kate Moss Book, and she obviously doesn't have a problem with rubbing boobs with Rihanna to sell some doorjams. While I will always adore Kate (I even patiently stuck with her through the Pete Doherty years), I'm somewhat at odds with her sudden rush to grant interviews (such as the recent Vanity Fair interview where she discussed crying for years over Johnny Depp) when she was previously such an enigma. As in, over the course of two decades, Kate only gave about ten print interviews, and now she's all about confessing to the world for a book. It's just weird, but here are some excerpts from her newest interview with the New York Times:
Modelling isn't easy: "People forget I go to work. Modeling is a job. Even my mum doesn't believe that I do work hard."

On her face: "I never liked it. I wasn't the prettiest girl in class. No breasts, short legs, gangly teeth. I didn't think I was model material, that's for sure. I think they're all right, my looks, now. But I've never seen myself as sexy or a side of myself that boys would like."

On her drive: "In the beginning, I thought I'll do whatever it takes. Anything to get out of Croydon. Right from the start, I thought I'd rather shoot with Corinne [Day] and not get paid than do catalogs. I don't think my agents were very happy about it at the time."

On the nude shots in her book: "When my daughter opened the book, she said, 'Oh no, mummy,' Ms. Moss said, referring to Lila Grace Moss Hack, 10. Ms. Moss vowed to her daughter that there would be fewer crotch shots in the next book.

On the paparazzi: "I didn't expect it at first. Johnny used to go mental, and it was really bad when I got pregnant and was vulnerable. These kind of men are pigs but, you know, some of them I've known so long they don't bother me so much anymore."

The wisdom of Johnny Depp: There's so much rubbish they write about us, whether you tell them what is true or not, it's better if you don't tell and say nothing. They'll write what they want anyway. She says it was Mr. Depp who taught her how to tame the tabloids with silence "Johnny Depp said: 'There's so much rubbish they write about us, whether you tell them what is true or not, it's better if you don't tell and say nothing. They'll write what they want anyway.'"
[From New York Times]
On that last note, we've heard similar sentiments before about how Johnny (or rather, his publicist) encouraged Kate to be seen and not heard, which is a philosophy that carried her so well to the level of iconic model. I hope she returns back to that way of carrying herself after the publicity rounds for her book cool down. Speaking of which, I can't believe she let Lila Grace look at all her nude shots at such a young age! I know Europeans view nudity differently than us prudish American types, but 10 years old still seems a big young to be confronted with sexy photos of one's naked mother, right?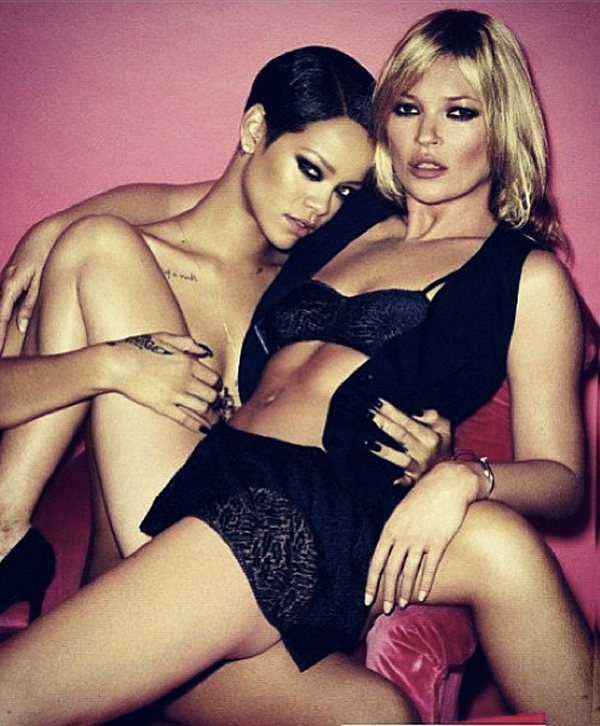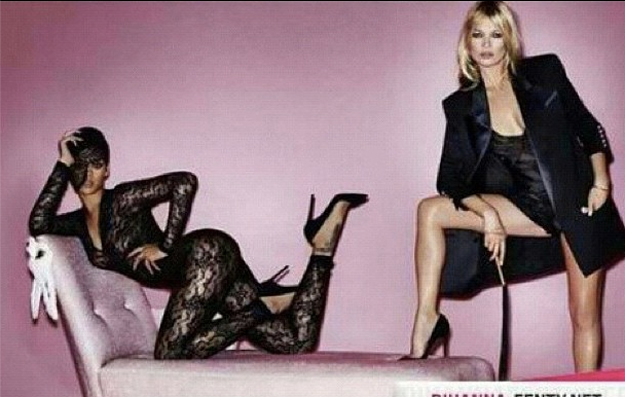 Photos courtesy of V magazine