Anne Hathaway is still here and begging for your consideration when it comes to Oscar time. It is Oscar time, right? I hope so because Anne has been campaigning hard, talking about wanting a baby, and even going so far as to detail her Les Miserables diet that resulted in a very quick 25-pound weight loss. Then came the biscuit flash heard 'round the world, and I am inclined to agree with CB in that, after a certain number of years writing on the gossip circuit, it's hard to believe that a flash is purely accidental. I really feel like Anne is a very smart girl, and she's been a successful part of Hollywood for over a decade. She knows the drill when it comes to underwear and paparazzi, you know? Now Anne is attempting to divert our attention from her little faux pas, and she's shilling her new marriage. Here are the details: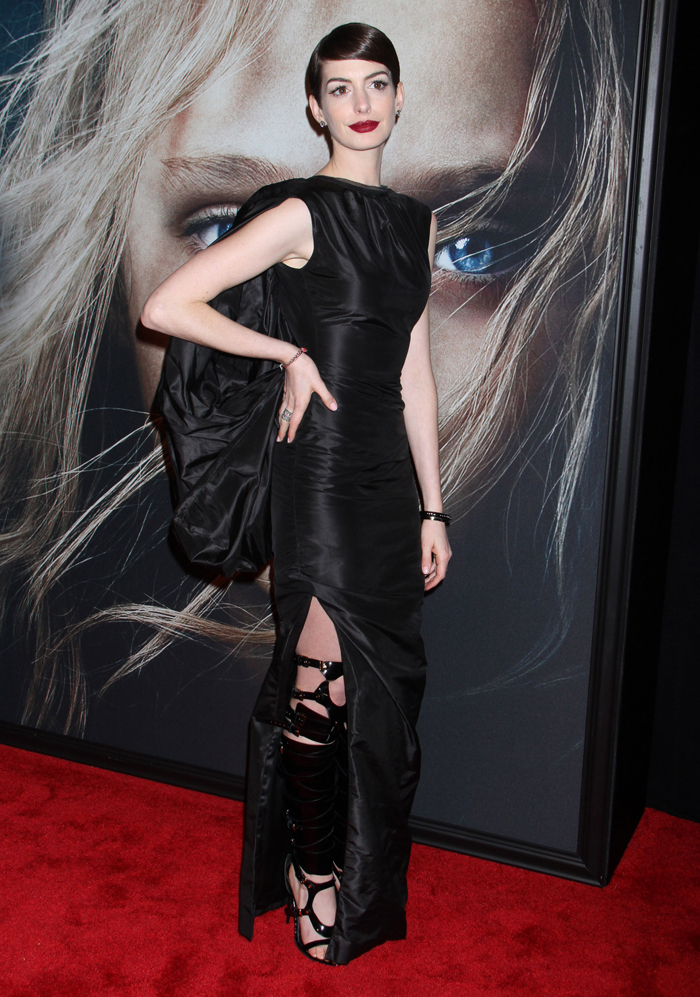 Les Miserables, indeed.

Much has been made of Anne Hathaway's drastic make-under for her role in Tom Hooper's movie adaptation of the epic Broadway musical — she dropped 25 pounds from her already-slim frame and cut her brunette locks into a severe pixie cut — but she says the real transformation was emotional, not physical.

"I was a witch," the 29-year-old Golden Globe nominee told Chelsea Handler of shooting the drama, in which she plays a prostitute dying of tuberculosis. "I mean, I was dealing with a lot of darkness and I was starving. So I just wasn't that much fun to be around."

In fact, she says it's "a miracle" her relationship with now-husband Adam Shulman survived the making of the film in London.

"There was one day when, I kid you not, I picked a fight with him because he wouldn't watch a sunset with me," the actress recalled of the actor and jewelry designer on Handler's show, Chelsea Lately. "I was like, 'Honey, it's the most incredible sunset you've ever seen, we have to go outside right now and see it.' And he was like, 'Honey, I'm on a business call. So just [give me] five minutes.' And I was like, 'Fine. That's great for you.' And I sat there, and I didn't even make it the whole five minutes. I just got up."

Eventually, Hathaway had to actually send Shulman back to the U.S. while she finished shooting in London, because she felt she couldn't really get into her role while he was still around — and because she didn't want her "manic" mood swings to ruin their four-year romance.

"I realized I was being really unfair to him and that even though I was in a negative place, I couldn't let it affect our relationship," she said. "And also, I needed to go further into that negative place to play my character, and I love him so much that I was like, 'You're making me happy. You're keeping me up and I'm clawing to the sides of my life and I need to fall into a pit and you need to go, honey.'"

Fortunately, their bond survived. Hathaway and Shulman tied the knot in Big Sur, Calif., on Sept. 29, in a private sunset ceremony with about 180 guests.
[From Us Weekly]
Okay, so Anne has technically said nothing wrong here. I can definitely empathize with her mood while losing weight because I can grow very short tempered after missing just one meal. At the same time, I'd love to caution her against pimping her marriage just for the sake of an Oscar campaign. Doesn't Anne fear the so-called "Oscar curse" that's been said to have been responsible for the demise of many a Best Actress winner's marriages? As in … Reese Witherspoon, Sandra Bullock, Hilary Swank, Emma Thompson, and Kate Winslet. I'm a pretty supersitious person, so I'd be very worried about winning an Oscar. Luckily, I don't have to worry about that, do I? Who knows if Anne will win her coveted award, but hopefully, her relationship is solid.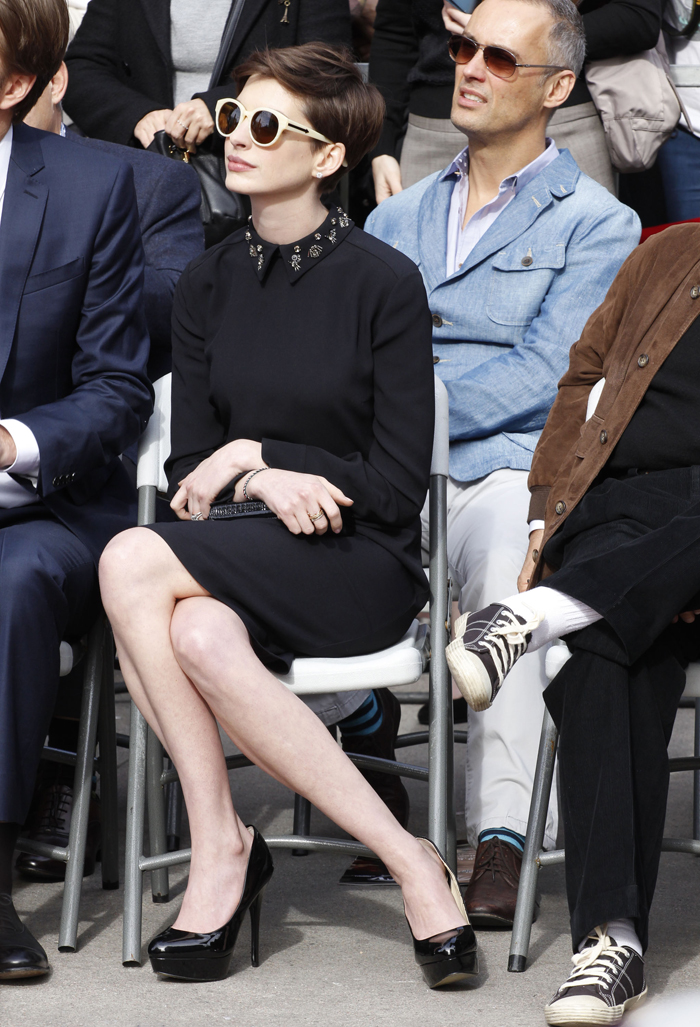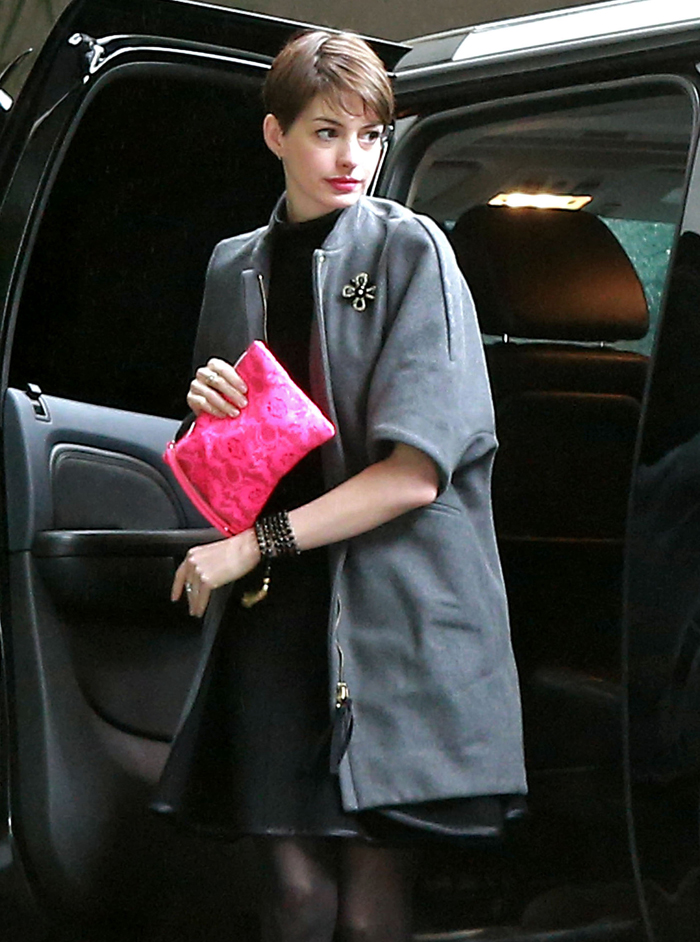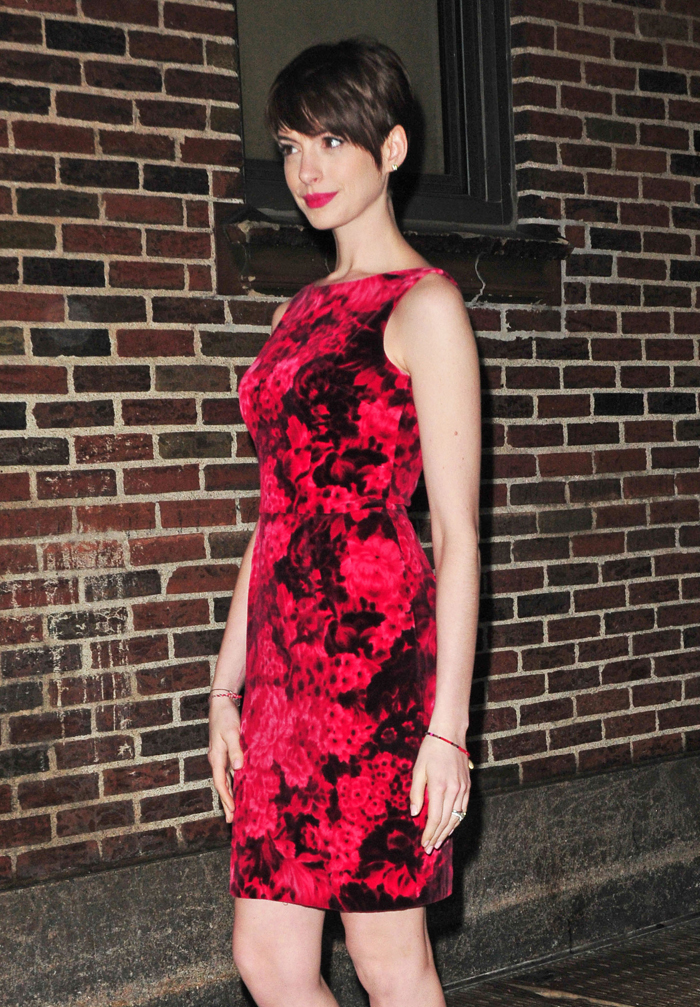 Photos courtesy of Fame/Flynet