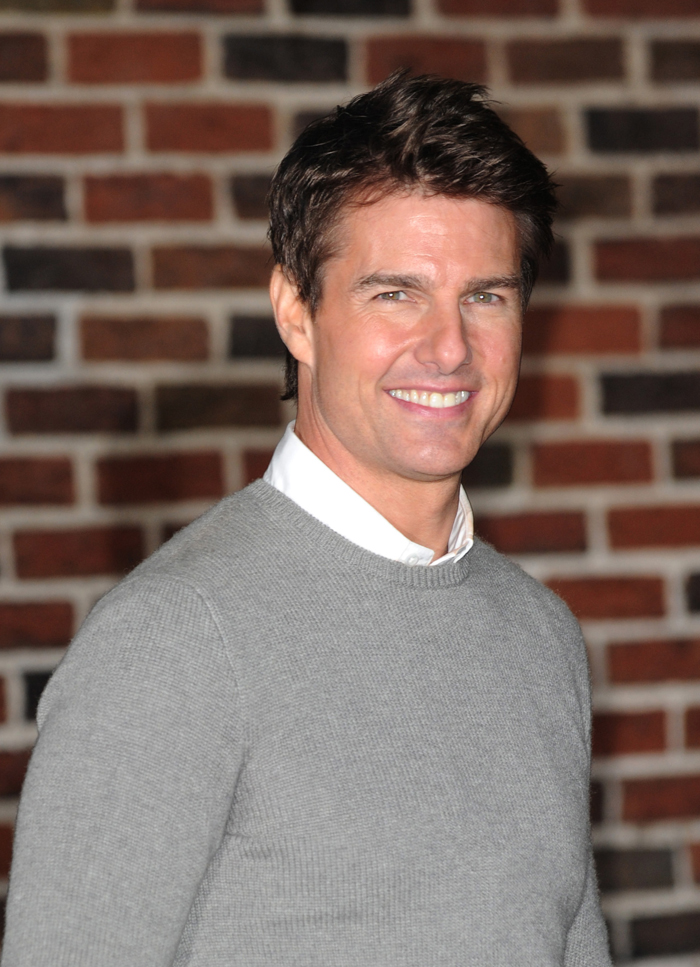 Let me first start out by saying that I am seriously bummed that our photo agencies didn't get any photos of Tom Cruise at the Tokyo premiere of Jack Reacher. Tom is always very manic and entertaining when he hits Japan because he's pretty huge there, and I mean that in a figurative and literal sense. Not only do the Japanese enjoy Tom's movies, but Tom loves the fact that he can actually tower over some of the men in the country. But we will have to make do with these (sort of) old photos of Tom while he was in NYC last month to appear on Letterman (where Tom learned the "F" word). I never noticed before how much I love how Tom's shadow is wearing lifts too.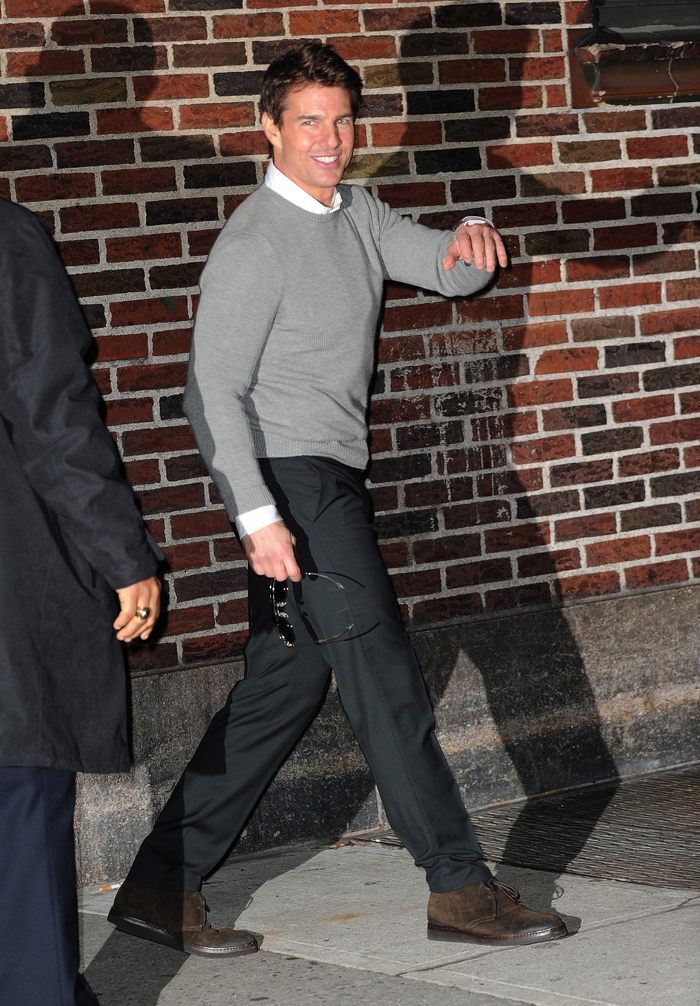 To divert slightly from the main point today, a story in this week's In Touch paints a lovely picture of Tom's new relationship with Cynthia Jorge, the 26-year-old restaurant employee with whom he was dirty dancing in NYC clubs. Apparently, Cynthia feels that dating Tom "feels like a fairy tale," and "they have a lot in common and are seeing where things go." But they're taking it slow! "They're getting to know each other. It's like any relationship in the beginning phase." This basically means that Scientology is performing its filtering functions right now. Cynthia is probably undergoing the usual processing method of introductory auditing and incisor filing, and I wouldn't be surprised if her family and friends haven't spoken to her in weeks. So sure, it's a "fairy tale" if there ever was one.
Now back to the "F" word. Tom has spoken that word before in some of his movies, but I'm not sure that he knows what it means. I'm not trying to be rude — that's just how I see Tom: asexual and (to paraphrase Mimi Rogers) the proud owner of a "pure instrument." Yes, I believe that Tom is Suri's biological father, but I'm not entirely convinced that he had actual sex to get there. Instead, it seems like Tom has a hero-like fascination with CO$ leader David Miscavige.
The relationship between Tom and Dave is being detailed further in a new book by Lawrence Wright (staff writer from The New Yorker) called Going Clear: Scientology, Hollywood, and the Prison of Belief. The Hollywood Reporter provides a multi-page summary of this book, but it's a lot of stuff that we've heard already (including the familiar details about how Miscaviage and Tommy Davis instructed Isabella and Connor Cruise that their mother, Nicole Kidman, is a raging sociopath), so mostly, I am going to excerpt the parts about Tom and David Miscavige's strange relationship. In short, not only are Dave and Tom the ultimate "big beings," but they also plan on getting in their little spaceship of love together for an actual rendevous with L. Ron Hubbard himself once day. Here are some excerpts, which include a disturbing story about Dave's dogs and Tom using the "F" word to describe his hopeful candidacy in running the United States:
Miscavige's taste in music and movies: [Every evening], Miscavige retires to his den and drinks Macallan scotch and plays backgammon with members of his entourage or listens to music on his $150,000 stereo system (he loves Michael Jackson) or watches movies in his private screening room (his favorite films are Scarface and The Godfather trilogy). He usually turns in around three or four in the morning.

Miscavige makes Scientologists salute his dogs: Miscavige keeps a number of dogs, including five beagles. He had blue vests made up for each of them, with four stripes on the shoulder epaulets, indicating the rank of Sea Org Captain. He insists that people salute the dogs as they parade by. The dogs have a treadmill where they work out. A full-time staff member feeds, walks and trains the dogs and enters one of them, Jelly, into contests, where he has attained championship status. One of Miscavige's favorites, a Dalmatian/pit bull mix named Buster, went on a rampage one day and killed 10 peacocks on the property, and then the dog proudly laid out his kill for all to see. Buster also attacked various members of the staff — sending one elderly woman to the emergency room — before being transferred to another base, causing staffers to joke he had been sent to the dog equivalent of Scientology rehabilitation.

Tom & Dave plotted to take over the US: "Bush may be an idiot," Miscavige observed, "but I wouldn't mind his being our Constantine," referring to the first Roman Emperor to convert to Christianity. Cruise agreed. "If f–ing Arnold can be governor, I could be president." Miscavige responded, "Well, absolutely, Tom."

Tom & Dave have a future rendezvous with L. Ron Hubbard: "[Miscavige would] say that Tom Cruise was the only person in Scientology, other than himself, that he would trust to run the Church," one former Sea Org member recalled. Rathbun observed: "Miscavige convinced Cruise that he and Tom were two of only a handful of truly 'big beings' on the planet. He instructed Cruise that LRH was relying upon them to unite with the few others of their ilk on earth to make it onto 'Target Two' — some unspecified galactic locale where they would meet up with Hubbard in the afterlife."
[From Hollywood Reporter]
HAhahahaha. Tom Cruise as Presidential candidate? Don't worry, it would never happen. Neither Tom nor the CO$ could afford the pay cut (the article points out that in 2004 alone, Tom "donated" $3 million to "the church"). Also, even if Tom managed to convince a political party to nominate him, there's no way he could handle even one live political debate. It would be all about blinding-white smiles and sticking his finger in his opponent's face. "But what about the economy, Tom?" You don't understand the history of psychiatry! I do."
There's also a separate article from Hollywood Reporter that is devoted to the portions of Wright's book that cover John Travolta's "blithe" acceptance of "the faith," and it details an auditor's defection from the CO$ after her baby (who was denied vaccinations) had developed whooping cough: "The baby's eyes were welded shut with mucus, and her diaper was wet — in fact, her whole crib was soaking. She was covered with fruit flies." The really sad part of this story? It is probably all true.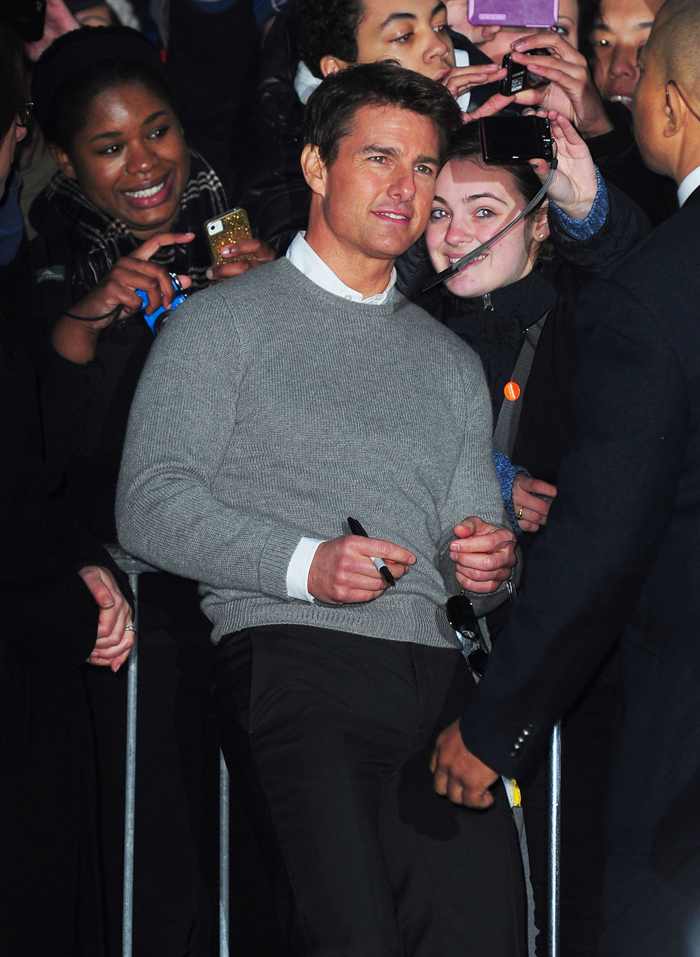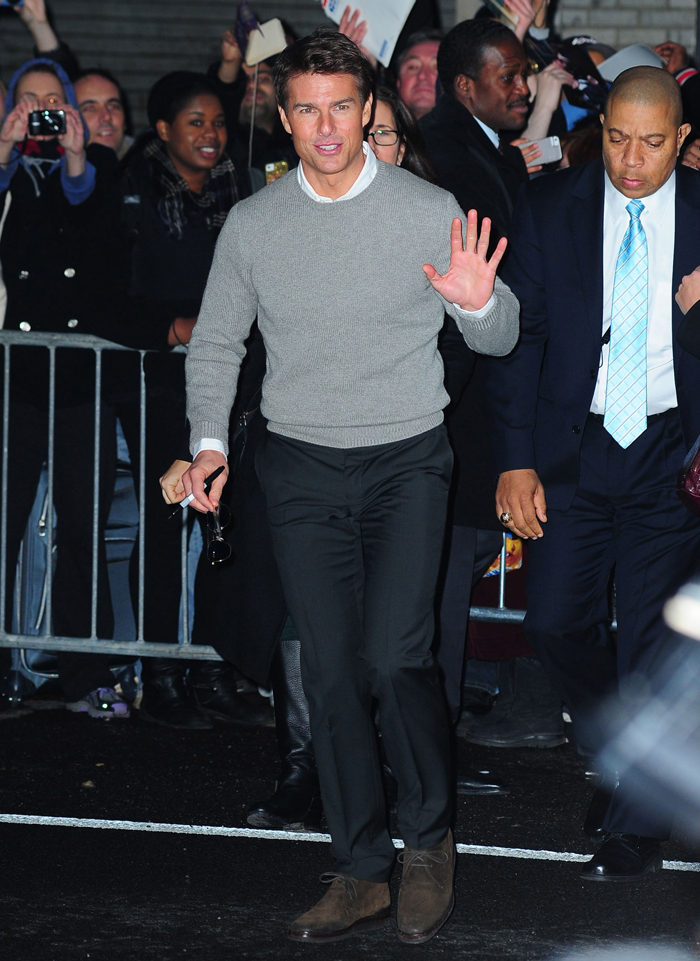 Photos courtesy of Fame/Flynet