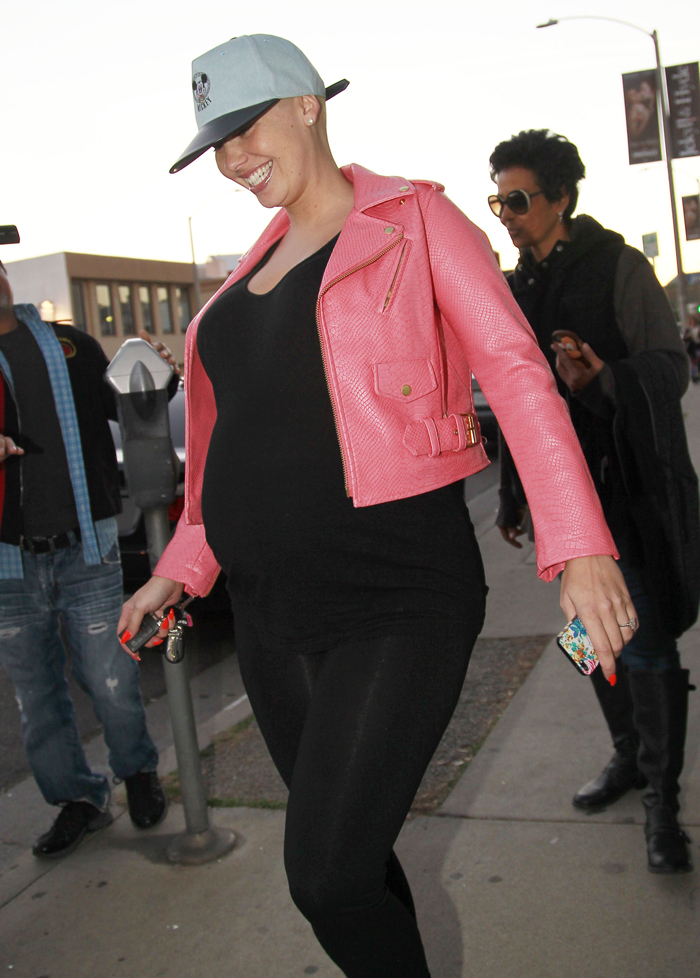 Here are some photos of a very pregnant Amber Rose on Monday while she was travelling to and from a salon in Los Angeles. I am assuming she may have had her nails done because girlfriend isn't exactly one for elaborate hairstyles. Amber looks quite pleased with the paps' presence, and she also looks very ready to have that baby. She should be due pretty soon, so a birth announcement is likely imminent in the coming weeks. Oddly enough, Amber may very well be in the advanced stages of pregnancy, but that didn't stop her from wearing see-thru leggings with bright-pink panties underneath. Obviously, this is less gross than Kim Kardashian going commando under leggings while pregnant (or anytime), but I think it's safe to conclude from the mutual legging issue that Kanye West does indeed have a "type." Enough said on that note.
Amber and the paps do love each other, and just yesterday, she revealed to a TMZ crew that she and Wiz Khalifa are in fact married now. Who knows when they did the deed, but now she'll have natural-birth bragging rights over not just a baby daddy but a husband. Here are the scant details: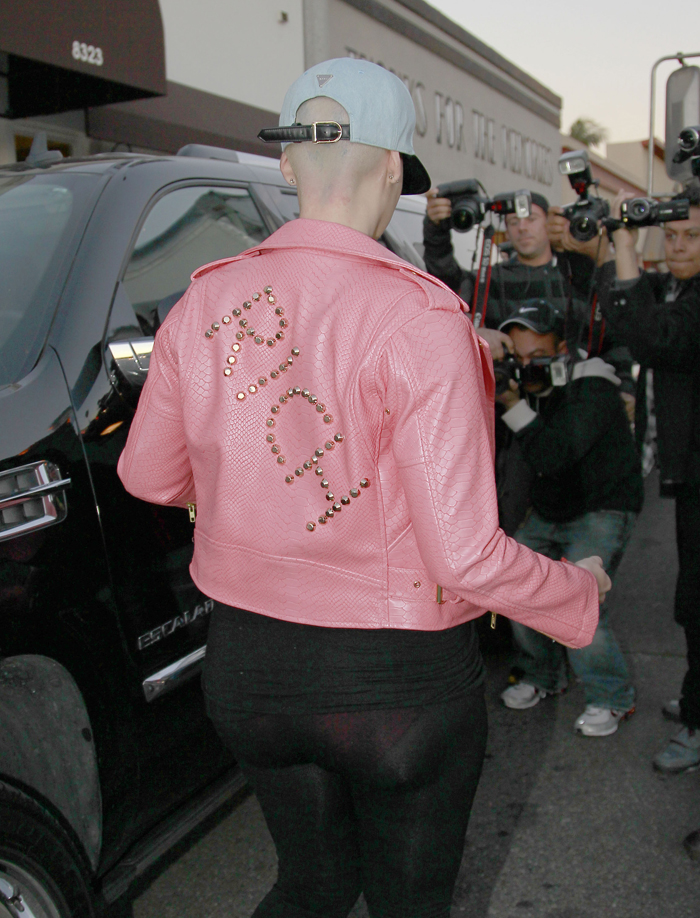 Seems the wedding rumors are true … because Amber Rose says Wiz Khalifa ain't just her baby daddy anymore …. he's also her HUSBAND!!

It's unclear when and where the two tied the knot … but Amber definitely let it slip when we shot her in L.A. yesterday.

We had just given Amber a Ninja Turtles ice cream bar — because she loves ice cream — when she said, "My husband loves Ninja Turtles."

Fact: Wiz Khalifa has a NINJA TURTLES TATTOO on his leg!
[From TMZ]
Can you believe that Amber fully consented to a press-free wedding? I'm proud of her, and Wiz was probably thrilled with a low-key event too. I'm sure it was quite the lovely, marijuana-themed wedding. Congrats to Amber and Wiz!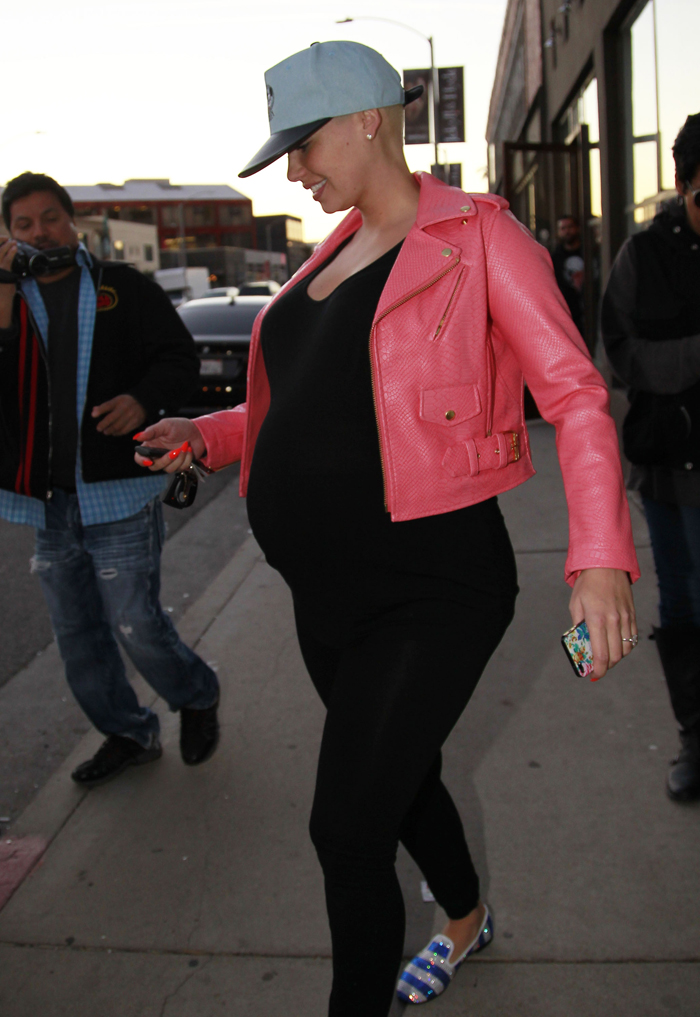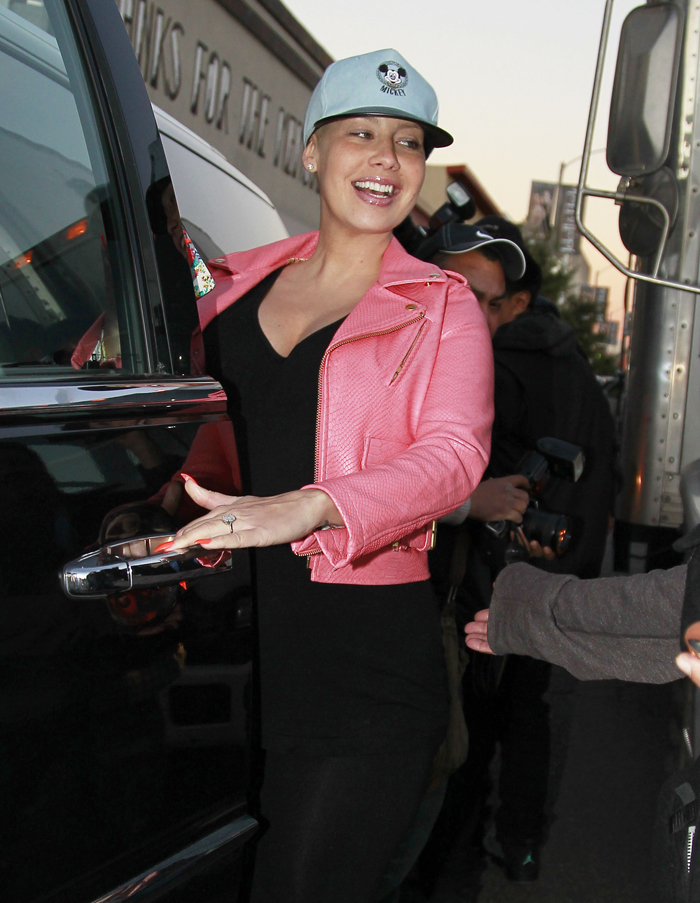 Photos courtesy of Fame/Flynet