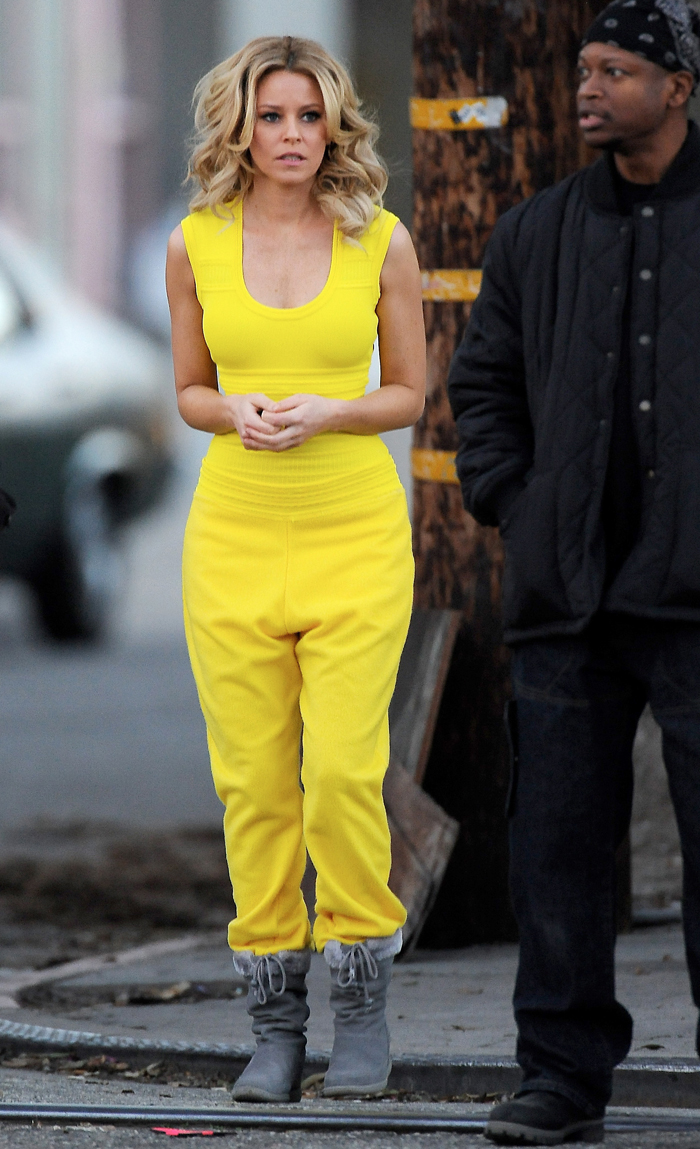 Here are some photos of Elizabeth Banks on the set of her new film, Walk of Shame, about a week ago. The movie also stars James Marsden and is billed as a romantic comedy. The film's synopsis gives me a bad feeling about this one. "A news anchor's attempts at a dream-job promotion is jeopardized by a drunken one-night stand." Banks is better than such material, but I guess this is the movie business. It also really sounds like the plot to Judd Apatow's Knocked Up, doesn't it?
Banks recently sat down to record an episode of the "WTF" podcast, and she's talking about postpartum bodies. However, we must remember that Banks is talking slightly out of school since both her first and second children were born via surrogate, so Banks has never actually given birth herself. I still think it's very cool that Banks has readily spoken about how her own fertility difficulties and expressed a lot of gratitute towards her surrogate, who continues to be treated as part of their family. At the same time, Banks finds herself in very close proximity to the cumulative eating disorder called "Hollywood," and she's very disgusted with the widespread trend of "bouncing back" into bikini shape within weeks after childbirth. Banks thinks that new moms should really take it easy for awhile, and here are her words: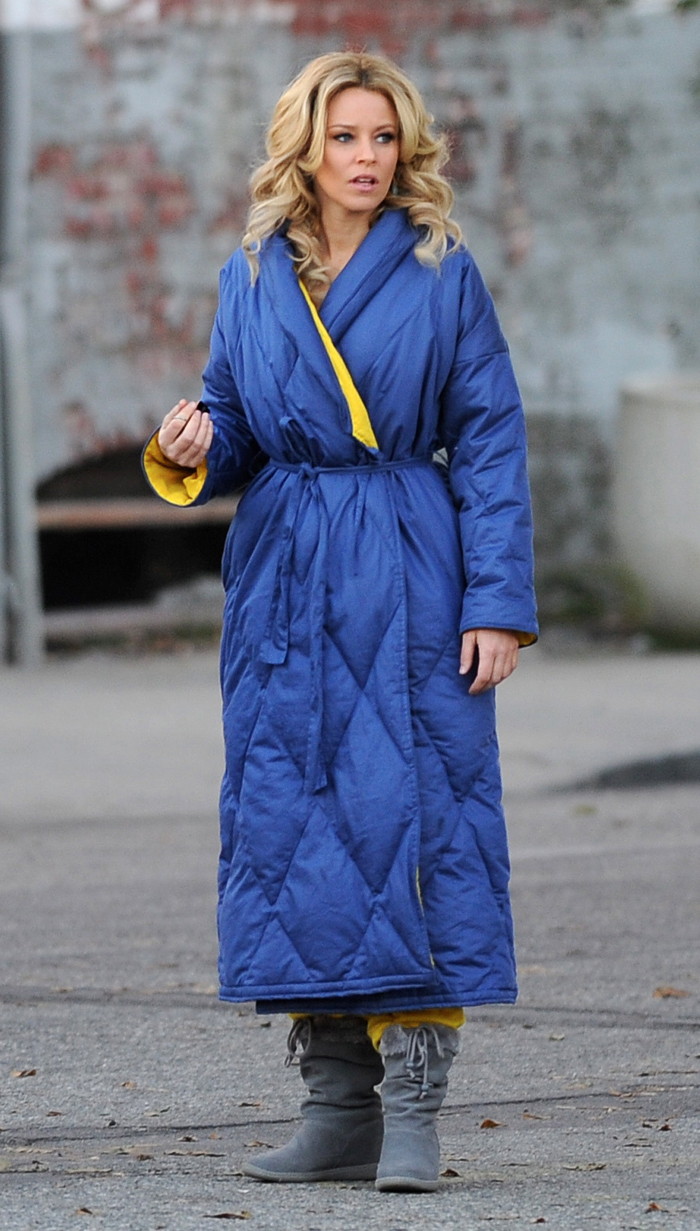 "I like to believe that if I had carried my own baby, I would have bounced back. But who knows? And by the way, it's such a horrible — women should not be expected to bounce back … it's a, I think, a true disservice what's going on right now with all these celebrity moms … first of all, I just want to remind people that celebrities generally are genetically superior human beings on a certain level anyway … they're mostly thin, you know, they got trainers, they work out, they've got money, they've got the ability, you know, and they are normally genetically predisposed to being thin people anyway, so like these women who are holding up, you know, certain people as their benchmark after they've had a child, like just go be with your kid for a minute … don't get to the gym right away. It's alright. This is not how it's supposed to be, everybody. Calm down."
[From WTF Podcast]
First off, I completely agree with Elizabeth's sentiments, and it's always wonderful to witness an established actress calling out all of the instantly skinny, post-baby figures in Hollywood. Jenna Fischer also famously stated that she was "standing in solidarity" with all of the women who aren't size 2 after giving birth. It's also refreshing to hear Elizabeth admit that she'd "like to believe" that if she had carried her own child, she "would have bounced back." Because let's face it — most women, no matter how much they talk, would love to not have the worry and hassle of regaining a pre-baby body. If Elizabeth would have been able to physically carry a child, would she have been the type of woman who fully worked out like a field afterwards in order to be immediately slim? We'll never know, but hopefully her words mean as much as they seem to mean.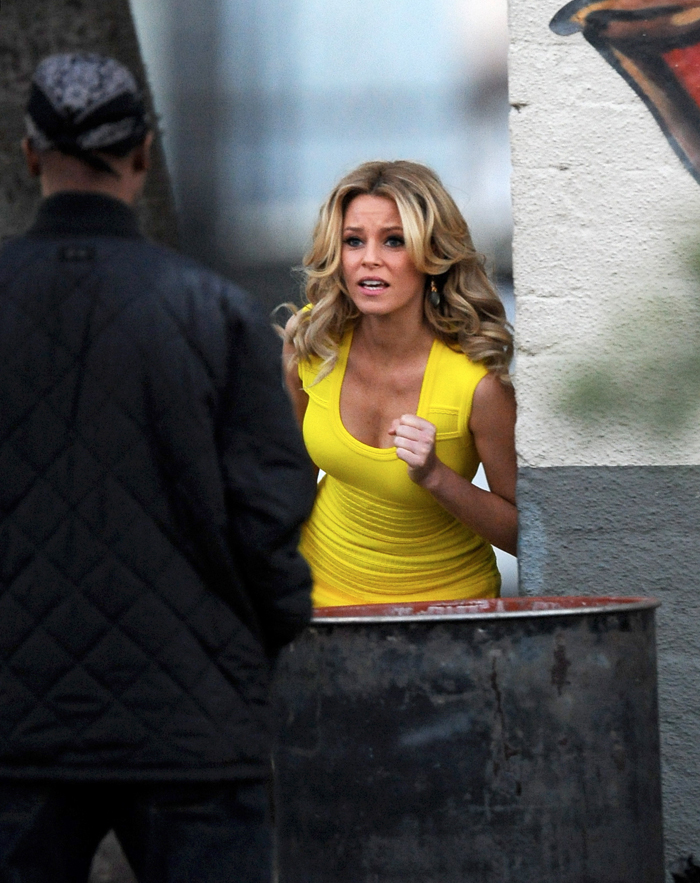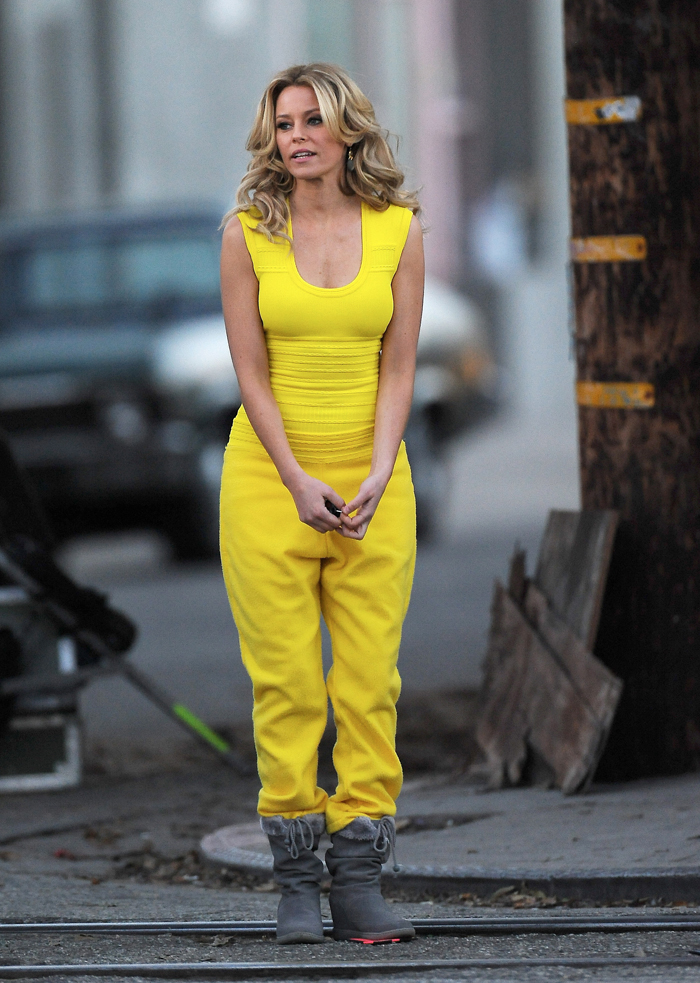 Photos courtesy of WENN