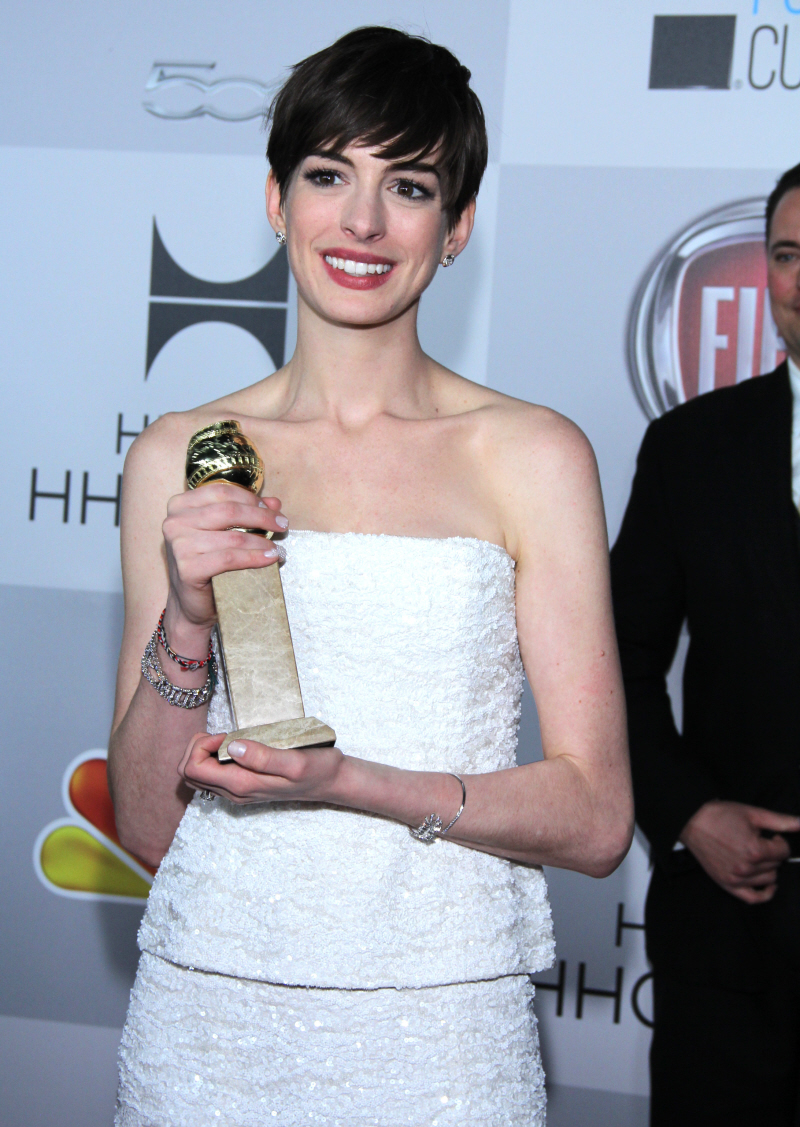 Anne Hathaway is the closest thing to a sure thing at this year's Oscars. I don't know if Daniel Day-Lewis or Hugh Jackman will win Best Actor. I don't know if Jessica Chastain or Jennifer Lawrence will win Best Actress. I have no idea who will win Best Supporting Actor – AT ALL. But we'll have a better idea after this Sunday's SAG Awards, and even then… Anne is the one guarantee. She's the safest bet. The Best Supporting Actress Oscar is hers to lose. So would it be so crazy to learn that she's already practicing her acceptance speech? That's what Star Magazine claims, although… of course, Anne's rep shot down the report really, really quickly. According to Star's sources:
Despite getting groans for feigning overwhelming emotion during her Golden Globes acceptance speech for her role in Les Misérables, the actress is "planning another cringeworthy monologue for the Oscars."

Anne is "so sure she will win that she is planning another visceral monologue for the Oscars. She is working with a team of writers to develop a worthy speech as her last. She has also recently turned her NYC pad into her rehearsal stage."

A friend says, "If she doesn't win for Best Supporting Actress, it'll take all her acting skills to hide her disappointment."

Hathaway is "obsessing over every other aspect of the big night, turning her NYC pad into an Oscar rehearsal center. Anne's dedicated three rooms for fittings, makeup tests and to practice her red carpet interviews."
[From Rumor Fix & Gossip Cop]
Anne's rep says the report is "all rubbish… She has not practiced a speech nor is she working with a team of writers. It's all 100 percent fabricated. Also, she hasn't been back to New York for the past two weeks and probably won't be there before Oscars, so it's beyond ridiculous to suggest she turned her NY apartment into a rehearsal space."
Here's the thing, though – while I doubt that Anne is, like, creating a "rehearsal space" and "working with a team of writers" for her acceptance speech, I wouldn't doubt that she IS practicing her speech. Who wouldn't, you know? It's absolutely harmless. I will admit that I too practice my Oscar acceptance speech, and I'm not even the safest-bet nominee!!! I start out my speech with an off-color joke and then I thank Jack Nicholson for his Midas Touch casting couch. Y'all should definitely try to figure out what you're going to say if and when you win an Oscar. It's a great way to kill time when you're working out too!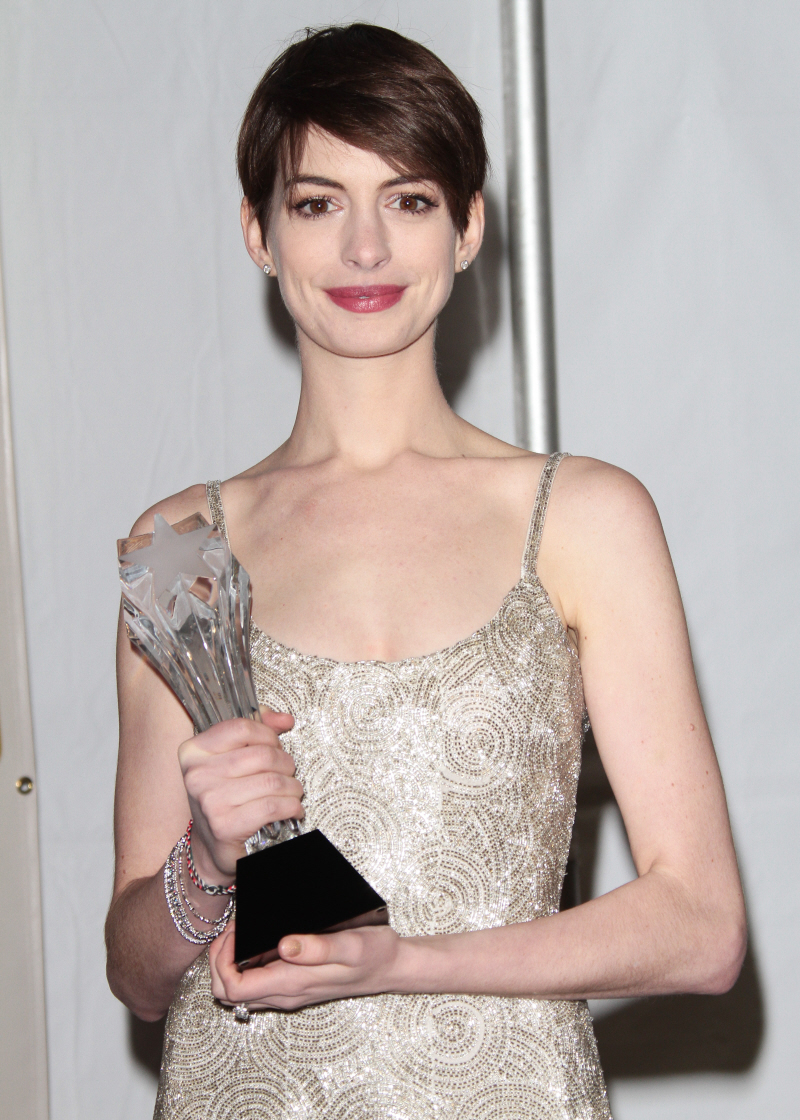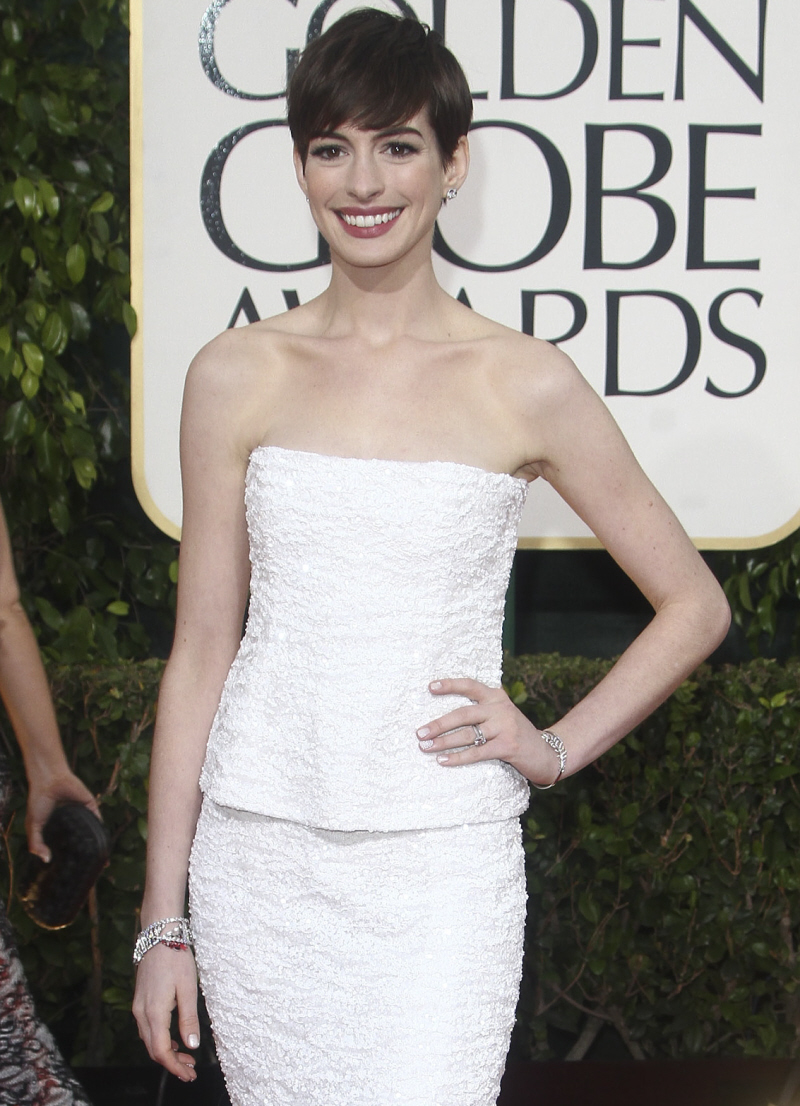 Photos courtesy of WENN.