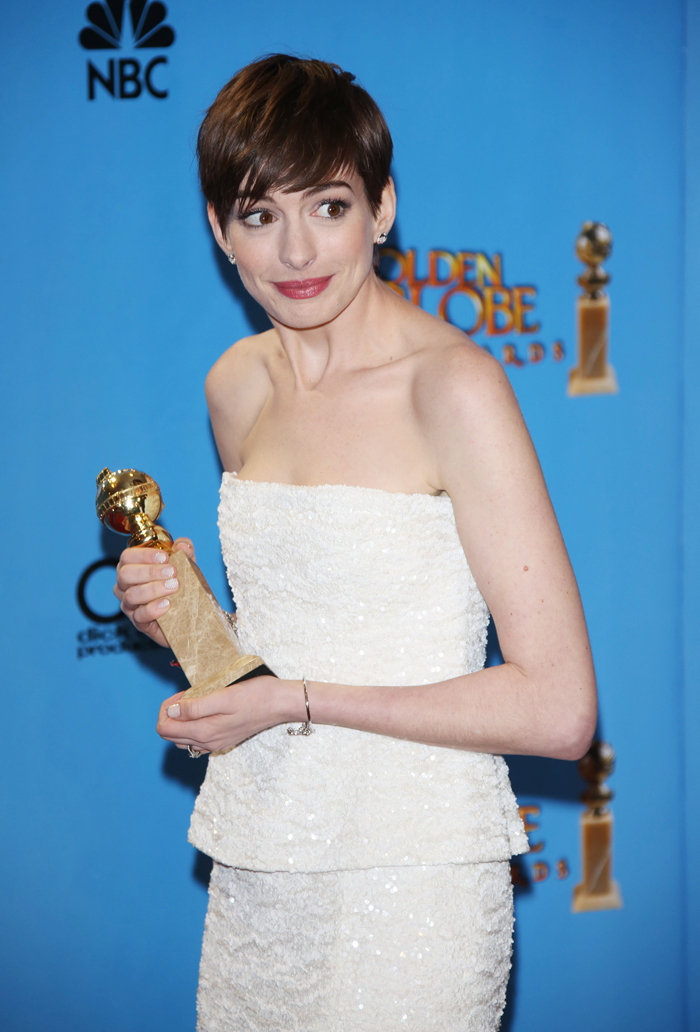 Man, I'd hate to have a feud with Anne Hathaway. Mostly because she's sort of a goody-goody but also because I've seen Bride Wars, and it wasn't pretty. Even though Anne's currently riding high (and possibly already crafting speeches) in regard to her current Oscar race, Anne's done some pretty low-quality movies in her time. Still and according to a story in this week's Enquirer, Anne allegedly feels that she is above other actresses, and in particular, she's taking aim at Katie Holmes. Actually, she's sort of been doing so for a few years now with two "SNL" performances (one in 2010 and one just a few months ago). It does seem a little bit personal, doesn't it? Apparently, Anne and Katie were up for a lot of the same jobs at one point, and that was probably the point when Katie was getting a lot of movie roles during "Dawson's Creek" hiatuses, and Anne was struggling to break away from Disney's Princess Diaries franchise. Now Anne is allegedly keeping the feud alive by continuing to badmouth what she views as inferior acting skills on the part of Katie. Here are the details: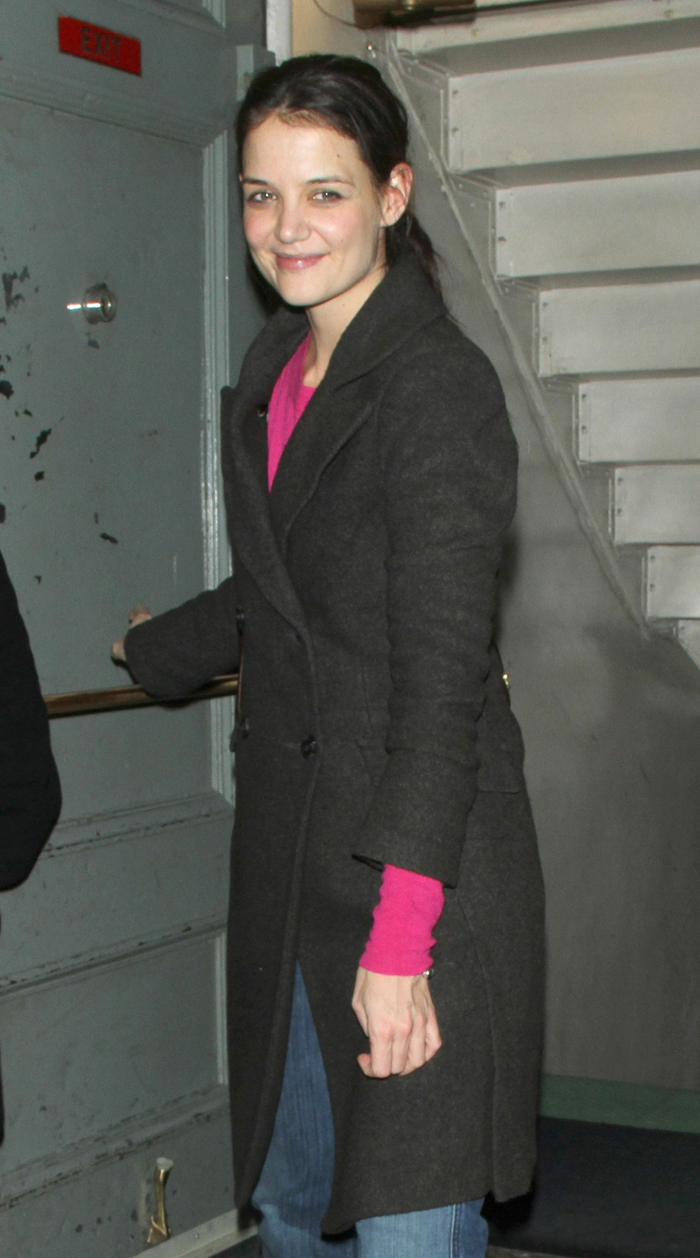 The claws are out between the Batman babes after Anne Hathaway poked fun at Katie Holmes during a November appearance on "Saturday Night Live."

During hilarious skits on the long-running late-night comedy show, Les Miserables star Anne skewered both Katie AND "Homeland" actress Claire Danes. And although she's offiically offered a mea culpa to Claire — along with a bouquet of flowers — she's conspicuously neglected to apologize to Tom Cruise's ex-wife Katie.

"Anne and Katie are longtime rivals," disclosed an insider. "Anne puts forth a very genial, friendly image, but she has a wicked competitive streak. She doesn't like Katie because they used to go up for similar roles. Anne always felt lke Katie used her Hollywood connections through Tom to advance her career. And she constantly makes fun of Katie behind her back, mocking her former marriage and even her appearance."

Anne also believes she outclassed Katie in their Batman movies. While she was lauded for her performance as Catwoman in The Dark Knight [Rises]," critics panned Katie, 34, for her role as the Caped Crusader's love interest in Batman Begins.

"Simply put," said the insider, "There is no love lost between Anne and Katie." Anne, 30, hosted "SNL" for the third time on Nov. 10, and while she also spoofed Claire's erratic character on the Showtime series "Homeland," her mean-spirited mockery of Katie's smile and mannerisms both infuriated and humiliated the actress.

And that was even Anne's first roast of Katie — she also mimicked her during a 2010 "SNL" appearance! While Katie was good-natured the first time around, she's apparently not laughing anymore. "It all comes down to the fact that Anne doesn't take Katie seriously as an actress," noted the insider. "And Katie's gotten Anne's message loud and clear."
[From Enquirer, print edition, February 4, 2013]
I believe this story because Anne is very competitive about roles, and her mockery of Katie (twice) on "SNL" seemed intensely personal while Anne's take on Claire Danes was really only based upon Claire's "Homeland" character. Now I'm not saying that Katie is a good actress (because she isn't) or that she doesn't talk out of the corner of her mouth (because she does, all the time), but it does seem like Anne has a problem with Katie. The easy comparison of their respective takes on Batman roles only adds to the bad blood between the two.
The Enquirer also has a throwaway story based upon a tiny grain of truth; that is, Katie is likely devastated that her Broadway play, Dead Accounts closed two months early. Star says that, in the aftermath, Katie has decided to make a career change and go to law school, after which she'll go into practice with her father, Martin (who was the mastermind behind Katie's excellent prenup with Tom Cruise). This story is so silly. Katie has a ton of money rolling in with her fashion line, Bobbi Brown spokesperson duties, and a new co-owner/spokesperson gig with Alterna healthcare. She's also producing a few movies right now. At this point, law school would be silly and unprofitable for Katie. Fake story.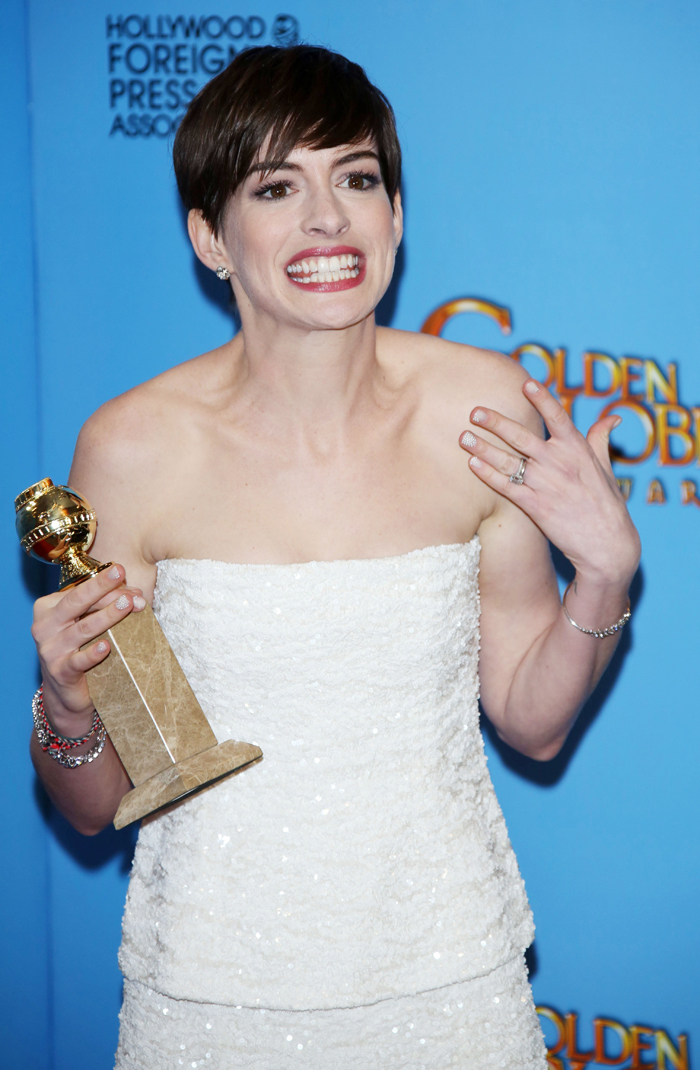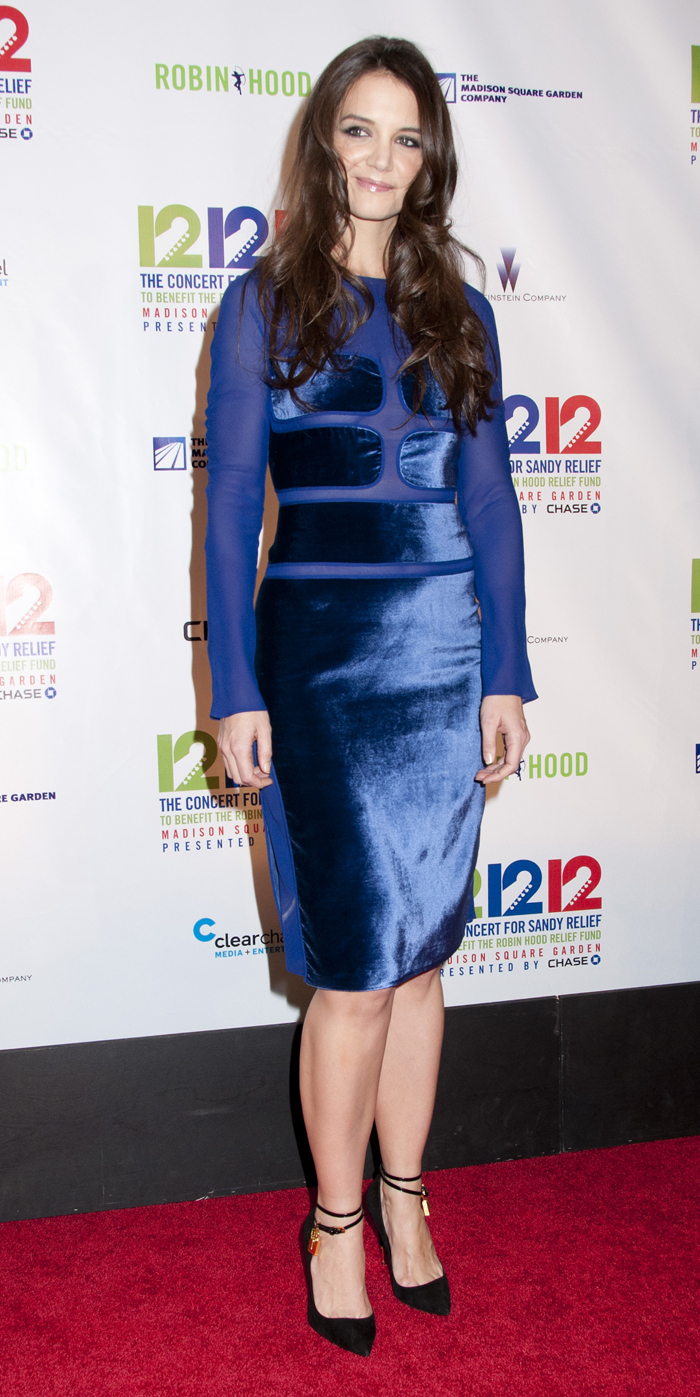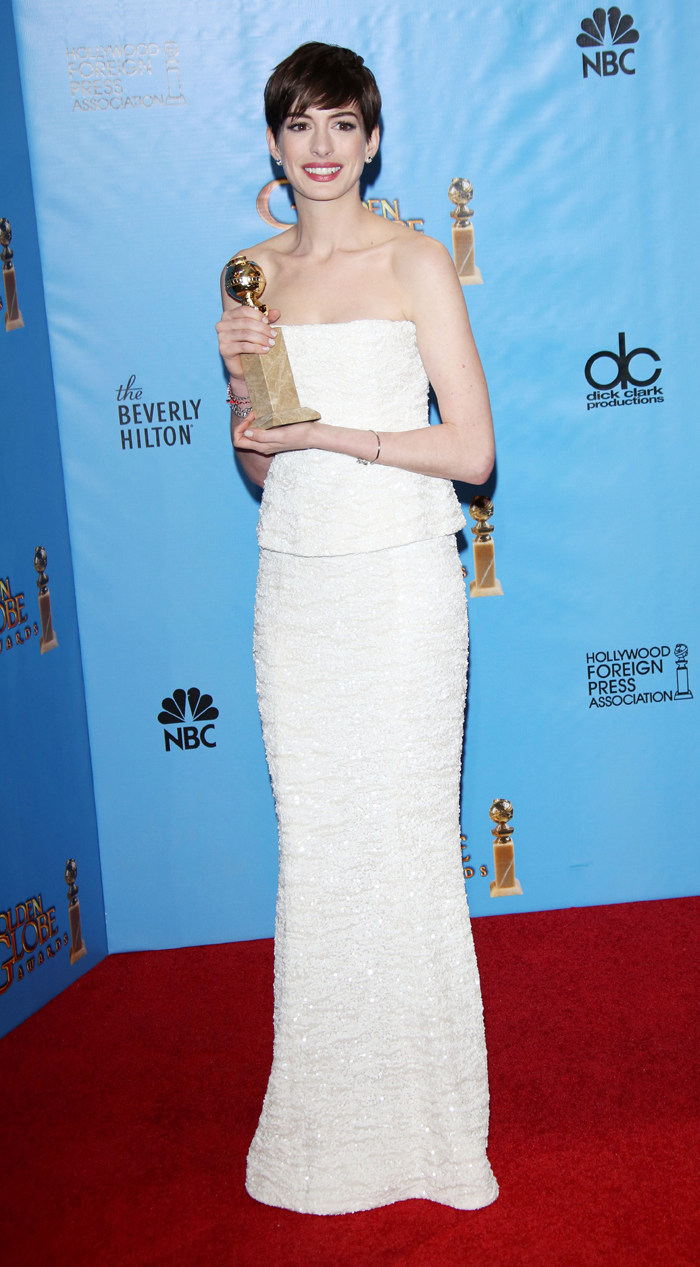 Photos courtesy of WENN