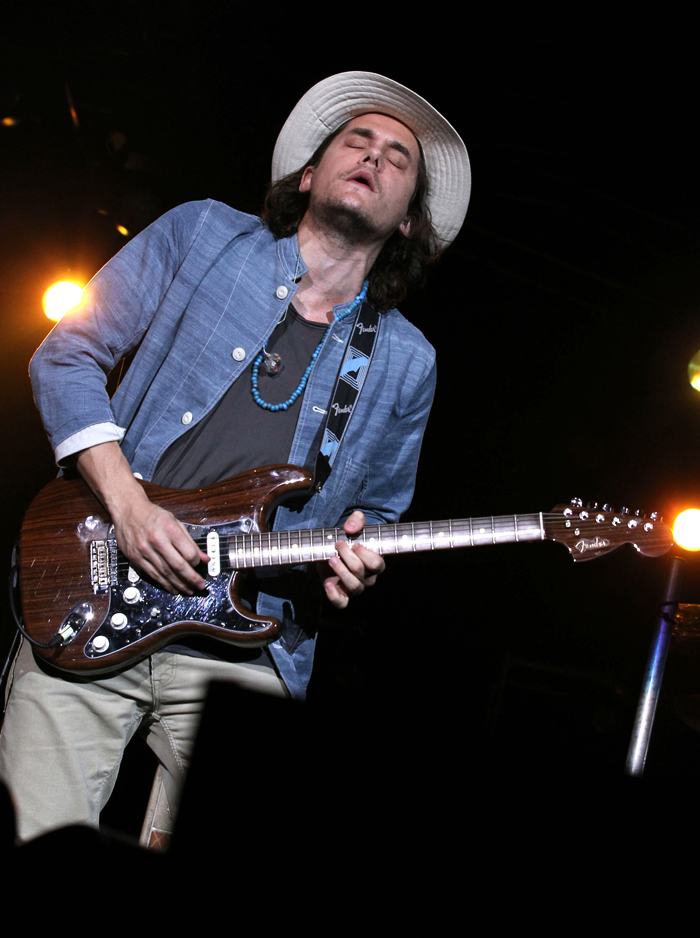 Before I get to the meat of this story, I'd like to briefly recap the recent gossip buzz that John Mayer and Katy Perry have been, for all intents and purposes, "on the rocks" as far as their public, coupley image is concerned. About a week ago, John was spotted getting gropey with Allison Williams despite the fact that he and Katy are supposedly BFFs with Allison and her boyfriend, Ricky Van Veen. Then, Katy was seen getting hot and heavy with Muse's Dominic Howard, which pretty much told the world that she and John were "over." Well, guess again, lovelies. According to an eyewitness report on behalf of Michael Knudsen at Popbytes (who has exclusive photos), John and Katy were spotted together on Friday evening in West Hollywood at Club Nokia, and the two "appeared as if it was a first date, with whispering, smiles and cuddling." So my question is this — are these two in an open relationship, or are they just f–king with all of us? Who knows.
Now onto John's latest attempt at a media blitz. If you'll remember, the last time John spoke with Rolling Stone, he was in the midst of trying to recover from his disastrous "verbal diarrhea" phase, in which he told Playboy magazine that his "David Duke c-ck" granted him "hood passes" or some such nonsense. Of course, John tried to rescind his words with RS by saying that he didn't recall saying such terrible, insensitive things ("it was a very strange time") to Playboy, but the damage had already been done. In the aftermath, John told Rolling Stone that he didn't deserve to be the bad guy, and he didn't understand why Taylor Swift "humiliated me" with her "Dear John" song. I'd feel sorry for John, but he is no stranger to writing songs about his own exes, especially with his latest "comeback album" (Born and Raised) that features a little ditty about Jennifer Aniston. So there.
But times have changed, apparently. John is planning on touring all summer long, so of course, he's promoting like crazy. John recently stepped back onstage on Jan. 16 for a firefighter benefit (rowrr), which was his first live show in two years. While I do feel poorly for John for not being able to do what he truly loves doing for so long, he's clearly been coached by his publicist for this interview, so I'm taking it all with a Mayer-tainted grain of salt. Yes, he name drops Ricky Van Veen in this interview, and yes, he speaks of Katy fondly. Gross: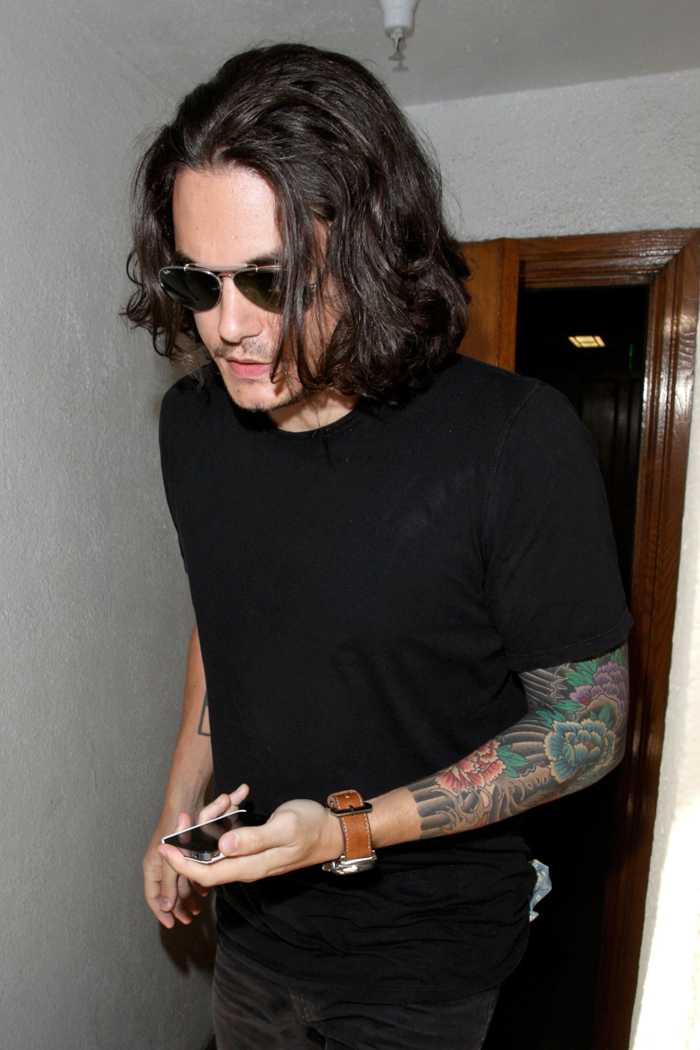 Why he doesn't consider himself a popstar anymore: "I have gray hair on my temples. Born and Raised is my least popular album. And that could be because I wasn't ready to tour and promote, but also the videos came out, the record came out, it had a shot. I'm OK with that."

On finally playing live again: "I've been dreaming about playing my own music [while] sitting in with the Rolling Stones and playing with all of these wonderful musicians. So much time had passed in between each of the times that I got to play guitar with somebody. There were days and weeks and literally months of not doing anything, and running out of things to do when there's nothing to do. For me to get back onstage and play again, it's just like, 'Oh right, this is what I'm able to do. This is what I've been able to do while I was watching a whole bunch of Westerns every night and making rice bowls with chicken.'"

Exactly who are his friends? "A lot of them are comedy writers, movie writers. I'm actually at my friend Ricky Van Veen's place, who started CollegeHumor. I met him when I got off the road in 2010. It's almost like to certain people, the fact that I'm a musician is known but not really understood on a certain level. I feel like when some of my dearest friends now come to a show one day, they'll have a terrible time renegotiating that that's who I am. Like, 'Oh, right, you play onstage in front of thousands of people.'"

On his post-granuloma life: "Everything changed about my voice. I don't have the projection. My laugh changed. The way I used to laugh is kind of like that 'I'm embarrassed,' high-pitched laugh. I don't really laugh that way anymore. I've found new ways around everything — new ways to talk, new ways to laugh. Now I wonder if I can go right back to the shape of my voice that I had when I was singing once I can do what I want to do with it."

On his big mouth: "I don't know that I thought of it as a Band-Aid for anything. I just saw it as a protectant from future things. I wasn't running away, because I would have happily gone back on tour. It was like, I want to have a place over time where I can just get away to, and I happen not to be able to go anywhere else, so I'm gonna start living where I was planning on living two years from now because I was going to be on tour. When I got that place, I thought that I was going on tour. That's important to know. I thought that was going to be the place I hung out in between legs of a tour. Then it turned out there wasn't going to be a tour, and I thought, 'Well, let me just go start laying down my roots there.' I had spent enough time after some tough times in my life right on the street in front of everybody. I was in New York making Born and Raised for the year after and I was in L.A. finishing the record the year after that. So, no, by that point it wasn't like, 'Let me go retreat.'"

On dating Katy Perry: "It makes it hard to live a life where people don't know who you are, but I haven't had any trouble in my private life at all. The only trouble I've had is maybe people geo-tagging me, but that's about it. To me it's just a matter of people knowing where you are on a given day, and I guess assessing your style when there is no style to be assessed. I don't really call that infringing on a personal life. That's just where I am, when. That's all. It's been . . . I mean, I'm quite happy. I'm happy in all aspects of my life. I'm very happy in all aspects of my life."

On the internet: "You don't even need publicists anymore — people are just as scared for themselves as the publicists would be. No, I'm saying that we're all as freaked out as the publicists would be. Everyone is self-PRing. We're all worried to express ourselves, because we are scared of the imminent criticism as we are typing. And I think for a guy to express any idea with that kind of bravery, a guy writing without caring what you think . . . What's fascinating to me is not as much what he's expressing – it's that he chose to just make an expression one time, deeply, honestly. I feel like Jodie Foster is the same thing. They're just like, 'Here's what I want to say, and I'm not interested in what the response to this is going to be. It's important that I express it.'"

On the "new" John Mayer: "I'm interested in living more of a life that's invisible to everybody and more vibrant to a fewer people that are in my life. I don't need everybody to think a certain thing that I wish they would think. I'm out of that game. And I think 35′s a great time. You investigate yourself, you know there are things that aren't growing correctly, or serving you as you get older, and you break yourself down in a period of time. I'm actually lucky that I didn't have to do that while I was on the road. I had a couple years off, and you deconstruct yourself. It's very painful, and when you reconstruct yourself, you kind of have a fresh outlook on the next 20 years of your life."

Does he want to marry? "I want to live a very traditional life with a very untraditional day job. You know what I mean?"
[From Rolling Stone]
John strategically ends the interview with a casual "Thanks, man. Be kind to me." So I'm not quite sure what to make of all of this except that John, in pop-musical circles, is clearly trying to redeem himself and sell arena-tour tickets in the near future.
On the throat granuloma issue, I am similarly torn. On one hand, John must have been devastated and somewhat humbled to not be able to pursue his own livelihood for a matter of years, and there's something to be said for that publicly-enforced form of humility. On the other, John has clearly compared his own affliction to being worse than cancer, which is a very deadly disease. So … still a douche?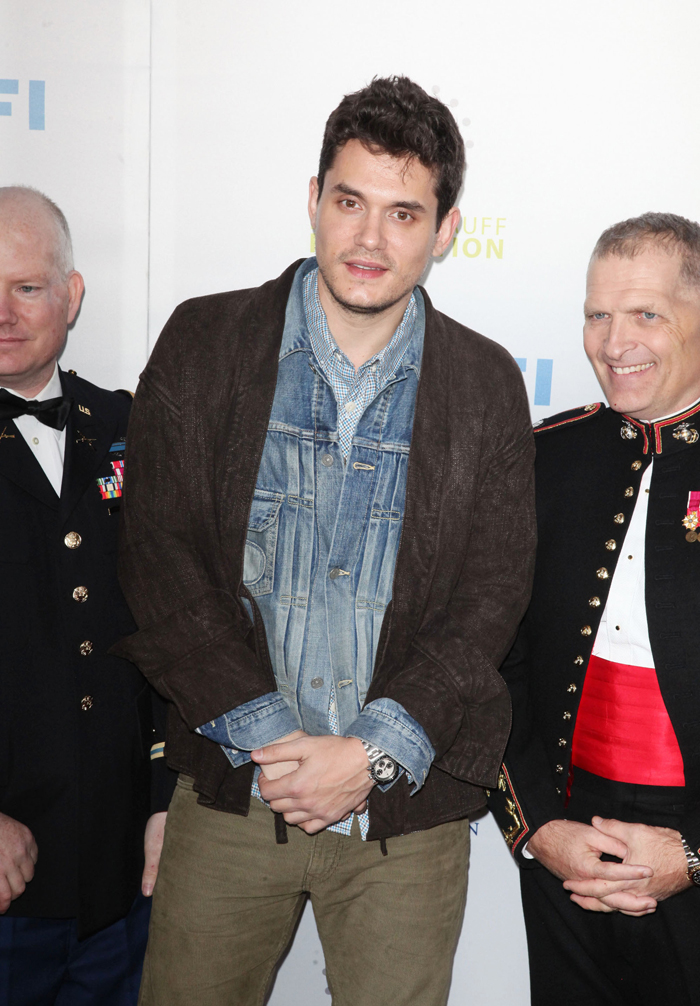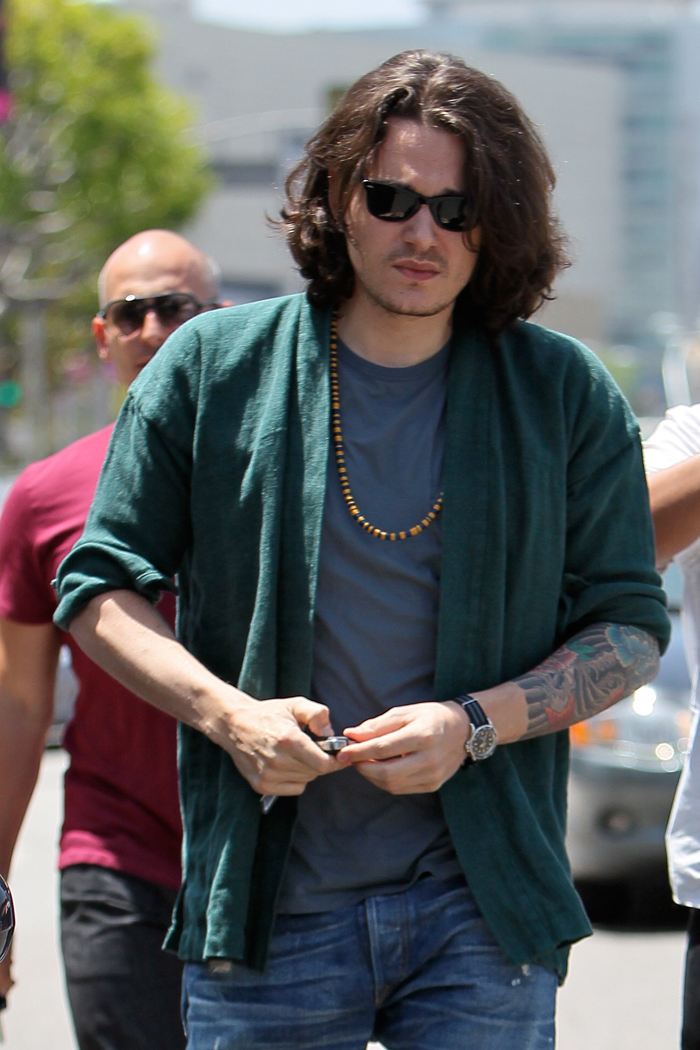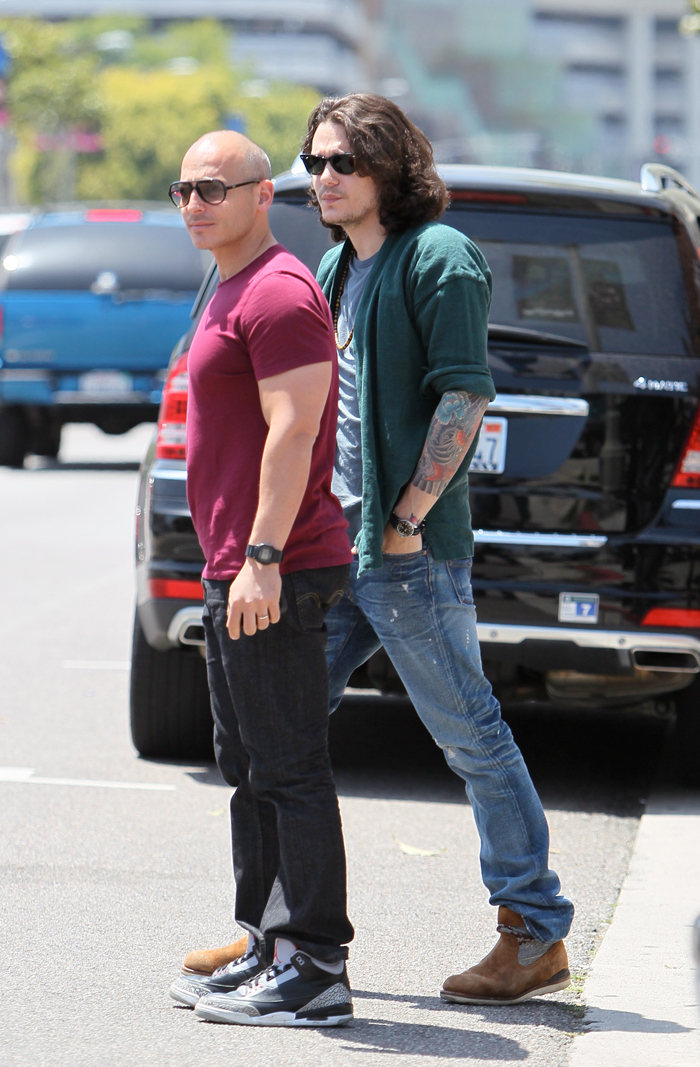 Photos courtesy of WENN