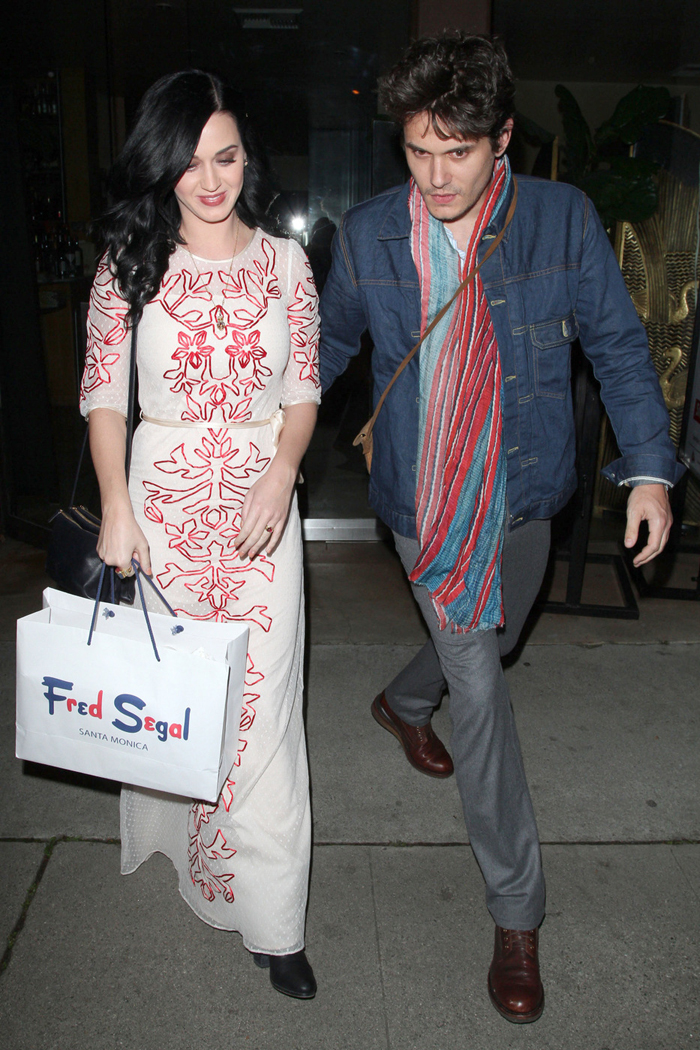 Here are photos of Katie Perry and John Mayer looking loved up on Valentine's Day, despite all sorts of sketchiness in this couple with reported cheating by both parties.
John and Katy were out on a date an Italian restaurant in these photos, and Katy was showing off a new ruby ring on her significant finger. The ring, which looks rather cheap to me (but I don't like yellow gold), supposedly set John back £30,000, which equals approximately $46,563. So I guess those rumors about John going ring hunting were all too true, but don't worry just yet. According to an insider who spoke with The Sun, this is only a " commitment ring," and in the eyes of John, commitment probably has an incredibly relative meaning: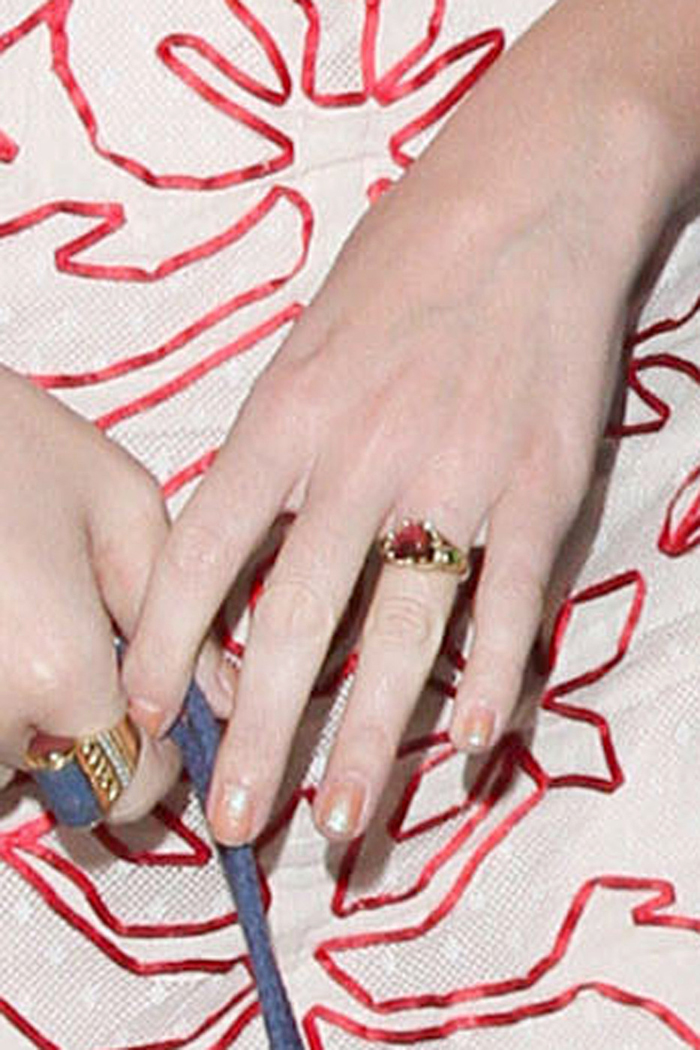 John Mayer has set himself up for a massive dent in the bank balance if he decides to propose to Katy Perry.

She was pictured on Valentine's Day with a ruby ring on her wedding finger.

But instead of getting engaged, John bought the missus a commitment ring to celebrate them moving in together.

He bought the &pounds;30k ruby a couple of weeks ago in Montecito, California.

Pricey … the ruby rock set John Mayer back &pounds;30k

A source said: "He's trying so hard to prove that his bad behaviour towards women has changed now.

"He saw the ring and thought it was a perfect gift for Valentine's Day.

"She loved it. There's no way she's ready to get married yet so a commitment ring is perfect."

Especially when it costs that much.
[From The Sun]
Someone's publicist also called People to say that John was "really super nice" while shopping for this ring, which was reportedly a one-of-a-kind piece created by jeweler Daniel Gibbings. The source further stresses that Katy and John are definitely not engaged. Thank goodness. As for this dress that Katy wore to dinner? It reminds me of my childhood needlepoint creations. Awful.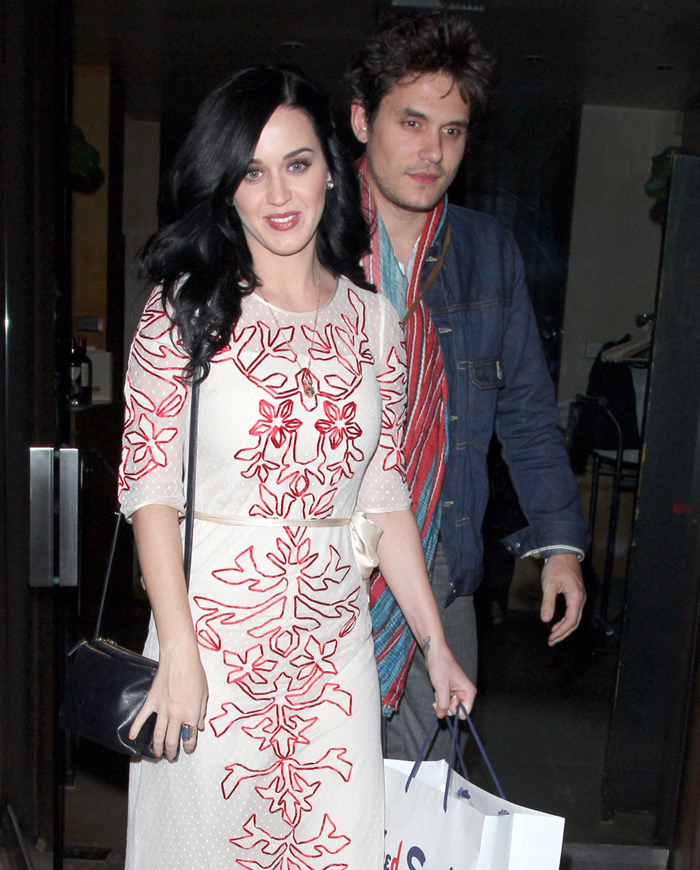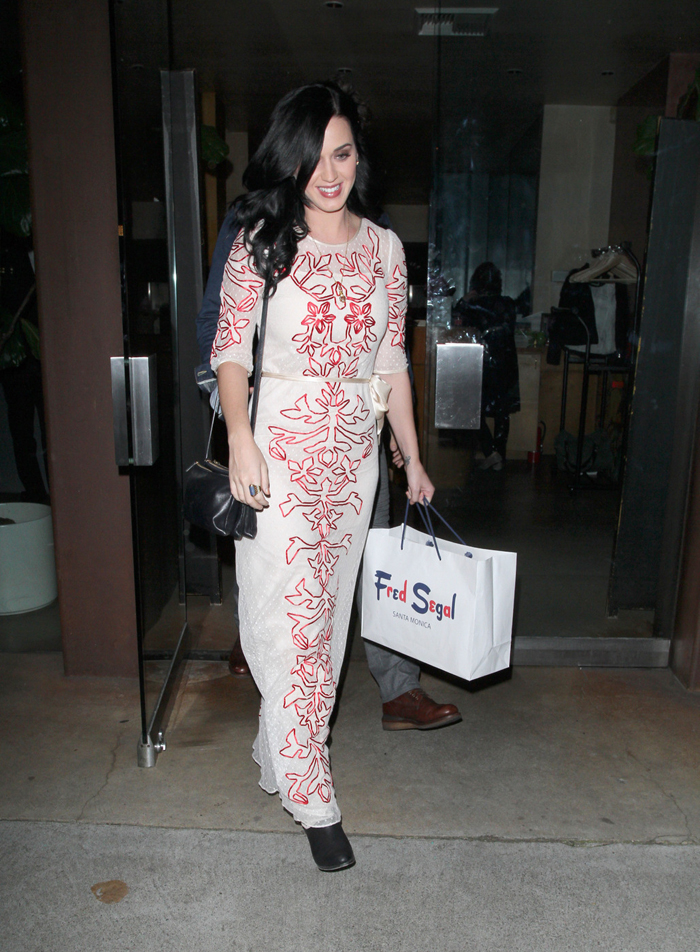 Photos courtesy of Pacific Coast News