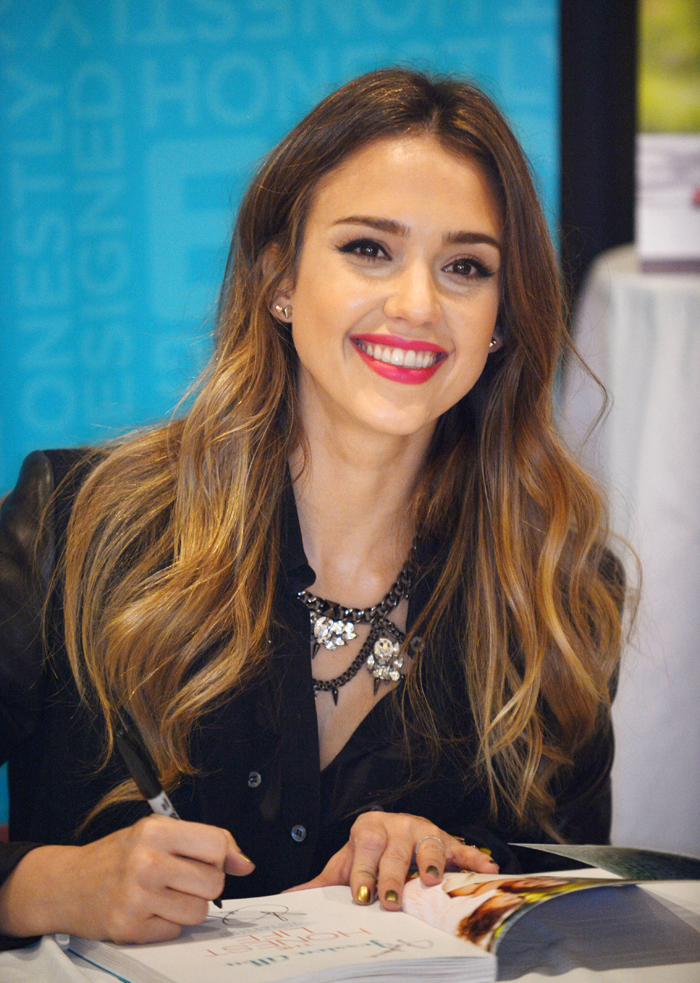 Did you know that there's a new celebrity lifestyle book on the market besides Gwyneth Paltrow's latest insufferable tome featuring guidelines on how to force your family to subsist upon a sumptuous, anti-bread/pasta/eggs/dairy diet? Well, there is indeed another "how to live your life"-type book, The Honest Life: Living Naturally and True to You, by Jessica Alba. These are photos of Alba last week at signing events in Florida and New York, and the Goop comparison is something worth exploring.
Alba's new book is an extension of her brand at The Honest Company, which is (as we've discussed on prior occasions), a business that sells baby products (core item – diapers), household cleaning products, and body care products. Last April, Star published a story about how Alba had allegedly reached out to Goop for website advice only to be snubbed, but I stopped believing that story when I saw that Goop posted a link to Honest in one of her weekly Goopletters. This also makes sense because Goop likes to feel superior, so of course she handed out advice to Alba. She hands out advice to everyone! It's probably bad advice, but Goop thinks it's good stuff, so whatever. Luckily, Alba's new book has narrowed its focus not upon gross diets but on eliminating toxins from the household environment. She's a big plastic avoider, so she and I probably wouldn't get along (I'm the Ziploc queen), but here are some details from Alba's book. Interestingly enough, she sets herself apart from Gwyneth: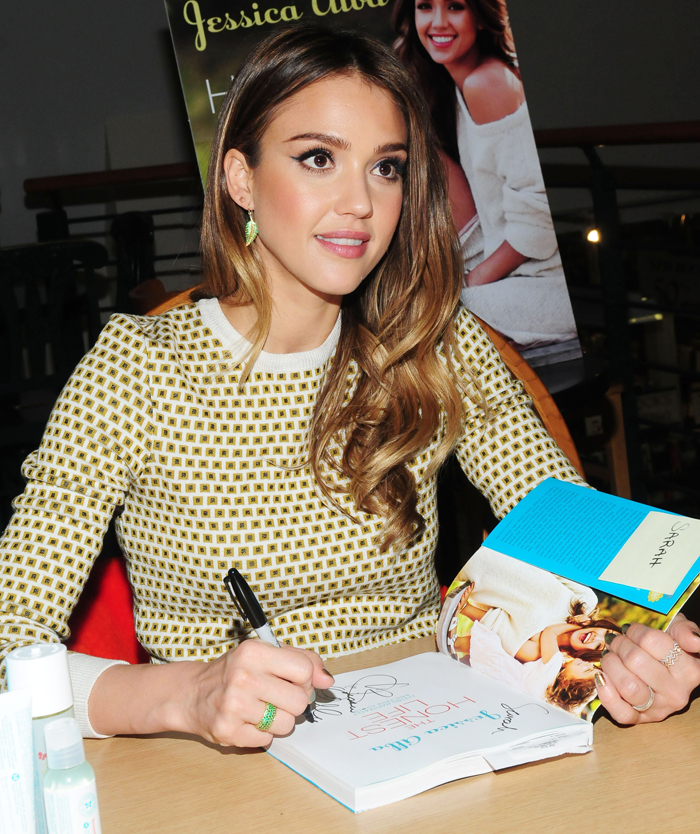 This is how she lives & she does it herself: "I absolutely do these things. That's why I wrote the book. There's lots of options, like delivery services for fresh produce that is organic, if people just want to do a couple of things in the book that are supereasy."

She's more relatable than other celebrity lifestyle gurus: "Alicia Silverstone is a vegan, so she's the extreme side of it. Gwyneth Paltrow probably lives a very similar lifestyle, but I didn't grow up with a bunch of money, so my tips are much more grounded: Repurposing things and making things at home."

Avoid everyday toxins: "Many people don't even realize that there is lead in their lipstick, or that petrochemicals in your laundry detergent could be making you sick."

She's not telling you how to live:"You can take what you want from the book."

What's a typical Alba day?

7 a.m.: Feed your tot the homemade baby food you made over the weekend by pureeing a pound of peeled veggies with chicken stock, a clove of garlic, fresh ginger and sea salt. Serve yourself a green smoothie by blending cucumber, kale, celery, apples, ginger and lemon juice.

8 a.m.: Put your best face forward by whipping up a quick coffee scrub, stirring a tablespoon of finely ground java with a 1/2 cup of full-fat Greek yogurt, and a dash of lemon juice if your skin is oily, or coconut oil for dry skin.

9 a.m.: Dressing is a snap since your closet is so organized – labels are a must! And with all your wardrobe staples (a fitted blazer, the perfect jeans and playful scarves), there's always something to wear.

Noon: You're planning a dinner party tonight, so hit your local greenmarket or specialty store during lunch for fresh organic ingredients.

5 p.m.: Get back to your pre-pregnancy weight by working out with a friend or chasing your three-year-old around. A chiropractor and prenatal yoga teacher are godsends for mommies-to-be.

6 p.m. Prep the dinner party while readying your kids for bed. Roast two chickens in the oven while the little ones take their bath.

7 p.m. Put the kids to bed; setting an early bedtime makes time for you and your hubby later in the evening.

8 p.m.: Party time! Serve the roasts with premade nuts, cheese and olives, and have the guests bring the wine and dessert.
[From NY Daily News]
Did Jessica just throw a little shade towards Goop by saying that her own lifestyle tenets "are much more grounded"? It's probably true, of course, but I can't imagine that Goop will be pleased to hear that declaration since she's trying to appear less theatening and appeal more to the masses with her second cookbook. We all know that Goop tells the peasants to stay in fancy hotels like the Ritz because they're totally worth it, and she can't possibly conceive of an existence that doesn't include an endless supply of cash from her own endorsement deals and the lucrative career of her rock star husband.
In contrast, Alba is clearly the breadwinner in her family. I think her the official profession of her husband, Cash Warren, is that of film producer, but he only has one film that he's working on this year, and this is his first movie project in three years. Alba probably also has a large overhead with a Hollywood home, childcare expenses, managerial fees, and the like. Alba knows what it's like to be on a (relative) budget, and as CB pointed out last year, The Honest Company's diapers and household supplies are reasonably priced, unlike the useless $270 pink acrylic tray that Goop was selling last year. So sure, Alba wins in relatability. She seems a little obsessive over everyday toxins, but someone's gotta do it. There's virtually no way to cut out all ambient pollution from one's life, but making changes in one's home is a good start.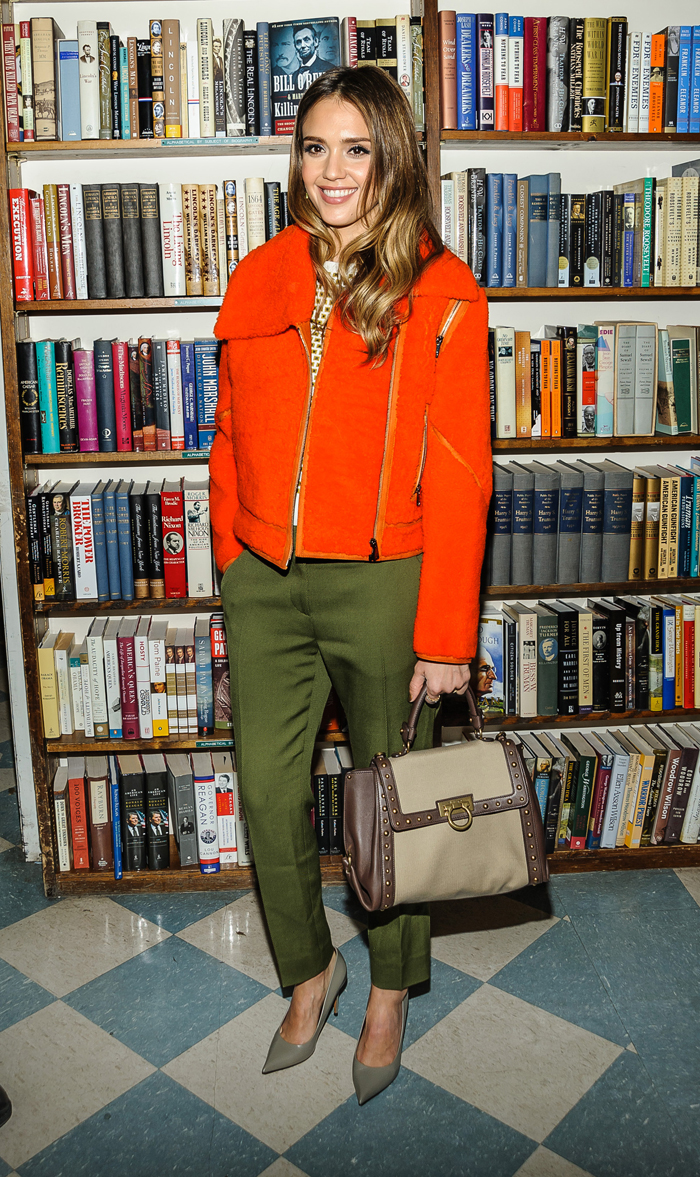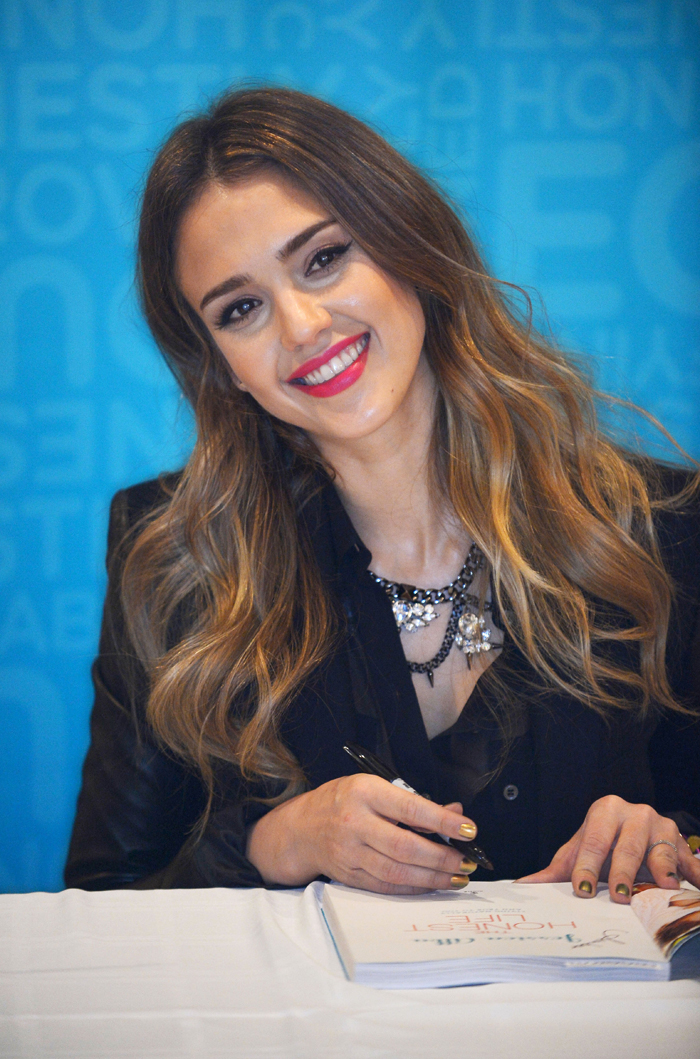 Photos courtesy of WENN