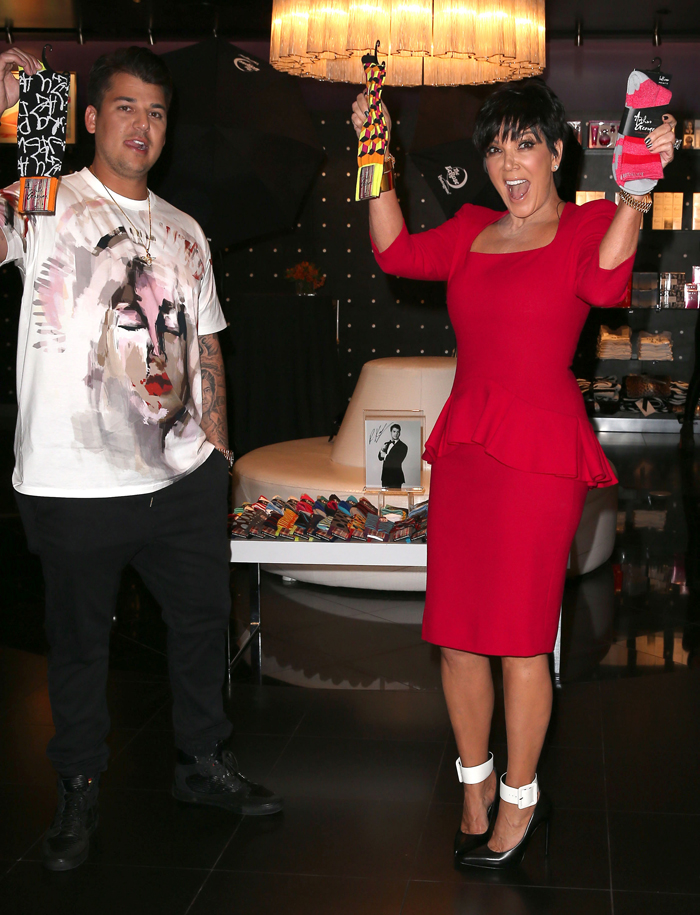 I generally consider it a slow news day whenever we're covering Rob Kardashian, and this case is no exception. Mostly, I wanted to cover these ridiculous photos of Rob with Kris Jenner from Saturday evening while they promoted Rob's latest sock line in Vegas. Because sock designing is an actual profession or something, and Rob's line is called "Arthur George by Robert Kardashian" socks. Aren't these the most hideous socks that you've ever seen in your life? They're much worse than dirty, never washed white socks. Look at how excited Kris looks about these socks. She'll try to sell anything!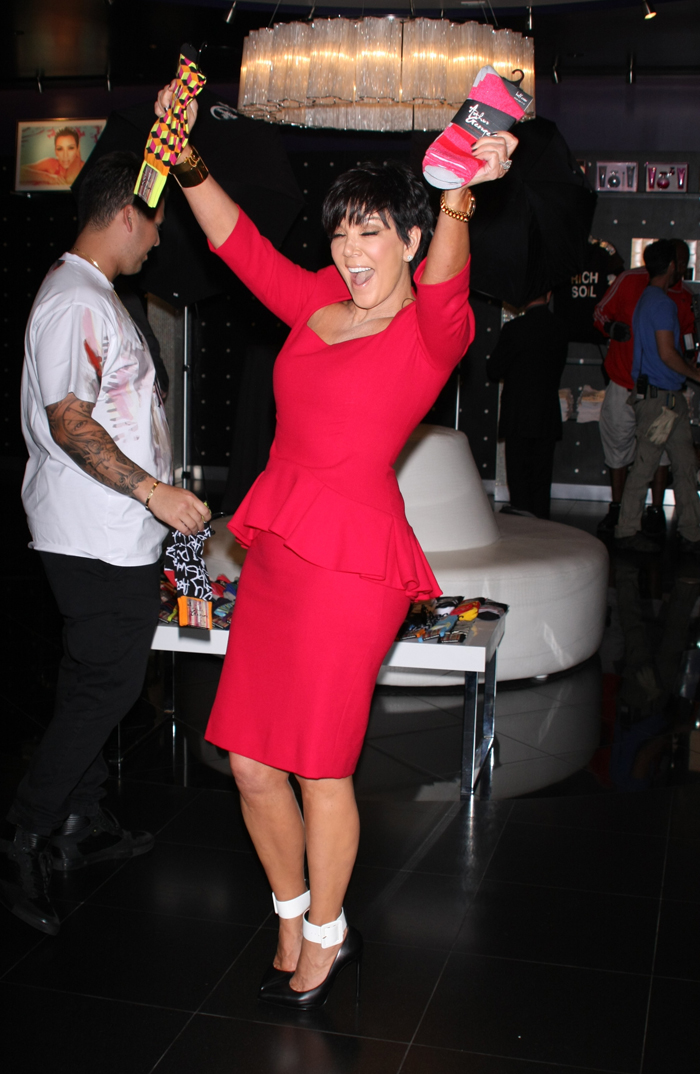 Meanwhile, Rob has been looking to lose that extra poundage he's been carrying around for awhile. If you'll remember, he claimed to have gained 40 pounds in 2 months (after his messy breakup with Rita Ora), and he's apparently trying to lose the weight as quickly as he gained it. Remember though, this is also the guy who unironically likened himself to Steve Prefontaine a few months ago, so it's no surprise that his delusions run strong. Neverthless, Rob's been gym tweeting, and he's telling Us Weekly about it too: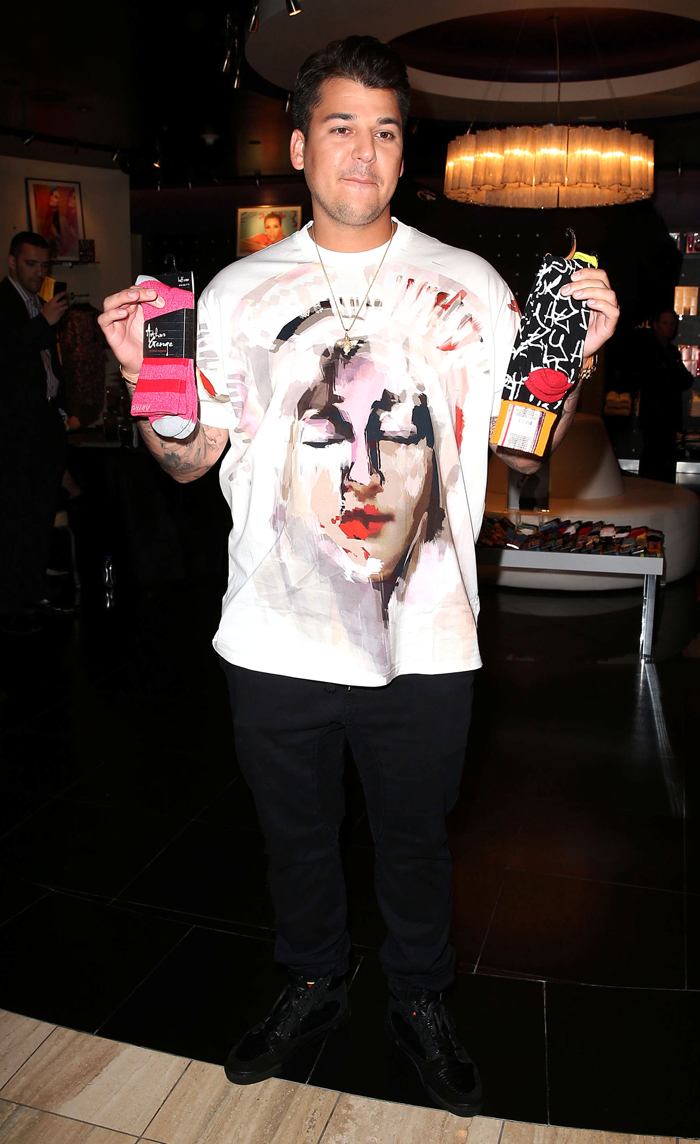 Rob Kardashian is a man with a plan. The "Keeping Up With the Kardashians" reality star has been documenting his weight loss efforts on Twitter for the past few weeks, and during his birthday party at 1OAK in Las Vegas March 15, the 26-year-old told Us Weekly about his initial results.

"I lost 5 to 7 [pounds] last week. I'm trying to lose 40," he revealed. "It's a little journey, but it's good. . . I'm like 240 right now, probably 235." Kardashian added that he hopes to reach his goal weight by July 4.

The sock designer said he packed on the pounds by eating "a lot of great food," and now the single star is adhering to a low-carb diet. His slimdown motivation? "Beautiful women!" Kardashian admitted.

Kardashian isn't in this alone, as he's recruited friends to join him during his twice-daily workouts. "We go to do Runyon Canyon in L.A.," he explained. "I'll [exercise with] my own trainer at eight in the morning before all that."

Dancing With the Stars pro Cheryl Burke, who was partnered with Kardashian during the ABC show's thirteenth season in 2011, has also lent her support. "We've started running and doing our own little workout," Kardashian told Us. "It's good."
[From Us Weekly]
Yep, you guys were totally correct. This guy must be angling for a weight-loss endorsement of some sort, but I don't know how he'll succeed in scoring a contract if he's losing weight in such an unsustainable manner. Seven pounds in one week can't be healthy (although he looks slightly slimmer than he did last month), and Rob will never be able to keep up working out twice per day after he loses the weight that he's looking to ditch. Still, this misguided quest for a corporate endorsement is much more interesting than, you know, sock designing.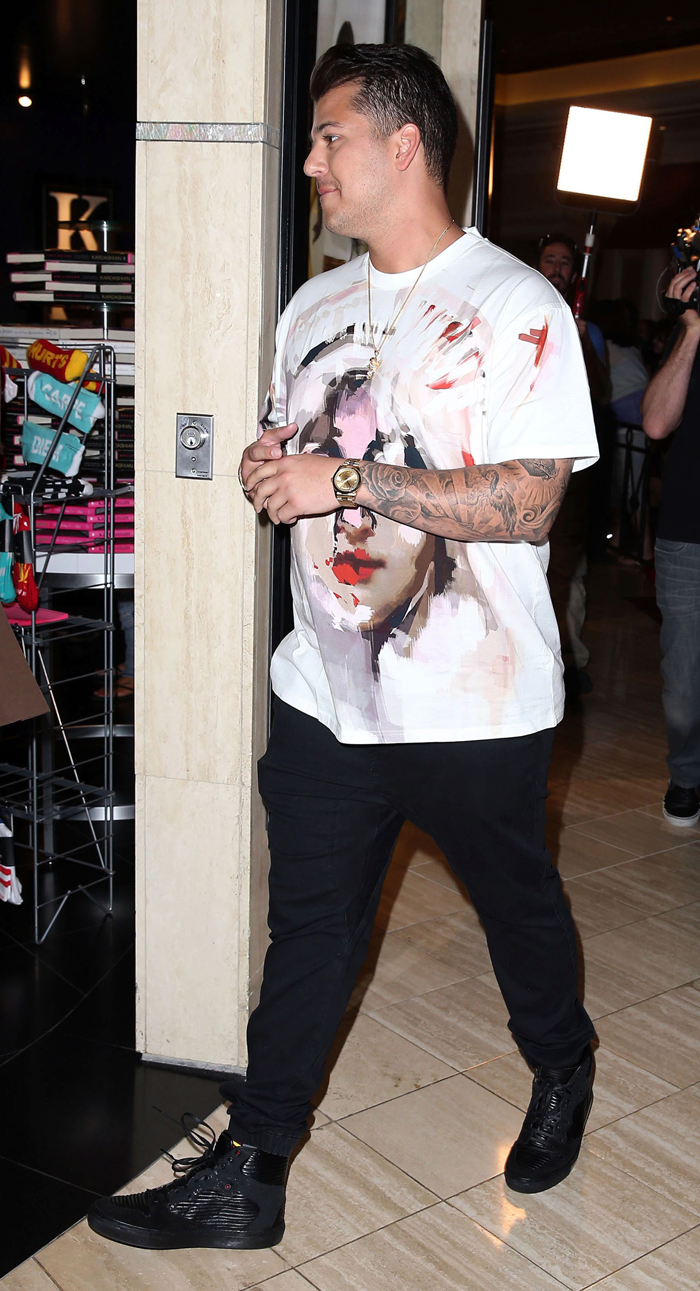 Later Saturday evening, Rob managed to ditch Kris and celebrate his 26th birthday at the Mirage. Talk about a douche patrol crowd if there ever was one, right?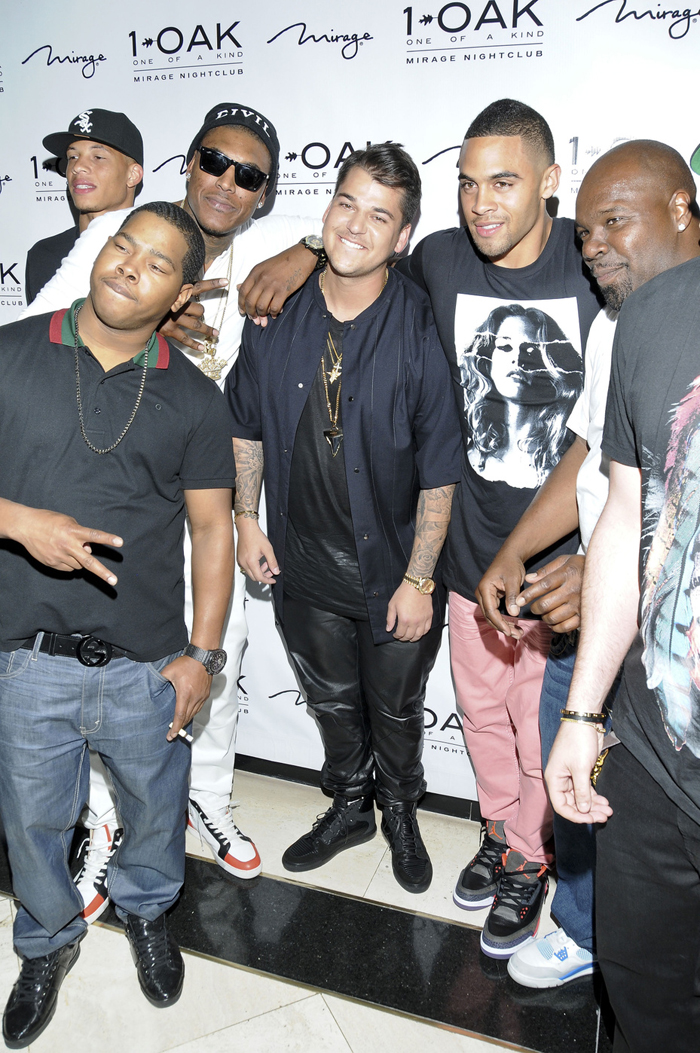 Photos courtesy of Pacific Coast News and WENN