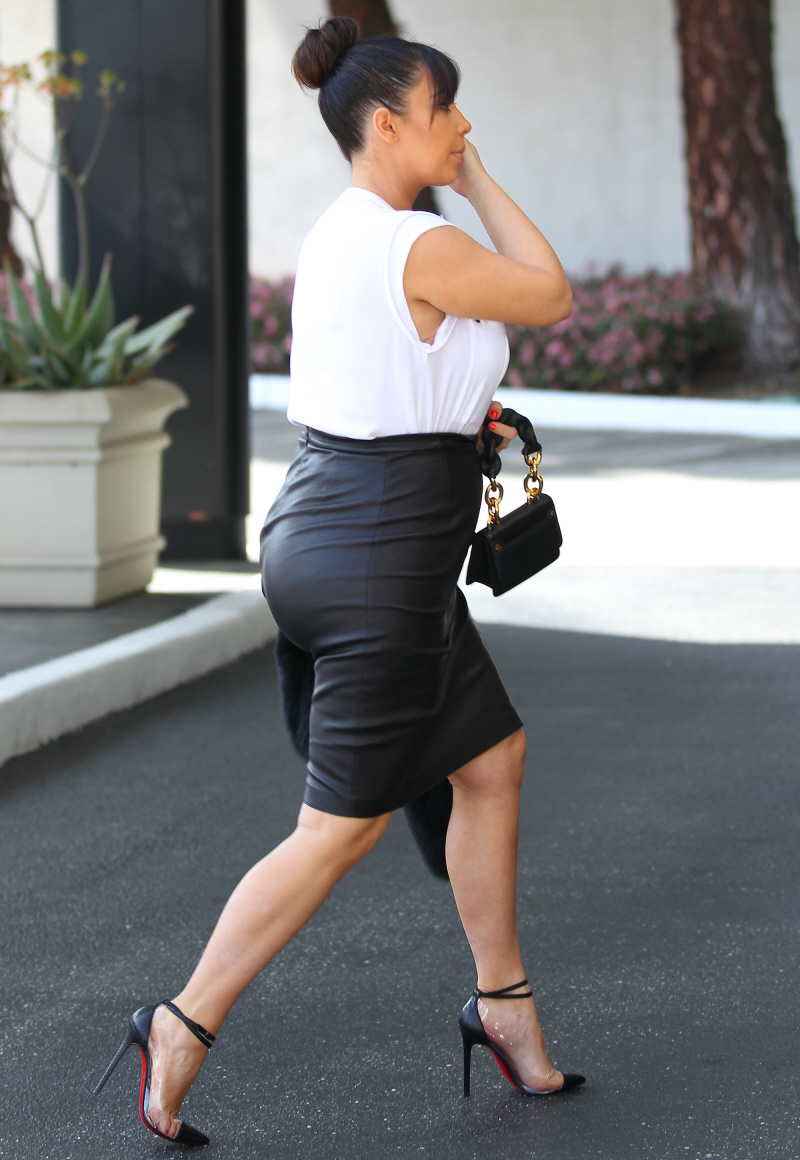 As Kim Kardashian increases in size from her first pregnancy, her maternity style has just gotten worse and worse. While I feel bad about noting her weight gain, I do not feel bad about discussing her awful style and how she literally has no idea what looks good on her body (with or without the pregnancy). But… that might be about to change. Here's how I feel about all things body-shaming, body discussion, etc: I will defend you until you lie to me. As soon as some horses—t comes out of your mouth, I will stop defending "your body, your choice". Because lying about it is also a choice, and you should have made the choice to just own the way you look without apologies or explanations.
Unfortunately, the following story is not the first time Kim Kardashian has blatantly (and hilariously) lied about her body. Remember her claim (back in 2011) that she's a size 4? Yeah. The delusion is heavy (!) for Kim. Take a load of this one:
Contrary to reports, Kim Kardashian and Kanye West haven't settled on a baby name. Though several media outlets claimed the couple had agreed to name their daughter North — and others said the name would begin with the letter K — the pregnant 32-year-old has other ideas in mind.

"I think it would be really cute because Kanye and I are both K's, but half the names on our list aren't K's," she told Extra of choosing a moniker for their firstborn. "We still have time, [so we'll do] whatever feels right." Kardashian added that her rapper boyfriend, 35, "wants something that's unique."

Kardashian also addressed the scrutiny surrounding her pregnant body, which has been at times mocked in the press. "There are maybe two or three covers just this week that say I am 200 pounds. I'm like, 'You are 60 pounds off here!'" she laughed. "It wouldn't even bother me if I gained all the weight. And I have the biggest sweet tooth and I love junk food. Being pregnant I don't like any of it."

The fashion designer said that aside from eating carrots and celery with ranch dressing, she hasn't had any unusual cravings. "I'm waiting for the moments when someone's like, 'Let's go to McDonald's and Taco Bell!'" she joked. "That's not happening for me and I'm kind of sad about it."

Being pregnant hasn't been a smooth ride for the twice-wed star, whose divorce from NBA player Kris Humphries has yet to be finalized. "I'm not going to lie and be like, 'Oh, it's been amazing and I've adjusted great,'" the Temptation actress tells Extra. "At the beginning it was tough for me when your body changes so much, but once you kind of grasp that and embrace it, it's amazing."

After a pregnancy scare in early March, Kardashian added that she's easing up on her work commitments. "I kind of split up my days. I'll do half a day of work and then I'll do half day of really just resting and taking care of myself," she says, "but I haven't been tired at all."
"There are maybe two or three covers just this week that say I am 200 pounds. I'm like, 'You are 60 pounds off here!'" ARE YOU JOKING?!!!? I sent this to Bedhead and she was like, "So… she's either 140 pounds or 260 pounds." And this is biggest problem with responding to body-shaming – you can't turn around and LIE YOUR ASS OFF to the body-shamers. I would have completely ignored this story if Kim's response had been, "Whatever, I'm pregnant and I'm gaining weight. What did you expect?" Do not tell Us Weekly that you're 140 pounds when clearly WE CAN SEE YOU.
Just to be clear – I'm not sure if she's 200 pounds. But I know for sure that she's not 140. Not with that ass and not with those boobs. My guess is that she's maybe 180 pounds, although my assumption might be off because she actually is pretty short – she's only about 5'2″. CB thinks Kim might be something like 160-170, but the gist of it is… she's NOT 140.
Also – I think she's lying her ass off about junk food too. She's been going out for ice cream a lot.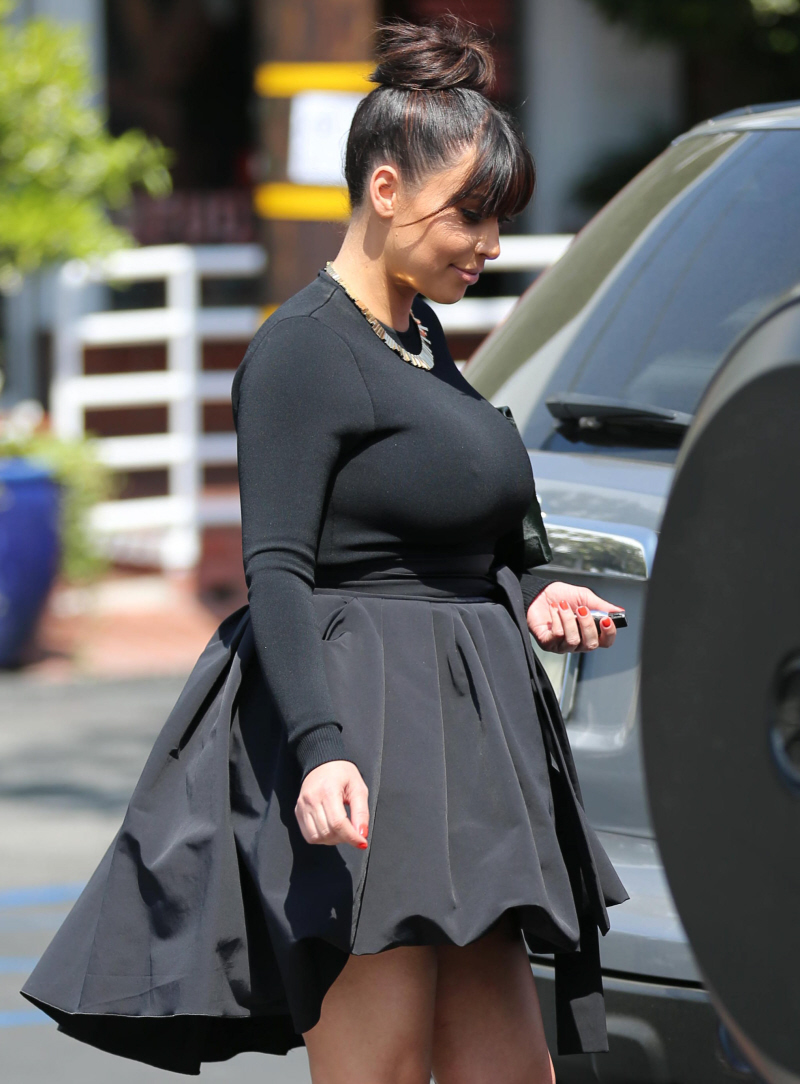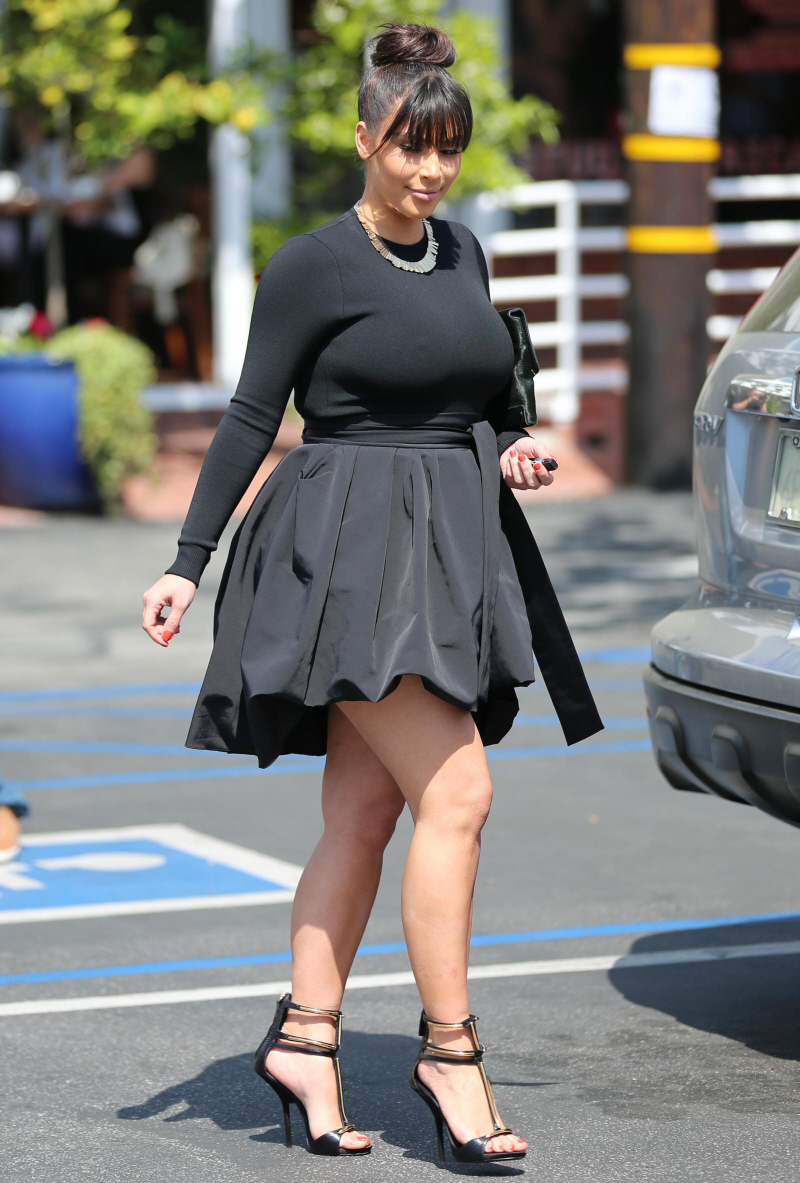 Photos courtesy of WENN, Fame/Flynet.