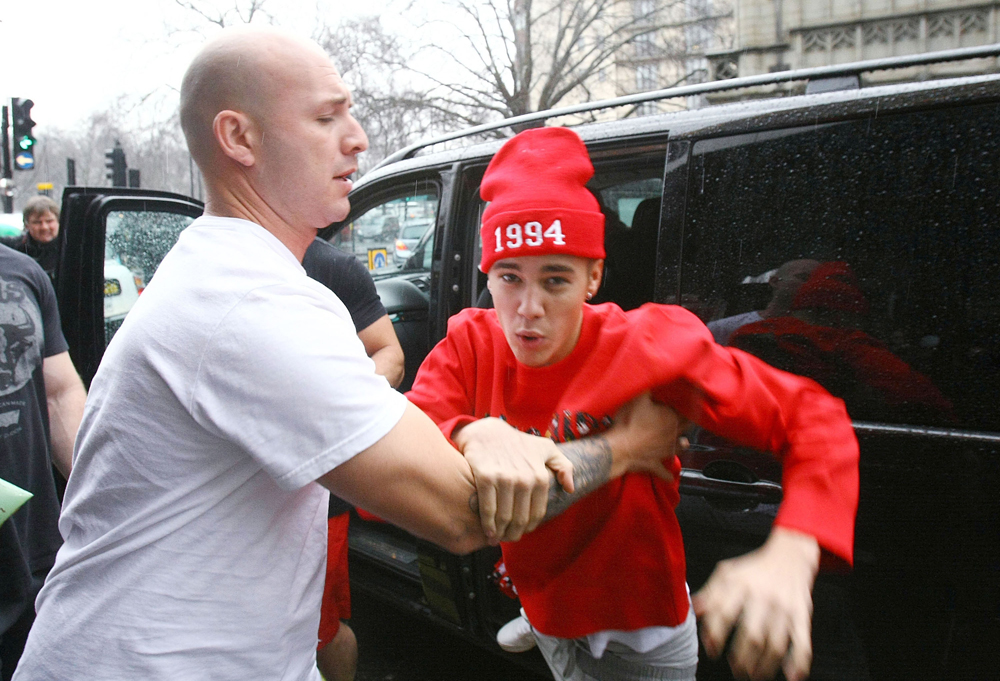 You already know how the first part of this story is going to run. Justin Bieber is out of control and off the rails. He shows up hours late for concerts, has had his cars impounded, recklessly speeds through his neighborhood, and causes homeowner revolts. He's a 19-year-old baby who chugs beer and tweets dumb videos while he's stoned while believing that he is (literally) God's gift to people.
In reality, Bieber is an utter mess just waiting to happen, and the matter is made worse by the fact that he makes so much money that no one wants to put a fork in it. A lot of people make a lot of money from this kid, and it's going to take a lot more misbehavior and idiocy on the part of Bieber for anyone to really sit him down and attempt to talk sense into him. Or maybe not? Word from Radar Online is that Bieb's manager, Scooter Braun, wants him to go to rehab for his ridiculous behavior. We'll see about that: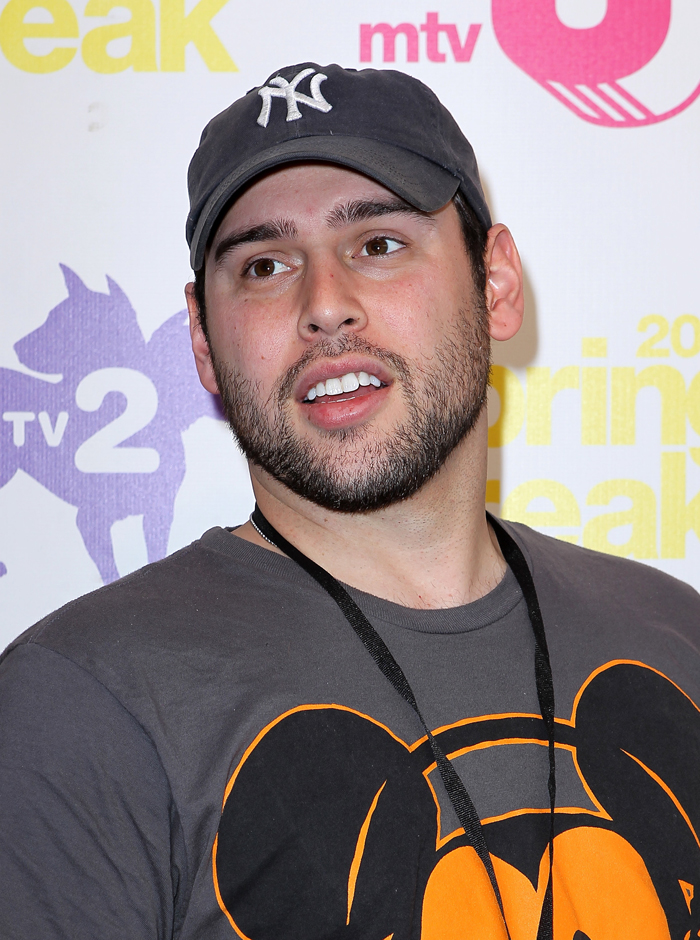 Justin Bieber's long-time manager Scooter Braun wants him to go to rehab, RadarOnline.com has learned exclusively. Bieber's partying, pot smoking and drinking is out of control and Braun is extremely worried about the 19-year-old, one source told Radar.

"Justin is hanging out with the wrong people," the source close to the star told Radar. "It's been one incident after another with him and Braun has always been very supportive and still is. But now Scooter wants him to go to rehab to get his act together. Justin needs to get away from the bad influences in his life."

Bieber has been smoking a lot of pot, drinking and been involved in numerous incidents. His neighbors are furious at his party lifestyle, and he posted a video Friday where his giggling behavior let to rampant speculation that he was high.

Justin's mother and other close friends are also concerned about him, a source told Radar. "They all think he is surrounding himself with people who do ridiculous things," the source said.

Practically every day seems to bring a new misadventure for the teen whose image was once so squeaky clean. "Justin needs to go to rehab for ALL of his behavior," the source said. "He needs to get control of his life again, quit smoking pot and partying. He is just surrounded by bad influences."

Braun is widely credited with guiding Bieber to superstardom. But now the Beebs has devolved into partying around the clock. "His partying is creating problems," said the source. "Scooter is very worried about him.

"Look, everyone knows Justin is a teenager, but this is beyond that. He's got to straighten up and get away from the people he's hanging out with. That's why Scooter wants him to go to rehab. And he's not the only one concerned. People who have known Justin for a long time see what's going on now, see the constant partying, and they think he's headed for big trouble."
[From Radar Online]
Yadda, yadda. This isn't anything that we haven't heard already about Bieber's inner circle worrying over his behavior. The only new twist here is that Scooter is supposedly beginning to realize that he's helped to create a bratty little monster who cannot be stopped. There will be no rehab for the Biebs unless he gets into serious legal trouble and is forced to go as a condition of probation or whatever. And look how well that's worked out for Lindsay Lohan.
Meanwhile, a new report from OK! magazine (via Entertainmentwise) suggests that Bieber wants to get with Miley Cyrus so freaking bad even though Miley herself has already laughed off the prospect. I get the feeling that even if Miley wasn't "engaged" to Liam Hemsworth, she'd still be laughing. Girlfriend might be utterly clueless about her own image, but you can't go from a Hemsworth to a diaper-wearing baby. That just doesn't happen. Anyway, OK! heard from a friend of Bieber's who says that he'll do anything to be with Miley, and "he figures they could be the king and queen of young Hollywood." Dream on, little buddy.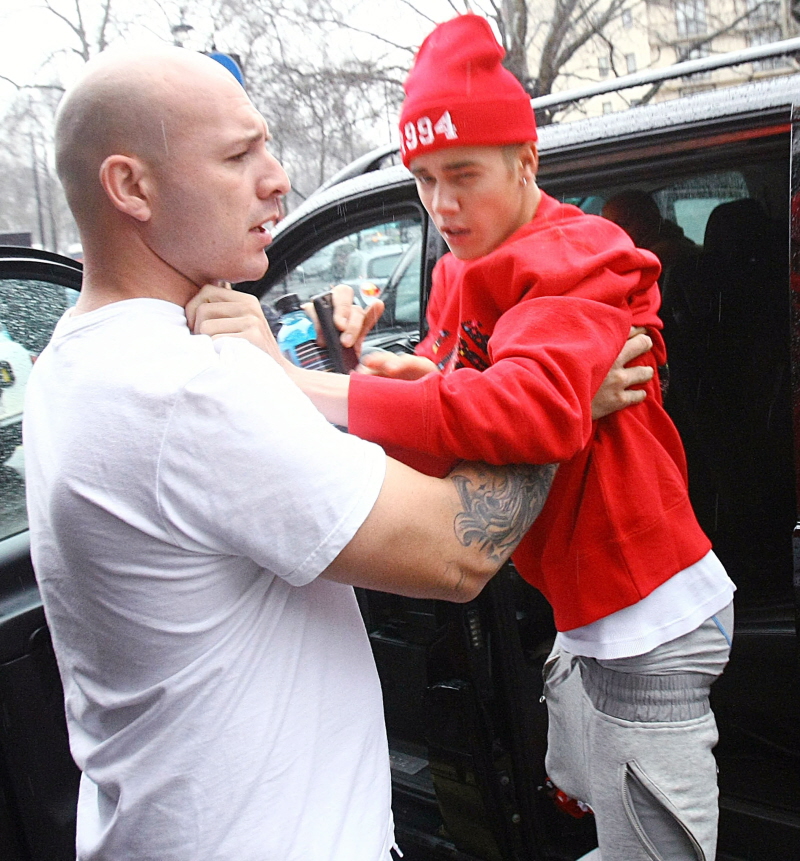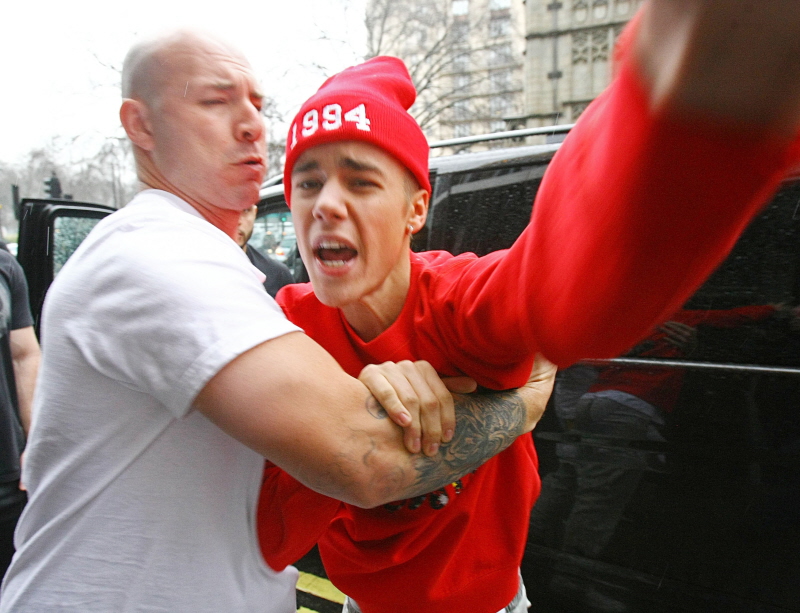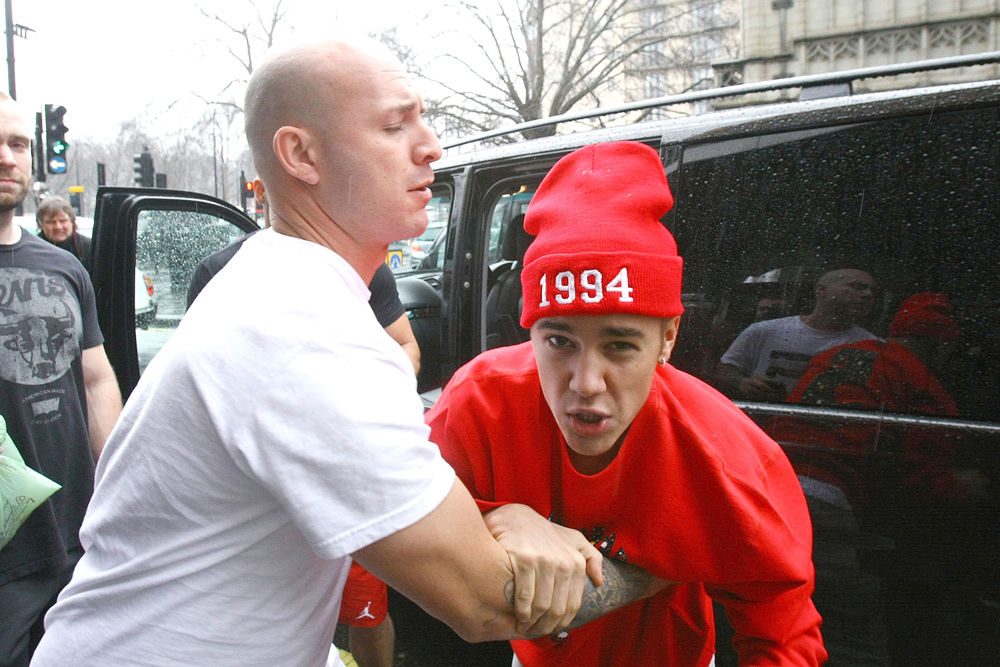 Photos courtesy of Fame/Flynet and WENN