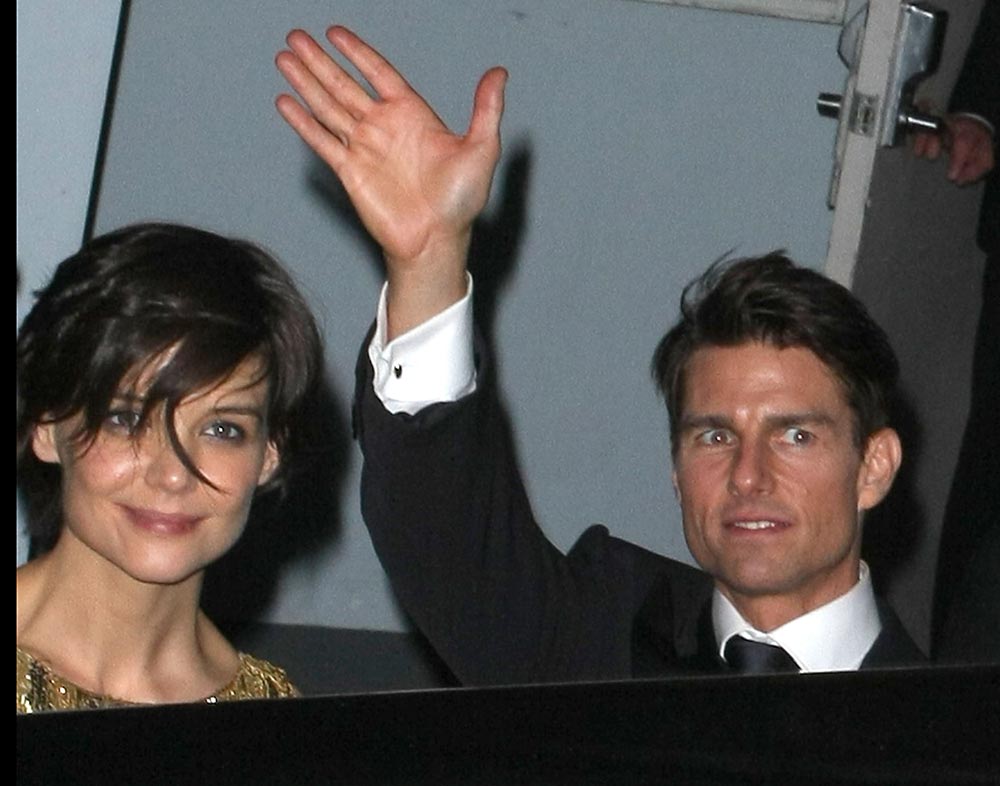 Tom Cruise is kind of growing on me. I know he's an unofficial leader and an apologist for Scientology, one of the world's most dangerous cults, and for that reason I'll never be a fan. At the same time the guy is very gracious with the public and he seems real about it. I was kind of impressed by him at the Golden Globes, especially the way he listened attentively to his old boss Steven Spielberg's speech. Maybe he's trying to convert us all with kindness because he knows he's the only one who can help. Looking at the header photo, the crazy is still very much with him.
It's hard to tell exactly what's going on with Tom's relationship with his "they said it wouldn't last" third wife, Katie Holmes. Holmes is looking incredibly tired and worn down.
According to Star, which is probably making this up, Katie is disappointed in her husband for not helping her land a decent role though which she can prove she's star material, and it's putting a strain on their relationship. Whether that's the strain that's showing up on her face or not is up to interpretation:
When Tom Cruise started dating Katie Holmes in 2005, he vowed to make all of her dreams come true, especially the one to become a huge movie star. But now, almost four years later, Katie's career is in the worst slump of her life – and sources tell Star that Tom is to blame!

"He basically told her he would manage her career and make her a big star," says one insider. "He said that in five years, she'd be the No. 1 female box-office earner in the world. Tom really believed in Katie and that his connections would mold her into a superstar…

"Katie can't understand how Tom could run a big movie studio like United Artists and not be able to steer her toward an Oscar-worthy film."
[From Star Magazine, print edition, January 19, 2008]
This might be something that just occurred to someone at Star, but it's a good observation. Cruise helms United Artists studio and can presumably use his influence to help "Kate" land a role or even create one for her. So far all she's done since she married Tom was that awful comedy Mad Money, a cameo on the TV show "Eli Stone," and a role on Broadway that was presumably her idea. IMDB doesn't have her listed as attached to any projects in the future.
Cruise is rumored to be on shaky ground with United Artists, which is owned by Cruise and MGM. His partner, Paula Wagner, left UA in August of last year amid rumors that MGM wanted the studio to move in another direction. (They put out Lions for Lambs and Valkyrie, which wasn't released at that point.) What's more is that United received a $500 million funding pledge from Merrill Lynch, which was thought to have been in jeopardy after the financial crisis and takeover of Lynch by Bank of America in September. Supposedly the money is secure, but that hardly seems possible.
Now that Valkyrie was a success maybe Tom will have more pull with the bigwigs to help "Kate" get some work. That is, if he wants her to work. He kept calling her "strong willed" during press for Valkyrie and said that he wanted 10 children but mentioned that it was up to her. Maybe he's setting up the right career-free scenario to change her malleable mind. It's not like she's earning roles with her fabulous talent anyway. Holmes' role on stage wrapped on Sunday night and we'll have to see if she remains in New York or returns to LA with her husband.
Tom Cruise and Katie Holmes are shown at a Golden Globes after party on 1/11/09. Credit: WENN.