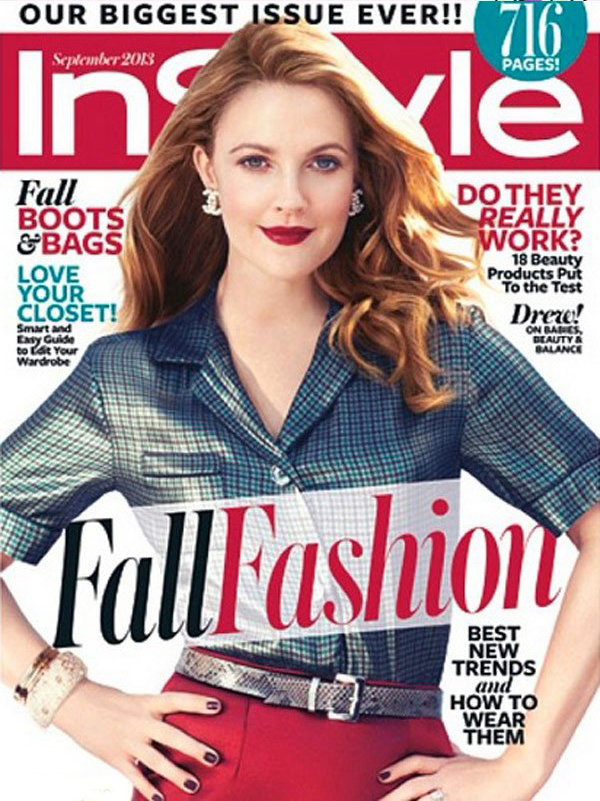 Drew Barrymore covers the September issue of InStyle. I guess the only thing more surprising than Drew capturing a fall fashion cover is that this is the seventh time Drew has covered this particular magazine. Really, Drew's street style is kind of lazy and awful (not that I have room to talk while living in jeans and yoga pants), and she rarely even does her hair unless she's on the red carpet. But she cleans up pretty well for this cover, and the stylists/photoshop artists have managed to tone down Drew's newly fried and blonde hair quite a bit.
From what I can see of the shoot, it's nothing special, but the interview is merely another opportunity for Drew to share that she's the first parent ever in the entire universe. Of course, she is no stranger to uttering sweeping statements in interviews, including how females are inherently moody and that women can't have it all when it comes to career and parenting. Drew's feature is called "A Real-Life Fairy Tale," so of course Drew is talking about her wonderful husband, Will Kopelman, and how she's suffered so much to get to this point in her life. While it's true that Drew has had some rough times (including a pretty awful childhood), I think she's been pretty fortunate overall. Here are some excerpts: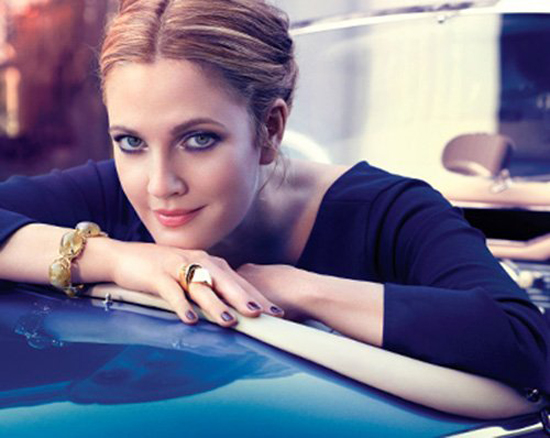 On Olive at age 1: "Yesterday I took her to the Guggenheim Museum, and these two little girls were dancing in front of a light installation. They were about 7 years old, and Olive just loves kids. We put her on the floor, and you could see how much she wanted to play with them. I had this weird mix of emotions. I was so proud of my daughter that she was giving of herself, and I began remembering those moments when as a child, you're like, 'I wanna play! I wanna play!' And the other kids are like, 'Not now, kid. Beat it!' I was like, 'Oh my god, this what being a parent is.' It's a lot of pride and a lot of nervousness."

Drew's an anxious parent: "I love the person who said, 'Parenting is like wearing your heart on the outside of your body.' It's the most beautiful, perfect analogy. I have anxieties about how much I'd like to get it right, making sure I provide her with an environment that's safe, nurturing, and loving. And silly and free, also consistent and grounding. Then I just have the same typical fear every other parent has: Are they going to fall down?"

On Will's parenting style: "Will and I are a nice balance of opposition and similarities. He always says, 'being calm is so important.' Because I tend to be not calm. I probably act more like a chicken with its head cut off! But I can also be very strong. I'm entering my 40s, and now I get to step back and take these incredible, extraordinary life experiences and life lesson and apply them to being a parent."

Drew's life lessons: "Nothing comes for free. Life does not provide you with an easy ride. You have to face really deep internal and sometimes external challenges. It's so humbling. Not to take away from the really big obstacles everybody faces, but I've also learned you just have realize how ridiculous certain things can be."
[From InStyle]
In the grand scheme of things, this isn't a particularly loopy Drew interview. I mean, at least she's not raving about her life's mission of figuring out dining rooms, right? The thing that bugs about Drew is that she thinks every experience is so "incredible" and "extraordinary" just by virtue of them being her own experiences. Like, the rest of us have never had challenges or taken a kid to a museum. Maybe we're just not as enthusiastic about Drew. She is a positive one.
Here's Drew hitting up a yoga class in May in West Hollywood. She hardly ever gets papped anymore!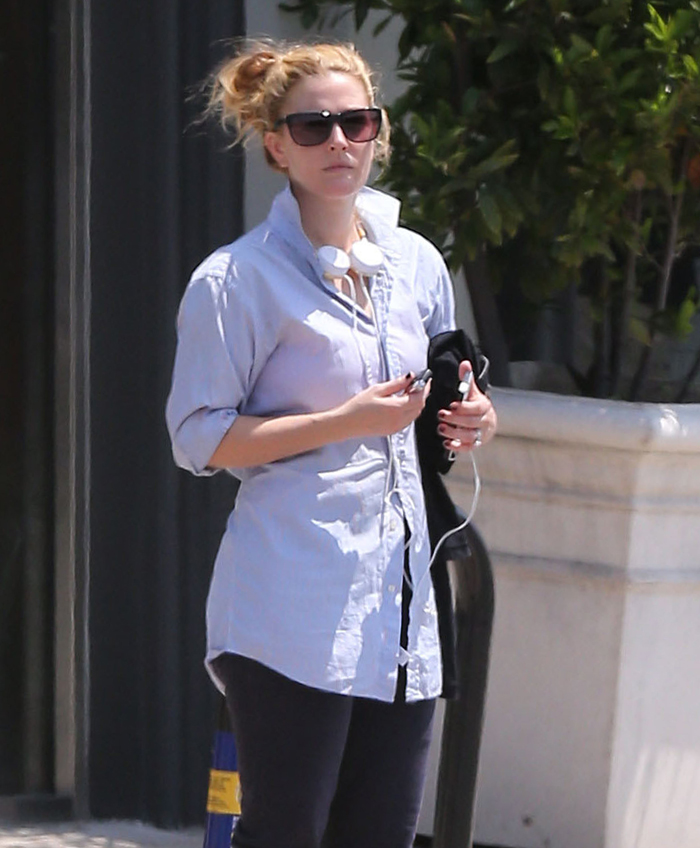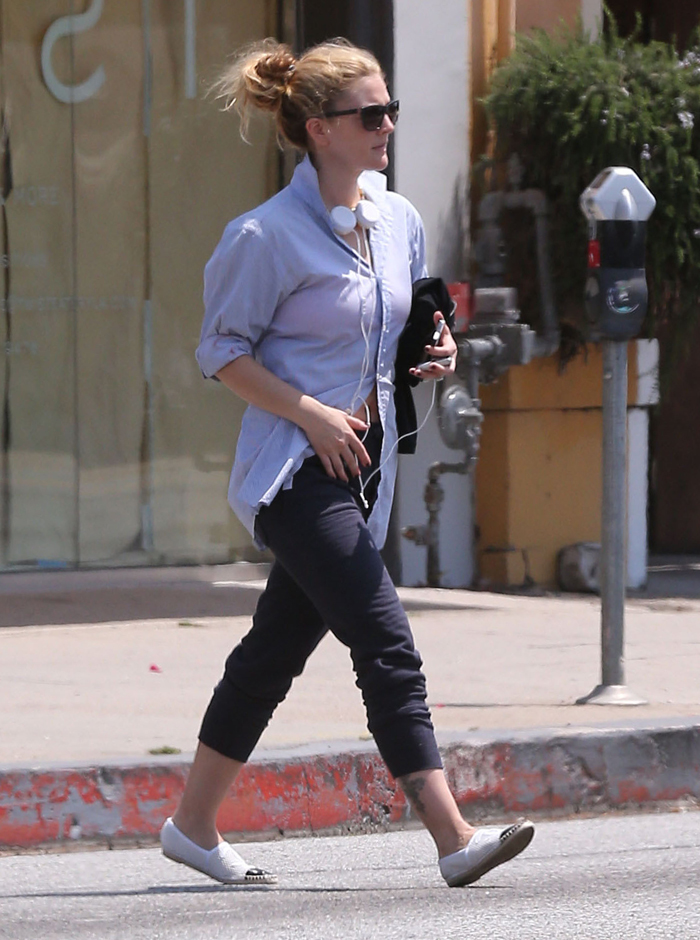 Photos courtesy of Fame/Flynet and InStyle