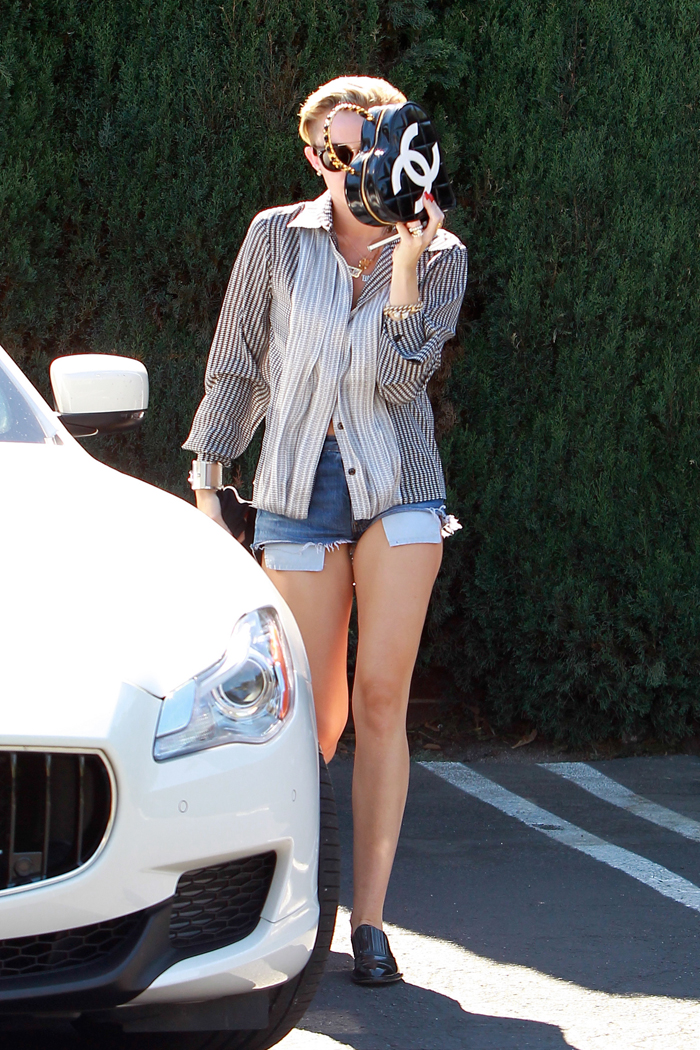 These are photos of Miley Cyrus pretending that she doesn't want the paparazzi to notice her. As you can see, Miley is hiding her face behind a heart-shaped Chanel handbag; this attitude goes very well with her "white trash and Chanel" fashion sense. I guess the Tongue was feeling shy, or perhaps Miley has swiftly moved into an "I hate fame" phase. That would be quite predictable.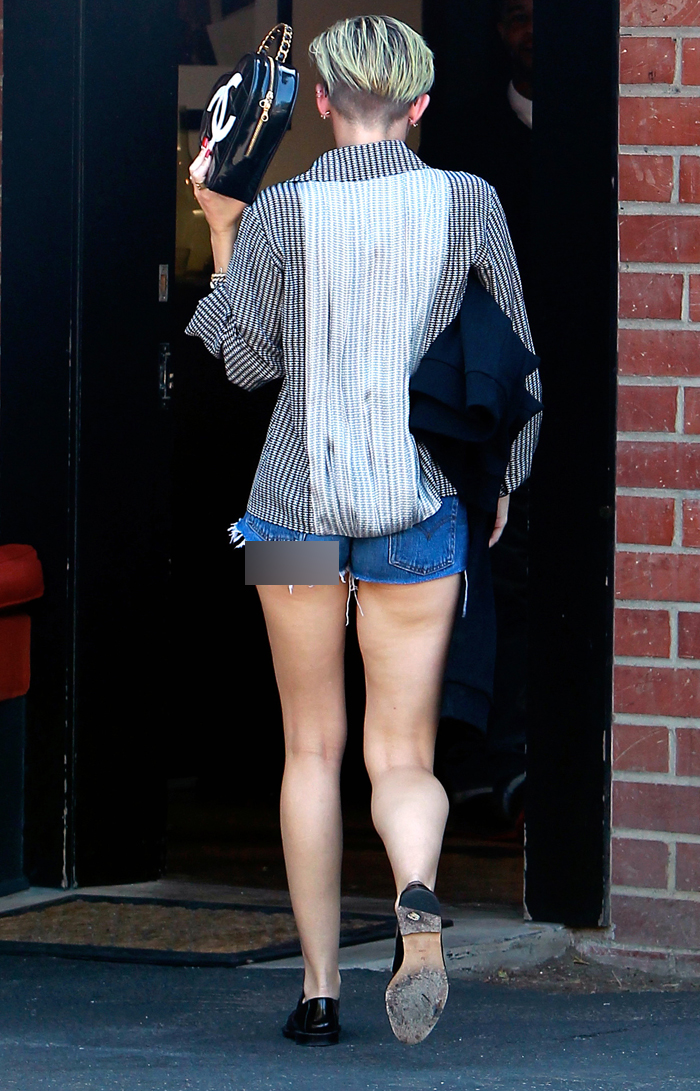 If whining about fame is Miley's new game, she's gotten off to a great start on Twitter. Miley bragged and laughed about how she called a pap the C-word. Isn't she hardcore? She's like the most gangsta of all gangstas.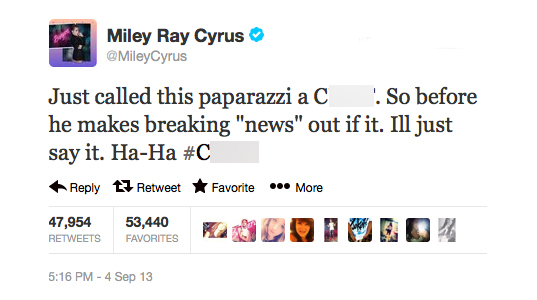 Okay so maybe Miley does have a point that this could have become a TMZ story if she hadn't bragged about it. But I think if this pap cared enough, he would have gone to TMZ regardless. Miley certainly earned her self-validation with this tweet to the tune of nearly 48,000 retweets. Crikey.
Of course this week's tabloids are still talking about Miley's VMA scandal. You know, the twerking that made history in Miley's mind. We've already heard that Liam Hemsworth is mortified and tired of babysitting Miley. Now In Touch follows up with a report from a Miley insider who sounds like they're siding with Liam:
No one is more disappointed [about Miley Cyrus' VMA act] — or disgusted — than Miley's fiancé, Liam Hemsworth. After a year of her increasingly desperate grabs for attention, the Aussie movie star, 23, has had enough. "He's mortified by her raunchy, classless VMA performance," says a Miley insider. "First it was her crazy 'We Can't Stop' video, and now this. She may have finally gone too far."

So far, in fact, that the Hunger Games hottie stopped speaking to Miley — and escaped LA on Aug. 30. "They had a fight about her performance. He's now giving her the silent treatment," says the insider of Liam, who headed to London to spend time with his big brother, actor Chris Hemsworth, 30. Adds a source: "I remember being around them when they first began dating, and he was obsessed with her. He would literally stare at her like he was a little boy, so in love. I honestly don't recall the last time I saw him look at her that way. He doesn't like the person she's turning into," said the insider, "and he's told her that many times."

[As to Liam's family,] "[They have never been totally comfortable with Miley," says the source. They may get their wish [for Liam to cut ties for good] sooner rather than later. Miley's outrageous stunts and constatnt partying seem to only be escalating. Two nights before the VMAs, she hit NYC nightclub 1Oak with MTV's Rob Dyrdek and friends. "She was dancing provocatively and kissing a guy friend she was with," says a witness. "She was pretty out of control."

The day of the VMAs, before her performance, Miley tweeted a photo of herself without her engagement ring — which Liam supporters hope signals the end of this utterly toxic relationship is near. "He's very unhappy. They're not in a good place," admits the insider. "She's desperately trying to get his attention but in the wrong way. If she keeps it up, they'll be over for good."
[From In Touch, print edition, September 16, 2013]
Gah, I am so tired of ringwatch. I don't think it matters anymore when it comes to Miley and Liam. Also, the Enquirer says that Miley "doesn't care" what Liam thinks at all and doesn't plan to stop partying at all. Naturally.
Oh and here's a forecast of disaster for you. Miley's "Wrecking Ball" video is due for release on Monday. I'm looking forward to it but not for the reasons that Miley would imagine.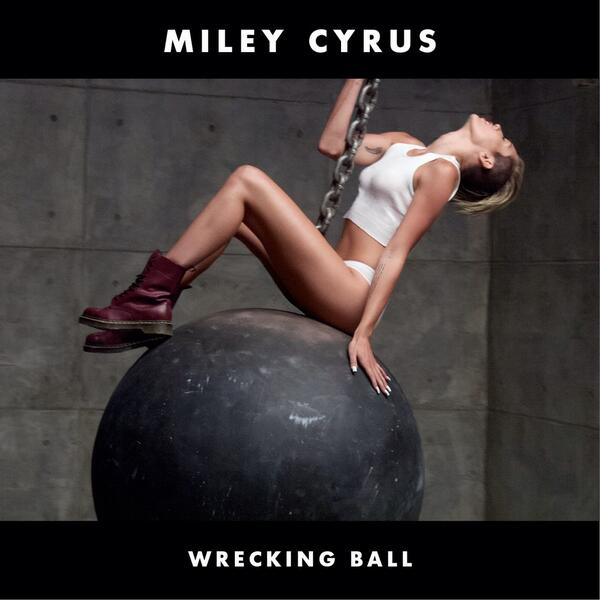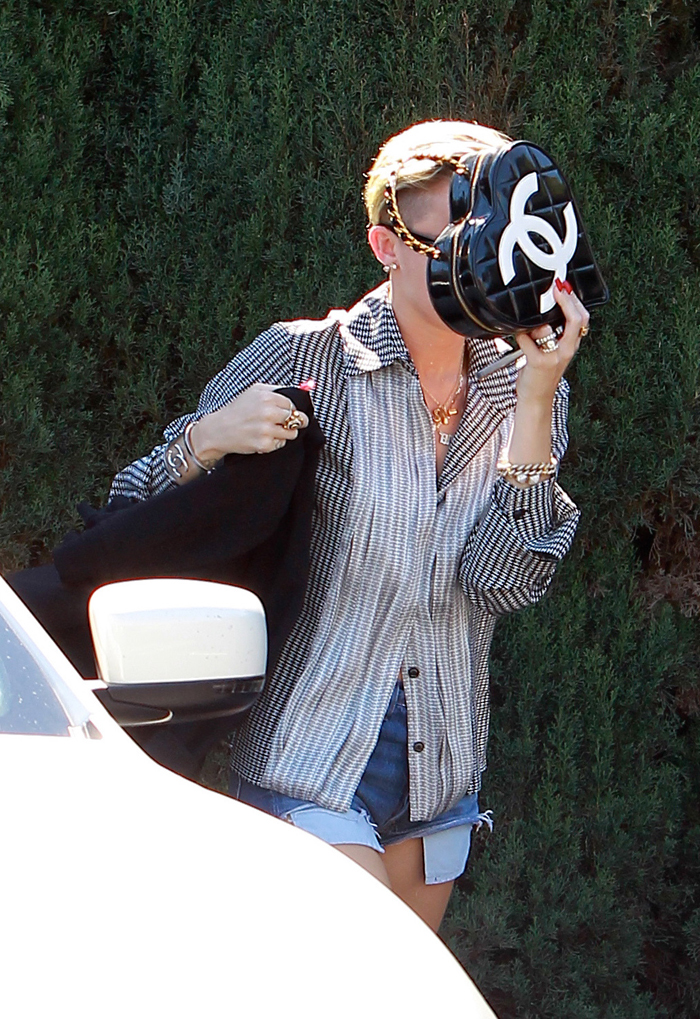 Photos courtesy of Miley Cyrus on Instagram and WENN