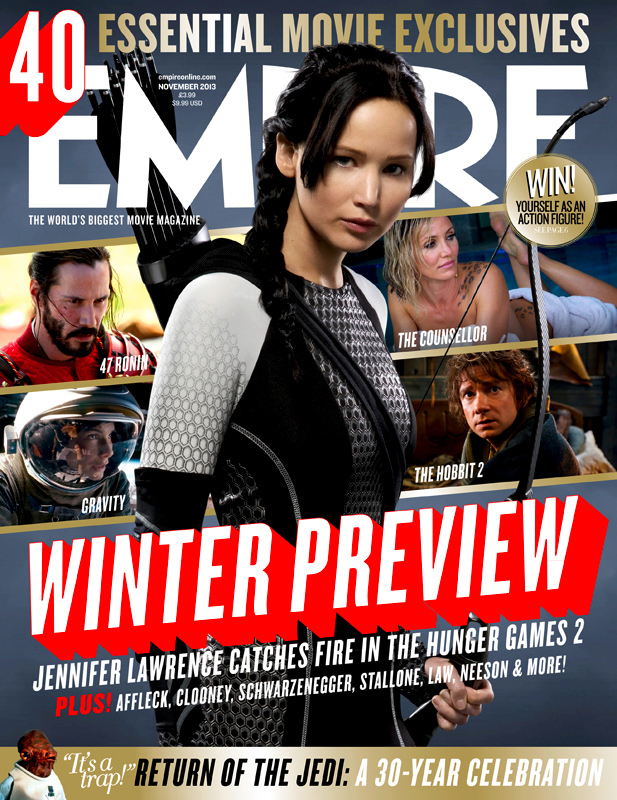 Jennifer Lawrence covers the November issue of Empire magainze as Katniss Everdeen. Of course all eyes are on the upcoming release of Hunger Games: Catching Fire. At first I wasn't looking as forward to this sequel as the first movie. I (perhaps unfairly) blamed Sam Claflin and his uneventful portrayal of Finnick Odair in three seconds of the trailer. I'll still see the second movie and give it a fair chance. Empire magazine is warming up the promotional trail: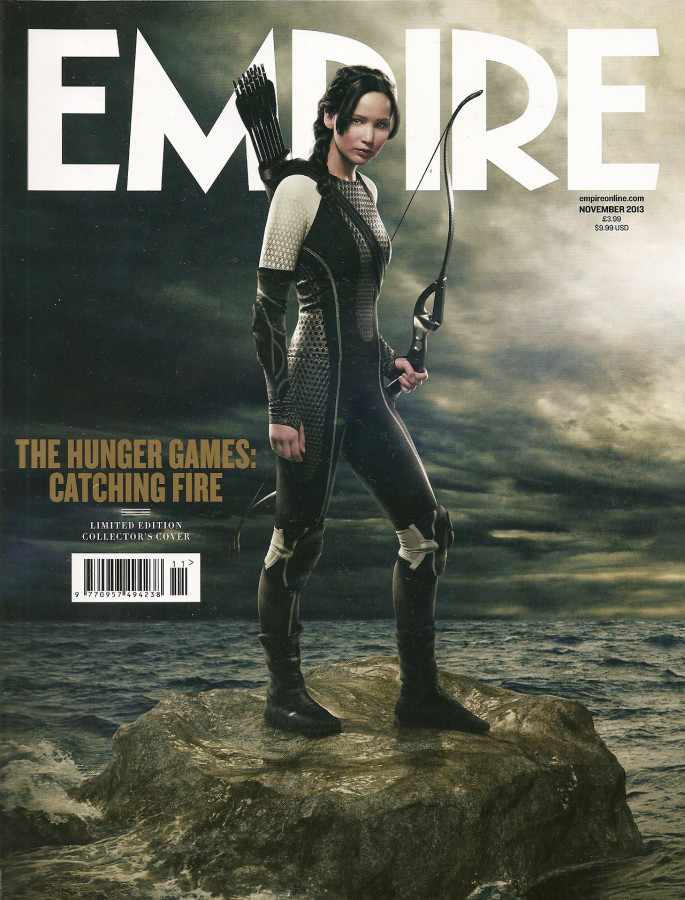 Our heroine, Katniss Everdeen, will be on the cover of Empire Magazine's November issue. This issue will be Empire's winter preview, and will have a feature on The Hunger Games: Catching Fire, alongside other highly-anticipated movies such as Alfonso Cuaron's Gravity, the second installment of The Hobbit, and more.

The feature will include comments by Jennifer Lawrence on dealing with her ballooning fame, and how she deals with people treating her differently now that she's made it big:

"I get that a lot," she admitted. "I'll go to get a coffee where I always get coffee and all of a sudden theres this weird mood, and I'm like, 'Come on, I still get coffee here, just say hello'."
[From Empire Online]
Note to JLaw: Buy a Keurig. It's not "real coffee," but it does the caffeinated trick. She shouldn't be so surprised at people's reactions. If I saw Jennifer in a coffee shop, I'd probably have the same dorked-out reaction she did while meeting Jeff Bridges. Are we still excited for a real heroine like Katniss Everdeen to hit the big screen? She's such a great role model for kids and adults alike. For Katniss, the end goal is never a romantic relationship. As a mother of a tween girl, I sincerely appreciate the sentiment.
Here's the real reason for this post — some pap pictures of JLaw and Liam Hemsworth catching dinner together. This event comes after a hard day on the Mockingjay set in Atlanta. Thank goodness Jennifer and Nicholas Hoult are officially a couple again. Otherwise we'd be hearing all sorts of fake hook-up rumors all over again.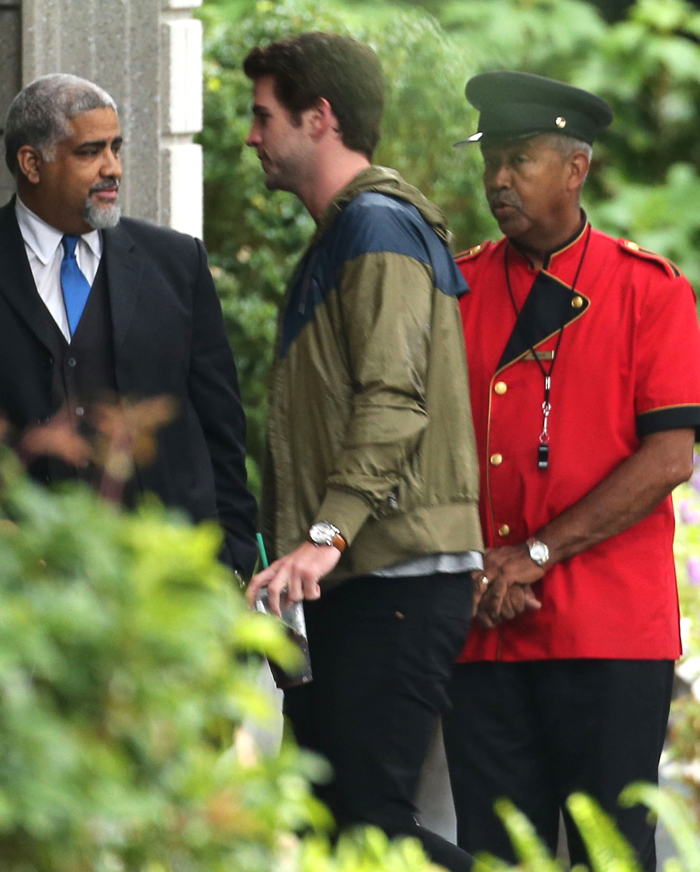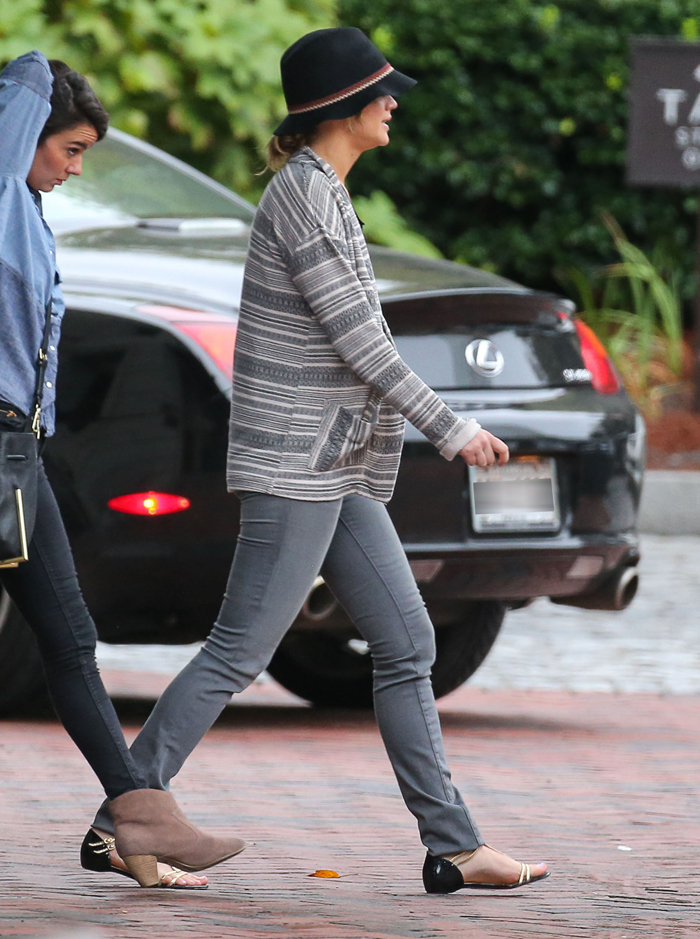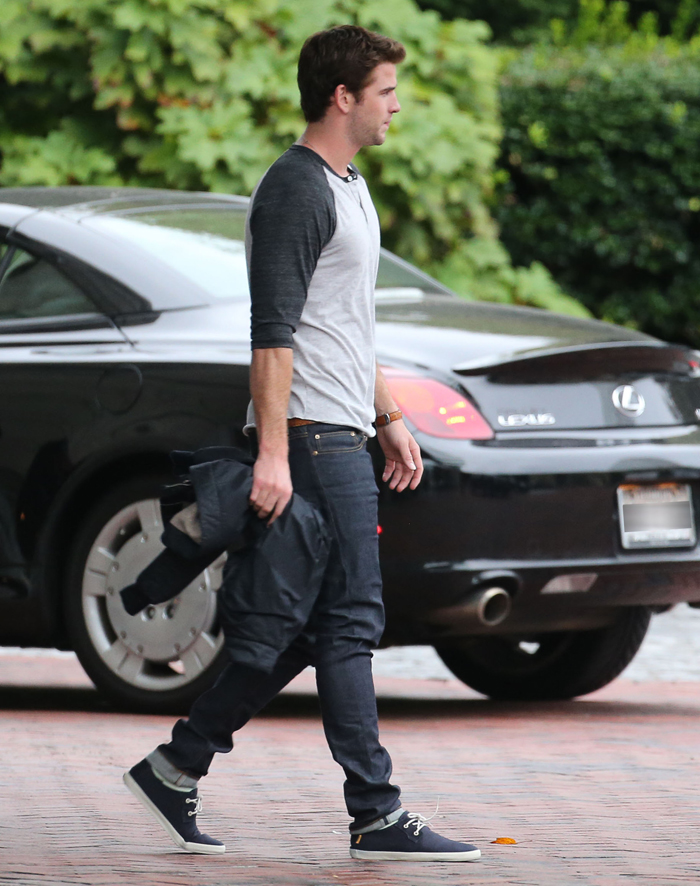 Photos courtesy of Fame/Flynet and Empire