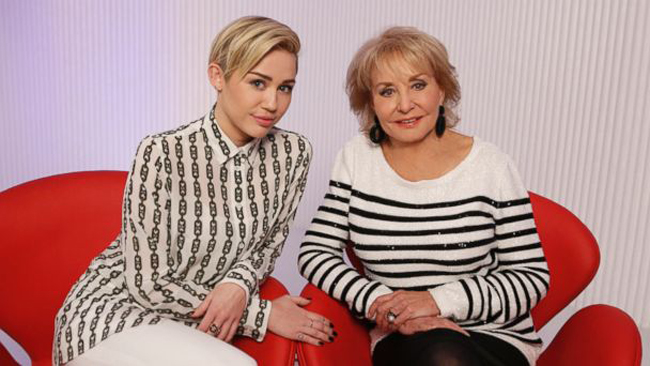 Here's a promo picture of Miley with Barbara Walters during the filming of the very last edition of Most Fascinating People. The episode airs Wednesday night. As you can see, Miley got actually dressed (in clothes, not pasties) for her big interview. She went subdued with the hair and makeup, and her tongue isn't hanging out all over the place (at least in this photo). How discombobulating.
I'm sure the full interview will contain many references to twerking and the VMAs, and maybe Miley will offer to show Barbara how to twerk. Surely she'll be more respectful to Barb than she was to Matt Lauer (even though Lauer had it coming). Here are some highlights from the upcoming special:
Miley Cyrus, 21, and Liam Hemsworth, 23, were together for four years and announced their engagement in 2012, but the couple confirmed in September that they had called it quits. While she loved Hemsworth, Cyrus said, she believes she can now "actually be happy" on her own.

"I was so scared of ever being alone, and I think conquering that fear, this year, was actually bigger than any other transition that I had this entire year. I don't ever want to have to need someone again, where you feel like without them you can't be yourself," she tells Walters.

"I don't think I realized what 19 truly is, and I got engaged at 19, and I definitely wouldn't change being engaged," she said. "It was so fun wearing a fat rock for a few years," Cyrus said, "But now, I just feel like I can actually be happy. I wait for those moments of silence, when I'm just at my house, by myself."

Several tracks on the pop singer's latest album, Bangerz, refer to love. In the song "Drive," Cyrus crones the lyrics, "I was crazy, thinking you were mine. It was all just a lie," but denied there was anything false about her and Hemsworth's relationship.

"I don't think there was any, any lies," she said.

When asked whether she ever wanted to be married and spend the rest of her life with someone, Cyrus said, "I think I'll want that in the times that it needs to be."
[From ABC]
This interview is going to be hilarious. Miley is flat-out lying about loving to be alone. Either that or she's forgotten about how she tweets up a storm about being bored and so depressed whenever there's no one around to amuse her. I think she's just trying to sound wise in this interview because it's Barbara Walters, and it's a fairly transparent ploy. But I could be wrong. Maybe Miley has really grown up in these past few weeks.
In other Miley news, she has tweeted that we're all so predictable in our responses to her heart boobs of equality:
my topless pic is showing less than when I wear clothes haha. People are proving my point so easily.

— Miley Ray Cyrus (@MileyCyrus) December 15, 2013
Miley also won the Music Choice award for best female artist. Here's her acceptance speech: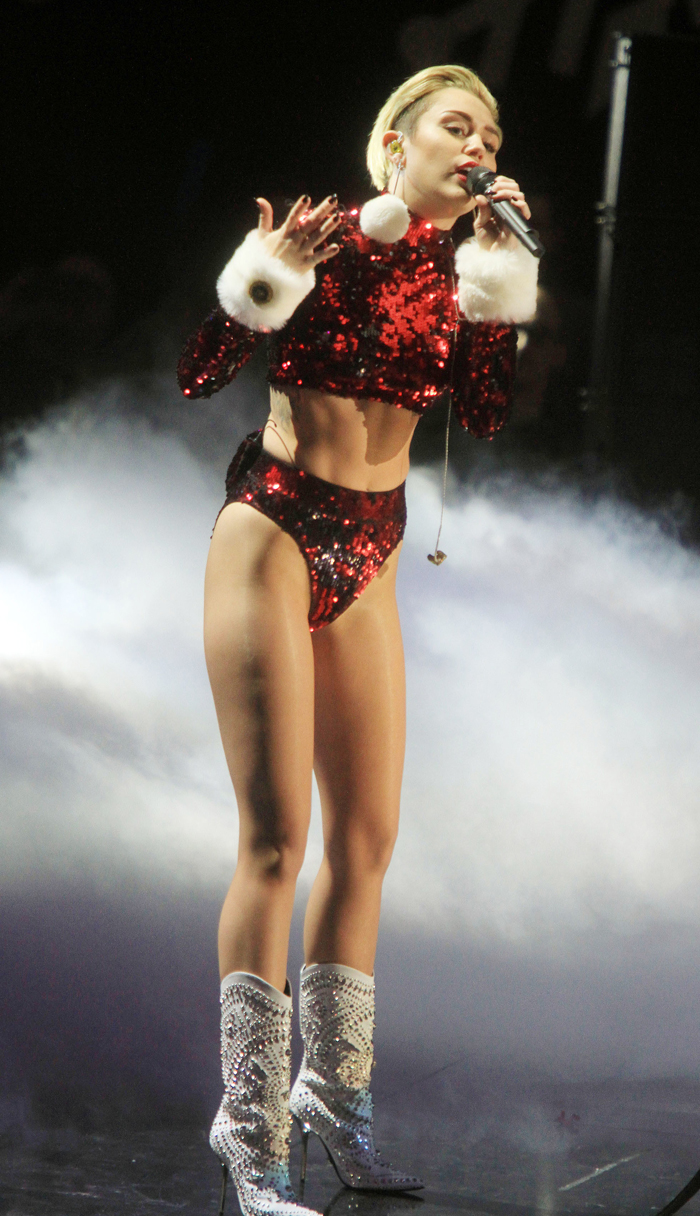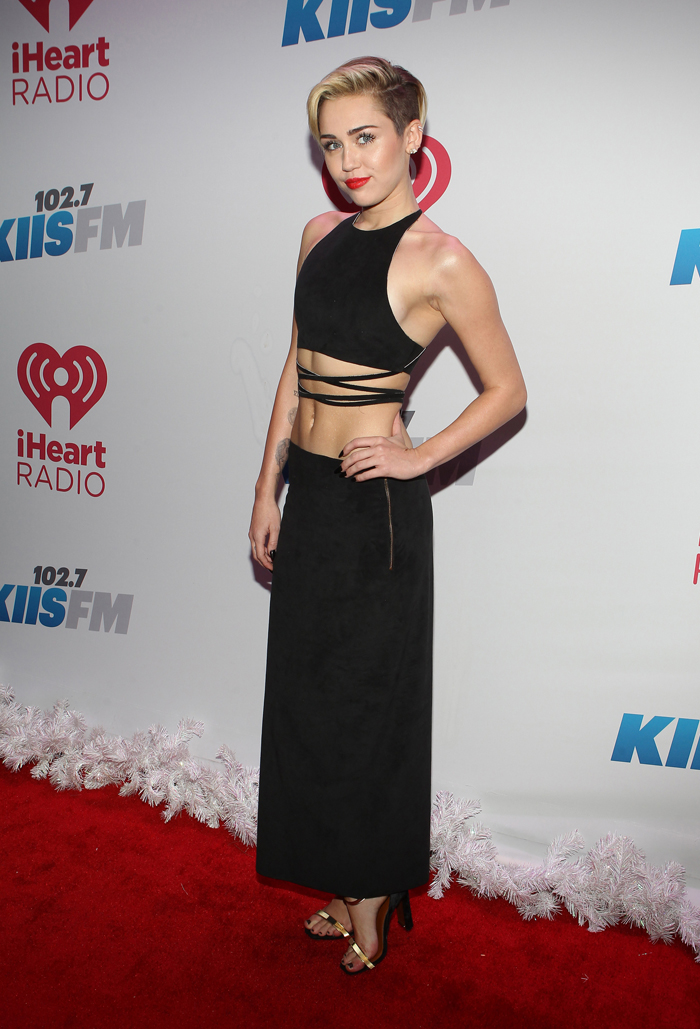 Photos courtesy of ABC & WENN