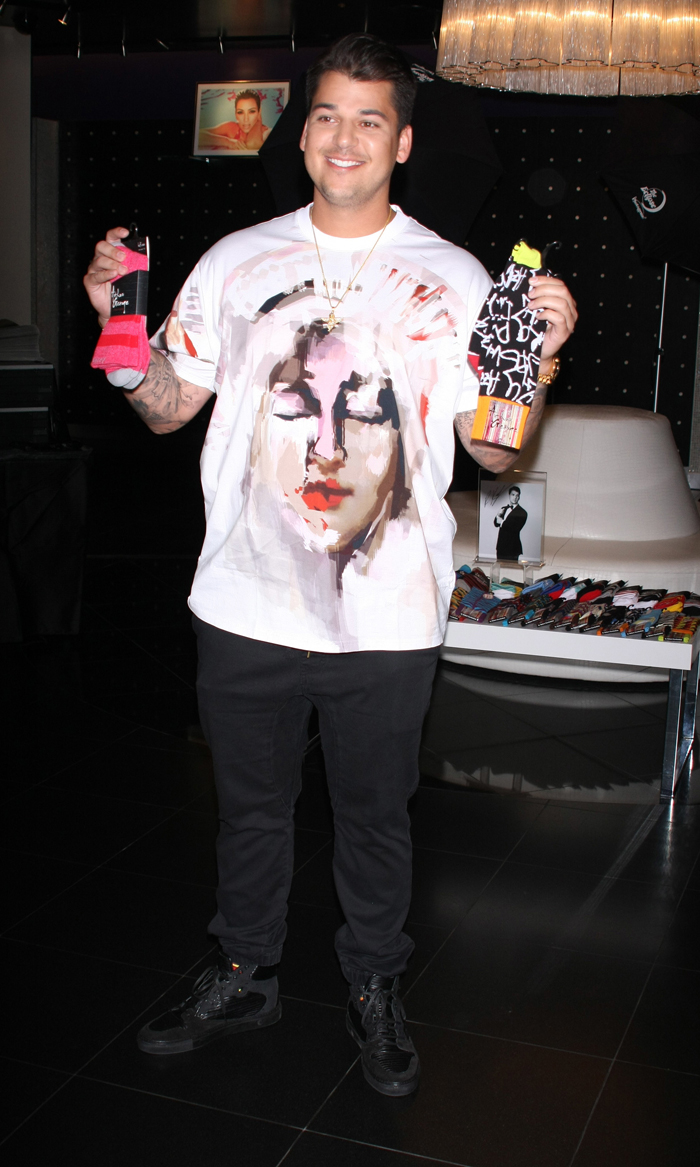 The end is truly nigh. Rob Kardashian, mad sock boy and hair growth ambassador, might be a secret father. If this tale is true, then Rob has a mystery 4-year-old lovechild who is the product of a one-night stand. All of this happened before Rob gained weight and declared that he lost his p-nis. Star magazine says Rob made a baby with a woman who is deathly afraid of fame, so the momentary couple decided to keep the lovechild a secret. Baby and mother live in Miami, and they occasionally see Rob. One of his friends caught Rob in the midst of preparations for a visit and then ratted him out to Star. Then there is the matter of some tweets-and-deletes from Rob about the existence of a Robert Kardashian III. Whoa.
This is the most bizarre and unexpected story. I'm leaning towards believing it simply because it's so outlandish. Who would make this up? How Star dug up the information about the long-deleted tweets and Instagram captions is beyond me. I'm guessing that various services do archive celebrity tweets for all of posterity, so tweeting and deleting is pointless when it comes to drunken and/or stupid thoughts that make it into 140 characters or less. Rob was probably wasted during those times when he mentioned his (alleged) lovechild online. Here are the details:
Little brother Rob Kardashian has always lived in the shadow of his older sisters. But, as Star has learned, the 26-year-old may be hiding a huge secret that would put his headline-grabbing siblings to shame: Rob is a father.

Recently, Rob confided to friends that he has a 4-year-old son, the unexpected result of a fling with a woman who lives in Miami. "Rob had a get-together at his apartment, and some people noticed a teddy bear on his bed," an insider claims. "They asked him why he had it, and he said that it was present for his son."

The reality star may be uncomfortable opening up to his friends, but his family is another story. In fact, they don't know the whole truth. "The possibility that Rob may have a child has been the buzz in the Kardashian circle for awhile, but no one knows for sure," adds the source. "And no one will talk about it."

According to the insider, Rob does have a relationship with the child, but he rarely speaks about it because he is determined to maintain a veil of secrecy. "Rob said he sees his son on occasion, when his baby mana comes to L.A.," says the insider. "He got the bear because he's expecting a visit soon."

However, Rob has let his secret slip before — and in the worst form imaginable. This past May, Rob posted a cryptic Instagram note that led many to believe he may have a child. "Shout out to God, shout out to my hair," he wrote. "Shout out Mom, Shout out to my Son's Mom cuz she has been holding me down since high school n shout out to my Son Robert the Third. lol."

Rob immediately deleted the post, but this wasn't the first time he has talked about having a child on social media. In 2009, Rob shared a Twitter exchange with family friend Nicole Richie in which he also mentioned his son.

"Bout to take time today to see the ones whom I never see. Love God. Love Family. ," wrote Rob. Nicole replied saying, "Like your son?" to which Rob wrote, "my Son unfortunately doesn't stay in L.A. You know that. Don't remind me."

If Rob does have achild, his friends have no doubt he is doing the right thing. "He is handling it," says an insider. "There is a good chance that the child's mother wants nothing to do with fame, and that's why she's staying so hush."

What's more surprising is the silence of Rob's mother, Kris Jenner, who hasn't tried to profit off a new, pint-size Kardashian. "Anytime it's even been slightly mentioned, Kris changes the subject," says a family insider. "For whatever reason, Kris is fearful that Rob being a father might hurt the brand."
[From Star, print edition, January 6, 2014]
Does anyone else find it strange that Kris Jenner wouldn't try and pimp out a baby named Robert Kardashian III? That is, if that is this poor child's actual name. If Rob's baby mama really is trying to avoid fame, I doubt she'd saddle the kid with that name. I bet Rob just calls the kid that name for giggles. Poor child. I can't imagine having a whiny sock designer with grand delusions for a father.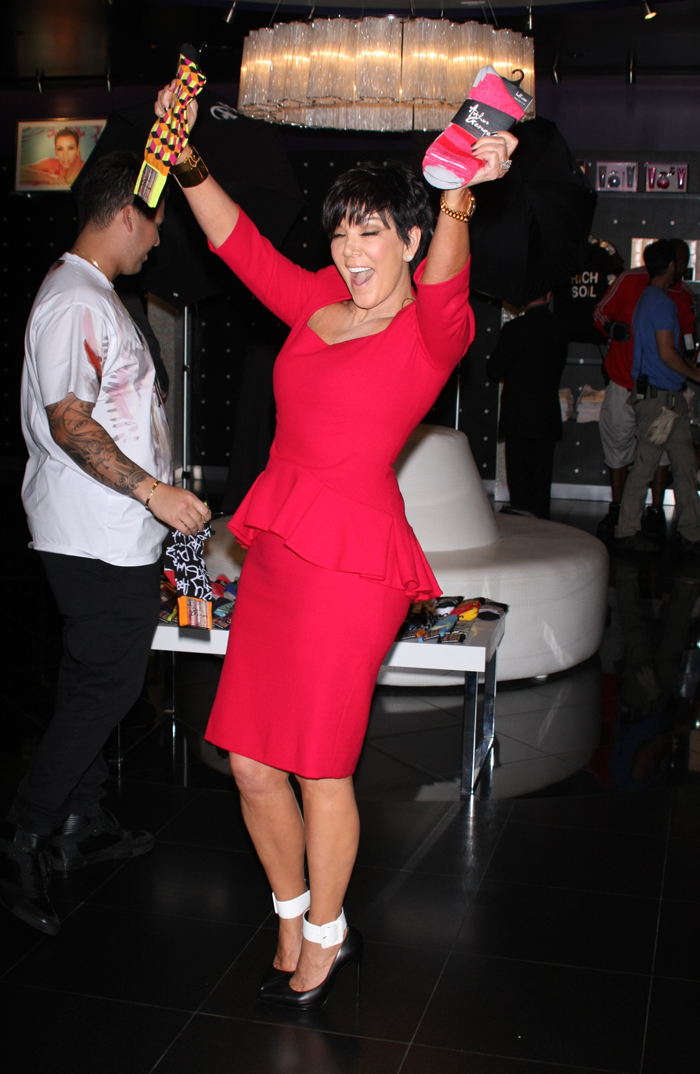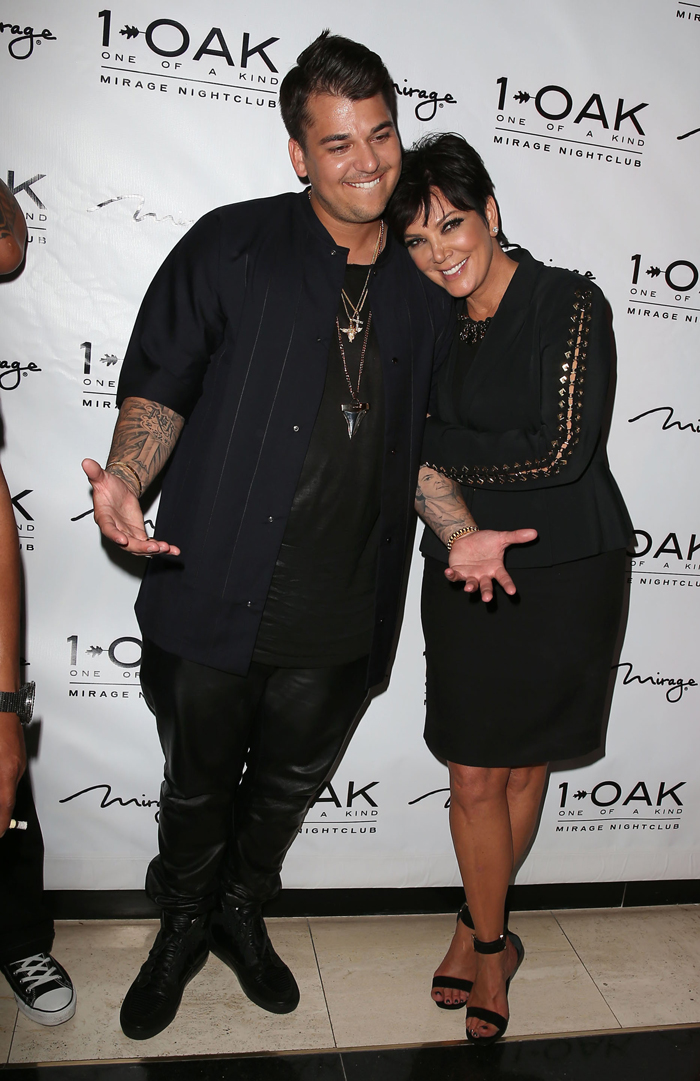 Photos courtesy of WENN