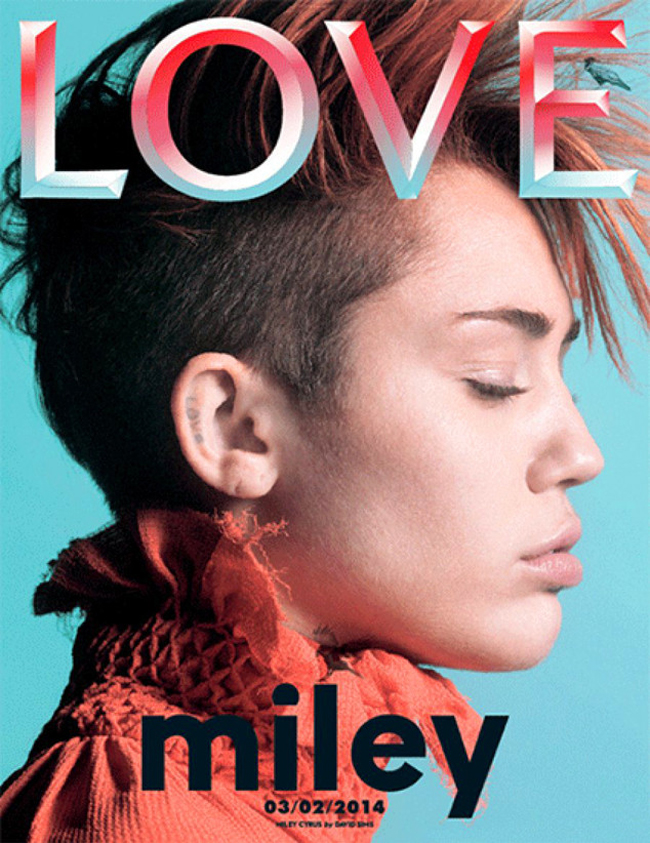 I saw this Love magazine cover about a week ago, but the interview hadn't yet arrived online, so I ignored it. Then yesterday, some really outrageous quotes (attributed to Miley) surfaced on several outlets. Supposedly Miley was talking smack about Beyonce. The words seemed real because Miley already puts down other artists all the time. Miley also talks a lot about how amazing she is and exaggerates her own importance. It happens all the time.
Miley is the same "look at me!" person who has summarized the VMAs as, "I made history." In response her new, made-up persona, Miley said, "I'm living everyone's dream." Then there's my absolute favorite deluded statement from Miley, "You know, I built an entire empire for myself by the time I was 11." All of those real quotes opened the door for someone to invent an entire interview, which is pretty much what happened. Here are the fake quotes from Hollywood Life. I'm not calling out Hollywood Life for falling for this story because a lot of sites pounced on these made-up words. Here we go:
Apparently Miley never listened to Beyonce's song, "Irreplaceable." In a new interview, the "We Can't Stop" singer revealed that she will replace Queen Bey — and that's she's the only one that can do it.

Whoa! Miley Cyrus definitely is brave to mess with Beyonce. In a new interview in Love magazine, Miley shows the opposite of love toward the "XO" singer, saying that while she's been inspired by Bey, 32, in the past, she's been "out for such a long time" and that since she's now a mother, it's time that Miley "fill that void." Read her shocking quotes below!

"Beyonce has been a big inspiration to me but she's been out for such a long time. She's so talented and I think she's at the top of the game now but people are always looking for new blood and that's what I bring to the game now, new blood," Miley, 21, said in the March 2014 issue of Love. "I got the total package you know, the curves, the rhythm, and the voice. I'm just the best," she went on.

However, that wasn't all she had to say — she decided to take it a step further, bringing up Beyonce's adorable little girl, Blue Ivy. "As Beyonce grows in motherhood and all the crap it does to your body, it will create a vacuum for fresh young faces to rise up and no one else can properly fill that void right now. I'm the only white female singer that could fill that slot right now and do it right, you know?" she shockingly said.

"I just feel like I was born for this time right now. I'm just the total package, you know?" she continued. "All things must start and end and I hope to have the same success as other icons in the game when my run is over. But for now, my run is just starting."
Like I said before, this all sounds like stuff Miley really would say. The actual interview with Love happened before Bey dropped her no-publicity album and blew the internet's mind. So it made sense in Miley's limited perspective (remember, she's only been the "new" Miley less than a year) would decide Bey was over because she's not promoting herself like crazy. Like Miley.
As soon as the "quotes" started to make the rounds, Miley took to her Twitter account and went on a rant. She denied saying all of that stuff. Love magazine backed her up.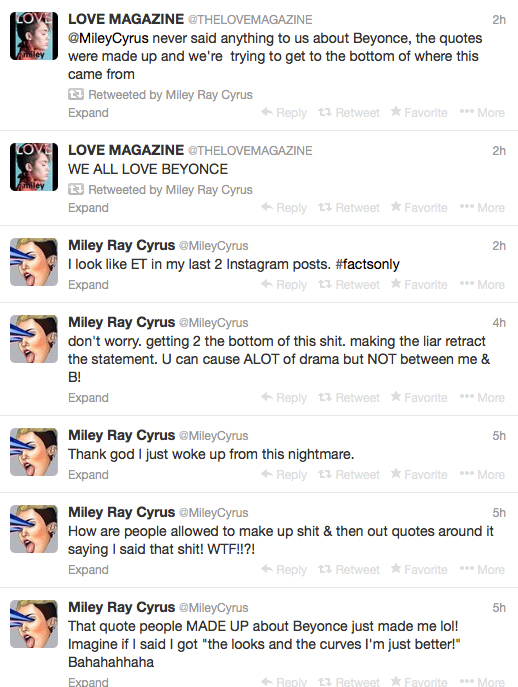 The lesson here? I guess the internet should wait a few breaths before hopping to judgment, but that will never happen. As for Miley, maybe she should step back and wonder why these outrageous quotes were so believable in the first place.
Yesterday, I forgot to include this photo of Miley locking lips with Ryan Seacrest on NYE. Enjoy!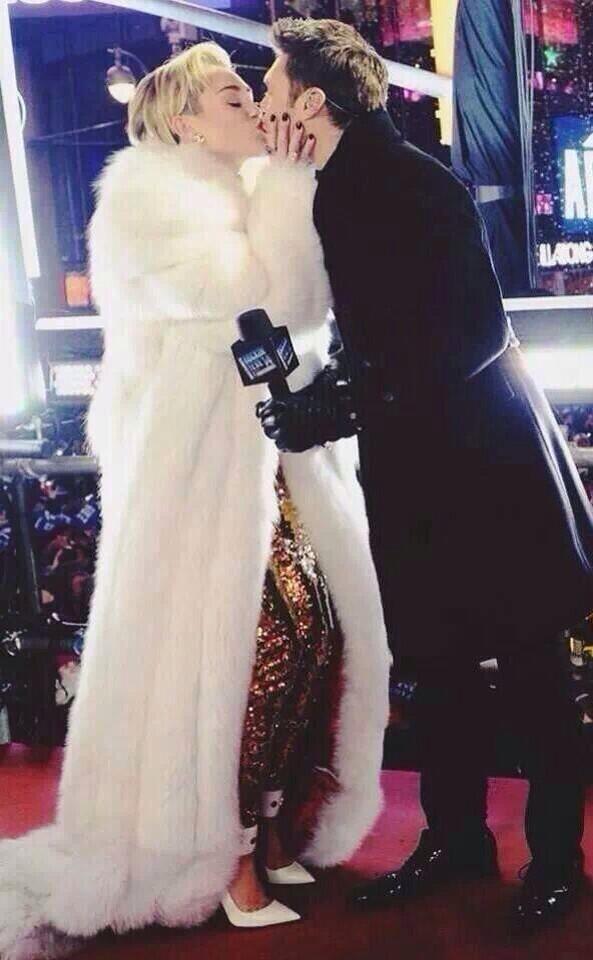 Photos courtesy of Love magazine, Miley Cyrus on Twitter & WENN