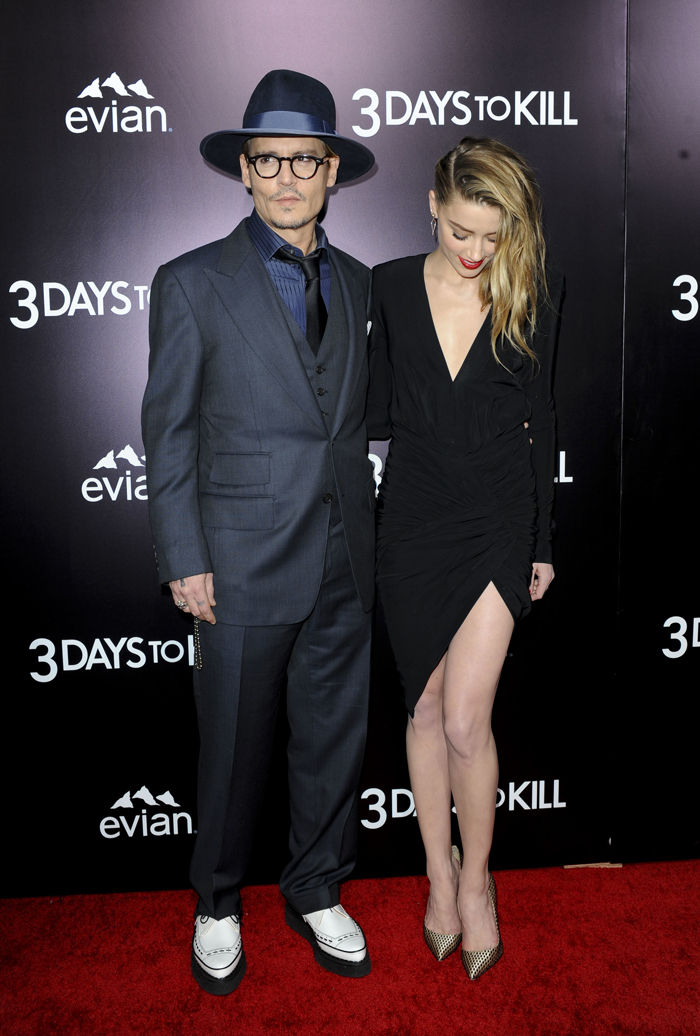 Amber Heard's new movie comes out today, y'all. Finally? She's been doing a lot more publicity for 3 Days to Kill than Kevin Costner has done. Maybe Kevin's out there too and we just haven't noticed him as much. Amber's been doing the talk shows, the magazine covers, and the eye-rolling interviews like a pro. Costner showed up for the premiere, but no one paid any attention to him because there was a scarfless Johnny Depp to gawk at.
As if on cue, The New York Post has published a lengthy piece comparing Amber to Angelina Jolie. There's a whiff of SWF to the article, but it stops short of those accusations. The piece draws many comparisons, not the least of which is Amber imitating "the leg" at the Globes. Many of us giggled last year (at Johnny) about how Johnny was trying to help Amber become the next Angelina. Amber has not discouraged comparisons in the past. Now the NY Post adds its voice to the mix. Kaiser says this piece sounds publicist-dicated, and I agree. The timing is also too perfect. I've cut several paragraphs out, but here's a good chunk of flavor:
In August, Amber Heard gushed to Vanity Fair: "I can't think of anyone who's better accomplished, [with] the kind of trajectory I admire, than Angelina Jolie." Lately, Heard, 27, seems to have stepped right into Jolie's heels — getting engaged to the only A-lister cooler than Brad Pitt, Johnny Depp (he even owns his own island!); leg-bombing the Golden Globes in a slit-to-there gown. And if you've seen Heard in her new film 3 Days to Kill, you might wonder: How is that sexy CIA agent not Jolie?

"Marrying into a secret island lair is 'out-Jolie-ing' Jolie. If Amber dusts off a brother and gets to second base with him in public, it's checkmate," says screenwriter Dan Ewen, referring to Jolie's infamous liplock with her brother. Here, a look at how imitation is the sincerest form of flattery.

Home-wrecking reputations: Both ladies are accused of man-stealing. Heard was first linked to Depp in 2010, while filming The Rum Diary — when he was still with Vanessa Paradis. Jolie hooked up with Pitt, then married to Jennifer Aniston, while filming 2005′s Mr. & Mrs. Smith. The world was rocked by the Pitt-Aniston split, but Jolie's career has blossomed. Will Heard be as lucky?

Let's talk about sex: Jolie, 38, and Heard have been open about their romantic relationships with women — most notably, actress Jenny Shimizu for Jolie and photographer Tasya van Ree for Heard. Yet each has managed to snag one of Hollywood's hottest leading men.

Wedding belles: Both of these glamour goddesses are sporting massive engagement rings … but will they ever make it down the aisle? The world has been waiting for Jolie to wed Pitt ever since the two confirmed their engagement in April 2012 (complete with a bauble designed by Pitt himself). Although the two had once said they wouldn't marry "until everyone could," Jolie said in 2012: "I don't think we'll be able to hold out. It means so much to my kids." Then again, that was two years ago. Heard and Depp announced their own wedding intentions in January. So, is it a race of who can make it down the aisle first — or who can hold out longer?

Fearless femininity: It's no secret that Jolie loves flying planes and performing her own stunts. While Heard hasn't said anything about getting a pilot's license — yet — the native Texan does cruise LA in a vintage Mustang, and says, "I'd rather shoot the gun than wear the wedding dress." She also told the Daily Mail, "I am an active member of a gun club."
[From Page Six]
Let's see. Amber and Angie are both bisexual and may or may not have homewrecked their way into their current relationships. They're both engaged, and they both like to shoot guns! Plus the leg flashing. I have no problem believing that Amber would do anything to snag the kind of movies Angelina became famous for doing. I think that's fine with Angelina because she seems to have lost interest in action roles. She probably barely even knows who Amber is, and Angelina doesn't care about anyone else marrying in a secret-island lair.
All of the similarities (intentional or not) don't really matter at all though. What matters is that people will turn out for an Angelina movie. For Amber, that hasn't happened yet. I don't think it will ever happen. Is she obsessed with Angelina, or is this just a convenient set of comparisons to promote Amber's new movie?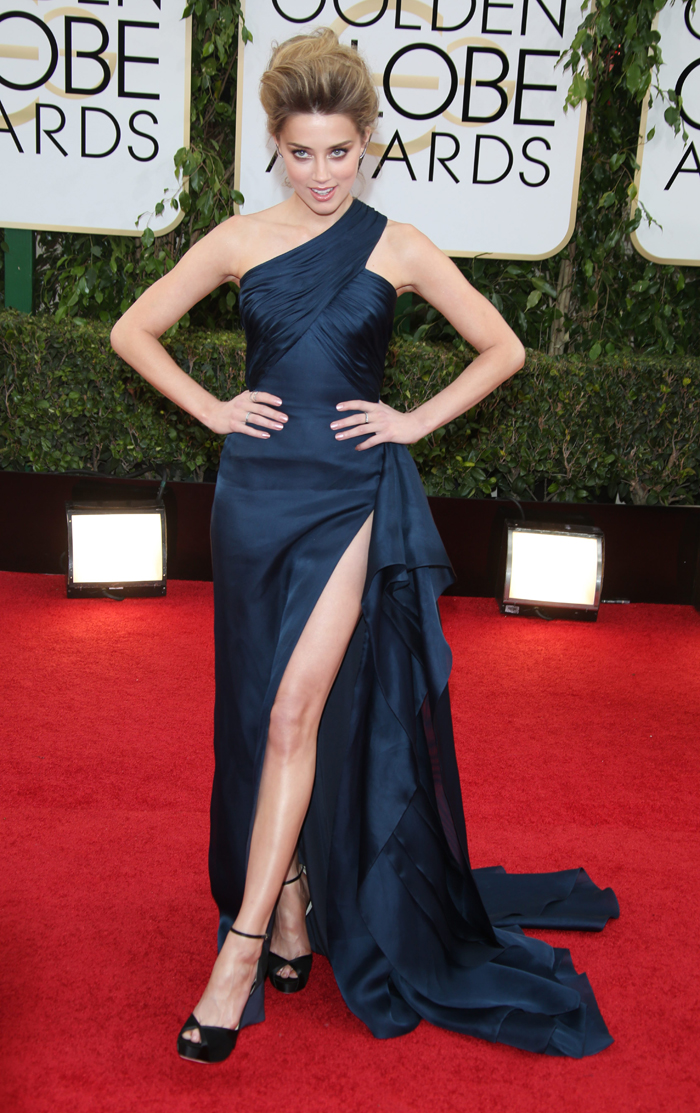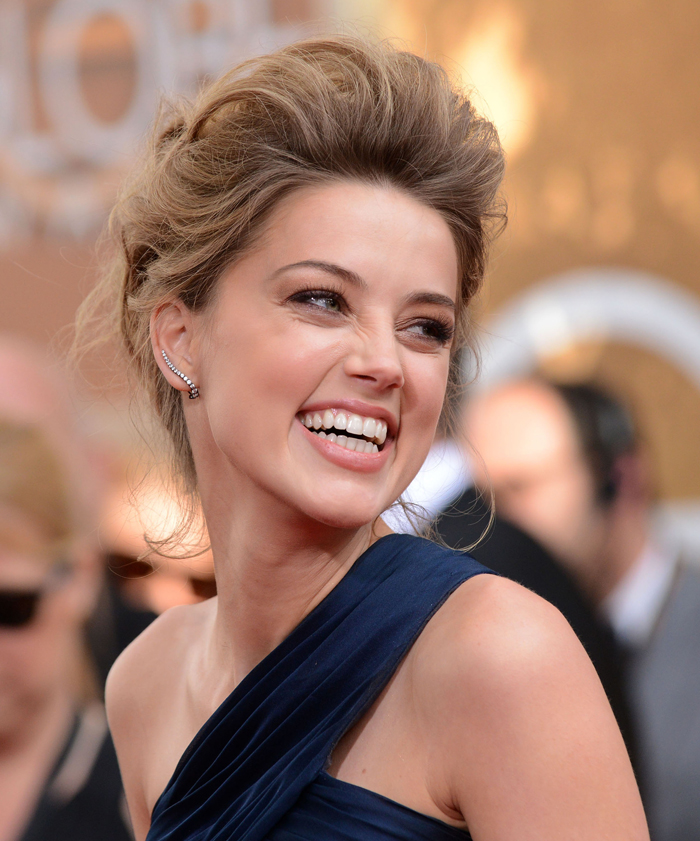 Photos courtesy of Fame/Flynet & WENN