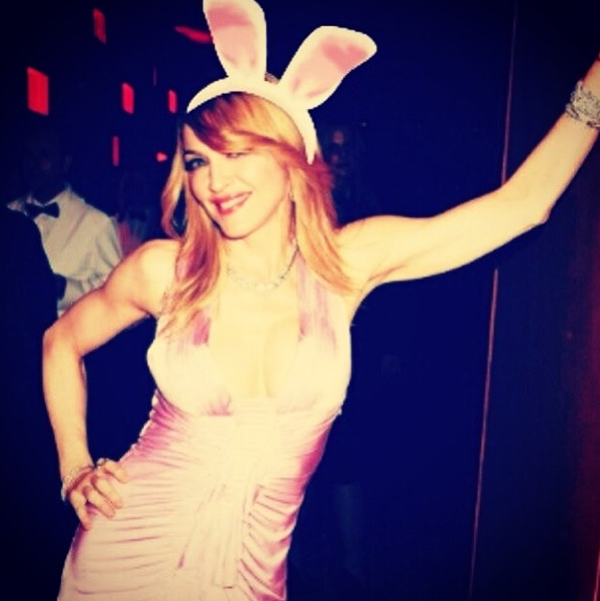 This is a photo of Madonna dressed as a "bunny" on Easter. Madge is 55 years old and spends a great deal of time trying to be one of the cool kids. She wears a silly grill. She performed with rebel of the year, Miley Cyrus. She posts furry armpit photos and gives her shower a tongue bath on Instagram. She uploads photos of Rocco, age 13, holding a bottle of gin and calls him the "n" word as "a term of endearment." She'll do anything for attention, which is sad. Madonna could be acting like a dignified and empowered woman, but that's no fun.
Madonna isn't done offending everyone. Many people consider her a gay icon, but she upset many fans during a 10 Random Things Buzzfeed feature. She wrote down the first word that came to mind on various topics. Madonna reacted to "Instagram" with "time consuming." When she was asked about guacamole, she responded, "gross germs." That's weird, right? Guacamole is amazing. Madonna got down to business by describing kale as "gay."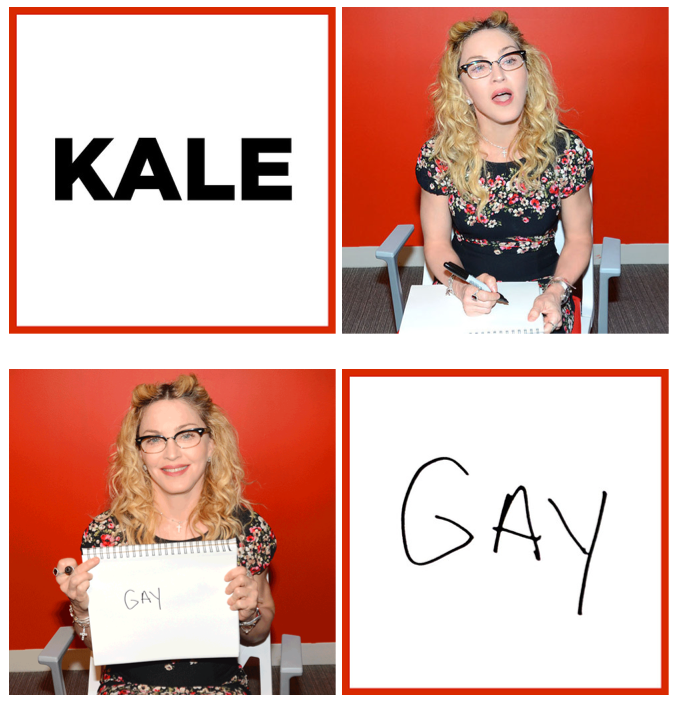 She also decided that Russian president Vladimir Putin was "gay" too. She said that about Putin because of his anti-homosexuality stance. She's trying to be funny about Putin. The kale response is different. Madonna does not like kale. She's using "gay" as an insult. She's using the word to describe a negative reaction.
A lot of people on Twitter were disgusted and upset at Madge's flippant attitude. Is her use of "gay" offensive? I doubt Madonna meant it that way, but she has a history of insensitivity about slurs. Madonna thinks it's fine to use the n-word in a casual manner. She uses it to be cool. She probably thinks it's hip to toss out "gay" too.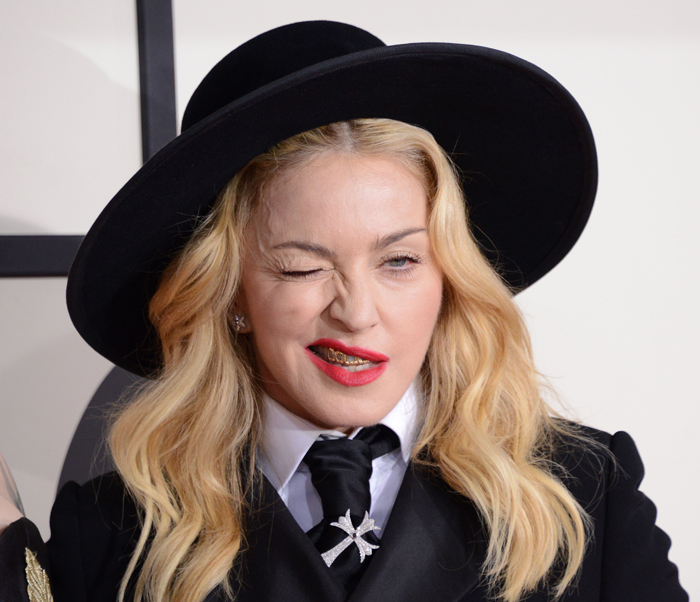 Photos courtesy of Buzzfeed, Fame/Flynet & Madonna on Instagram