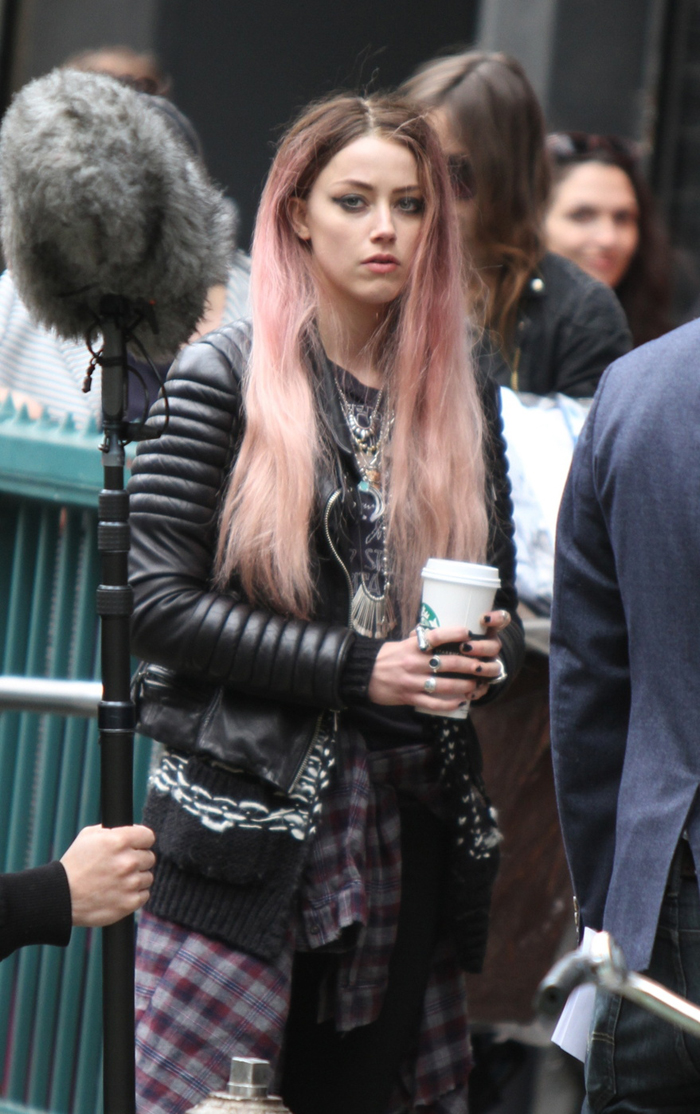 These are some candid photos from the set of Amber Heard's new movie, When I Live My Life Over Again. She's playing a pink-haired grunge princess, and a little girl (a fan?) rushed to give her some cupcakes. I don't know what this movie is about from the IMDb listing. The character names are the same as this FSU student film, and the synopsis sounds about right for these photos. Is Amber starring in a student film, for real? She plays the daughter of Christopher Walken, who is a living legend but doesn't exactly search for quality roles anymore.
This is the movie that Amber's been shooting while Johnny's been wearing that gross hat all over NYC. I've been comparing Johnny's behavior in the relationship to Tom Cruise's overeager enthusiasm. There's definitely some inner couch jumping on display. A new story in this week's Enquirer draws another parallel to the TomKat coupling. They say Johnny was Amber's first schoolgirl crush. You know, just like Katie Holmes had a major crush on Tom when she was a teenager. The tabloid also implies that Amber executed a massive plan to get Johnny's attention:
Hollywood hottie Amber Heard flipped for fiance Johnny Depp long before they ever crossed paths!

"Johnny was Amber's first love, even though she'd never met him," a pal of the 28-year-old beauty told The Enquirer. "When she was a teenager, Amber had already decided to become an actress and she had pictures of Johnny all over her room. So it's no surprise they fell in love while working together. Amber can usually get whatever she sets her mind to."

Like her husband-to-be, Amber dropped out of high school, leaving St. Michael's Catholic Academy, a private school in Austin, Texas, at age 17. But while she was there, the 3 Days to Kill star made a big impression on her classmates.

"Amber was very quiet, so some people used to call her 'Amber seen and not Heard,'" recalled classmate Meghan Brindley. "She always seemed almost like her mind was just off somewhere else. She always said, 'I'm going to go and be an actress and that is what I want to do.'"

The leggy beauty fell in love with Depp, 50, while the two filmed The Rum Diary in 2009. They didn't go public with their romance until after Depp ended his 14-year relationship with French model/singer Vanessa Paradis, mother of his children, Lily-Rose, 14, and Jack, 12.

By then, bisexual Amber had dumped her lesbian lover, 37-year-old photographer Tasya van Ree, for the Pirates of the Carribean star.
[From Enquirer, print edition, May 12, 2014]
Let's play the game … will Amber regret what she wished for? I don't know how true the story is — whether or not Amber (like many of us) had Crybaby and Edward Scissorhands posters decorating her bedroom. I do know that Amber has a ton of ambition and kicked around in Hollywood for a decade before becoming the future Mrs. Depp. She played her cards well on the set of The Rum Diary. Instead of acting like a giggly starlet, she didn't hang out with the cast after hours. Johnny reportedly asked around for her after she would disappear. She intrigued him from the very beginning, and it's still working. For him, anyway.
Kaiser already talked about these photos from the Cabaret premiere. Amber seems over it. She couldn't even muster up enthusiasm to see Alan Cumming! I'd be peeing my pants to see this production, but Amber looks depressed.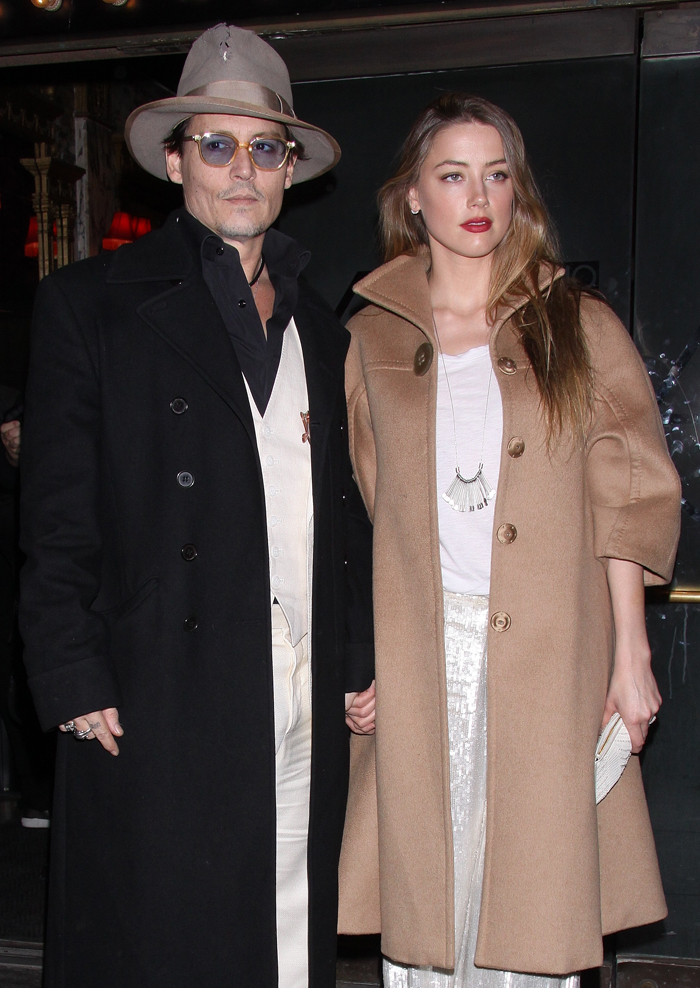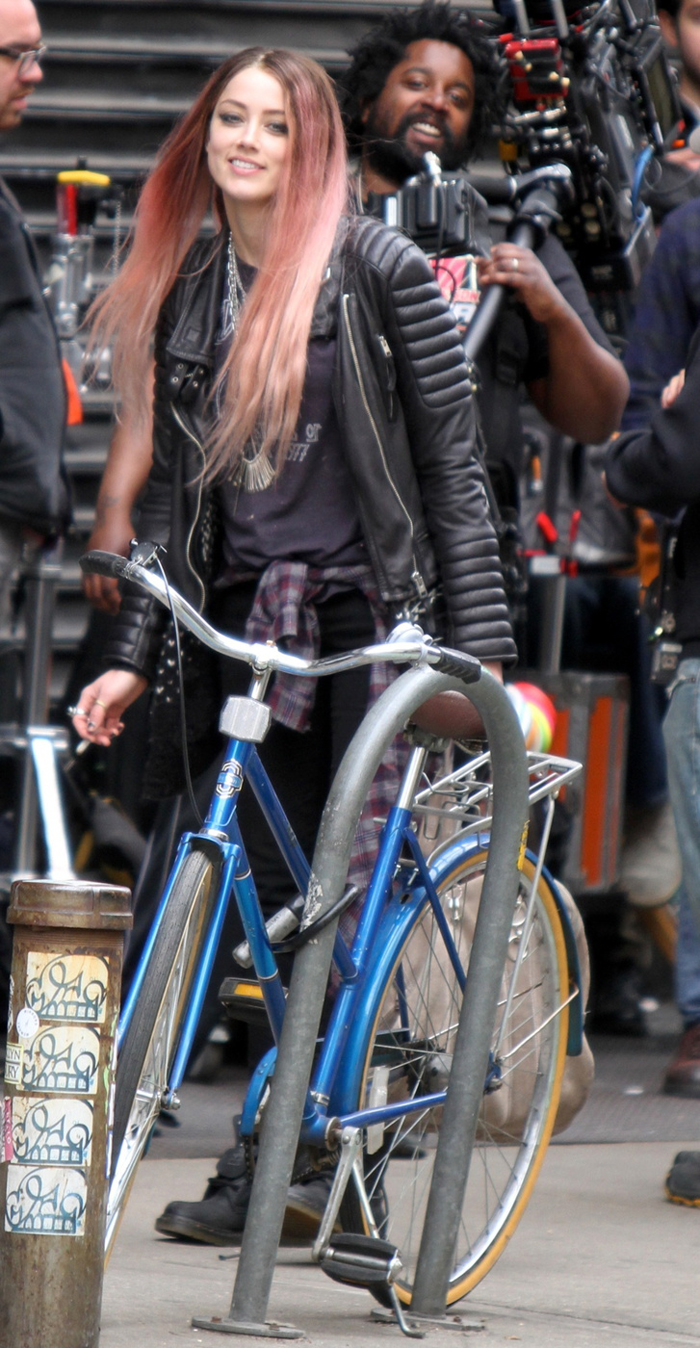 Photos courtesy of Fame/Flynet, Pacific Coast News & WENN