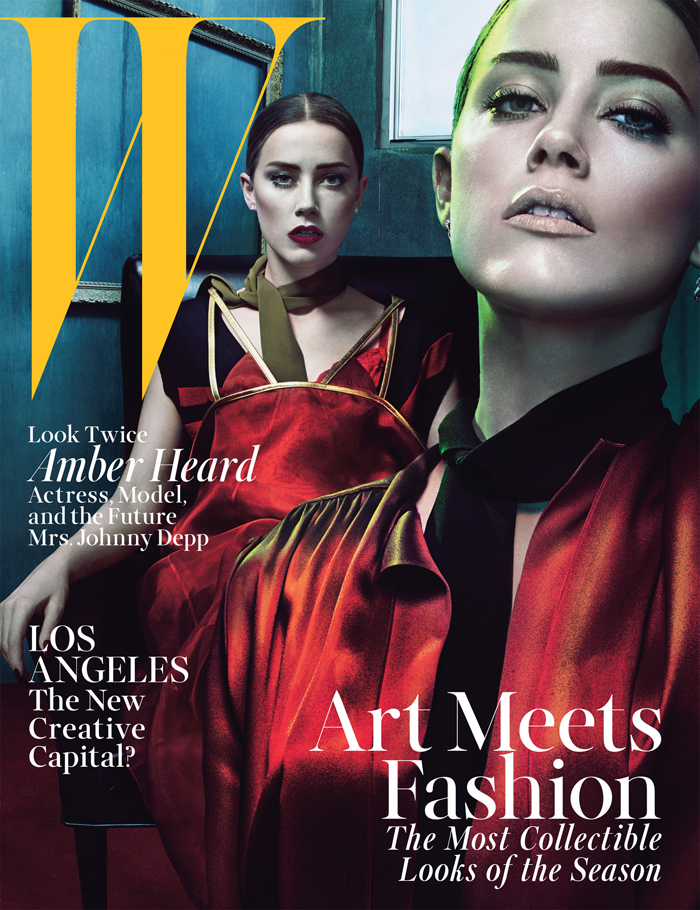 Over the weekend, we talked about Amber Heard's new W magazine cover. The cover described Amber as a "triple threat," and she talked about how she can "go trailer park really fast." I still haven't figured out what Amber is promoting with this shoot. W reveals the rest of the feature with a fresh subscribers' cover. Amber talks about all sorts of stuff in this interview. She admits that she's playing a punk rock singer in that student film with Christopher Walken, but she can't sing. Amber introduces us to her horse. She talks about wanting to rage against stereotypes in Hollywood. Amber wants to play someone ugly, and it's not her fault that she's so gorgeous. We've heard this before from the Jessicas (Biel and Alba). The most interesting moment (to me) is when Amber claims to plant false gossip about herself with her "friends." She enjoys seeing who leaks what information to the tabloids. Hmm:
Amber's horse is named 'Arrow': "Don't you think she looks like me? So like me. She'll love you forever if you give her a treat. Just standing here makes my blood pressure go down. When I'm in L.A., I come ride her five times a week. No matter how crazy things get, Arrow will immediately get me back to normal."

She hates being typecast as a hottie: "It's very hard to find opportunities like that as a young romantic lead. As a woman, I usually have two options: Sex Object or the Best Friend Who Isn't Sexy. It's not creatively fulfilling to just be sexy. I did nothing to look the way I look. The genetic cards that anyone is dealt are not in their control, so to take pride in my looks would be a mistake. And besides," she continues, pointing to the horse, "in L.A. there's always someone more beautiful!"

She wants to be unattractive: "I remember getting a small part in the movie Zombieland. I said to the director, 'Do I get to play a true zombie or am I a cleavage zombie?' I had this fear that he was going to want me to be a zombie in my underwear! He said, 'No–take it as far as you want.' I said, 'Get the vomit packs ready! I'm going to be ugly and gross!'"

Evading the paparazzi: Her history with the press has taught Heard to be cautious and self-protective. She switches rental cars every week so that the paparazzi can't easily spot her. To suss out press leaks, she regularly slips different bits of false information to her friends. When one of her fake items appears in the tabloids, Heard knows whom she can't trust. "I do miss driving my Mustang. I built it from scratch, and I love that car. But the photographers all know the Mustang, and I hate being hassled. So it's stuck in the garage."

She sings in her movie with Christopher Walken: "I thought I was tone-deaf. And in truth, I have no natural gift or knack for singing. Generally, when a person has no talent for something, they don't pursue it. So I'm either brave or stupid. The girl I'm playing is in a punk band, and she's a little weird. Not sexy-weird but plain weird-weird. Which is thrilling to me. I like weird. I might be blonde and wear lipstick, but I'm so happy to be strange."
[From W magazine]
I'm pretty hung up on Amber's admission that she leaks false information to her buddies. Now I'm going back to see whether she may have made up the pregnancy rumors, the island wedding ceremony, or the $17 English manor. I know Amber didn't make up the part about wanting to be Angelina Jolie, but maybe Amber wants us to think she made it up.
Oh hey. Someone is still considering hiring Johnny Depp for a major studio movie. The scarfmonster is currently in talks to play Harry Houdini for Lionsgate's The Secret Life of Houdini. The magician will be portrayed as "America's first superhero." The screenplay rewrites Houdini's character as not only an escape artist but as a master of the occult. As long as he's wearing a lot of makeup, Johnny will take this role if they pay him enough. Daddy's got some chick rings to pay for.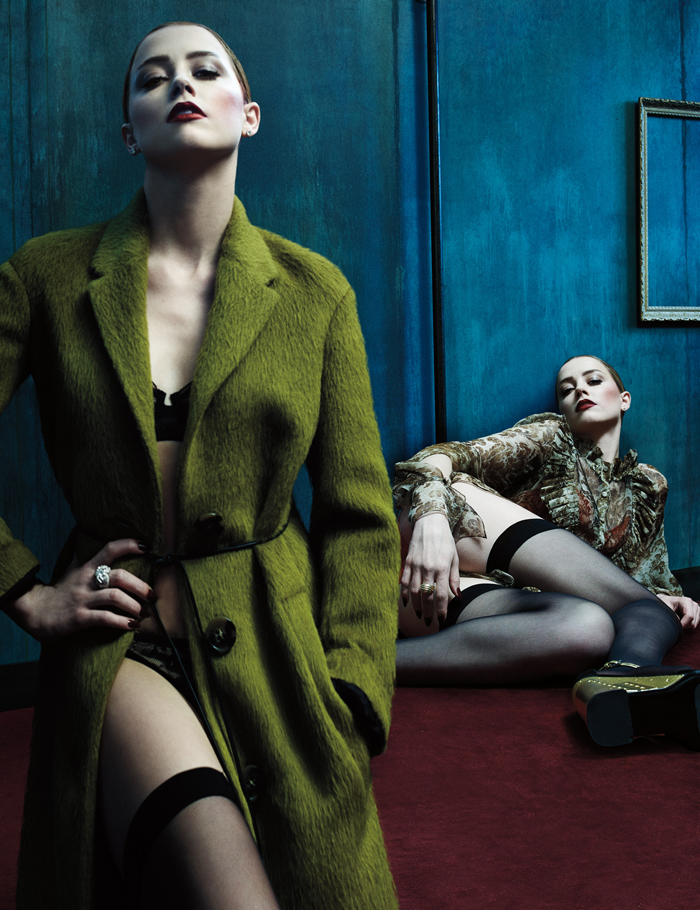 Photos courtesy of W magazine