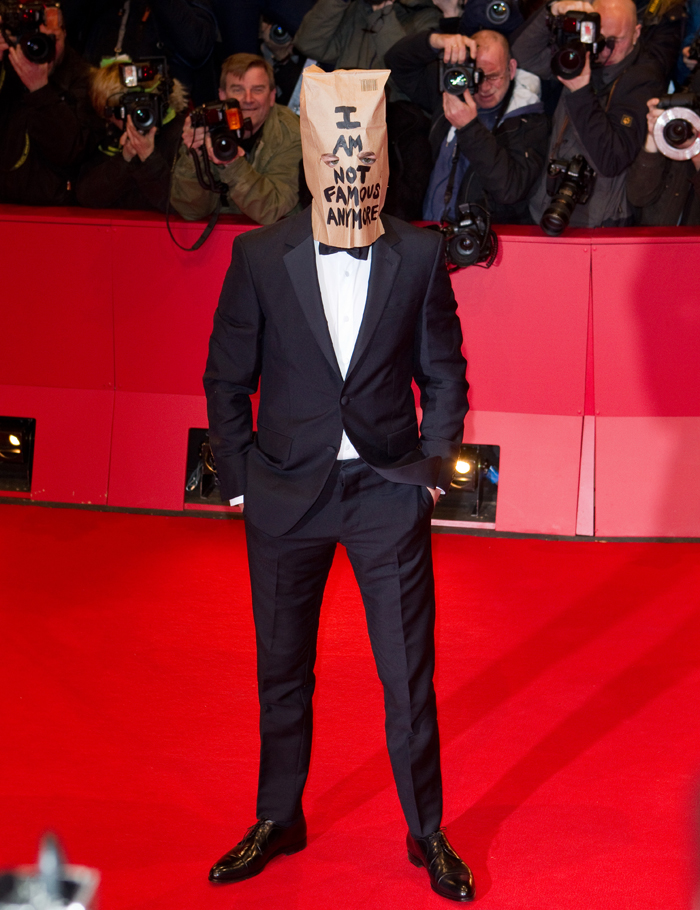 Shia LeBeouf pulled a somewhat shocking move yesterday by reportedly entering rehab. The Mail has exclusive photos of Shia headed into a Los Angeles facility while holding the Alcoholics Anonymous Big Blue Book. It isn't entirely clear whether Shia has entered into inpatient rehab or if he was simply going in for counseling, but the paps followed him to the facility.
If Shia has decided to spend time in rehab, I'm glad he decided to get help. He's been acting out for the better part of the past year with the whole "baghead" routine at a film premiere, a creepy art exhibit, a lost Broadway gig, and tons of plagiarized apologies. His recent Cabaret meltdown and arrest was followed by bizarre reports of Shia harassing homeless men and urinating in public. All of the reports said Shia was drinking heavily all day and evening. Here are the newest deets from X17, who broke the rehab story:
After a less-than-perfect weekend which included a seemingly substance-induced blow-up in New York leading to his arrest and subsequent disorderly conduct charge, Shia LaBeouf is finally seeking help.

X17online can report, exclusively, that the troubled actor is getting help at a celebrity-frequented treatment facility in Hollywood.

We followed the actor from his Hollywood Hills home, just an hour ago, to a private facility where other stars have sought treatment — driven by someone believed to be from the rehab facility. When the car arrived at the gated drive to the center, a nurse and security guard were there to great Shia. In fact, earlier in the day when we spotted Shia in his driveway, we noticed his was carrying the Alcoholics Anonymous Big Blue Book.

Our photographer tells us: "Shia was nervous; he didn't look good all morning. He was looking down and wasn't even talking to his driver. It looked like he didn't want to do it, but he knew he had to."

After arriving back in Los Angeles Sunday night, Shia has stayed out of trouble, hiding in his Hollywood Hills home.

For now, it's unclear whether Shia checked himself in for in-patient treatment at the facility or if he'll head home this afternoon following intake and therapy. Stay tuned for updates …
[From X17 Online]
If this story is true (Gossip Cop says Shia isn't in rehab yet), this is the best news I've read about Shia in … forever. What do you think prompted this move? My gut says that Shia didn't believe he'd hit rock bottom.
I have a hunch that Brad Pitt intervened (as a producer and a friend) and told Shia to pack it up. They're going to tour for Fury soon, after all. Brad was probably like, "Dude, it's time. Shower and stop pulling your teeth out. No more red carpet stunts. Get your sh-t together, or you're off the Fury tour." I'm not even trying to make light of the situation. I think this really happened, and Brad's one of the only people who could make Shia listen. Thank goodness.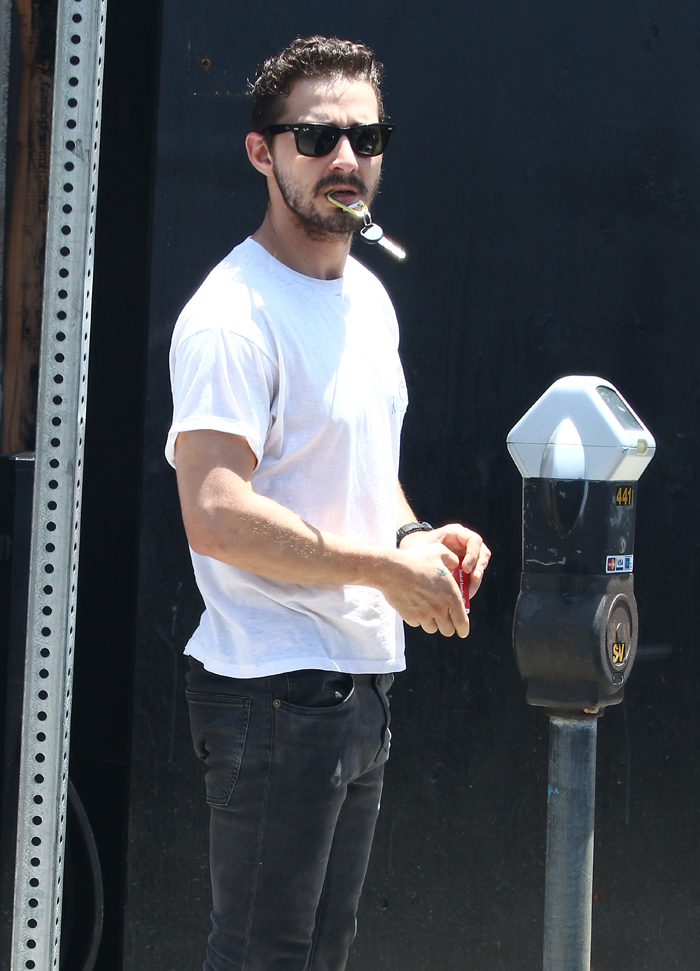 Photos courtesy of Fame/Flynet, Pacific Coast News & WENN