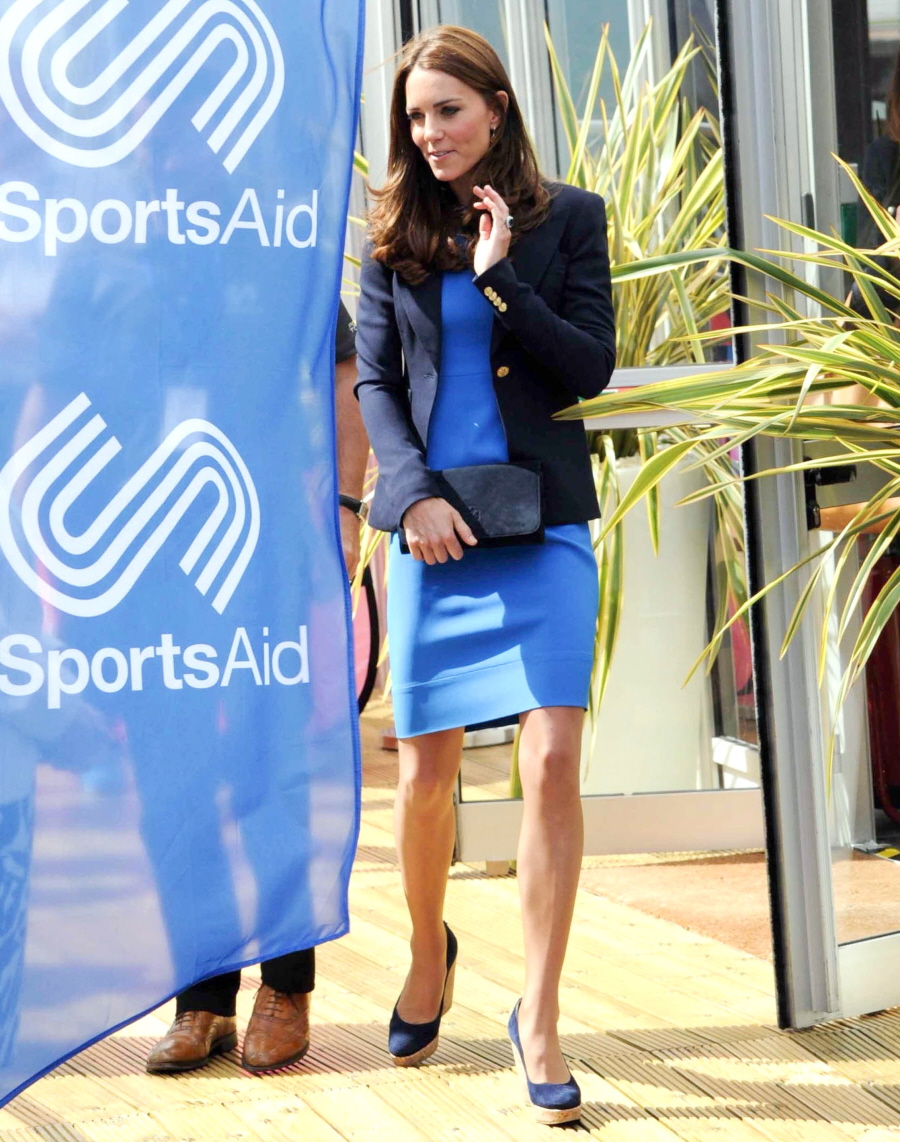 Here are some photos of Duchess Kate at the Commonwealth Games yesterday in Scotland. Sigh. Does anyone else worry about her fascination with this shade of blue? She has so many dresses in this shade. I was looking up blue-shade names, and I guess we'll call this "royal blue" or some variation of cornflower/cerulean. While blue is my favorite color, I guess I tend to avoid this particular shade most of the time because… I don't know. It just seems like a cheap blue to me. I associate it with corporate logos and air hostesses. Am I all alone with this? The thing is, she looks beautiful in lilacs and blue-purples. I don't know why she doesn't wear more of them.
This blue dress is actually Stella McCartney, a British designer Kate rarely wears (thank God). This dress is actually a repeat – Kate wore this first in 2012 during the London Olympics – if you remember correctly, Kate originally paired the dress with a gaudy necklace with a giant circle, like she had won an Olympic medal for waitying. As for the dress… y'all know my feelings about Stella and what a terrible designer she is, so I'm perfectly willing to give Stella the blame for this ensemble. I will say that I liked this dress more in 2012, although the fit was still off back then (that standard for Stella's designs). Kate paired the dress with another navy blazer. That's not the same navy blazer she wore on Monday – Kate brought TWO navy blazers (at least) to Scotland. This one is Smythe.
As for "her trusty Stuart Weitzman 'Corkswoon' wedges"…. I want to burn them in a cleansing fire. I remember saying, when Kate and William first got engaged, that she was lacking major shoe game. I thought that was fine at the time, but at this point if I ever see her wearing a pair of nude LK Bennetts or Weitzman wedges again, it will be too soon. Oh, and she wore the wedges while participating in some kind of "jumping" game – go here to see the photos. I'm absolutely shocked her dress didn't blow up! How did it not? Did someone (Stella!!!) sew in fabric weights?!
So, good news: no jeggings and no one saw the royal beav or bum. Bad news: the wedges have not burned in a cleansing fire. YET.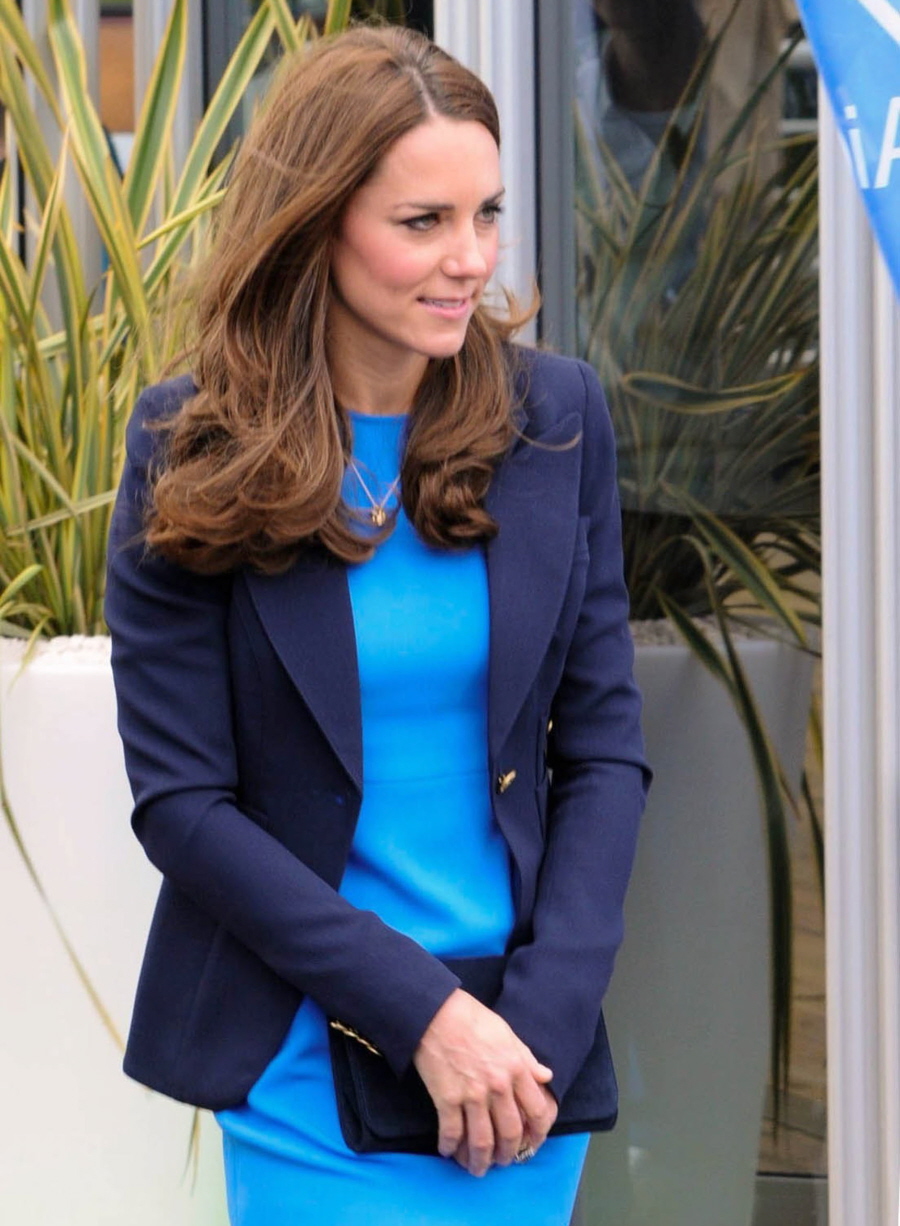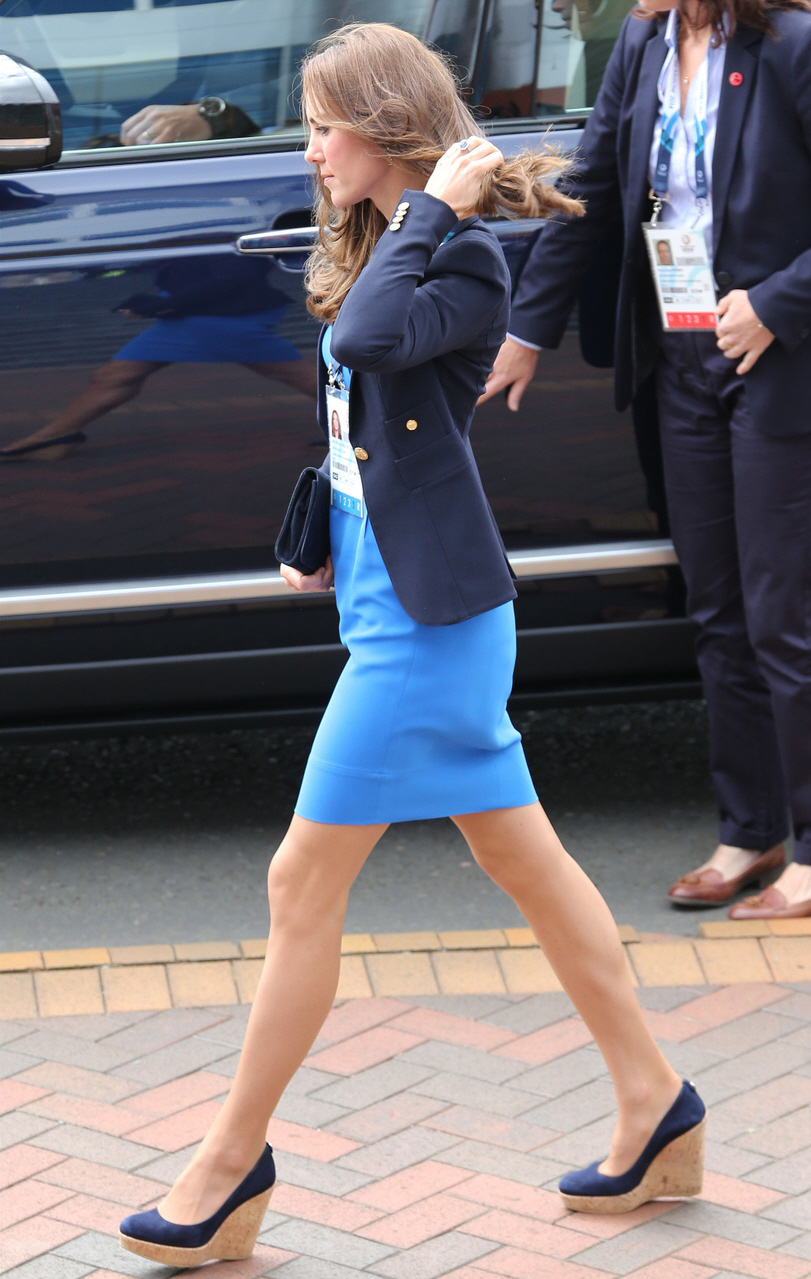 Photos courtesy of PCN, Fame/Flynet.