There are three kinds of "leaks" when it comes to royalty and the royal-adjacent. The first kind of leak is from the royals themselves, or people working on behalf of the royals. Those kinds of leaks are of the "Prince William saved a life because he is a manly chopper pilot" variety. The second kind of leak is from pissy, prissy people who work for the royals in some capacity, and those people usually want to let some damaging information out for various reasons. A good example of that: the Queen's "courtiers" will often throw Prince Charles or William under the bus just as a way to further the Queen's interest, even if she didn't specifically ask for them to do that. The third kind of leak is trickier to explain… there's a vibrant cottage industry of "royal experts," people who work full-time on various royal hagiographies, ghost-write memoirs and that sort of thing. Consider this kind of "leaker" to be close enough to royalty to pick up some actual interesting gossip, but those leakers often hold on to the salacious stuff out of a sense of loyalty. It's weird, I know.
Anyway, I'm still convinced that Meghan Markle's Vanity Fair cover interview was done with palace approval at every level, meaning that Kensington Palace – Prince Harry's office – signed off on it, and that Buckingham Palace and Clarence House are working with KP to give Meghan and Harry's engagement a proper rollout. That is what the royal reporters have assumed, likely because they've been given the nod from the second kind of source, the people who work for the Queen, the Prince of Wales and Prince Harry. Meghan is in the fold of royalty, and they are "managing" her, so to speak. But that hasn't stopped the third kind of "leaker" – those royal hagiographers – to assume that Meghan is just another grasping American famewhore who just ruined her chances of ever marrying a prince. The Sun ran a story on Thursday claiming in their headline: "Meghan Markle faces furious backlash from royal experts after she gushed about her love for Prince Harry in Vanity Fair interview."
Meghan Markle faced a furious backlash after gushing to a glossy mag about her love for Prince Harry. The US actress was advised to "zip her lip a bit" by experts who said she had made Harry's appeal for privacy look "ridiculous". Meghan, 36, invited Vanity Fair into her Toronto home and told them in a candid chat: "We're a couple. We're in love."

But Majesty magazine editor Ingrid Seward said: "For her this probably seemed a perfectly normal thing to do. But it will not have gone down well at the palace. Maybe someone like Meghan would be good for the monarchy but I think she's going to have to zip her lip a bit."

Suits star Meghan told the magazine she doesn't "read any press" despite Harry, 32, last year claiming stories about her had been damaging and appealing for her privacy. Ms Seward went on: "It makes a nonsense out of Harry's plea."

Biographer Penny Junor said royals in the most successful relationships stay silent. She warned: "The less said publicly the ­better. It may bite her in the backside."
Penny Junor is the same "biographer" who recently did a book about how the Duchess of Cornwall is perfect and Camilla never sought to destroy Princess Diana's marriage whatsoever. Ingrid Seward is more established, I grant you. I feel like both women are being a bit prissy about Meghan, perhaps because *sniff* that's not the way it was done in their day. But isn't that the whole point of "modernizing" the royal family? To actually bring in some new, different people who have different ideas about how to do things? I actually know exactly what Meghan was thinking, because it's such an American way of handling things: she thought, "It's better to just address this head on, without playing games, and answer these questions about my relationship directly." Poppycock, the royal sycophants clucked. Pushy, they said. Too American, they whispered.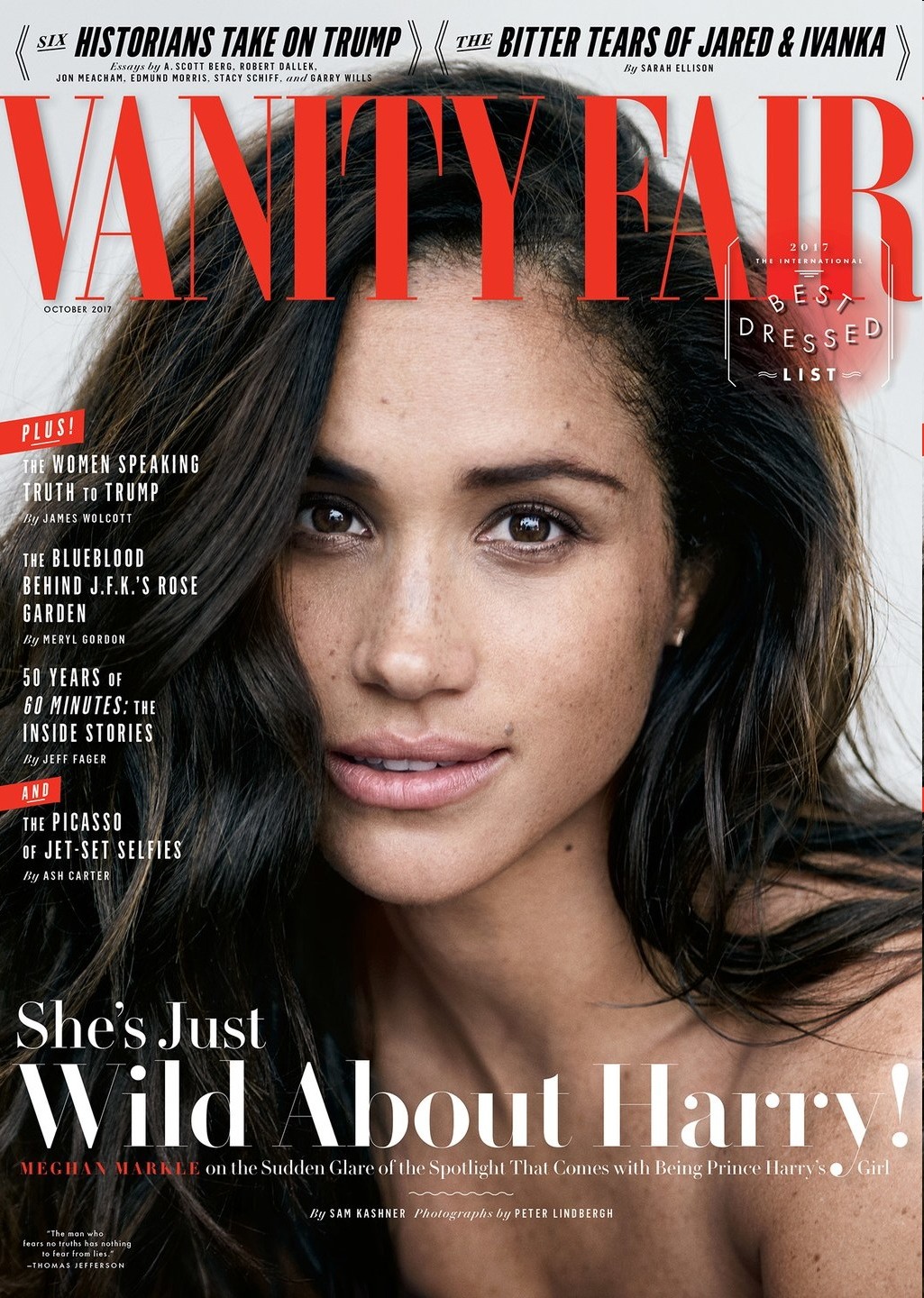 Photos courtesy of Vanity Fair.