Oprah is all about 'Mad Men', does awesome '60s makeover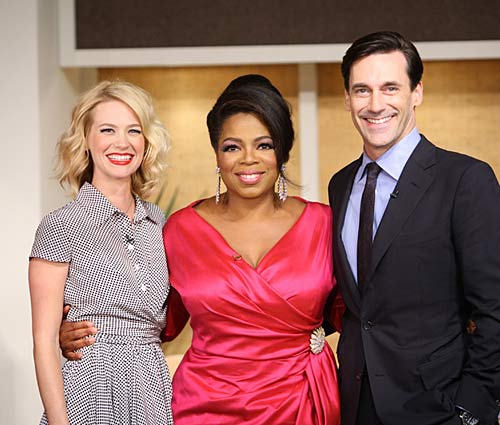 The Emmy Awards will be held Sunday night, and it looks like Oprah thinks she's got an inside scoop on the big winner. For her Monday episode, Oprah is hosting a Mad Men-themed show to celebrate the Emmy Awards. So… it might be awkward if Mad Men loses big time at the Emmys? Not so much – Oprah's pretaped the show, thus, this glorious publicity still. The show will be called "Oprah Goes Back In Time – The '60s" and Mad Men's stars Jon Hamm and January Jones have already filmed their part in the show. Oprah looks really cool with '60s styling, doesn't she? She should go for that look more often. The show will also include a 1960s-themed set and a performance from the musical "Jersey Boys". That's not all… Oprah is making her audience dress up like the 1960s too. Mother of…
From the looks of Oprah Winfrey's Monday lineup, she appears to be betting that AMC's "Mad Men" is going to be the big winner again at Sunday nightr's Emmy Awards telecast on CBS.

Oprah is going totally 1960s Monday including a dress designed for her by Janie Bryant, the Emmy-Award-winning costume designer of the cable drama.

Her guests on Monday will be Jon Hamm and January Jones who play Don and Bettty Draper, the couple at the center of the drama. He's a Madison Avenue ad agency executive with a troubled sense of identity, and she's a pregnant mother of two in Connecticut with some real feelings of discontent.

The music will be from the 1960s, and the audience will be encouraged to come in '60s garb, according to AMC.

It sounds like fun. But what if "Mad Men" has a really bad night at the Emmys? It has happened to great shows before. Well, there is always the Janie Bryant dress.
[From the Baltimore Sun]
I can't wait for this show. I can't wait for the Emmys, honestly. It's been a while since I've had a big show that I love and root for as much as Mad Men. Here's the thing – doesn't this make Oprah really cool? When I found out she's a big fan of Mad Men, I felt a sudden warmth for Oprah I've never felt before. I never would have thought Oprah would like something so complicated, dirty and smart.
Written by Kaiser

Posted in January Jones, Jon Hamm, Oprah

- Mariah Carey lip synced on American Idol [CDAN]
- Colin Firth is looking good [Lainey Gossip]
- Internet celebrity charged with murder! [D-Listed]
- What is Paz Vega wearing? [Go Fug Yourself]
- New bachelors on The Bachelorette [Reality Tea]
- Goodbye to The Office [Pajiba]
- Bachelor Sean's fiance cheats on him [Evil Beet]
- Britney Spears out with her man [Popsugar]
- Nina Dobrev works it [Popoholic]
- Cindy Crawford needs to lay off the 'tox [Celebslam]
- Who said it: Carrie Bradshaw or The Dalai Lama? [Buzzfeed]
16 Responses to "Oprah is all about 'Mad Men', does awesome '60s makeover"