Priscilla Presley's surgeon needs to take one giant step back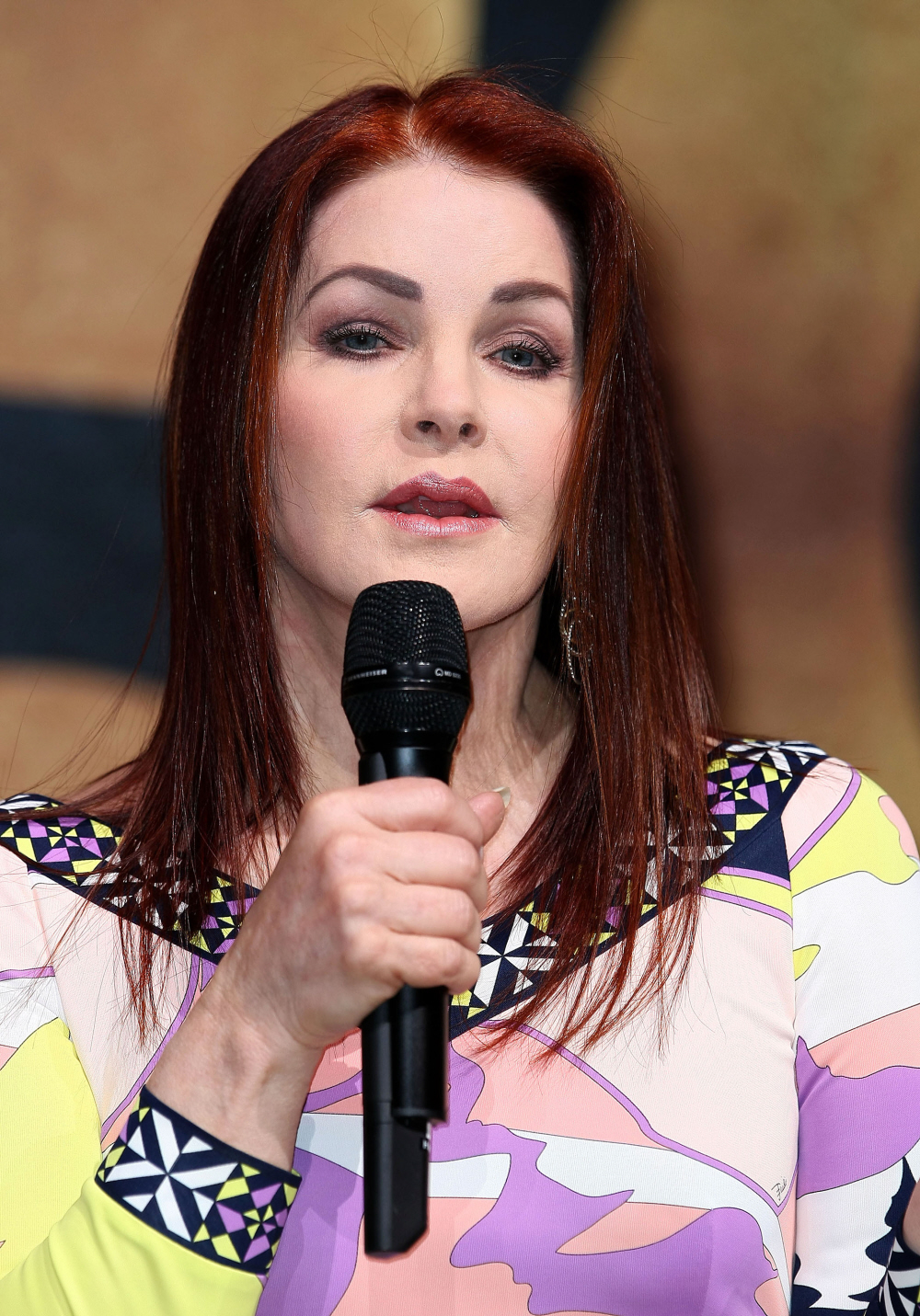 Here is Priscilla Presley at the opening of "Viva Elvis" (the Cirque du Soleil show) in Las Vegas two days ago. Now, I know Priscilla has done crap to her face in the past, but she got something new done for this big appearance, right? Just a few weeks ago, she still looked jack, but you could still see part of her old, human face. Now she looks like she's wearing some kind of death mask.
What I don't understand is how she thinks she looks okay? After the bandages come off, why didn't she contact her lawyers to sue the ass of her quack plastic surgeon? Oh, and I also don't get her lips. It's like everything is completely hard on her face, and her puffy, augmented lips are about to break off into their own little puffy island chain. Gah!
Here's more from 'Cilla about the "Viva Elvis" show:
The inspiration for the new Cirque du Soleil show at the ARIA Resort & Casino in Las Vegas is Elvis and his love of comic books, superheroes and amusement parks.

"What it brings back is the energy of when Elvis first appeared, or whenever he was coming here to appear for a show," Priscilla tells Mark. "He loved the intimacy, he loved being able to connect with his audience, and he loved to see their eyes. You know, he was the ultimate performer. He was there for his audience and he truly came alive."

The production will pay tribute to Elvis' music and life, fusing dance and acrobatics, live music and iconic tracks, nostalgia and modernity, high technology and raw emotion. From the larger-than-life statue, to the wigs worn by the cast, the trademark shades and the jumpsuits, the show will be in Elvis' image: powerful, sexy, whimsical and truly unique.

"Elvis Presley: Viva Elvis" will premiere at the new ARIA Resort & Casino in Las Vegas on February 19, 2010. It is just a part of the year-long celebration of Elvis' 75th birthday, which will begin on January 7, 2010 at Graceland.
[From Entertainment Tonight]
I have another question, and it's not about the Elvis on stilts – how is it that the Church of Scientology can think psychiatry and psychology are the devil's work, but they're A-okay with massive amounts of plastic surgery? Xenu doesn't have a policy on death masks or lip plumpers? Yeah… that's all I've got!
Thanks to Dlisted for noticing these photos!
Priscilla Presley at the Cirque du Soleil opening of 'Viva Elvis' At Aria Resort & Casino in Las Vegas on December 15, 2009. Credit: WENN.

Posted in
Plastic Surgery
,
Priscilla Presley