Embed from Getty Images
I used to be such a Matt Damon stan I didn't like it when Kaiser covered him, he was MINE. I watched The Bourne movies multiple times, I admired what an outspoken activist he used to be, and he was so hot to me, even with a dad bod. Then he showed his ass multiple times. There was his whitesplaining to a WOC producer about diversity, his defense of playing a white lead in an Asian movie, and then his horrible take on MeToo really put it over the top. He tried to dial it back eventually and he did apologize. We haven't heard of him being abusive or inappropriate, but Damon is a white dude who can't see beyond his perspective and will always be on the side of men like him. (Also I'm still mad at him for the time I wasted watching Downsizing.) Hence his calling John Krasinski's starring role on The Office as Jim an "unfair burden he had to smash through." That's a BREAK for most people. Being on a TV show for years is a f'ing privilege and a big break into show business.
I assume that Damon was asked for his take on his friend John Krasinski and his wife, Emily Blunt's, big successes. EW has this weird essay from Damon about them without much context. Damon and Krasinski cowrote and starred in Promised Land in 2012 and Damon and Blunt were in 2011's The Adjustment Bureau. Since then Damon has floundered somewhat while Kraskinski and Blunt have only gone up. There's no shame in that, people have career ups and downs, I'm just saying Damon's very bad take take on issues rightfully derailed him a bit.
For people who know them well, this is the year we've all been waiting for. They are both now going to have the careers that they deserve and want. I can't imagine A Quiet Place was anything but just a lovely set to work on because those two have the same sense of humor and they see the world in the same way.

You talk to any actor, what Emily did in that movie is incredible. And what John took on — co-writer, director, and actor — selling a movie on the fact that there is going to be very little talking? That's a really high bar, and those performances —really led by her — were just outstanding. They're so versatile.

Playing a character on a TV show for so long, John had this unfair burden he had to smash through, and that's been done now, clearly. Emily, I don't think she ever repeats herself. When I worked with her almost 10 years ago in The Adjustment Bureau, everybody knew she was this really gifted actress. But with this year's one-two punch of A Quiet Place and Mary Poppins Returns, she's now a huge movie star in the eyes of the people who greenlight movies. I don't think we've seen the limit of what either of them can do yet.
Maybe I wouldn't have come away from this rolling my eyes if EW had presented it as an interview and not Damon lecturing us about how Krasinski and Blunt are successful and he could see it coming. Damon is the arbiter of people's successes too, right? But yes, poor John Krasinski, having to convince people he's not a good guy paper salesman from Pennsylvania. Chris Pratt must have overcome so much to go from playing a doofus shoeshining musician to a superhero. I wonder if Damon's friends ever regret telling him their personal business. He likes to tell their oppressed perspective as he sees it. Maybe Krasinski asked for advice on how to make the transition to movies. Then Damon translated it to Damon-ease involving an unfair burden and a glass ceiling for white male TV actors on hit shows.
In 2013: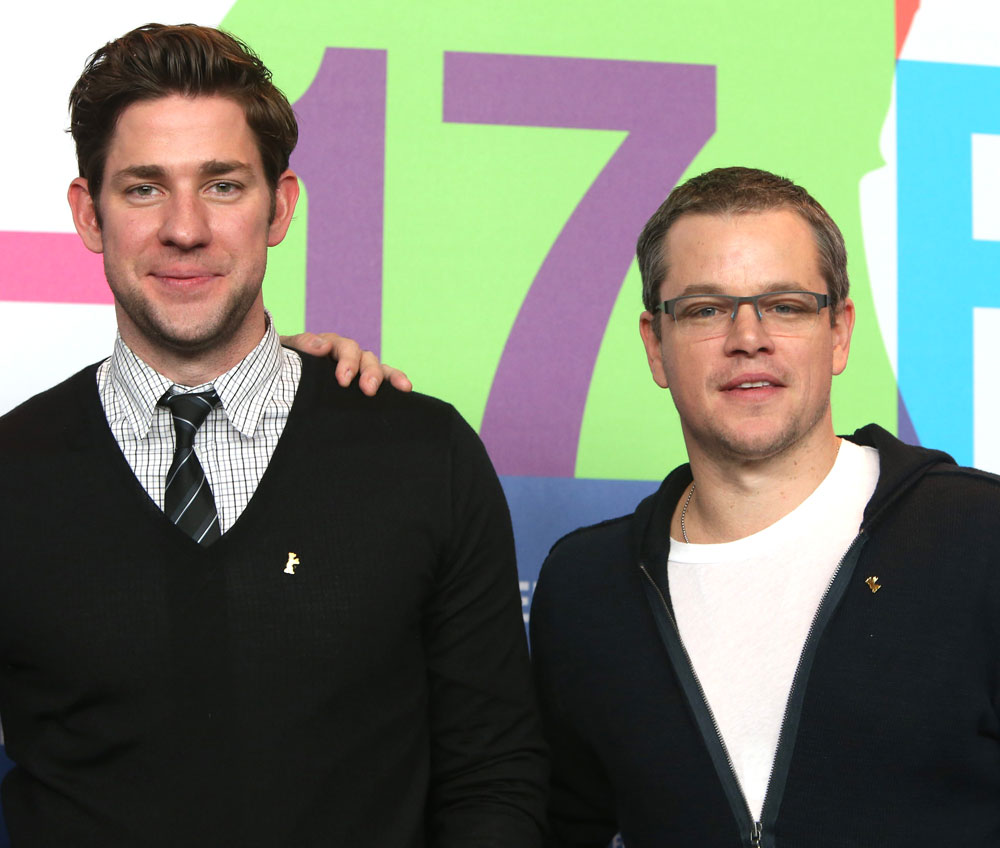 photos credit: WENN and Getty