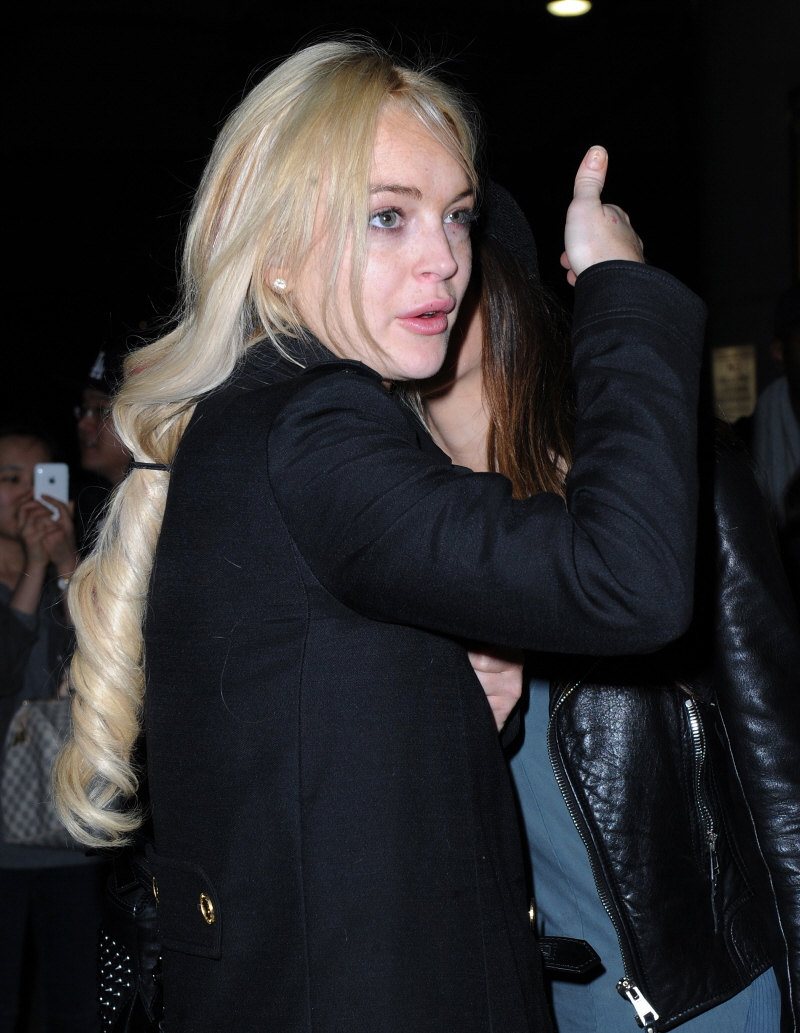 As we noted on Friday, Lindsay Lohan is still in NYC, partying her crack off. Radar even has photos of Linnocent "bowling" – go here to see them. I chuckled when I saw the pics because Linnocent's crack face looked kind of jacked and her eyes looked glassy too – like she got all coked up and decided to "go bowling." Page Six also has yet another report of how Linnocent hasn't been drinking anything but water and Red Bull while she club-hops and stays out all night:
Lindsay Lohan keeps on having a good time without her family. Still energized from an all-night, booze-free party Thursday, she arrived at new Flatiron nightspot Riff Raff's at around 1 a.m. Friday morning with a girlfriend.

"She was clutching onto her signature can of Red Bull and stayed until almost 2 a.m.," our spy said. "She looked like she was in a partying mood. It didn't seem like she was ending the night there."

Careful to show she wasn't drinking, "she kept her can of Red Bull in full view of other partygoers," we're told. She was later spotted at the Top of the Standard, where she left at 3 a.m. But Friday, it was back to being the family golden girl — Lohan headed out for a day with her mom, Dina, and her brothers and sister.
[From Page Six]
As several commenters noted on Friday, it sounds like Lindsay is just filling up her water bottle, or in this case, her Red Bull can, with whatever boozy, cracked-out beverage she wants. I wouldn't put it past her either. Speaking of Linnocent's stripes never changing, TMZ reports this morning that Lindsay is FINALLY "seriously considering" the plea deal the prosecution is offering.
Lindsay Lohan's confidence is starting to wane — sources close to LiLo tell us she is finally getting it through her head she can't avoid jail and is now "seriously considering" taking a plea deal.

As TMZ first reported, Judge Keith Schwartz offered LiLo and her attorney Shawn Holley a deal that includes three months in jail … which get whittled down to 19 days because of jail overcrowding.

Lindsay has been adamant for weeks … she would never take a plea deal because she feels she did nothing wrong. Sources close to Lindsay tell us she still maintains her innocence … but reality is starting to sink in and Lindsay is beginning to understand the risks of going forward with a trial.

If she loses at trial, she could get more than a year in jail for the probation violation … plus prison time for the felony grand theft.

If Lindsay accepts the deal, Holley must tell the judge on Wednesday. Lindsay will be back in court Friday to either take a plea or declare war.
[From TMZ]
What's interesting is that the more Lindsay seemed like she was actually going to try to fight the charges in an actual trial, the more convinced I was of her complete crack delusion. Now that she might actually take a plea, I have to say, she might have had a brief moment of sobriety in which she realized that the plea deal is the best possible solution she could ever get. Plus, if I have to read one more "anonymous source" crying about how the crack thievery is the jewelry store's fault because they should have caught her, I'm going to fly to New York and punch Linnocent in her crack face.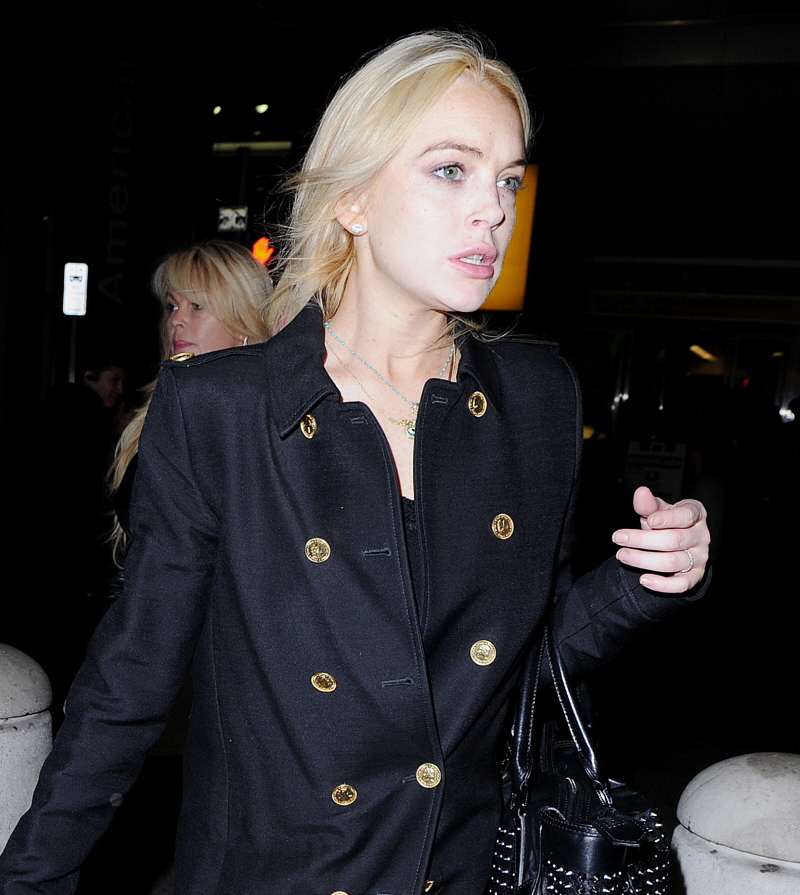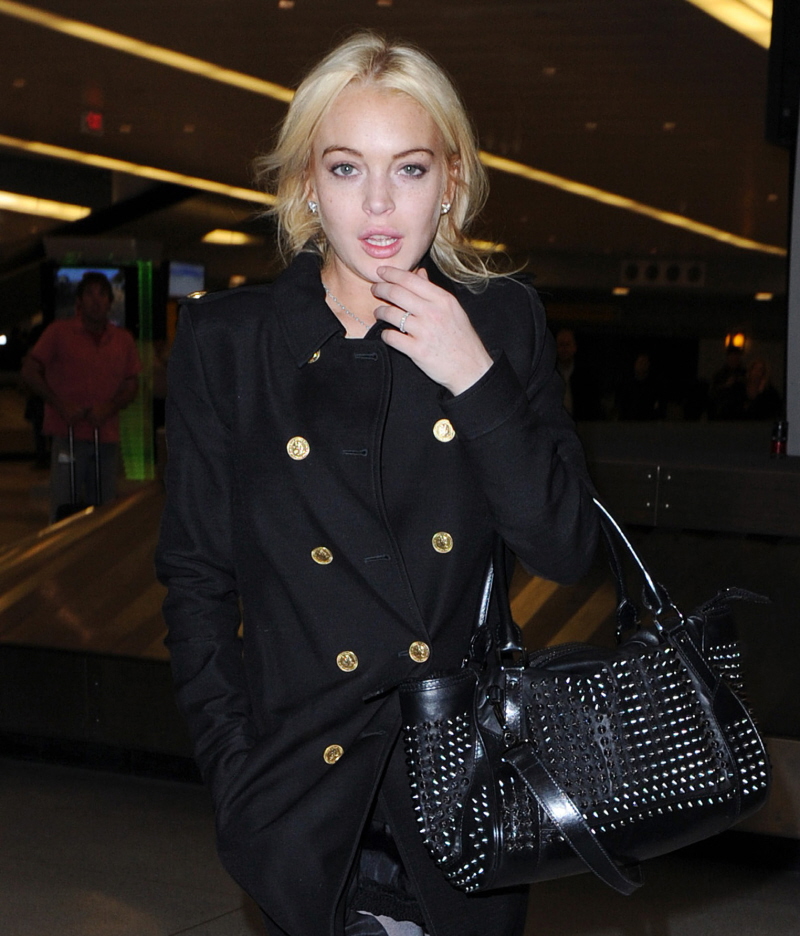 Photos courtesy of Fame.