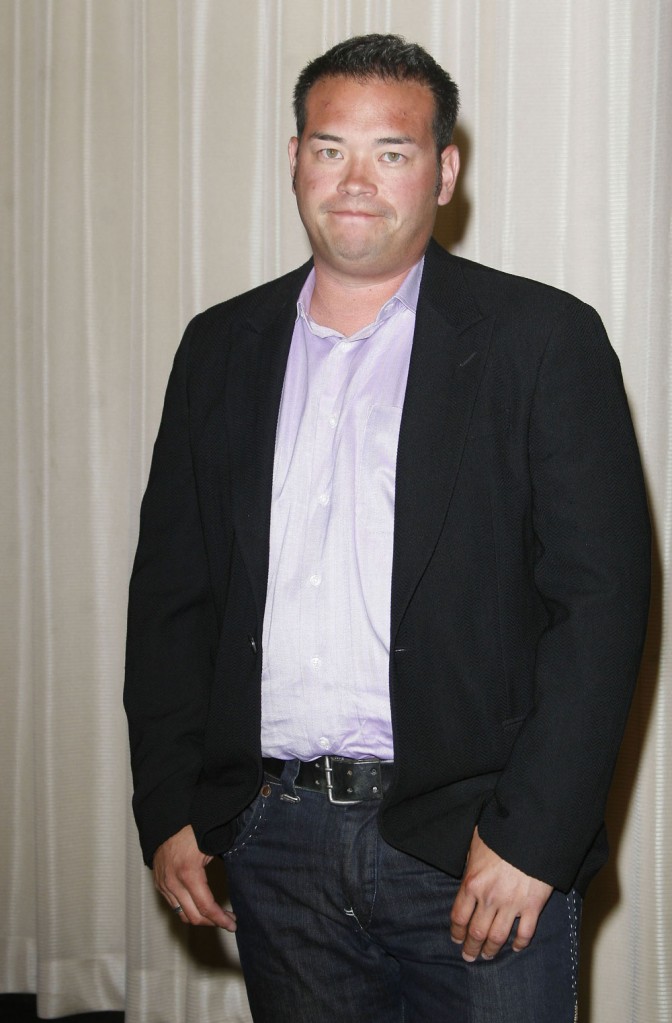 Poor dumbass Jon Gosselin. He got badgered and yelled at by his domineering wife then hit back by passive aggressively sleeping with every 20-something dumb enough to fall for his puppy dog act. Then when he got a divorce and no one wanted him on TV he tried to say that his kids shouldn't star on their reality show, either. It would have been a noble thing to do if it seemed like he was doing it for the right reasons and not out of spitte. He went through strings of girlfriends (a teacher, a nanny, his wife's plastic surgeon's daughter, and a tabloid reporter to name a few), took them to Cannes and to Sundance, and wore John Hardy t-shirts like they were or ever would be, in style. Now he's been forced to get a real job to make ends meet despite calling himself the most photographed person on the planet and declaring that it was impossible for him to work a "normal job" with "no responsibilities."
So you'll understand why I think it's hysterical that Jon did his "last interview" with In Touch, all about how he is finally a productive member of society and values his "privacy." You know he would do a reality show with his new girlfriend in a heartbeat.
How have things been since you left the sportlight?
I really don't miss anything about the reality TV life, to be honest. It just wasn't for me. I learned a lot from it, and now I'm working really, really hard to secure a great future for my family as a normal person.

Does that mean you're working a typical 9-to-5?
I usually get up at 5:30 am and work until the sun goes down.

What do you do?
My company installs solar farms. I went to school for industrial technology, so it's right up my alley and I love it. It's nice to have a private life again and not have everyone know every little detail of my life.

But your kids are still on TV. Do you worry about them?
My concerns for them are the same as any parent's. I hope they grow up and learn normal things. I hope I instill enough parental advice in them that they do make the right decisions. I feel it's best that I do what my own parents have done and raise them as normal children…

Has divorce changed you?
It's changed me for the better. I know who I am now. I was very young when I got married, and then certain things happened, and I'm a much stronger person than I was. I'm much more independent.

Do you and Kate have a good relationship these days?
I can't discuss that. I really can't.

Have you kept up with her career?
That's her life. I don't really have anything to say about it. And as soon as I left TV, I stopped watching everything.

You've been involved with your girlfriend, Ellen, for over a year. How is she different from Kate?
I think it's reassuring to find someone who doesn't want the spotlight and is able to ignore gossip and rumors. I think we complement each other very well.

More on Ellen
I'm very happy and in love! We don't argue over anything. She loves my kids and is always there to help me. We have open lines of communication. We tell each other everything…

Would you ever consider going back to TV?
I don't have plans to go back to TB in the future. I really, really enjoy my job and my privacy. I'm doing the best I can, getting along with people I work with and I've made great new friends. I've basically just kind of reinvented my life all over again. I just want to give this new life of mine a huge shot and I want to stick with it. I really want to say that this is my last interview.
[From In Touch, print edition, May 23, 2011]
Remember when Jon called Hailey Glassman his soulmate and then turned around and "borrowed" $90,000 from her without paying it back, ultimately trashing the apartment they shared and trying to blame it on her? I'm surprised this latest relationship hasn't flamed out similarly. Anyone would would consider dating this fool after how well his M.O. has been documented deserves exactly what they get. That's without even considering that he's unattractive, although he has lost weight thanks to his new job. He probably still smokes like a chimney too. What a catch.
Park photo credit: Antonio Gabriel, In Touch Weekly. Jon Gosselin is also shown on 6/16/10 and 11/29/10. Credit: Fame and WENN