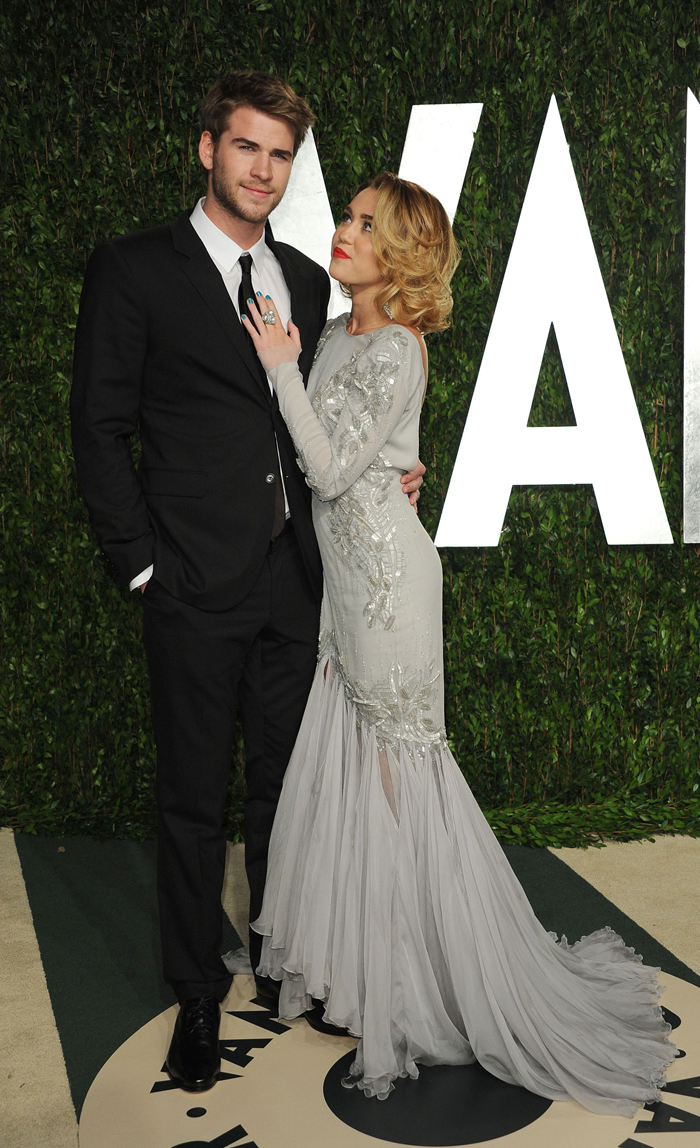 The tabloids can't make up their minds this week about what's going on with Miley Cyrus and Liam Hemsworth's relationship. OK! seems to think they're getting engaged, and now this week's issue of In Touch has a story all about how Miley Cyrus is doing anything she can to hold onto Liam. Of course, I agree with Kaiser's take on last week's Star story (about Miley's camp wanting her to dump Liam for being a pothead) that Miley and Liam are probably very happy together. For now.
Still, I can see why Miley might have a nagging pit at the bottom of her stomach over Liam's impending volley towards superstardom once The Hunger Games hits theaters next Friday. I already predicted that their relationship would be one to watch once this happens, and In Touch maintains that Miley has gone into overdrive over the past several months by throwing Liam a blowout birthday party (complete with p3nis cake) and losing weight (15 pounds dropped in a matter of weeks) to keep Liam interested. In Touch also regurgitates a quote from Liam's Details interview — "When you're filming with someone … you're not human if you don't feel something" — that was actually a comment that Liam made about how he and Miley hooked up while filming The Last Song. The semi-logical conclusion here is that Miley may be worried about Liam developing feelings for co-star Jennifer Lawrence, and the fact that they text each other hasn't helped matters:
Miley Cyrus' worst fear was becoming a harsh reality. While cudding up to her boyfriend of nearly three years, Hunger Games hunk Liam Hemsworth, the former teen queen couldn't help but notice that her man's hands were clutching his phone. "Miley saw that he was texting his co-star, Jennifer Lawrence," a friend of the 19-year-old tells In Touch. "She was livid!"

While it would have annoyed Miley to see Liam, 22, texting any woman late at night, the jealous star's blood boiled to learn that he was chatting with the beautiful, talented Jennifer. "Miley is threatened by Jennifer's career and confidence," the friend explains. And it's hardly surprising: Miley's latest film, The Last Song, tanked at the box office, while Jennifer's role in the 2010 drama Winter's Bone scored her an Oscar nomination. "Jennifer has replaed her as Hollywood's It Girl," says the friend. "And now Miley's terrified that she'll replace her as Liam's girlfriend, too."

Unfortunately for Miley, the scenario is all too likely. After filming their roles as young lovers in the sure-to-be hit film The Hunger Games, Liam and Jennifer, 21, became very, very close. "Jennifer's an incredible person and ridiculously talented," Liam recently gushed to In Touch. And with the sequel, Catching Fire, already slated to begin filming this fall, their relationship will have another Miley-free opportunity to blossom.

Now, a desperate Miley is grasping at straws to keep Liam interested. "She's telling him she wants to have his baby," the friend reveals. "Miley is not going to let him go so easily!"
[From In Touch, print edition, March 26, 2012]
Well I don't think anyone has ever called Miley "Hollywood's It Girl." She was a Disney princess, and they're seldom expected to last long after leaving the roost. I can see why Miley would be nervous and might be projecting her fear onto Jennifer since she and Liam became close friends while filming Hunger Games — JLaw even taught him how to catch a crawdad! But I doubt there's anything there at all beyond a platonic, work-type connection. For one thing, Jennifer's been dating Nicholas Hoult since early 2011 after they got close while shooting X-Men: First Class. Maybe Miley is really worried merely because she met Liam on set, and JLaw isn't adverse to meeting boyfriends at work, but in this case, Miley shouldn't sweat Jennifer at all.
However, I do think that Miley and Liam will eventually break up. Maybe it won't happen before the second Hunger Games movie comes out, but I am doubtful that their relationship will endure through all three four movies of the franchise. Like I've said before, it will be interesting to see if this couple can weather the storm since their roles have reversed since the beginning of the relationship. Miley was the bigger star before, but now Liam is about to get really, really huge.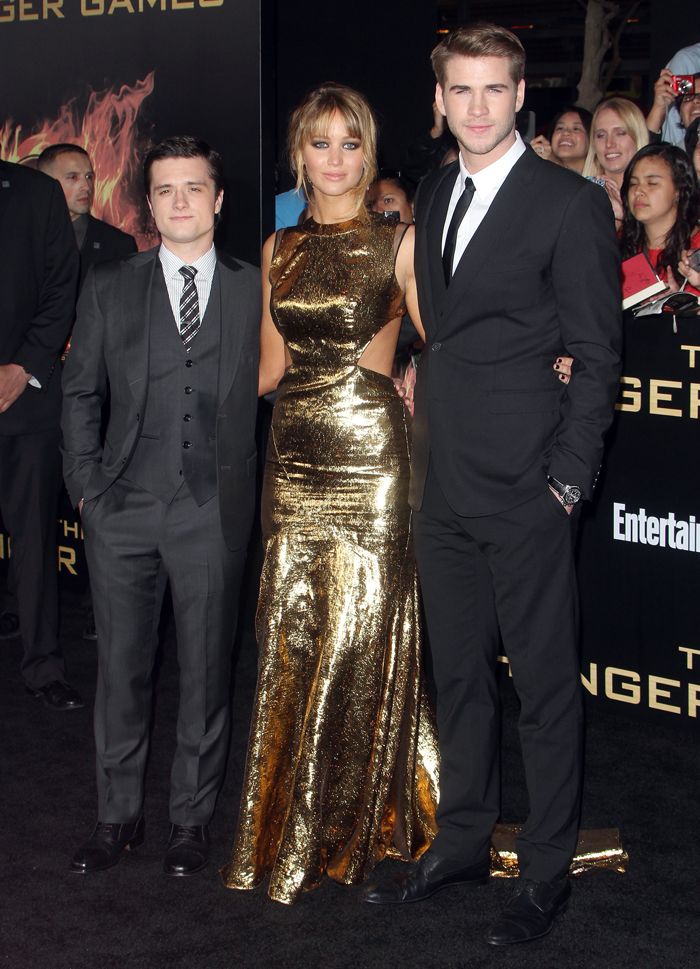 Still, I can buy that Miley really is nervous about Jennifer. Why else would Miley have worn such "look at me" dress for the world premiere of Hunger Games, which she really should've treated as Liam's big moment?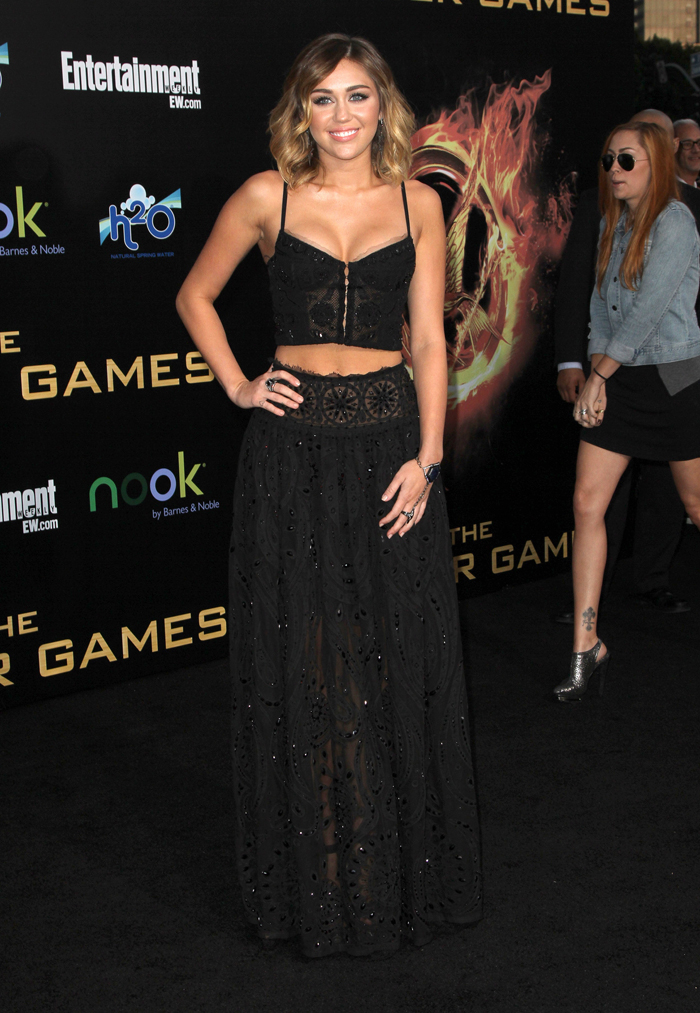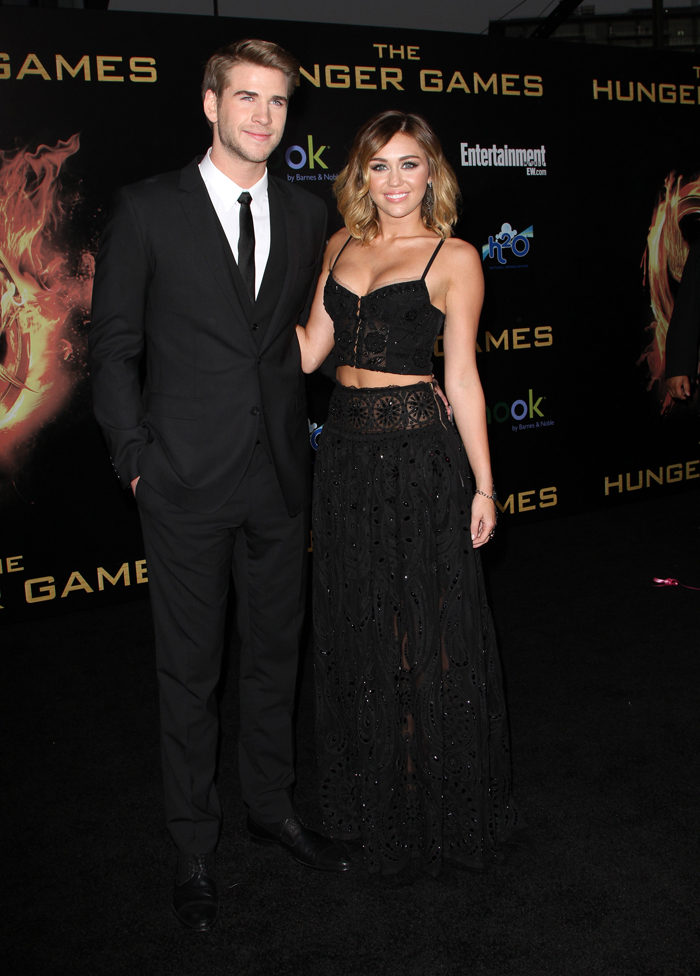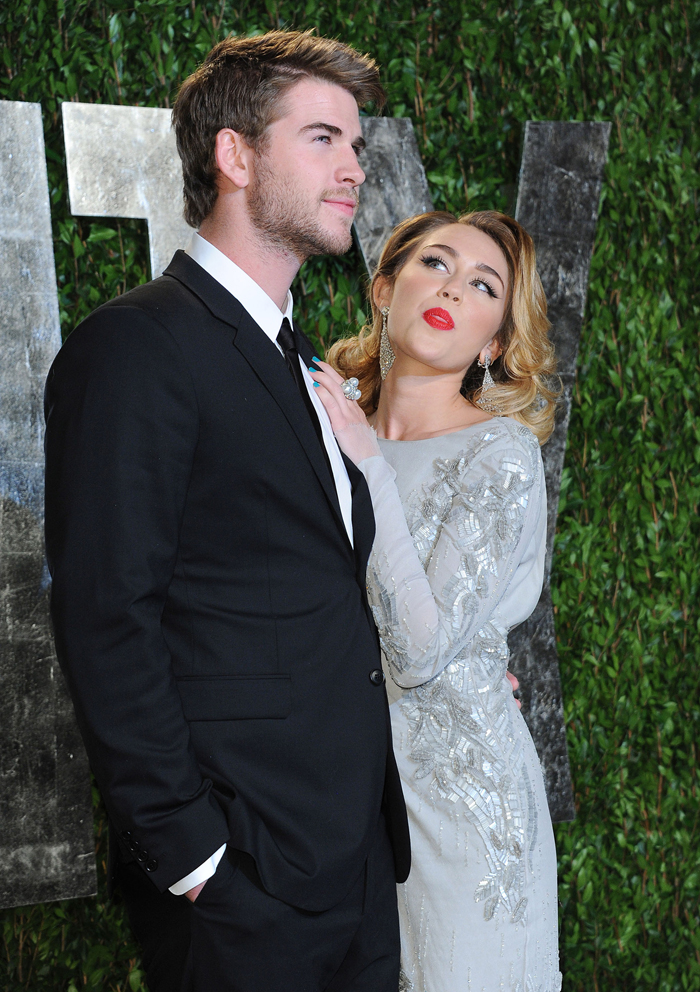 Here's Jennifer and Liam along with Josh Hutcherson in Seattle on 3/10 during their Hunger Games mall tour.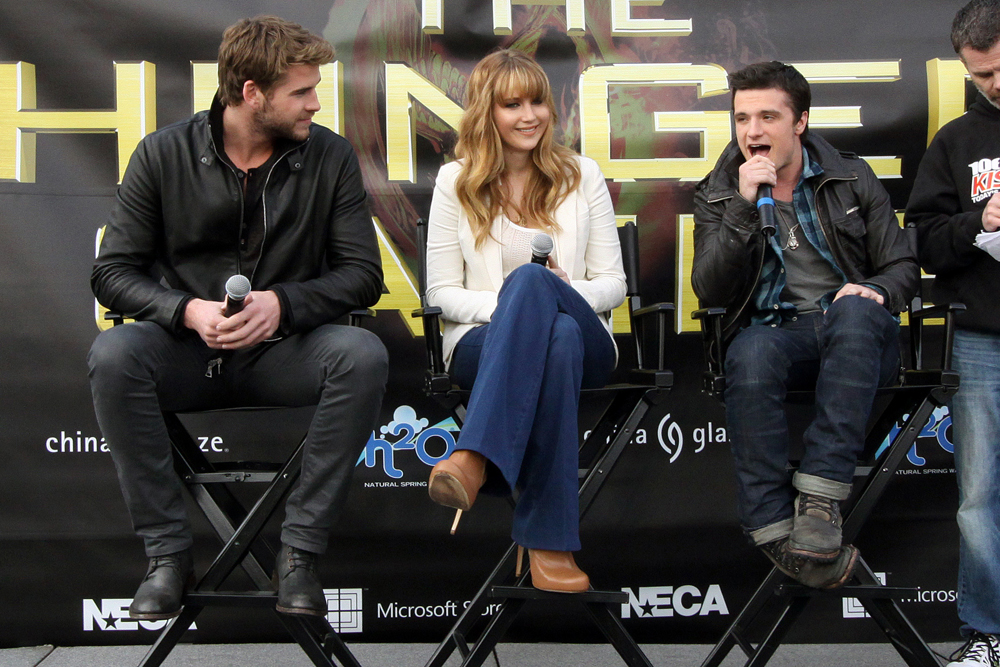 Photos courtesy of Fame/Flynet and WENN