Anderson Cooper kicks terrible mom 'Human Barbie' off show, 'I regret having her'

Anderson kicks "Barbie Mom" off his show
I like to cover stories about Anderson Cooper's talkshow, because he has some real characters on. At some point you feel that it's beneath him, though. It's cute when he gets into giggle fits over pop culture absurdities, but it seems ridiculous when he has those same subjects on his show and asks them questions like they should be taken seriously. Cooper seems to feel the same way, and this latest story makes me wonder if he's going to change the direction of his talk show and/or push back against producers' plans for it.
That's preface to this story about how Cooper got fed up with a British woman who calls herself a "Human Barbie" and is a candidate for worst mother of the year, even if her whole act is a put-on. If you're not familiar with this creature, she's given her little eight year-old daughter Botox and plastic surgery vouchers and has posed with her in provocative clothing. She's like a pageant mom meets porn star on steroids. Barbie mom also admitted on Anderson to letting her 15 year-old daughter get Botox, but she said it was to reduce sweating on the girl's forehead while she was performing as a professional dancer. "All my children are professional people," she said.
Cooper was questioning the Barbie on why she's such a terrible mom, and he finally just gave up and told her to get off the set, basically. It was only halfway through the interview. He said he had no more questions for her and she left. Later, in a video recorded backstage, he explained that he didn't want to give her publicity and regretted having her on the show. Good for him.
On giving her 15 year-old daughter Botox
My daughter is a professional dancer, all my children are professional people and she perpetually sweated on her forehead, and so the best answer for that was a shot of Botox and I didn't actually give it to her.

On giving her eight year-old a plastic surgery voucher
I've given her a voucher for if she so wishes to use it at the age of eighteen she can but she actually wants to be a plastic surgeon and take herself off to become the person she wants to be because she can cash in those vouchers, they are like a bond. So it's like a tax free gift.

On putting her daughter on a stripper pole
Anderson: You know this is about publicity. You don't put a seven-year-old on a poll and have her photographer and it just doesn't happen to wind up in the paper. You contact the British tabloid. You contact the papers and let them know about this stuff.
Sarah: I let people know that it's good, it's good exercise and in fact, more people should actually try it than stuffing their faces with burgers. I don't know, and it would be better for them and they'd be much more fit and healthier.

Anderson kicks her off [written by Gawker]
Despicable plastic surge-oholic Sarah Burge, who infamously presented her seven-year-old daughter with a boob job voucher for her birthday and a liposuction voucher for Christmas, was a guest on Anderson Cooper's daytime talk show — until the silver fox had just about enough, and told the "Human Barbie" to leave.

"I honestly have nothing more to talk to you about," Cooper said after a brooding pause. "I gotta be honest, I gotta just stop. I'm sorry." He then called Burge "dreadful," and the mother of four stormed off the set, repeating the words "that's fine" several times.

Later, backstage, Anderson explained his actions, saying he didn't feel Burge was "communicating honestly" and thought she was only appearing on his show "for the publicity."

"I regret having her on in the first place," he said, "and I regret that that's how things ended."
[From the Anderson Cooper show and Gawker]
I think this lady's act is somewhat of a put-on. At least I hope it is. I think she heard the story last year about the mom who got paid to act like she was giving her daughter Botox and decided she wanted in on that racket. That still makes her an abhorrent person for doing this to her daughter. She did admit that she got her 15 year-old Botox to reduce forehead sweating – while she's dancing! That's ridiculous. So maybe I'm wrong that she's faking it, and maybe she's completely sincere about it, as much as she's capable of being sincere. Look at her.
Again, maybe Anderson will put his foot down and get some more legitimate guests. He does "60 Minutes" for God's sake, he doesn't need to be interviewing the dregs of society. At least they had the foresight not to let Barbie bring her kids on with her. You know she would have tarted up her daughter and paraded her around if they'd let her.
Anderson explains why he kicked her off.

On putting her seven year-old on a stripper pole. "More people should try it instead of stuffing their face with burgers."

On giving her 15 year-old daughter Botox.

On giving her eight year-old plastic surgery vouchers.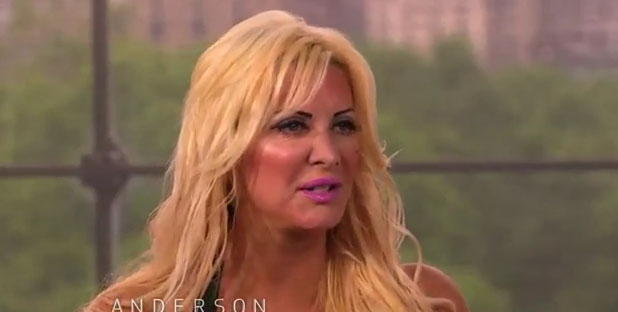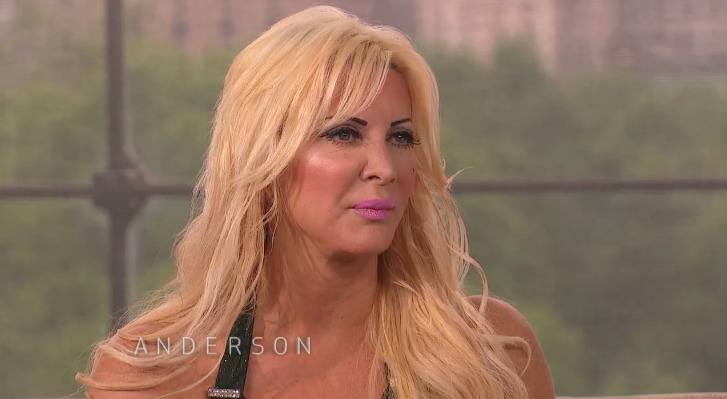 Written by Celebitchy

Posted in Anderson Cooper, Sarah Burge

- Harry Styles & Kimberly Stewart going strong [Lainey]
- Demi Moore's new man is gross [D-Listed]
- Fug or fab: Emma Stone [Go Fug Yourself]
- Arrest warrant issued for Jenelle Evans [Reality Tea]
- Only God Forgives review [Pajiba]
- Hugh Jackman, scooter master [Buzzfeed]
- Who does Drew Barrymore call her sister? [Evil Beet]
- Cannes couples past and present [Popsugar]
- Arrested Development supercut [CDAN]
- Lea Michele's see through skirt [Celebslam]
- Cheating wife's lover escapes out of window [Movin925]
- Joe Francis is crazy [Starcasm]
85 Responses to "Anderson Cooper kicks terrible mom 'Human Barbie' off show, 'I regret having her'"