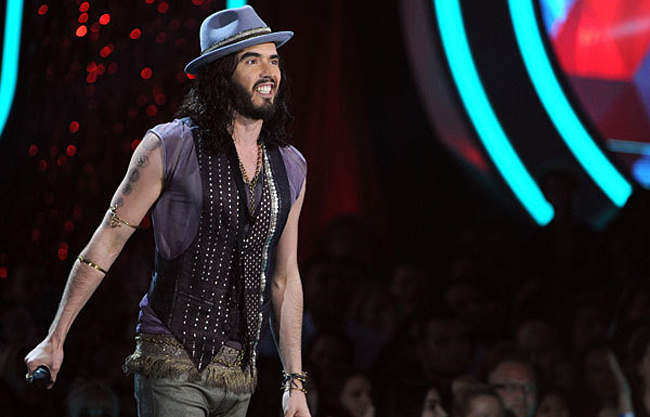 As Kaiser mentioned yesterday in her open post for the MTV Movie Awards, Russell Brand has become quite notorious for his controversial utterances while hosting MTV gigs. In 2008, he hosted the VMAs and offended lots of people when he claimed to have earned the purity ring off one of the Jonas Brothers, and he later claimed to have received death threats after his hosting duties. Naturally, MTV invited him back for the 2009 VMAs, but Russell's antics were largely eclipsed by Kanye West's stage intrusion that year — although it's worth mentioning that Russell wooed future wife Katy Perry from the stage during the show as well, and the two were spotted making out afterwards too. During the 2011 VMAs, we received a good first indication of the pair's crumbling marriage and now, of course, they are in the midst of divorce proceedings. For this ceremony and Russell's hosting duties for the MTV Movie Awards, Katy was nowhere to be seen on the premises.
Last night, Russell's monologue was certainly of his usual acerbic variety but nowhere near as controversial (at least I don't think so) as his general fare. He joked about Justin Bieber beating up a pap and added that Biebs was "so pretty" that "even if he was attacking me, I think I would do a little orgasm" (the camera then cut to a laughing Jennifer Aniston). Russell thanked Kim Kardashian for taking pressure off him for having the shortest celebrity marriage and then called out Michael Fassbender and "his massive c*ck," which he also described as an "acting pipe of wonder." Russell also took a shot at John Travolta's Masseuse Gate, which was not a particularly amusing part of the monologue but did serve a later purpose. Finally, Rusty wrapped up his speech with an expected (and relatively tasteful) remark about his collapsed marriage: "The last MTV awards show I hosted I ended up marrying someone who was there, so I will be keeping my eyes peeled tonight for my next wife." This was followed up with a quick "Fassbender! It has to be [you]. I'm going to go get some massage oil off Travolta. Michael, meet me in my dressing room." Aww, isn't that sweet? Russell has a crush on Fassy too. Now Kaiser is totally gonna pull the slut dagger on Rusty.
Here's a video clip of Russell's monologue:
There were a few cute moments during the show that are worth mentioning, including a cute sketch with Joel McHale pretending to be JLaw's archery teacher, the moment when Charlize Theron pretended to beat up Fassy, and a great time had by Elizabeth Banks while she enjoyed the pleasure of being onstage with the Magic Mike boys. Lucky bitch.
Here's the full list of winners:
Best Onscreen Dirtbag: Jennifer Aniston (Horrible Bosses)
Best Breakthrough Performance: Shailene Woodley (The Descendants)
Best Male Performance: Josh Hutcherson (The Hunger Games)
Best Female Performance: Jennifer Lawrence (The Hunger Games)
Generation Award: Johnny Depp
Best Kiss: Kristen Stewart and Robert Pattinson (The Twilight Saga – Breaking Dawn: Part One)
Best Song: "Party Rock Anthem" by LMFAO (21 Jump Street)
Best Fight: Jennifer Lawrence and Josh Hutcherson vs. Alexander Ludwig (The Hunger Games)
Best Cast: Harry Potter and the Deathly Hallows: Part Two
Best Transformation: Elizabeth Banks (The Hunger Games)
Trailblazer Award: Emma Stone
Best Movie: The Twilight Saga – Breaking Dawn: Part I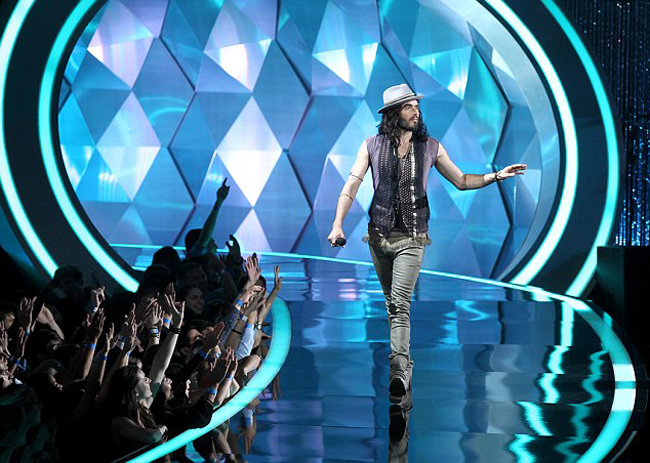 Photos courtesy of MTV