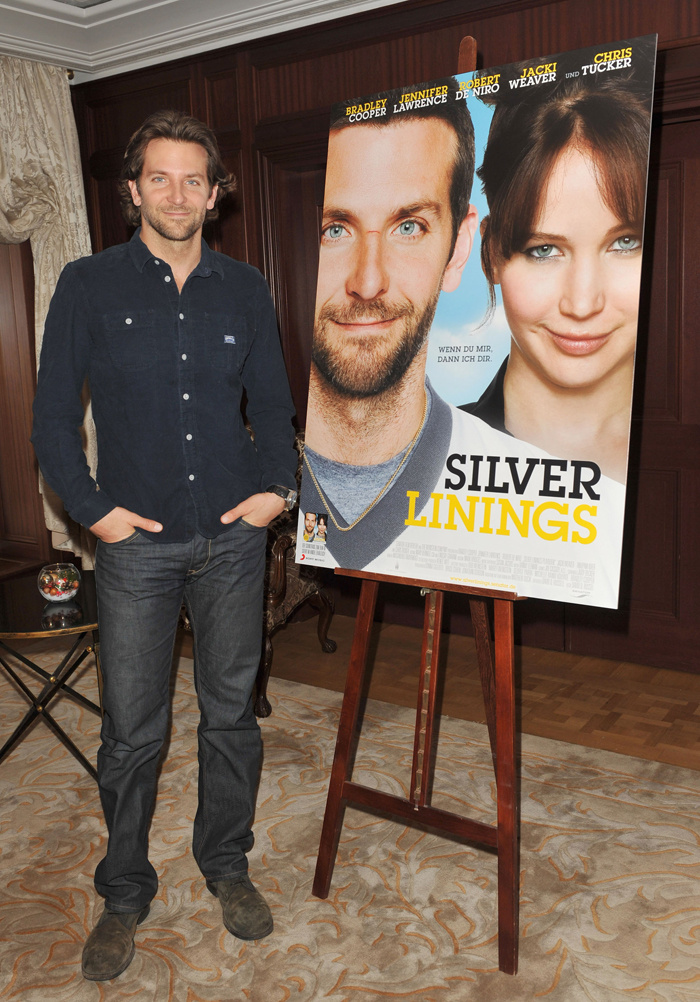 Here's a few uneventful photos of Bradley Cooper all by his lonesome at the Silver Linings Playbook in Berlin last week. Poor guy can't even work up his usual blazingly white, serial-killer smile for the cameras. Perhaps Bradley had just suffered through an argument with producer Harvey Weinstein, who was upset that Jennifer Lawrence was not in attendance because somebody — anybody — needed to wear some damn Marchesa for this event. Or perhaps Bradley was missing his lady (and The Words co-star), Zoe Saldana, far too much for, uh, words?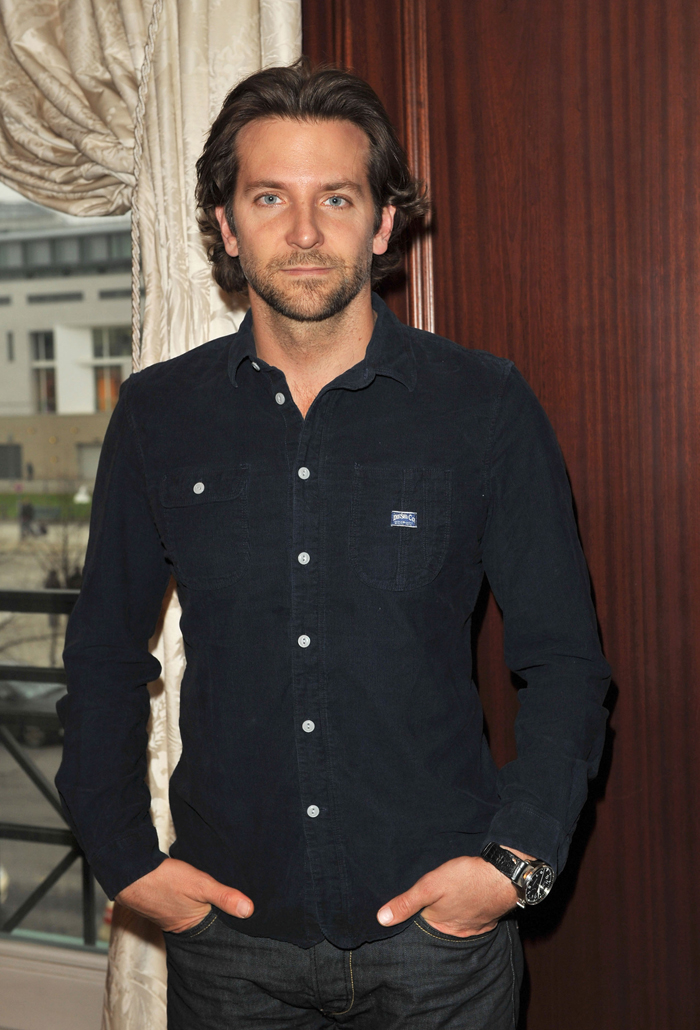 If the tabloids have their way, then a lack of Zoe was precisely the reason Bradley looked down in the dumps. You know, I've never understood them as a couple at all. They don't really look happy together, and I (like many of you) have just assumed that this was merely a convenient showbiz romance that would run its course the next time Bradley needed to promote a new romantic comedy with a mutually single co-star (not Jennifer Lawrence, who is blessedly taken). But wait! The Enquirer is running with a story that says not only are Bradley and Zoe alive and well together, but they've also just become newly engaged. This, to quote Anthony Michael Hall in Sixteen Candles, is getting good: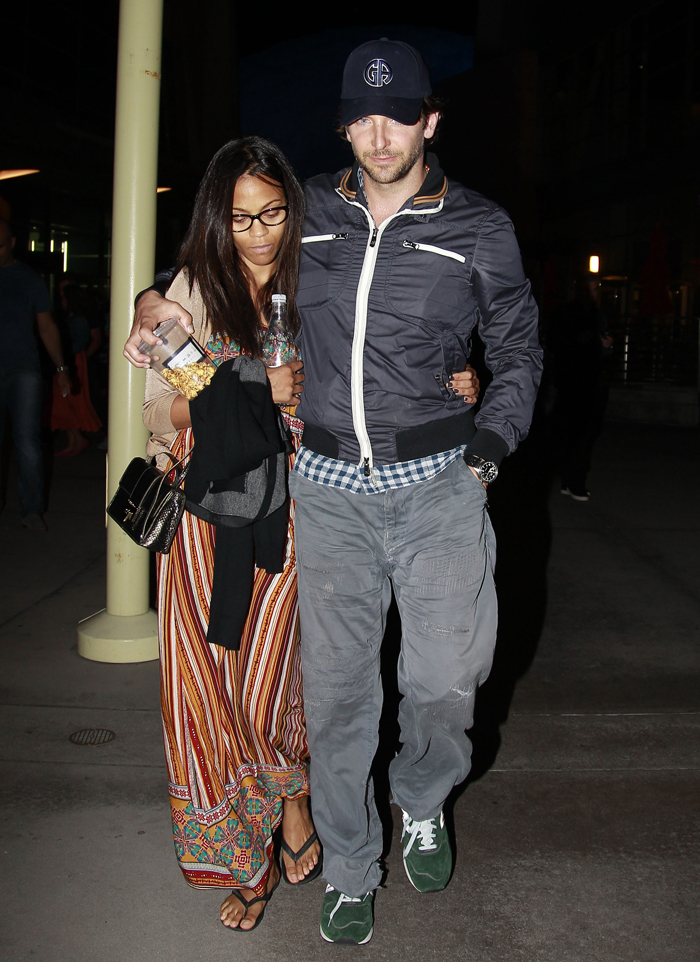 The second time's a charm for Bradley Cooper and Zoe Saldana — friends say the reunited couple are back on, better than ever and planning to tie the knot!

"Bradley is telling friends he's not going to let Zoe slip away this time," said a close source. "Having lost her once, Bradley is readly to seal the deal on the relationship.

The couple first met on the set of the romantic drama The Words after 37-year-old Bradley's high-profile romances with Renee Zellweger, Jennifer Lopez and Jennifer Aniston fizzled. They dated for three months before parting ways in March 2012. But by September, the two had reunited, and Bradley proposed to Zoe, 34, a few weeks ago — and she said yes! Bradley's now telling pals he's hoping the wedding bells will ring in late spring or early summer in his hometown of Philadelphia.

Though the Enquirer reported in May 2012 that Bradley's mom was wrecking her son's love life with her medding, the source says she's stopped butting in — and started helping. It turns out she's the one who actually convinced Bradley to propose! "Gloria world overtime to make it clear to Zoe that Bradley is a changed man and ready to commit," maintained the source.

"Gloria has been pestering Bradley that she's desperate to be a grandmother. Zoe won major brownie points with Gloria when she promised that she'd start trying to get pregnant just as soon as Bradley proposed. That set the wheels in motion."

Playing cupid isn't the extent of Gloria's involvement — Bradley's been so busy lately he also sent her out shopping for the engagement ring, say sources.

"Now Gloria and Zoe are bonding over planning the ceremony," added the source. "Zoe can't wait to be Bradley's bride."
[From Enquirer, print edition, January 7, 2012]
Of course, we are free to question the motivations at hand with Bradley's camp allegedly leaking this engagement story. Although I do laugh at the idea of his past "romances" with Jennifer Lopez (they went on one date together ) and Jennifer Aniston (she she allegedly pursued him) being a relevant part of this tale, but whatever. Is this a genuine romance and a case of true love forever, or is Bradley merely campaigning for the Best Lead Actor Oscar in his own special way?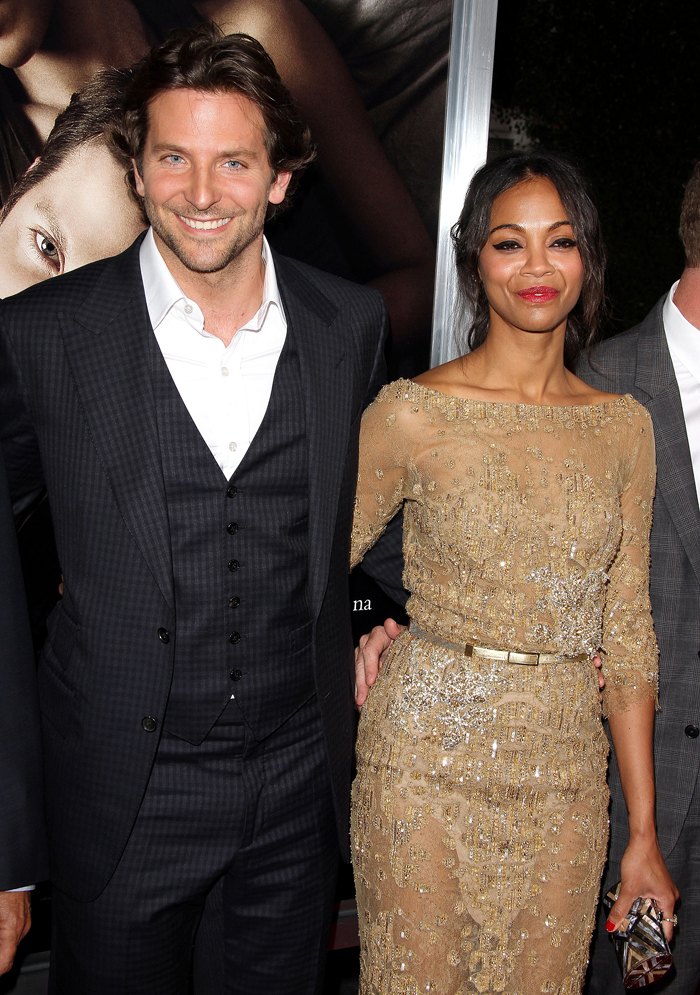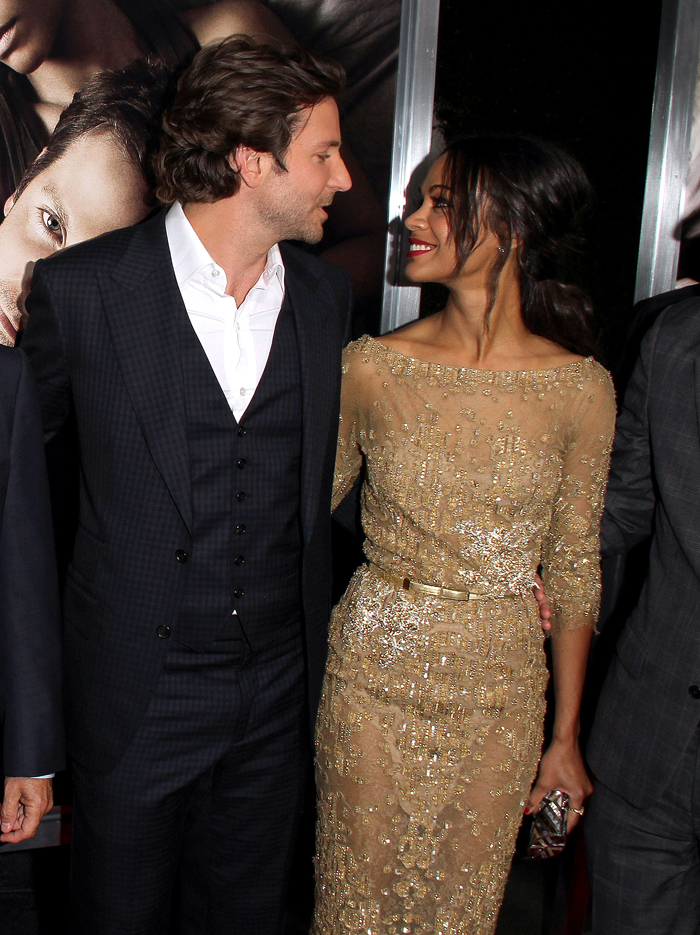 Photos courtesy of Fame/Flynet