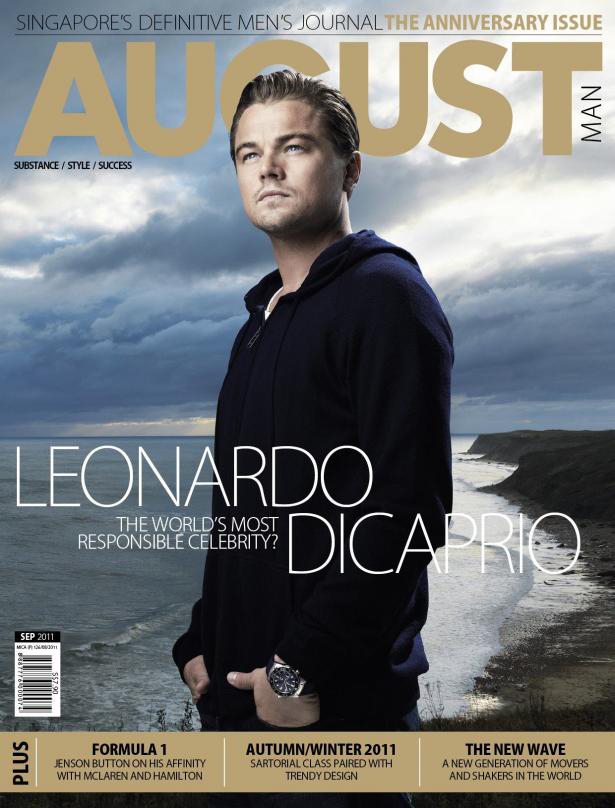 Leonardo DiCaprio covers the February issue of August magazine, which is a men's style rag that I've never heard of. The cover isn't the most flattering shot of Leo, but you can see the rest of the shoot, which is slightly better, at Just Jared. I'll get to some interview excerpts in a moment, but first I wanted to talk about a brand new story about single Leo on the prowl. When he broke up with Erin Heatherton last November, Leo reportedly dated co-star Margot Robbie immediately afterwards, but we haven't heard much about Margot in at least a month. Since then, Leo has announced an indefinite break from acting, which means that he's been yachting with Naomi Campell and friends as well as taking time to shoot a Jack Daniels commerical.
In addition, Leo has also apparently been trying to find a new model girlfriend. By now, it's kind of a joke that Leo's M.O. consists of ordering his giflfriends from the Victoria's Secret catalog. He's been with Gisele Bunchen, Bar Refaeli, and Erin, and rumor has it that he and Miranda Kerr have been flirty and cozy together too. So who else's dog-eared lingerie shots has Leo been fondling in the bathroom? Well, Rosie-Huntington Whiteley for one, and Jason Statham isn't having it at all. Here are the details:
Rosie Huntington-Whiteley may be gorgeous but she is very much taken, not that Jason Statham's girlfriend's relationship status seemed to bother Leonardo DiCaprio who apparently was spotted trying to chat up the stunning model!

An insider at Harvey Weinstein's Golden Globes after party has told Now Magazine that ladies man Leo tried to make a move for model Rosie. Hardman Jason, who has been dating Rosie for almost three years, soon shut down the flirting though:

"After some small talk, Leo introduced Rosie to his posse and poured her a glass of bubbly. She seemed interested, but unaware that Leo was smitten," the source alleges. "When Jason spotted his gal with Leo, he summoned her to his side and didn't let her out of his sight for the rest of the evening."

Undeterred, confirmed bachelor Leo apparently just moved onto to another hot girl to continue his flirting. Taking things in his stride, Leo soon made a play for another hot girl.
[From Entertainmentwise]
Atta boy, Jason. The dude might not make movies about thinking, but he's not stupid. Leo's reputation as a modelizer definitely precedes him, and if he tries this stunt again, Jason would easily be able to kick Leo's ass into next July. How funny. Now back to Leo's interview with August Man, and here are some excerpts:
Why he loves acting: "It's always an eternal sort of mystery in making movies, and that's the great fun, challenge, and excitement about doing what I do. As an actor, I do everything possible to tell a great story in a truly artistic way, but at the end of the day you never know how critics and audiences are going to respond."

On getting older: "I guess the big 4-0 hasn't entered my consciousness yet. I believe it's very important to look back on the choices you've made and re-analyse where you want your life to go and the things you want to do as an individual. I came from a lower middle-class background where, for me, being an actor never seemed like an achievable dream. Once I got my first opportunity to work on a movie, it's really been a mad rush to fulfil that dream."

His goals for the future: "My goal is to keep doing great work? I haven't stopped yet and hopefully the work will never stop. While I'm here, I will always have that drive to not only produce great work, but to make a difference in the world."

His back-up career plan "In my adult life, my environmental work and activism remain a priority. I created a foundation that focuses on raising public awareness of the very important issues concerning our planet, our environment, and the impact we as people have on the world we live in? It is not only an extremely fulfilling and gratifying learning experience, but has also taken me to some of the most interesting and beautiful places in the world."
[From August Man]
I know that Leo is commonly regarded as one of the greatest actors of his generation, but it's still a bit jarring to see that he also sees himself that way with the "great work" comment. I'd wonder whatever happened to humility, but I guess Leo's early success and lucky dovetail into Martin Scorsese's waiting arms (after Robert DeNiro proved to be such a disappointment during recent decades) means that he never has to worry about not having the luxury of choosing from quality scripts.
Just for kicks, here are some older covers from Leo's appearances in the July 2010 and August 2011 issues of August Man. His face has changed rather rapidly in just a few years, right?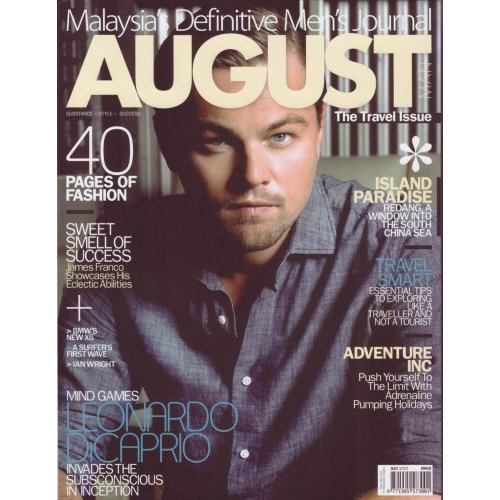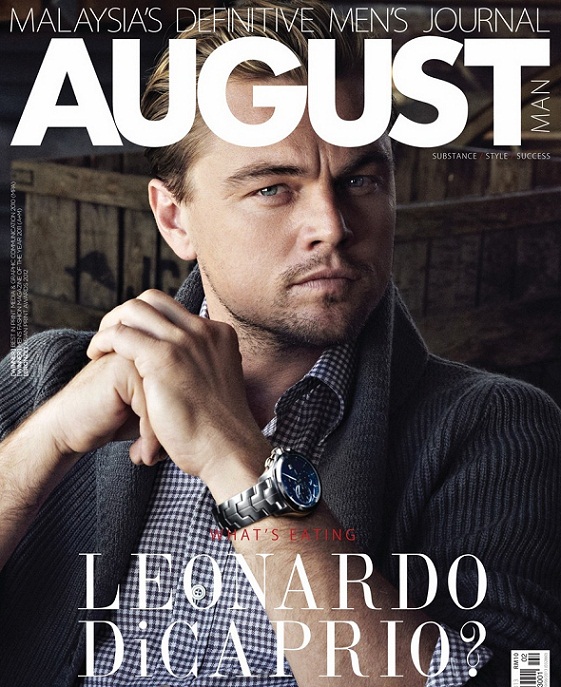 Photos courtesy of August Man