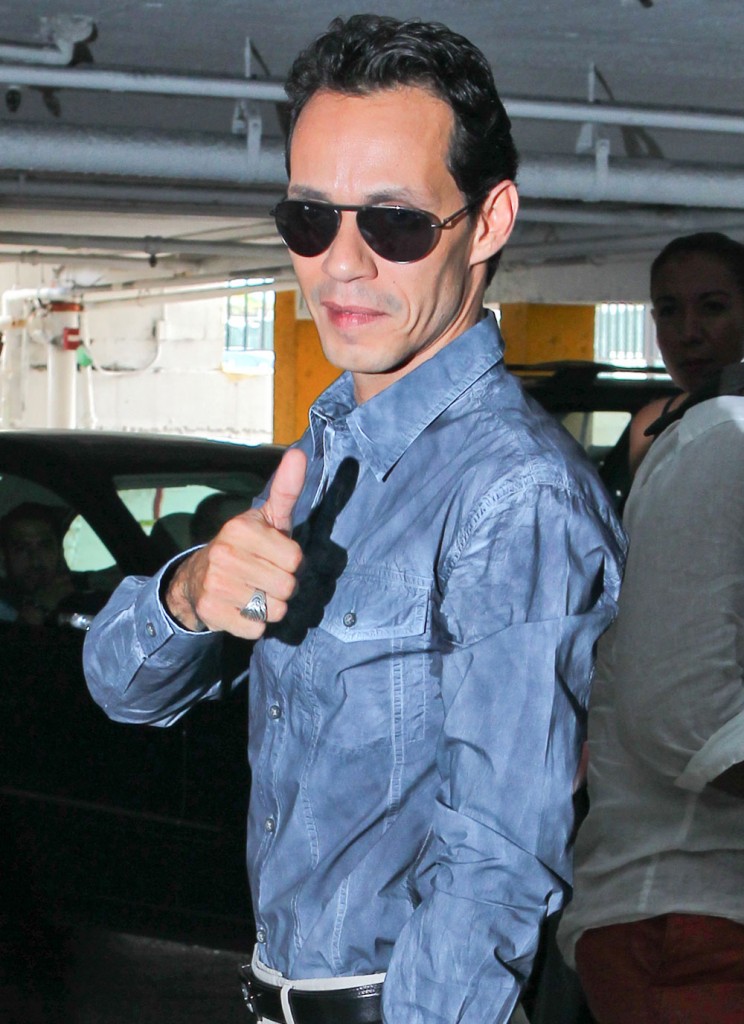 Page Six has a story today about Marc Anthony's new romance, with 21 year-old TopShop heiress Chloe Green. Yesterday we talked about Chloe and Marc's Disneyland outing with his kids. Chloe and Marc were looking cuddly and she was carrying his daughter around at one point. It was gross to me because Chloe is young enough to be his daughter and because it doesn't seem too wise to have her around his kids when they've only been dating a month – tops. So Page Six's theory about this new May-December romance is interesting, but I'm not really buying it and I'll explain why in a moment. They say that Marc is into Scientology, in secret-like, and that he's bringing Chloe into the fold. Say what? That's news to me. Here's more:
Marc Anthony's relationship with Chloe Green, the 21-year-old heiress to the fortune of UK's Topshop, has celebrity and social circles whispering about what's really behind the sudden May-December romance.

Some fear that 44-year-old Anthony's ties to the Church of Scientology could be an influence on Green, the aspiring actress and designer who starred in British reality show "Made in Chelsea." The pair were seen strolling with their arms around each other at Disneyland this week, and also touring the park with Anthony's and ex-wife Jennifer Lopez's twins.

But Green — whom sources say Anthony has "known for years," since she was a teen — is a stark departure from his stunning exes, Lopez and Shannon de Lima, the Venezuelan beauty queen he just split with.

Anthony and Lopez reportedly had close ties to Scientology, which is known for targeting celebs and scions of wealthy families, making Green a perfect potential object of interest for the church. While Anthony's reps deny he's a member of the faith, he and Lopez rubbed elbows with Scientologists including Tom Cruise and reportedly broke up over the religion.

Green, who arrived in LA two weeks ago for the launch of a Topshop there, posted a cryptic tweet after her date with Anthony on Tuesday. Quoting a friend, she tweeted, " 'LA thank you . . . I've found myself,' " followed by "So have I!"
Kaiser pointed out to me that Rupert Murdoch owns the NY Post, and that he's very vocal in his hatred of the cult of Scientology, so it's possible the Post has some insider information that we don't. It's also possible that they're jumping to conclusions based on some cryptic tweets which sound more to me like two goofballs thinking their new romance transcends age, famewhoring and excessive consumption.
We have heard that Marc and J.Lo were into Scientology, but it was J.Lo pushing the cult's faux self-help crap, not Marc. Lopez's dad is a Scientologist, and she's good friends with Lean Remini (also a Scientologist). She's spoken very positively about it in the past, but claimed that she wasn't personally a Scientologist. She's just down with them or something. It just doesn't seem to be Marc's thing, and if it was Lopez probably would have converted.
So I don't really believe this story that Marc is into Scientology and that he's introducing it to this Chloe character. He's just psyched to be banging some young chick again, and is taking every opportunity to throw it in his ex's face. (Just like she's been doing, basically.)