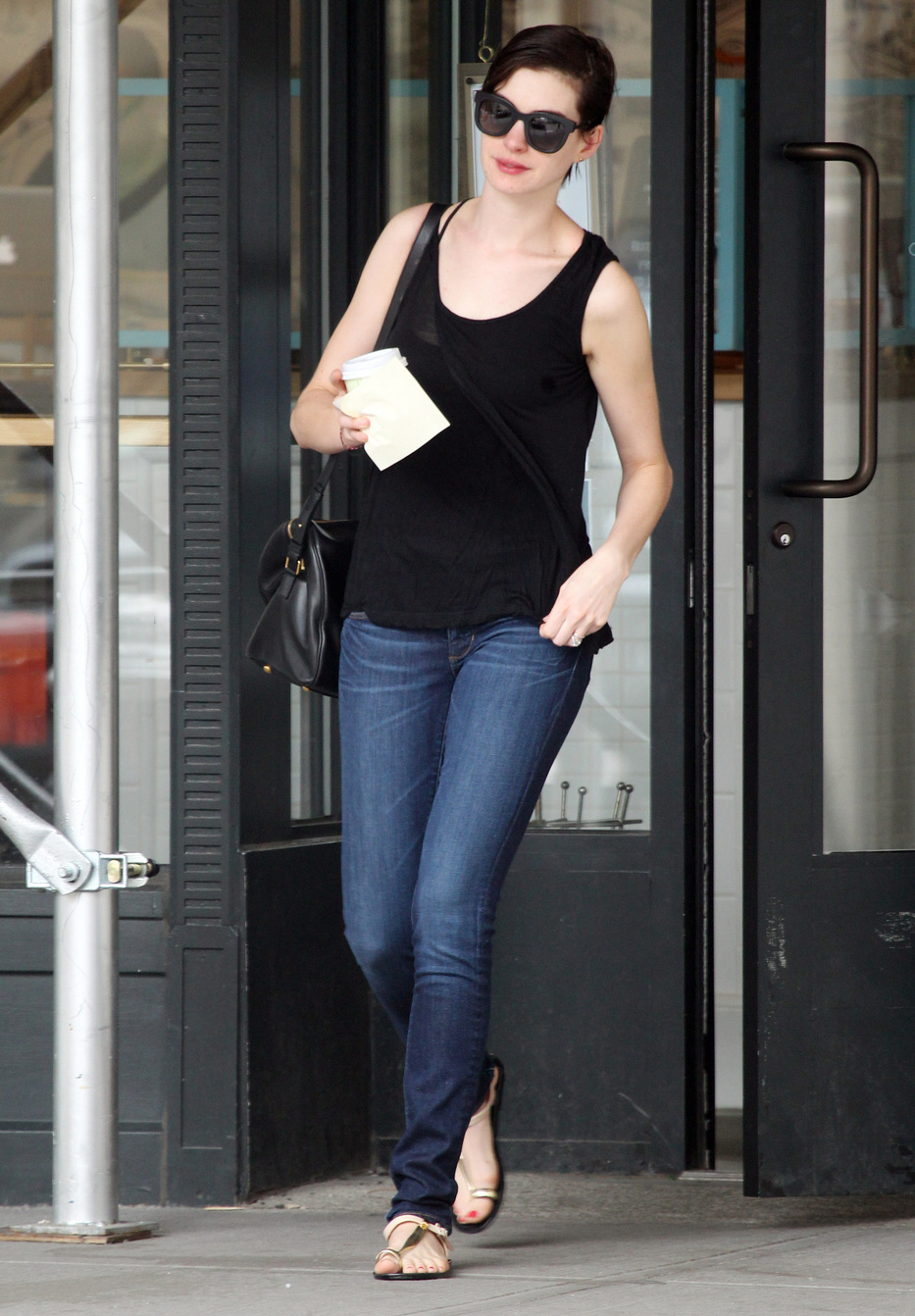 Three weeks ago, Anne Hathaway showed up at the Met Gala with a dramatic new look: platinum blonde hair! The idea of Annie as a blonde wasn't everybody's favorite idea, although I still think that Anne looked pretty righteous at the Met Gala. The problem came AFTER the Met Gala, when she didn't have a team of stylists and professional hair-fluffers on call. Then she just looked kind of washed out and rough. Well, these are some new photos of Annie in NYC yesterday, and she's dyed it back to brown. Thank God!
Anne Hathaway has gone back to the dark side. Just three weeks after debuting a striking blonde hue at the Met Gala, the Oscar-winning actress, 30, was spotted grabbing coffee in NYC on Tuesday, May 28 sporting her more typical brunette shade — her pixie cut swept tomboy-style to the side.

The Les Miserables star visited the Hollywood salon of star stylist Marie Robinson May 23 for the dye job, and a source tells Us Weekly it's all for her next movie role in Song One. In the recently announced project, Hathaway's first since winning her Academy Award for Best Supporting Actress in February, the star will play "a young woman who strikes up a relationship with her ailing brother's favorite musician," according to a press release.

It will be produced by her husband Adam Shulman, Jonathan Demme and Marc Platt alongside Worldview Entertainment.

As for her brief foray into blonde territory? "I don't know that you could tell it by looking at me, but Debbie Harry was [my inspiration]," Hathaway told Vogue.com at the the Costume Institute Gala in NYC May 6, where she paid tribute to Blondie's frontwoman with the aforementioned tresses and a vintage Valentino gown.
Song One sounds like such a weird project. Some of us (me) theorized that Anne was keeping the blonde for Interstellar, the Christopher Nolan sci-fi film which she'll be working on at some point this year too. But I guess Song One producers (her husband?) wanted brunette Annie. Maybe Nolan will ask for blonde Annie?
By the way, there's an addendum to that whole Valentino Oscar Dress Situation. The backstory: Anne was supposed to wear an off-white lace Valentino gown to the Oscars, until she discovered that Amanda Seyfried was going to wear a similar-looking McQueen. Anne threw a fit and ended up wearing a nipply Prada gown. Then last week, Nicole Kidman wore a white lace Valentino gown and everyone was like, "Huh, is Nicole Kidman wearing the hell out of Anne Hathaway's cast-offs?" The answer, it seems, is NO. Nicole did wear a gown that was very, very similar to the Valentino gown Anne was supposed to wear, but it wasn't the same gown or the same design. You can see the differences in the two gowns here at Us Weekly. All it proves to me is that Valentino needs to stop making so many fussy, bridal-looking white gowns.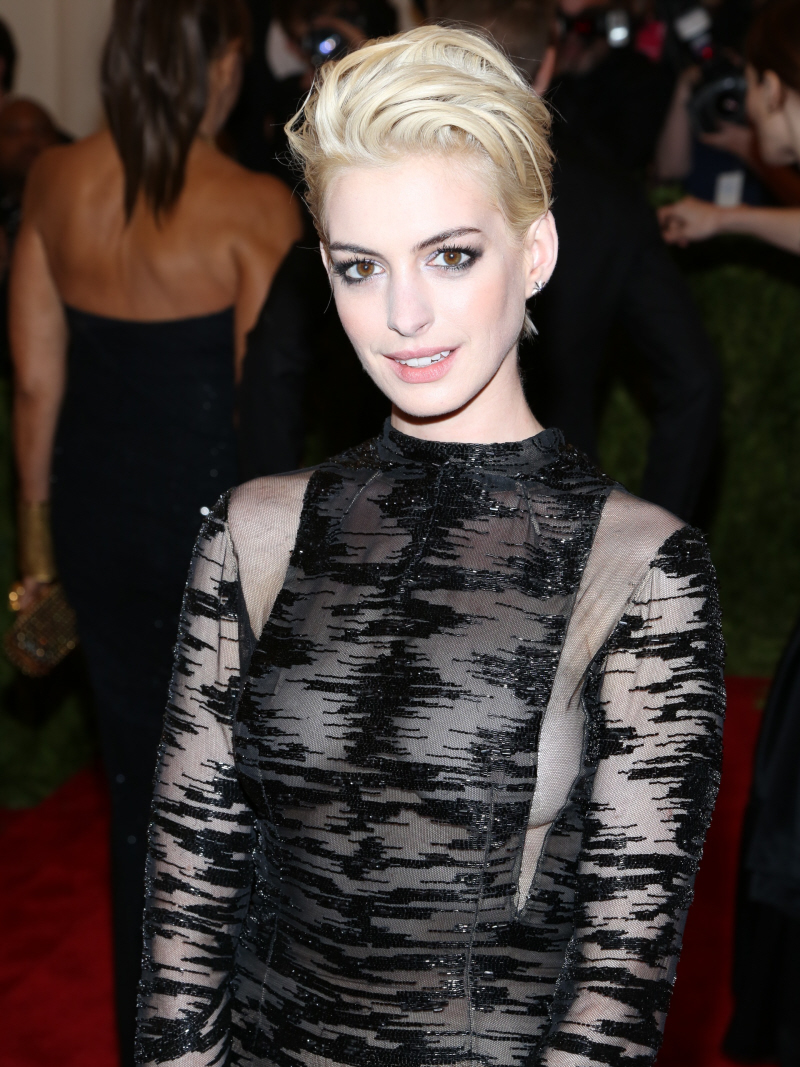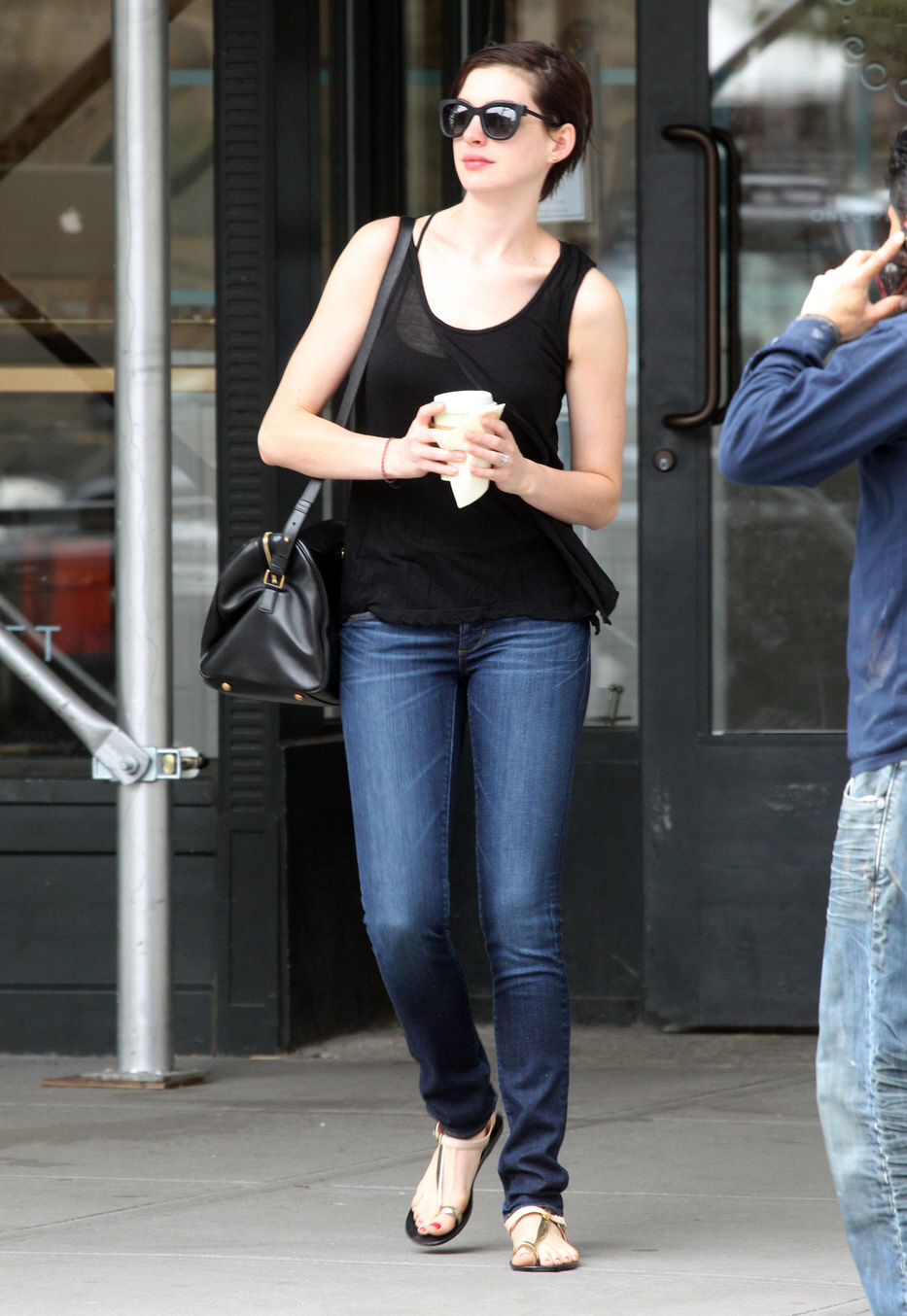 Photos courtesy of WENN, Pacific Coast News.