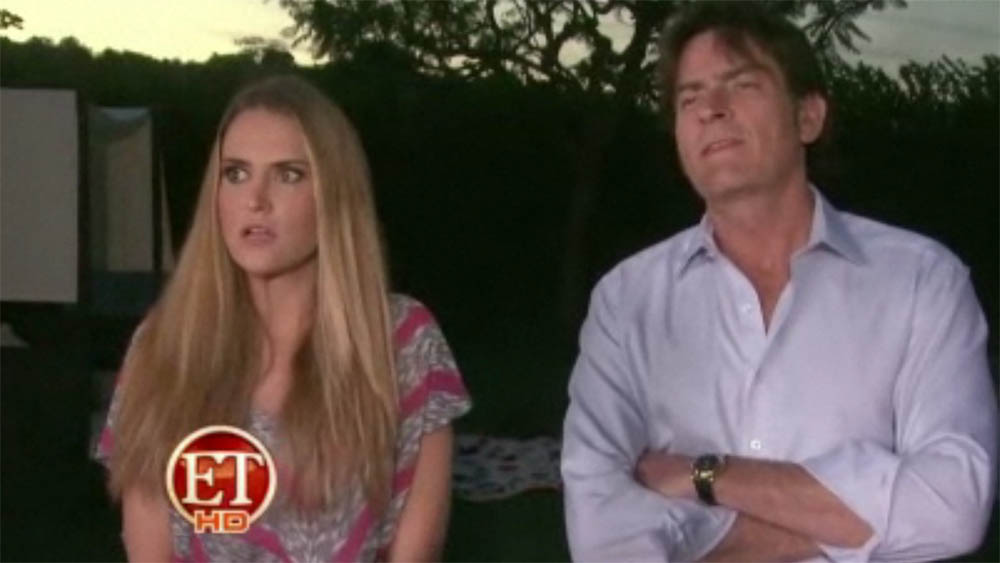 Charlie and Brooke on ET in November, 2011
Charlie Sheen is done bankrolling his meth addict ex's addiction and dependency. Brooke Mueller has been collecting Charlie's $55,000 a month in child support to date despite the fact that she hasn't cared for their twin four year-old boys in about a year. Brooke has tried at least twice to have the boys relocated from their court-appointed guardian, Charlie's other ex Denise Richards, and placed with family members so that Charlie's money stays in her family. Those attempts were futile, and of course Brooke's attempt at rehab (she's in her 21st facility now, no sh*t) was as well. She's still in treatment, but she recently switched from Betty Ford to an undisclosed facility in California, because she couldn't hack the chores at Betty Ford. The last we reported on Brooke, she was being called an "unfit mother" by the judge in her custody case. Well Charlie agrees and he's not even going to pay for Brooke's cushy rehab, which was probably cheaper than his monthly custody payments.
The gravy train is about to come to a screeching halt in the child support department … at least if Charlie Sheen has his way with Brooke Mueller.

TMZ has learned … Charlie filed legal docs this week … asking a judge to cancel his obligation to pay Brooke $55k a month in child support.

Sources close to Charlie tell TMZ … he thinks it's absurd he should pay her anything while she's in rehab, because she doesn't have the kids — they're with Denise Richards.

Charlie believes Brooke is using almost all the money for her rehab — something he doesn't want to pay for. Charlie has paid for several of Brooke's rehab stints before, and he doesn't think he owes her that obligation any longer.

Now get this … we've learned Charlie has offered to up Denise's child support while she cares for Bob and Max, but Denise has refused the money.

One final thing. It's feeling like there's some bad blood here. We've learned Denise recently brought the twins by the set of "Anger Management" to see Charlie at work. You may recall … last XMAS Brooke went nuclear when she heard Denise planned to take her kids by the set, and Denise backed off.
Charlie had his massive breakdown a little over two years ago and he's been a high functioning addict ever since. He may have quit the hard stuff, although it's doubtful, and he's admitted that he's not abstaining. He probably thought that Brooke was fine and functioning until things got so bad that social services had to be called. I guess I'm trying to understand why he kept bankrolling her for so long, but this is a guy who wrote porn stars 30,000 checks to hang out with him for a few days. Brooke was partying with Charlie back then too. It was fine with him until the nannies couldn't make up for her complete lack of parenting. Plus he's probably feeling the pinch a little.
Radar has a related story about the lengths that Brooke will have to go through if she ever wants to regain custody of her boys. She has to take parenting classes, attend 12 step meetings and also submit to random drug tests. She's not going to get custody back. She'll be lucky if she gets supervised visitation.