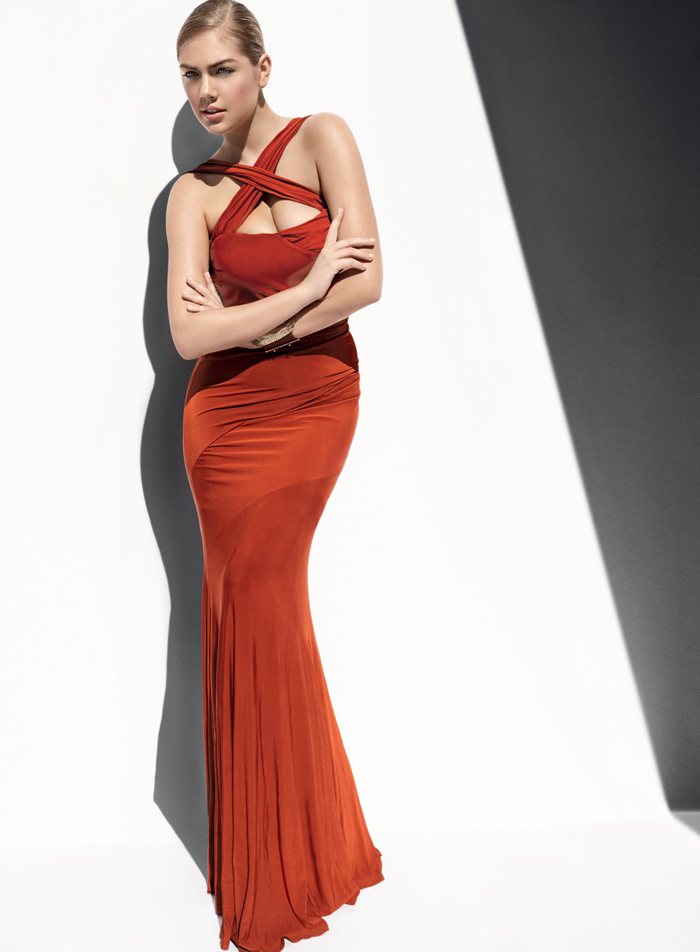 Kate Upton appears in the April issue of Vogue (the one with Kimye on the cover). Even if you're not an Upton fan, I think you'll agree that Anna Wintour should have put Kate on the cover instead (with a different shoot). E! claims to have a source who states that Kate was originally supposed to be on the cover "before the decision was made to use Kim and Kanye instead." However, another source "close to Upton denies the model ever expected to be on the cover." So whatever happened, Kate does not sound disappointed. She covered US Vogue in June of 2013, and has also covered Vogue Brazil, Italy, and UK.
Kate gets pretty heavy coverage in this issue with an interview and an overly-Photoshopped editorial. The shoot is very sterile compared to the usual Upton fare. Kaiser noted that this photo looks like Kate's bust has been digitally whittled down. I'm not a fan of what Vogue has done here, but this whole issue is pretty much a bust anyway thanks to Kim K.
Kate is promoting a few things with this feature. She's about to tour for The Other Woman (which looks like a fun movie). She's also been named the new face of Bobbi Brown cosmetics. Vogue compares her to Marilyn Monroe, Mae West, and Jean Harlow in a lengthy piece about social media. Kate also made a dance video, which I've included at the bottom of this post. These interviews are a mess, but here are some excerpts:
On her new Bobbi Brown gig: "Makeup is very important in making me feel either confident or sexy, but it doesn't define how I feel. I love my body and I love my job, so it's fun to play around with different looks; makeup helps you do that. But I always find it to be more of a compliment when people call me happy rather than sexy. I am a happy person, and I hope that comes across."

Dougie-ing her way to the top: "I had no clue. I wasn't the target audience. I grew up in Florida, where you walk around in flip-flops and jean shorts. I didn't know the fashion world. It really happened in an organic way, wanting to do jobs that I loved."

She didn't grow up on cell phones: "Who would I call? I was out at the barn every day. I barely watched TV. People think I am an expert on social media, but I am still trying to figure it out, too. How much do you want to put yourself out there? Well, I am out there. There's no turning back for me. Now I overthink it. Like, 'Ugh, are people going to understand this joke?' Before, I had no filter because I had, like, 100 followers."

What do her parents think?: "Hold on, let me think. Well, they never sit there and say, 'Why did you do that?' Because I always talk about things with them before I take a job. I don't really ask for their permission. But I will say, 'I really want to do this.' And they understand. It's just part of my personality, and maybe some things I took too far, but … I like being sexy."

Is there anything she won't do? "Yes, I definitely have limits. But I never like to say never because I feel like I'm setting myself up. There's a line between becoming, you know, a little cheap and cheesy versus being sexy. And I try to be very careful of that line."

Did Marilyn Monroe's volcanic sexuality destroy her? "Maybe it was drugs and alcohol that destroyed her. Maybe having no family support destroyed her. What I try to do–and it took me a little while to learn–is to only do things I really believe in so that it's more of a collaboration. That way, I'm not pretending to be someone I'm not. I'm not putting out this, Look at me! I'm sexy! and then feeling like a fake, which would lead to feeling depressed and empty inside."
[From Vogue]
I find it interesting how Kate's talking about "cheap" versus "sexy" in the Kim Kardashian issue of Vogue magazine. Kate's not throwing any shade because she probably wasn't aware that Kimye would be on the cover! Kate isn't a shade-thrower in the first place. I just find this funny.
Vogue describes Kate as kindling a "selfie-made rise" to the top of the fashion world. Her excerpts are buried within Vogue's dissertation about how models are pushing themselves on social media (whereas the 1990s supermodels never needed Twitter). Is Kate really that huge of an online presence? Compared to models like Chrissy Teigen and Brooklyn Decker (who are the Patrick Stewart and Ian McKellan of the model-selfie world), Upton seems downright bashful on her Twitter page.
Vogue made this video of Kate dancing with two other Kate Uptons. I'm not sure what's going on here.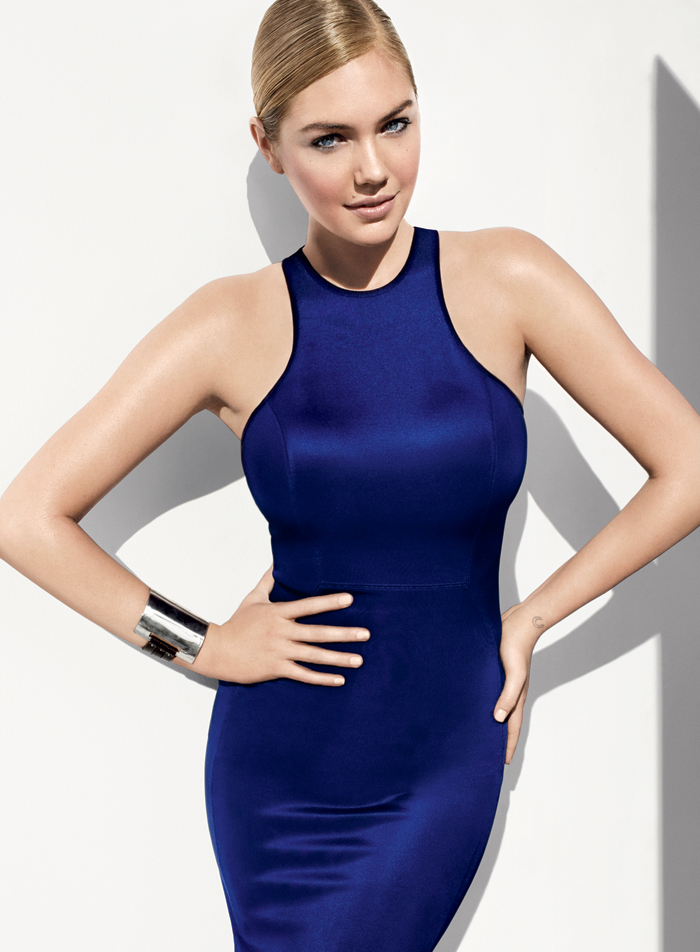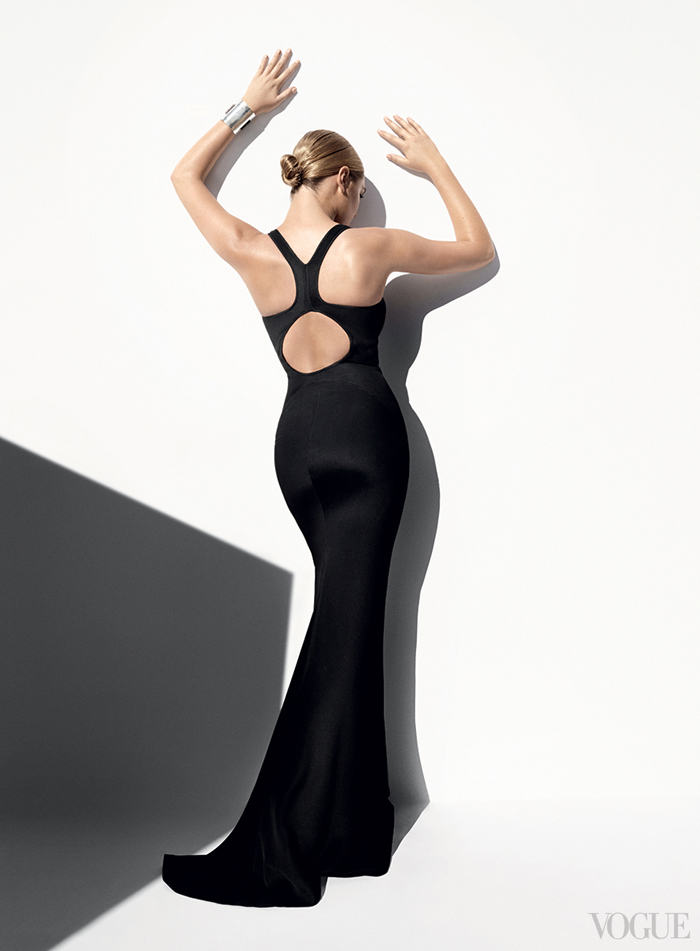 Here are some photos of Kate at an Express runway show in South Beach, at lunch in LA, and at an SI event earlier this month.
Photos courtesy of Vogue & WENN