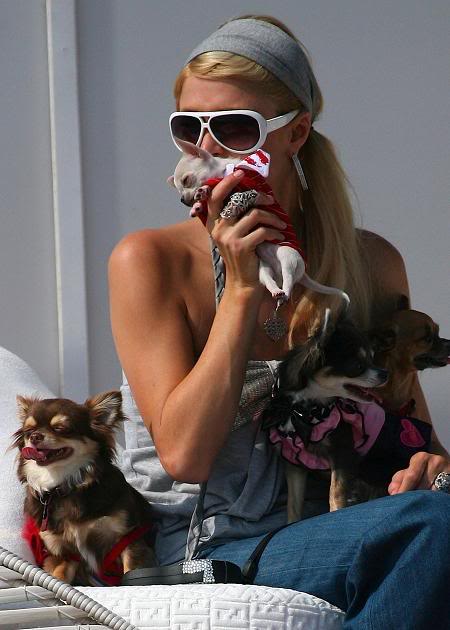 Of all the horrible, horrible things about Paris Hilton (and there are many from which to choose) the worst thing about her is her penchant for collecting animals. And I don't mean she adopts a lot of unwanted dogs from the pound. Paris pays exorbitant amounts of money for trendy novelty pets which she discards as soon as they are no longer new and trendy to her.
There are tons of reports of Paris' animal collecting – so many in fact that you might logically believe some of them are untrue. And that may be, but the thing is, she really has bought – or tried to buy – so many animals and done so many ridiculous things in regards to her animals, that it's impossible to tell. And frankly because she is so incredibly stupid and selfish, I tend to assume the stories are true until proven otherwise. Boyfriend Doug Reinhardt bought her a a $10,000 Pomeranian in Japan. She honest for goodness tried to buy a cheetah. She's owned a kinkajou and a monkey. The monkey was taken away by authorities because it bit her so many times. And she admitted on Ellen DeGeneres' show that she has 17 dogs – because they keep having babies.
So it comes as absolutely no surprise that three days after the Daily Mail runs a story about the trendy new "it" pet, micro pigs (somehow the British micro pig is so much cuter a name than the American mini pig), it's announced that Paris has purchased one of the pigs and will take possession soon. Not surprisingly, PETA has stepped in to chide Paris.
PETA has unleashed a brutal attack against Paris Hilton for buying a pet mini-pig recently, claiming she's setting a "wretched example" by treating animals like they're "as disposable as her friends and fiances ."

PETA says of Paris: "The Chihuahuas, ferrets, and kinkajous she's paraded through her home in the past were not accessories, and pot-bellied pigs aren't either."

The good news: Paris told us she doesn't think she'll get swine flu because she doesn't eat pork.
[From TMZ]
All I can say is, save your breath PETA. I know your heart is in the right place on this one, but Paris is a certifiable sociopath. At least according to the editor of Page Six, who I will forevermore be considered correct in all things, simply for saying this. Paris has been blamed for the epidemic of abandoned Chihuahuas, after she made them the trendy "it" pet without showing any responsibility towards them. In fact a little over a year ago the Puppy Store on Melrose Avenue refused to sell her a pooch. Yay! All I can say is more animal owners, breeders, and shelters should follow their lead. Animals are living, breathing creatures with a right to be treated decently. They are not a Tiffany bracelet. They poop. The have fur balls. You have to really love the buggers to deal with the bad stuff. Paris' collecting of living creatures is disgusting. I'm sure she's breaking some kind of city ordinance by now, between all those dogs and God knows what else. I'd be great if some authority would step in.
And just to help her out, I'll take the micro pig off her hands. I'm currently pet-less, and adore curly tails.
Here are some older pictures of Paris with her menagerie.