OK!: Angelina Jolie tells Brad to "sleep on the couch"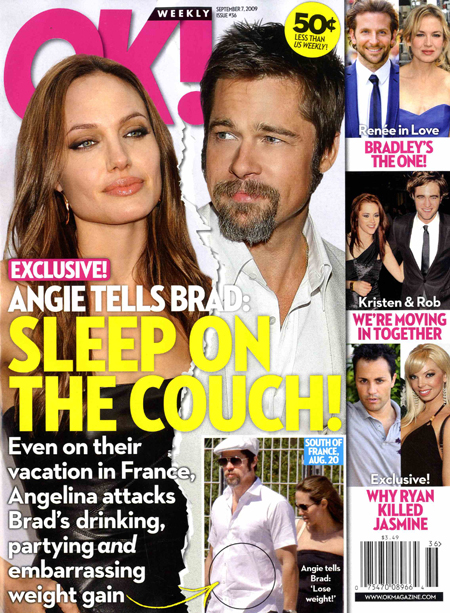 OK! Magazine's cover story this week is "Angie Tells Brad: Sleep on the Couch". Angelina also "attacks Brad's drinking, partying and embarrassing weight gain". The online story isn't really that controversial, even if it is true. It seems like a budget Star Magazine story. Brad and Angelina had a fight as soon as they got to France, Angelina locked herself in the bedroom and Brad slept in another room. The next day Brad and Angelina made up when he made her breakfast. Then they went to buy goldfish and gerbils. Meh. Plus, does anyone else think it's weird that Brad would "sleep on the couch" when there are like thirty-something bedrooms in the chateau?
While Angelina Jolie and Brad Pitt headed to France to work on their relationship — after all, it's where they shacked up when Angie was expecting their twins, Knox and Vivienne — a Jolie-Pitt insider reveals that the couple's retreat has gotten off to a very rough start. "Brad has been adamant that Angie spend time with the family and focus on them with as much passion and energy as she does all her project," the source explains to OK!.

However, "right after they got to France, Brad found a box of scripts that Angie had said she wanted to read. She and Brad got into a fight over it. Angie stormed out of the room and went into the bedroom."

In fact, the Wanted star was so mad that she demanded Brad sleep on the couch! Angie walked away from the fight to keep the kids from witnessing it — Maddox, Pax and Shiloh were there while Zahara and the twins napped in another room — while Brad did his part to downplay the spat.

"He played video games with the boys all night and made breakfast for the family in the morning, including fresh grapefruit juice for Angie," says the source. While reconciliation isn't always easy, the two seem to be doing their best to make their kids feel that all is well, including taking Maddox and Pax to the pet store the next day, Aug. 20, to expand their brood with gerbils and goldfish.
[From OK! Magazine]
The other stories floating around are some of the same old stuff – Brad wants Angelina to "stop working so much" (she's done one film in 20 months) and she's pissed about his drinking (which I do think is a legitimate story). Here's an oldie: Angelina might be coming back for a sequel to Wanted. Yeah, to explain why that would be difficult would include a big spoiler, so read this report at your own risk. Angelina's return would involve those mystical mud baths. And maybe a kiss of life from James MacAvoy?
Posted in
Angelina Jolie
,
Brad Pitt