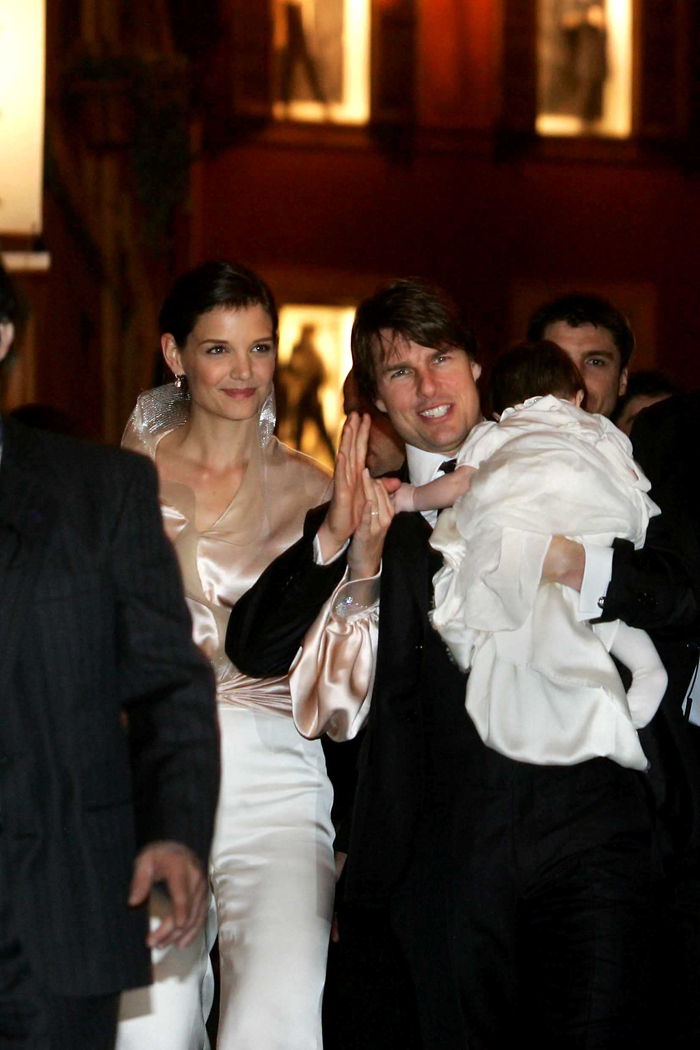 What's one good thing about having no new photos of Tom Cruise with Suri? I get to dig up some old-school Tomkat pictures. Remember this phase where Katie seemed utterly delighted at her recently reprogrammed state? I'm so glad she woke up. On Friday we discussed how Tom's unflattering deposition in the "abandoned by daddy" lawsuit wasn't doing him any favors in the image department.
I think Tom's an arrogant piece of work in general, but I think he's an idiot for waging this $50 million lawsuit with a demand for a jury trial. As we've seen in the past, Tom is incapable of giving an unscripted interview without going off the rails. He can play around and shoot water guns with Jimmy Fallon and take a pie to the face just fine. Put him in a serious talk where he asked to defend his beliefs or actions, and he falls apart. Putting him on the stand in front of his "peers" (which don't exist) will be as disastrous as him sticking a finger into Matt Lauer's face.
Here's another major reason why this lawsuit is a mistake. Tom and Katie managed to quickly settle their divorce without a public battle. With this suit, the discovery phase is revealing everything that Tom tried to avoid by letting Katie have full custody of Suri. Radar Online reveals the very private email battle that was being waged instead. Tiny Tom was really upset about how the public took Katie's side after her surprise filing, and he was indeed in crisis mode. He blamed her design partner, Jeanne Yang, for leaking information to the press. Tom also accused Katie of calling the paps every time she wanted to leave her apartment.
Katie didn't need to call the paps because they were camped outside her Chelsea apartment for weeks. Was she supposed to never go anywhere at all? No one could blame her for making trips to Whole Foods. It was the first time in several years she'd been allowed to go wherever she wanted! We knew from the start how Tom accused Katie of "play[ing] the media," and these emails only confirm as much. To Tom, it doesn't matter that he played his own game by socializing with tabloid reporters. Yet Tom saw fit to eviscerate Katie in these emails for (maybe) doing the same thing.
This ongoing deposition talk has turned into a war between various outlets over who can be quickest to release the most outrageous Tom quotes. So far Radar has been winning, but TMZ scored a big win by releasing Tom's statements about how his job is equally "brutal" to that of a deployed soldier in Afghanistan. As if Tom running and looking like he has to crap his pants has anything in common with fighting in an actual war, right? You don't know the history of Tom Cruise:
Tom Cruise not only thinks he trains harder than Olympic athletes, he believes his job as a professional actor is as grueling as fighting the war in Afghanistan — this according to legal docs obtained by TMZ.

As we reported, Cruise recently sat for a deposition in his $50 million libel suit against a magazine publisher that claimed he abandoned daughter Suri — and his quotes are GOLD.

First, the Middle East — Tom says his location shoots are just like serving a tour in Afghanistan, "That's what it feels like. And certainly on this last movie, it was brutal. It was brutal."

As for his physical training, Tom said, "There is difficult physical stamina and preparation. Sometimes I've spent months, a year, and sometimes two years preparing for a single film." But the kicker, he adds, "A sprinter for the Olympics, they only have to run two races a day. When I'm shooting, I could potentially have to run 30, 40 races a day, day after day."

But it's not all grenades and triathlons … Tom says he's only flown commercial ONCE in the last 4 years … and that was because he had no choice.
[From TMZ]
Seriously. Let's start off with the easier profession to talk about — world class sprinters. These guys run so hard they burn through their glycogen stores in two 800 meter races. They run faster than Tom could ever dream (even with the help of Xenu). Tom is probably running at an 8:00-8:30 minute pace (for a few yards at a time) while a camera crew is pacing him. The more offensive statement is Tom saying his profession is as "brutal" as being on a live battlefield. Anyone knows that soldiers authentically fear for their lives, and the danger doesn't end with some guy yelling, "Cut!" There are no craft services in Afghanistan. No stunt doubles. No massive, multi-million dollar paychecks. Tom is so, so arrogant.
Naturally Tom's lawyer, Bert Fields, is on the warpath (ha!) over these leaked quotes. Fields ran to People and claimed these reports were "a gross distortion of the record." Fields said Tom was only joking, and an unreleased video would show that Tom "meant no offense" and was laughing while he made these offensive statements. Uh … what? Tom should have realized that making these statements in any form (joking or not) would look really bad on a transcript. Here's another reason Tom would look like an jerk on the stand in an actual trial — jurors would be seriously creeped out by Tom giggling, "LOL, war."
Update: Fields also stated, "Tom is a staunch supporter of our troops and does not feel that making a movie is even remotely comparable to fighting in Afghanistan and said so in plain English." Maybe so. TMZ sensationalized Tom's quotes and misrepresented the essence of his words. Tom still said dumb stuff, but here's some contextual reference with more deposition quotes (courtesy of Jake Tapper of CNN):
"Now your counsel has publicly equated your absence from Suri for these extended periods of time as being analogous to someone fighting in Afghanistan," opposing counsel asks him. "Are you aware of that?"

"I didn't hear the Afghanistan," Cruise replies. "That's what it feels like and certainly on this last movie it was brutal. it was brutal."

"Do you believe that the situations are the same?" Cruise is asked.

"Oh come on," Cruise says, "you know, we're making a movie."
[From CNN]
Tom was saying "it feels like" he was fighting in a war while filming his latest alien invasion flick but knows he was only "making a movie." He still sounds disrespectful and delusional. If he says this stuff in a depo, the trial should be interesting.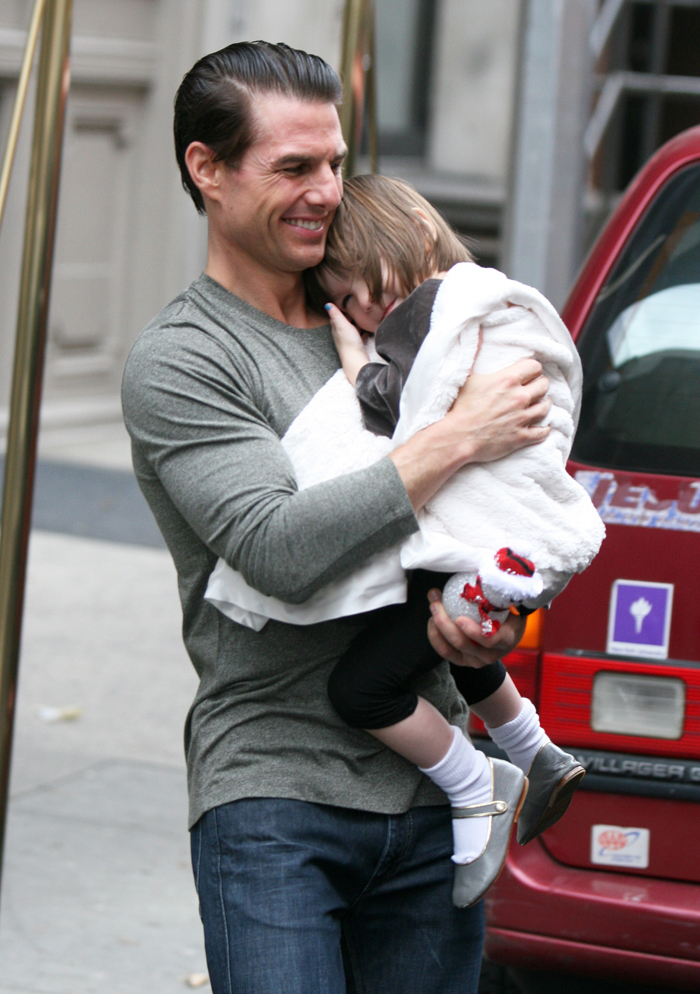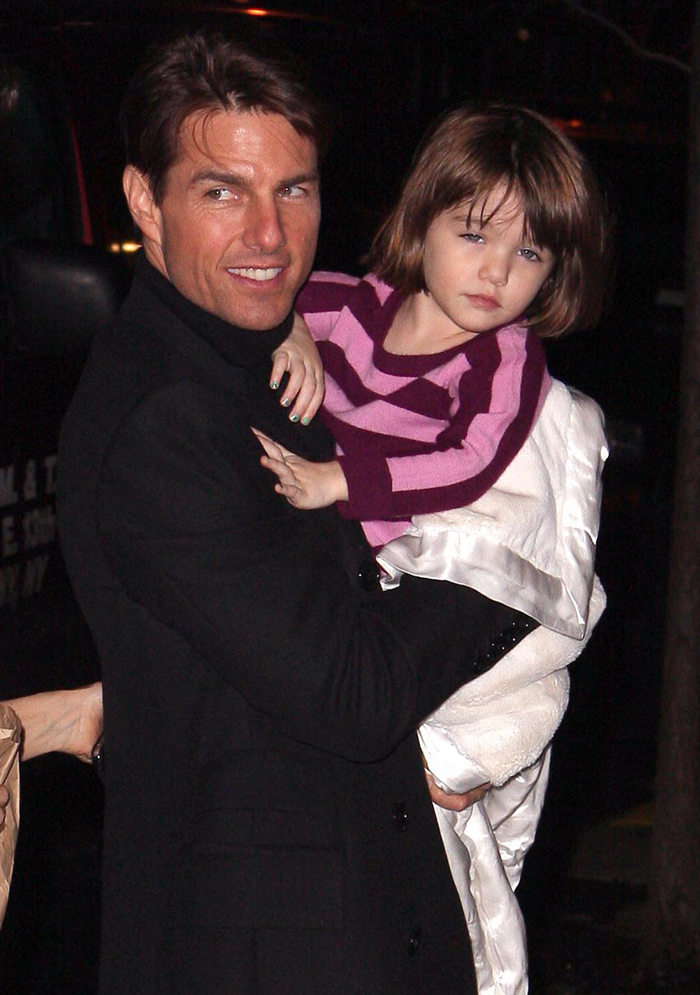 Photos courtesy of Fame/Flynet & In Touch