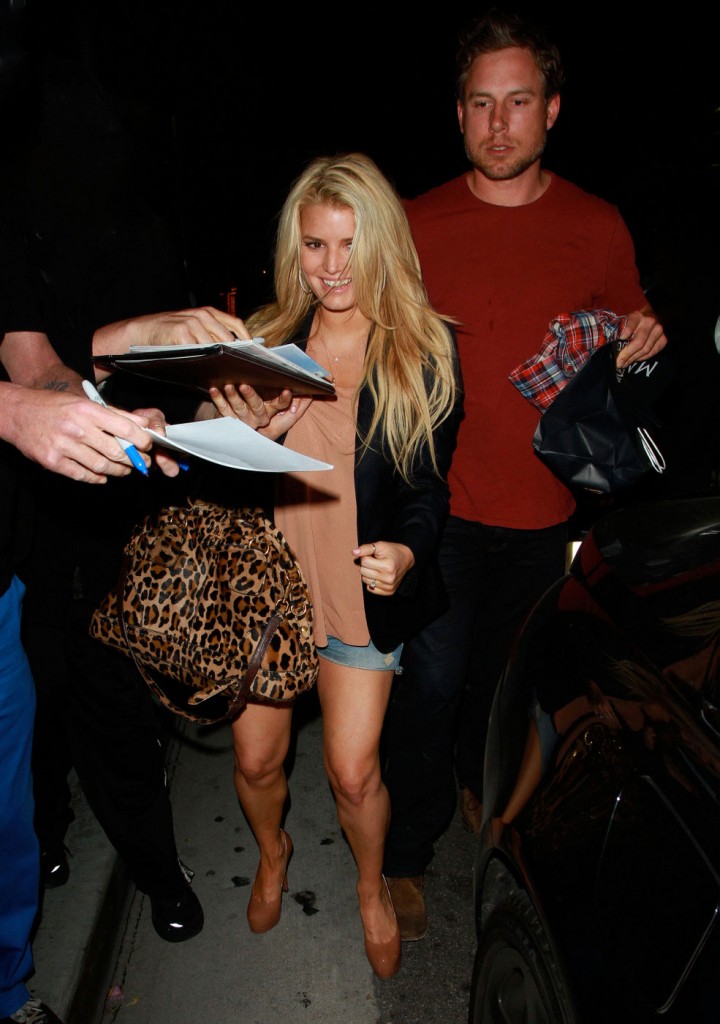 In Touch has some supposedly exclusive details about Jessica Simpson's wedding plans to her former football player grad school dropout fiance, Eric Johnson. As she did for the courtship, her engagement ring, and their daily life together, Jessica is paying for the destination wedding, and why not? She's loaded thanks to her fashion line and Eric is her date and companion and that's about it. At least Jessica has a prenup, if rumors are to be believed.
Well Jessica and Eric got engaged on 11/11/10 and if In Touch is accurate they'll be married on 11/11/11 at 11:11. It sounds cheesy and superstitious, but I still make a wish when I notice that the clock says it's 11:11. I don't schedule my life around numerology or astrology or anything though. Jessica seems to, and she should just trust her instincts and not try to get by with magical thinking. We've heard at least two stories this spring that she's had cold feet. That happens when you just know you shouldn't go through with it. Jessica is pushing forward, though, and is said to have been inspired and challenged by the royal wedding, and to want to use her wedding to get back in the spotlight.
After months of stalling, Jessica Simpson has finally agreed to an "I do" date – 11:11 a.m. on November 11, 2011- and she plans to ensure that her nuptials with Eric Johnson, 31, become the new wedding of the century!

"Jessica will be spending upward of $1 million, easily," a source close to the singer, 30, tells In Touch of the splashy affair, which will take place on the romantic Hawaiian island of Kauai.

The surprise announcement is a huge relief to Jessica's friends, who as In Touch previously reported, had all but given hope that the couple would ever make it to the altar. The reason for Jessica's sudden wedding fever? It's a last ditch attempt to revive her career, says another insider. "She was devastated when she didn't get hired to be a judge on The X Factor…."

Now… inspired by the hysteria surrounding the royal wedding, Jessica has hired [planner] Mindy Weiss to oversee a headline-grabbing event that will help her reclaim the spotlight. "She's flying more than 50 family members and friends to spend a week partying with her and Eric in Hawaii," a friend of Jessica's tells In Touch.

Between Weiss' fee ($150,000), guests airfares ($50,000), rings ($100,000), hair and makeup ($25,000) and flowers ($10,000), the costs are already staggering. "She's picking up the tab for everything," says the friend, who notes that Eric is currently jobless.

Jessica refuses to spare any expense – least of all when it comes to her gown. Referring to the now-iconic Alexander McQueen dress worn by her bridal competition, Kate Middleton, Jessica has thrown down the gauntlet, declaring, "I'll outdo her!"
[From In Touch, print edition, May 30, 2011]
You know that Jessica will outdo Kate Middleton by having bigger hair, a more elaborate dress, and a showier wedding. If it's true that Jessica is trying to use her wedding as a way to wedge back into a show business career good luck with that. Reese scored the cover of People in her wedding gown and it didn't help her movie at the box office at all.
The photos below are of Jessica Simpson having lunch with Eric's family on mother's day. This is how she dresses when she's visiting with her future in laws, in a denim shirt with giant rose emblems on it, short shorts, platform sandals and a leopard purse.
Header image is from 4/30/11. credit: Anthony, Pacificcoastnews.com. Other images credit: Fame Pictures