Seal says he & Heidi Klum split because she was banging her bodyguard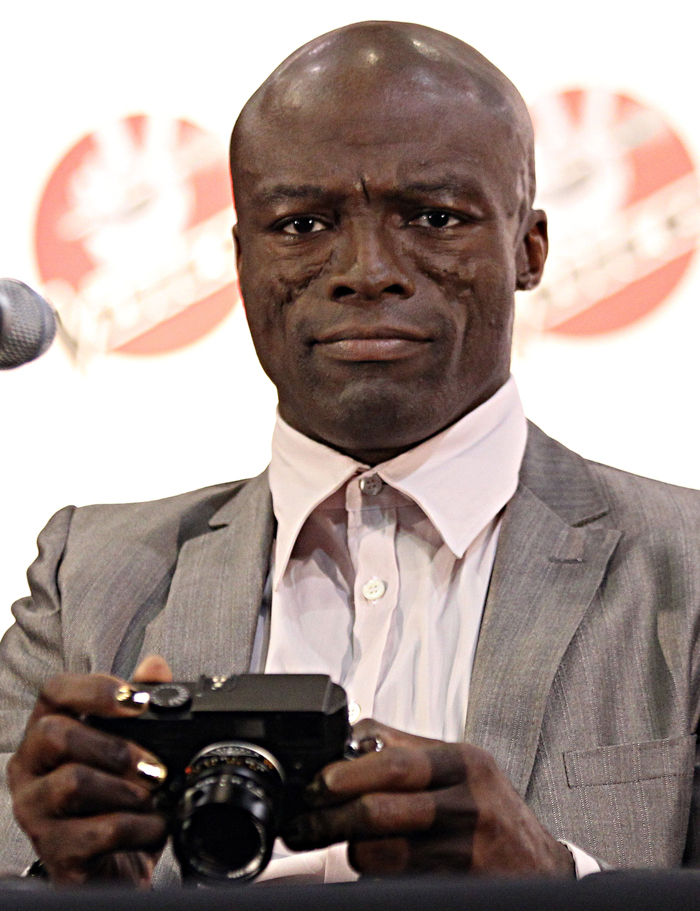 Last week, we covered the story that Heidi Klum was gunning for primary custody of her four children with Seal for two reasons: (1) He's dating other chicks now; (2) He made the questionable judgment call of using photos of the kids in a commercial. This move on Heidi's part has apparently ended the virtual cease fire between the former couple.
After months of silence on Seal's part, he's definitely talking now. The Mail has some vacation photos of Heidi "cavorting" with a man, Martin Kristen, who is believed to be her bodyguard of four years. While the photos aren't overtly incriminating, the two do look very comfy together, and at one point, he puts his arm around Heidi's shoulders as she smiles towards him. I have to wonder whether this is the same guy that was said to have physically restrained Seal when he allegedly pushed Heidi during a fight last year, and perhaps the situation was a catalyst for a budding relationship between the two. That's just me thinking out loud though.
Some brave TMZ cameraman asked what Seal thought of Heidi possibly dating her bodyguard, and Seal made a surprising move by giving his full thoughts on the situation. Apparently, Seal either believes that Heidi was sleeping with Martin during their marriage, or he just wants the public to believe that's what happened. Either way, Seal says Heidi's infidelity is the true reason for the divorce.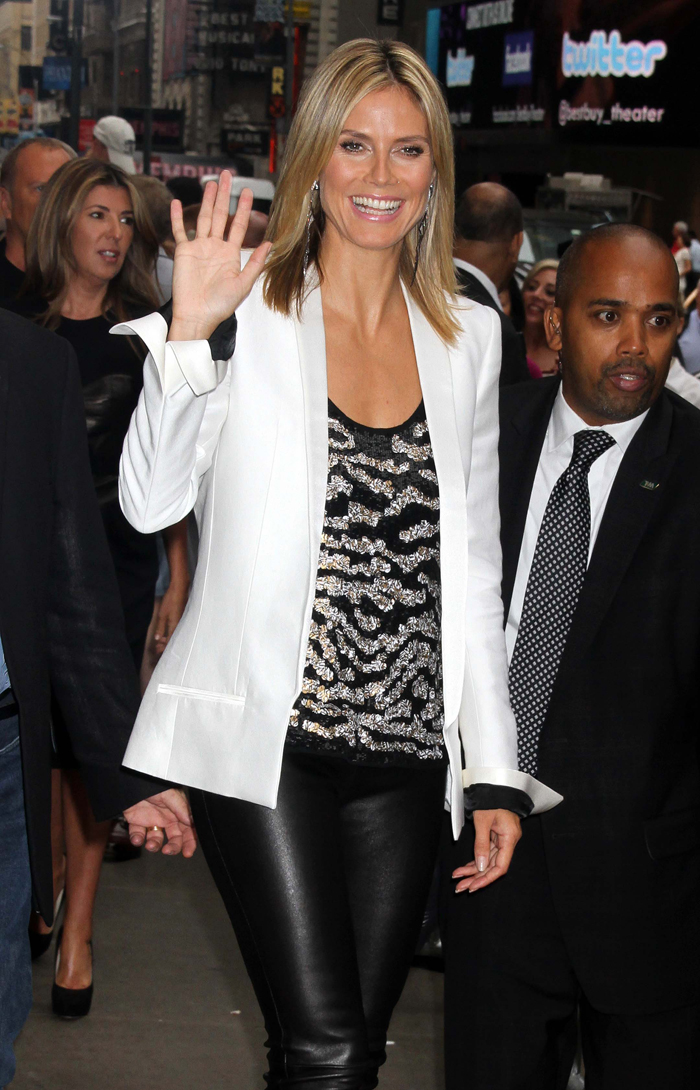 "You know, that's what happens when people separate. They move on, and that generally means other people in their lives. I certainly don't expect Heidi to all of a sudden become a nun, but as always, my main priority is the emotional well-being of our children. And to be quite honest, if there is going to be someone else in their lives, I'd much rather it be a familiar face. I guess the only thing that I would have preferred … at once, I didn't expect any better of him. I would have preferred that Heidi would have shown a little more class and at least wait until we separated first before deciding to fornicate with the help. But I guess you all now have the answer that you've been waiting for for the past seven months."
[From TMZ]
Okay, so this little speech follows Seal's general M.O., which is to say some very eloquent things on the outset, but then he follows all of those relatively nice words up with a huge double punch. In the wake of Seal's not-so-subtle accusations, Team Klum has also contacted TMZ to say that, well, maybe Heidi might be sleeping with Martin now, but she definitely wasn't doing so before the separation. Hmm:
Seal's accusation that Heidi Klum cheated on him during their marriage is absolutely false … at least that's what Heidi is telling close friends.

TMZ posted a video this morning in which Seal said straight out said Heidi was screwing the bodyguard while they were together — and that is why their marriage fell apart.

Heidi told one close friend today her relationship with the bodyguard was "strictly professional" while she was with Seal.

The friends tell us that since the split, Heidi says she has gotten "very close" to the bodyguard … who has helped her through the difficulties of ending a marriage

As for the nature of their relationship now … all the friend would say is it's "undefined." So that's what the kids are calling it these days.

Heidi's friend adds, "It's sad but not surprising that he would resort to making excuses for their divorce when the real reason is looking him in the mirror."
[From TMZ]
To add to the murky waters, a Klum source tells assures People that Heidi and Martin are not exactly dating, but … "It's complicated. This has been a difficult time. Her inner circle of people she trusts is getting smaller and smaller and he is her No. 1 confidante." It's also worth mentioning that this vacation was not an exclusively coupley endeavor, for Seal and Heidi's children as well as Heidi's parents were along for the ride.
Still, I don't get why — if you're Heidi or one of her sources, and you're going to talk to the media instead of ignoring the rumors — there can't just be a simple "yes" or "no" answer on this subject. Is Heidi currently banging her bodyguard? My gut instinct says it is probably happening. Did she do so while she and Seal were married, and is that the true reason for the divorce? Who knows, but this split is getting very ugly.
Update: Us Weekly just heard from Seal's rep, who argues that even though Seal pretty much said that Heidi was banging the help while they were together, Seal totally didn't meant to imply such a thing. Oh yes, he did.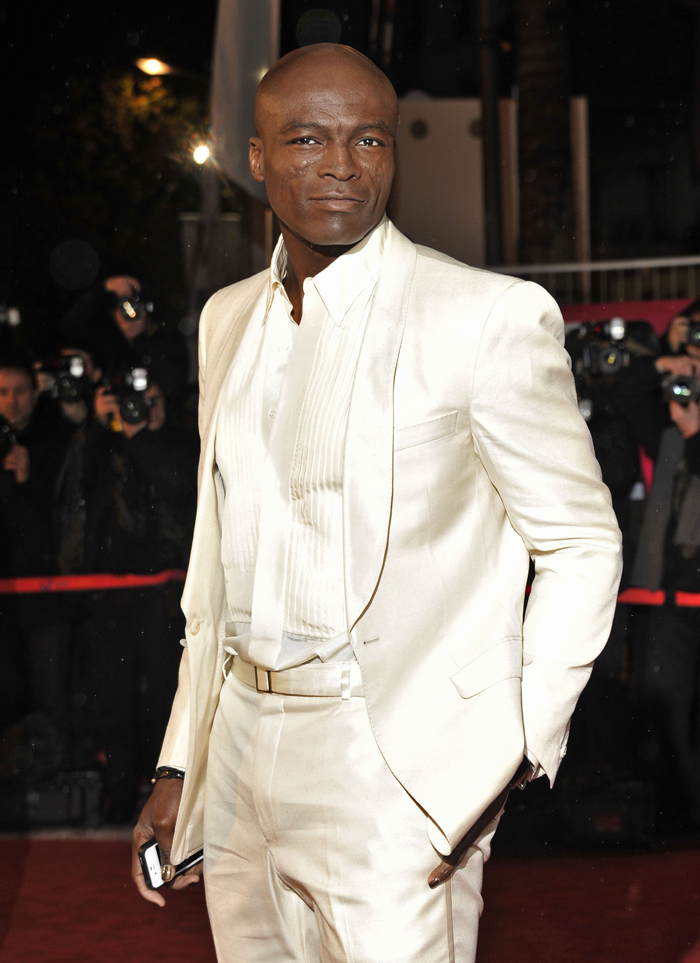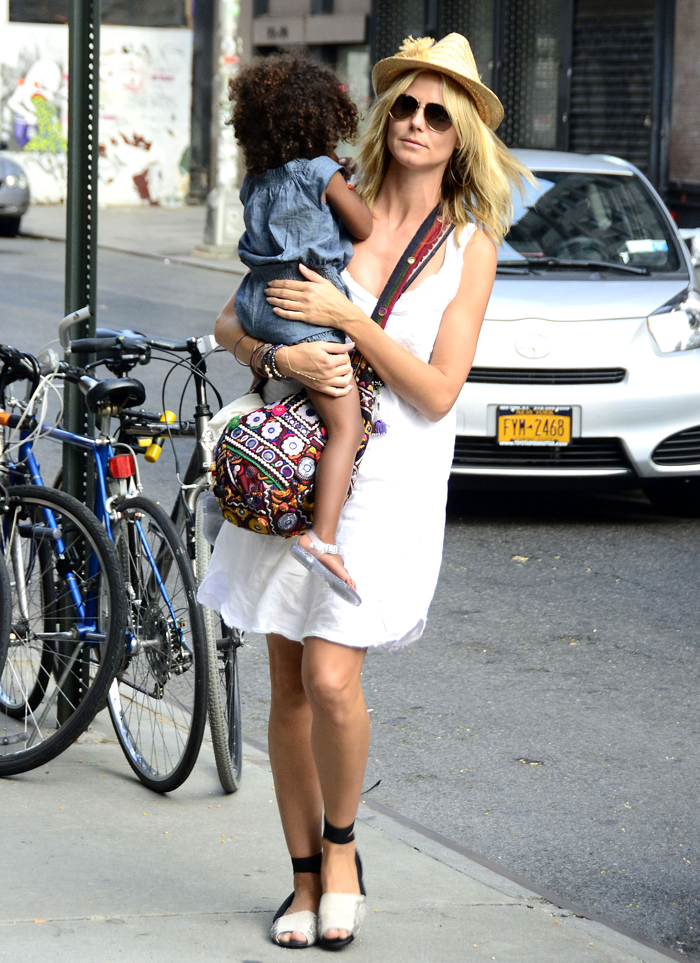 Photos courtesy of Fame/Flynet
Written by Bedhead

Posted in Heidi Klum, Seal

- Friends reunion on Ellen [Popsugar]
- Lindsey Vonn watches Tigers kids [Lainey Gossip]
- George Michael fell out of a car going 70mph [D-Listed]
- Real Housewives of Orange County recap [Reality Tea]
- New Man of Steel trailer [Pajiba]
- Jared Padalecki's hot bod [Buzzfeed]
- Doctors confirm Taylor Swift's new boobs [Evil Beet]
- Catherine Zeta-Jones finished treatment [CDAN]
- Anna Paquin hates the paps [Celebslam]
- Lance Armstrong is gross [The Blemish]
- What is Barbara Palvin wearing? [Moe Jackson]
- This is Petra Nemcova? [SVC]
123 Responses to "Seal says he & Heidi Klum split because she was banging her bodyguard"