Yet another Duggar baby is coming, are you surprised?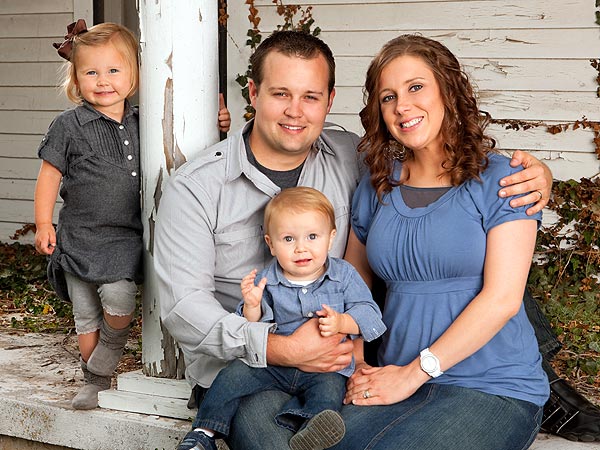 The Duggar Family is still news, because not only are they super prolific they're still reality stars. Their show, 19 Kids and Counting, has its 11th season premiering next month, so I guess this latest announcement dovetails nicely with that. Don't worry, matriarch Michelle Duggar, 46, isn't pregnant again with what would be her 20th child. Her daughter-in-law is expecting her third baby. The oldest Duggar boy, Josh, 25, is expecting his third baby with wife Anna, 24. (I'm surprised that they're in their mid 20s already, I thought he was only 20.) They are already parents to a nearly two year-old son, Michael, and a three year-old daughter, Mackynzie. Here's the announcement, from People:
The pitter-patter of little feet may sound more like a stampede at a Duggar get-together – and this summer the volume is due to increase.

The famously fertile family of TLC's 19 Kids and Counting have another baby on the way. Jim Bob and Michelle Duggar's oldest child, Josh, and his wife, Anna, tell PEOPLE they are expecting their third child.

They are already parents to daughter Mackynzie, 3, and son Michael, 21 months.

"It is very exciting," says Josh, 25. "It's fun for Michael and Mackynzie being so close in age and this baby will be, too. We feel very blessed and happy."

Anna, 24, had taken a pregnancy test when the family visited Asia for 19 Kids and Counting: Duggars Do Asia (premiering Tuesday at 9 p.m. ET on TLC), but it was negative.

"I thought for sure I was pregnant and so I was a little disappointed," she says. "But two weeks later, I found out I was pregnant."

After confirming the pregnancy and telling Josh, Anna and Duggar cousin Amy planned a family meal with baby carrots, baby corn and tiny cherry tomatoes to break the news to everyone else.

"Josh and Anna are great parents," says Jim Bob, 47. "It is neat to see their family expanding. I remember those days when Michelle and I went from one to three because we had Josh and then we had twins. It is a great start."
Read what Jim-Bob said about his third grandchild: "it's a great start." Three kids are "a great start." You know that the pressure is on for these two to reach double digits and that they're already behind their parents' record. I hope they're all happy and healthy, and they seem like a nice family in that cultish kind of way. I also hope that if Anna ever gets overwhelmed and decides that she doesn't want to have any more babies, that Josh will respect her decision. You know it's not hers to make though. Also, do you think these two are gunning for a spin off?
Here's a clip from The Today Show with the announcement. Note that Michelle is back to her old hairstyle.

Visit NBCNews.com for breaking news, world news, and news about the economy
Posted in
Babies
,
Duggar Family