Will Smith tells his kids: 'you can do anything you want… until it's dangerous'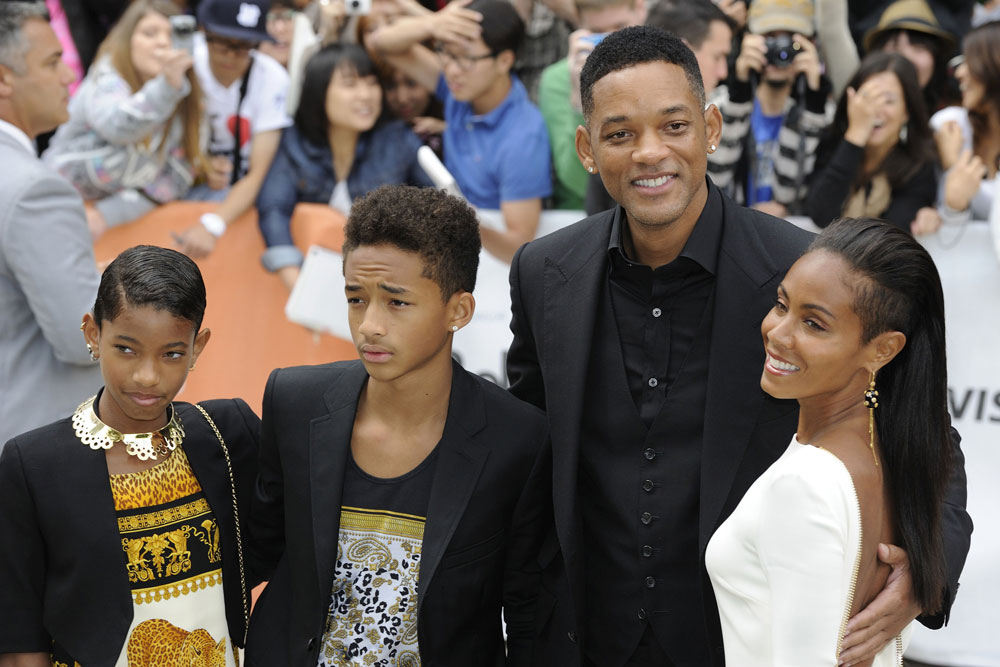 Will Smith has what reads like a new interview with UK's The Sun. He's promoting his upcoming movie, After Earth, with his 14 year-old son, Jaden. Some of the quotes we've heard before, so I can't be sure that The Sun isn't rehashing other interviews, although most of it is new to me. As he's explained in the past, Will continues to talk about his hands-off parenting approach, which involves very little discipline and is firmly rooted in the beliefs of the Scientology cult. (Will and Jada deny that they are Scientologists, but they're surely raising their kids like they are.) Will and Jada's children are allowed "self determination," and they're given the same treatment as adults basically. These two don't believe in punishment or in telling children what to do at all. Will admits that Jaden, 14, wants to be an emancipated minor and is asking for his own house. Will explains this like it's not a big deal and is normal. Note that Jaden has performed with Justin Bieber and regularly hangs out with him. So he probably has quite a bit of control over his life already.
Will, 44, reveals: "He says, 'Dad, I want to be emancipated.' I know if we do this, he can be an emancipated minor, because he really wants to have his own place, like ooh.

"That's the backlash. On the other side, if kids just want to have command of their lives, I understand."

On his movie imitating their real life
Will can't deny that art is imitating reality. He says: "It's very similar for Jaden and me — your father's the biggest movie star in the world, and you're struggling for your little piece of dignity in this extreme shadow."

His parenting approach
Will says: "We generally don't believe in punishment. From the time Jaden was five or six we would sit him down, and all he has to do is be able to explain why what he did was the right thing for his life.

I think it's a much more difficult question to ask someone — 'Why was that right?' — than to try to show them why it was wrong.

"Nobody wants to be wrong, all parts of yourself fight like crazy to not be wrong. So I'll say to Jaden, 'Why was that the right thing to do for your life?' and if he can explain why kicking his sister in the chest was the right thing to do, we can see to it that he understands that it wasn't so smart."

On letting his kids do anything they want
Essentially, the only conflict is getting the rules down. Like for example, when Willow shaved her head bald.
"There was a big thing about her being allowed to do it. Well, the rule in our house is you can do anything that you want and we don't pull the parent card until danger is involved. So we are not going to let you do something that injures yourself or will have long-term repercussions.

"But she didn't cut my hair, she cut her own hair. It grows back."
Little kids are very self-centered by nature. Depending on their age it's a stage they're in and they're not able to understand adult issues like accountability, cooperation and morality until they get to be older. It's just how their minds work. Having them explain why they behaved badly isn't going to get them to grasp concepts like an adult would. That's why they need guidance on how to behave and act when they're little. Giving a child complete freedom is ridiculous. How does this work with things like mealtime and baths? Are the children allowed to eat candy constantly, refuse to clean up, and watch television the entire day? Are they given anything they want from the entire store? It sounds like a recipe for disaster.
But can't you tell from this interview that Will is considering letting Jaden go off on his own? That he's treated his kids like little adults since the time they were born and is seriously thinking about letting Jaden get his own house? I worry about those kids. At least Willow is asking to be a kid, and her parents are letting her. You can tell they would rather be her buddy while she becomes a big star, though.
Update: Will's rep tells Gossip Cop that "this isn't real." So does that mean that this interview isn't real or that Jaden isn't really going to get emancipated? So many questions.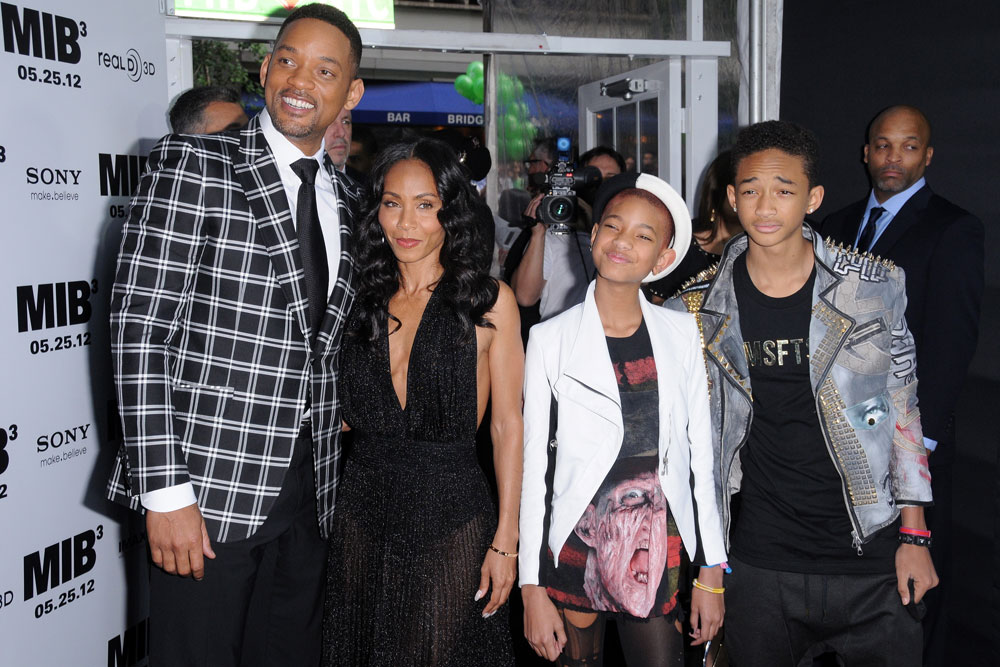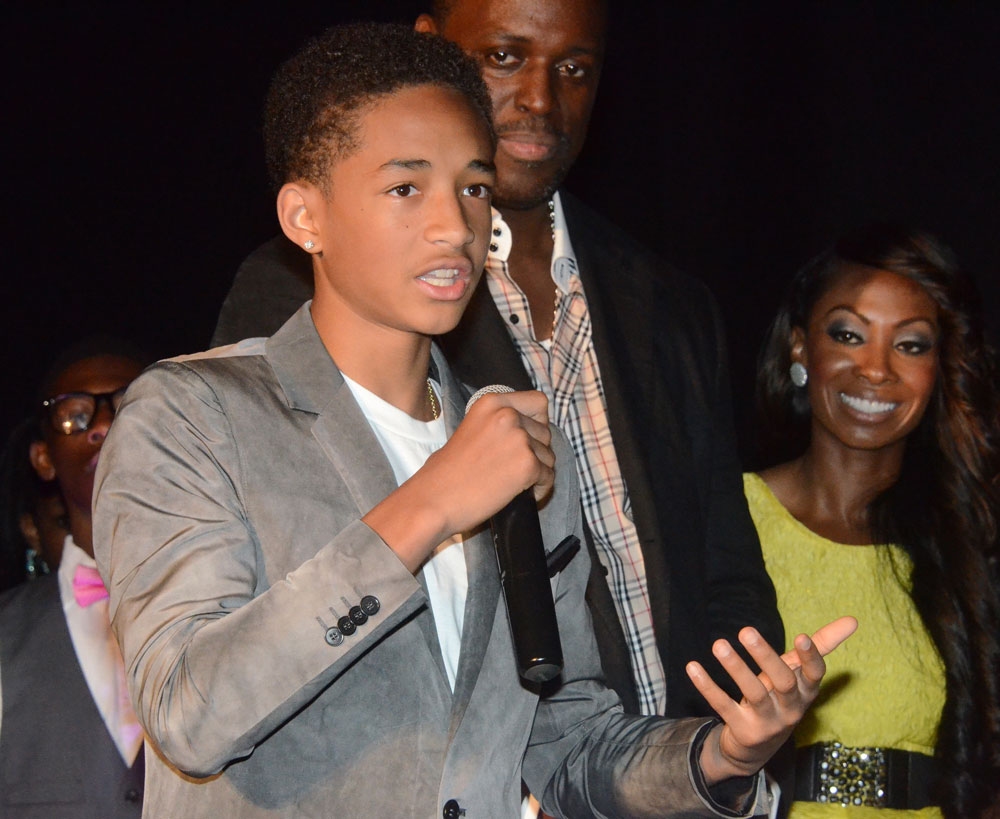 These photos are from May, July and September, 2012. Credit: WENN.com
Posted in
Cults
,
Jada Pinkett Smith
,
Jaden Smith
,
Kids
,
Will Smith
,
Willow Smith