David Duchovny denies Gillian Anderson romance, they're 'good friends'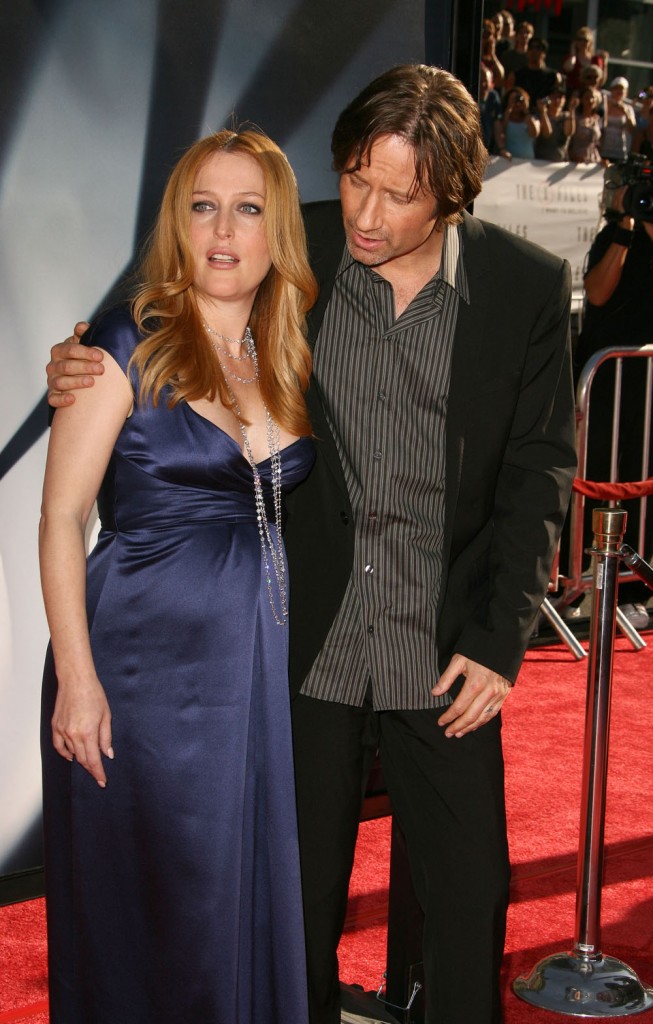 David and Gillian in 2008 at the premiere of X Files: I Want to Believe. She was pregnant at the time
It started as at least two blind items that were too good to be true – the real life Scully and Mulder were both single and had fallen in love after fighting a mutual attraction for nearly two decades. Then Celebrity Dirty Laundry claimed to have a source confirming that Gillian Anderson, who just announced a split from her longtime partner, had shacked up in L.A. with David Duchovny and her two kids. (David's kids, one of whom is actually named Kyd, are presumably with their mom, Téa Leoni.) Tea and David are still officially married, having announced a separation in 2008, then they reconciled, then they separated again last summer.
We sometimes get tips e-mailed to us from sources, and unless we can verify who they're from we don't run them. So we didn't run it when we were e-mailed a tip in May that Gillian and her partner, Mark Griffiths, had been broken up for a year at that point. The source never mentioned it, but that year would have roughly coincided with the time that David and Tea announced they were off-again. *Elbow nudge*
Here's part of Celebrity Dirty Laundry's report, which makes the young me squee a lot. I so much hope it's true!
A source exclusively told CDL that David and Gillian have been in a serious relationship for some time now and she and her children are shacking up with the Californication actor. This is a long time coming for the pair whose chemistry on their hit show was always a source of tabloid conjecture. Gillian and David worked together from 1993 to 2002 and starred in the movie version in 2008. Although it seems every fan in the world wanted to get the two together, a relationship was never declared during filming.
[From Celebrity Dirty Laundry]
CDL also points us to an interview with the London Sunday Times magazine (it's only available to subscribers or I would link it) in which Anderson was cagey when the subject of her lovelife came up. That doesn't reveal much and her response could be explained by the fact that she had already broken up with her partner at that point.
In response to these really awesome rumors, David Duchovny's rep told Wonderwall that "the romance rumors aren't true, but adds that the once (and hopefully future) co-stars are still good friends." Friends with benefits, right?
I dressed up as Scully for Halloween once. I made a badge I modeled off versions of hers on the Internet and I wore a suit jacket. I had like the same haircolor and cut as her and everything, so it wasn't hard. So yes, I was a big X-Files fan and I'm personally invested in this story. I know these people are totally different IRL than the characters they played, and I know Duchovny has a sketchy past with his stint in rehab for sex addiction and all. I still really hope this is true and that they found solace in each other's arms after their other relationships broke off naturally and with no overlap or cheating on their part. I also hope no one conspires to keep them apart like in the last couple seasons of X-Files. That show really faltered without Duchovny.
Here's Duchovny at the premiere of Goats last night. He plays a goat man, seriously. It actually doesn't look bad and co-stars Vera Farmiga. It got bad reviews, though. The trailer is at this link.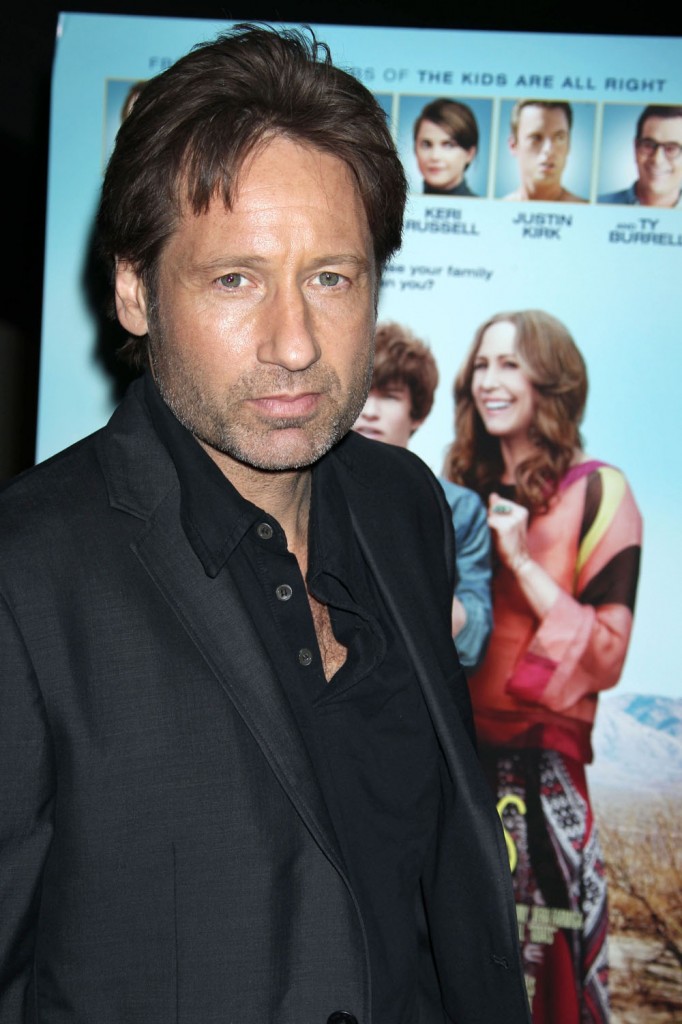 Duchovny out yesterday: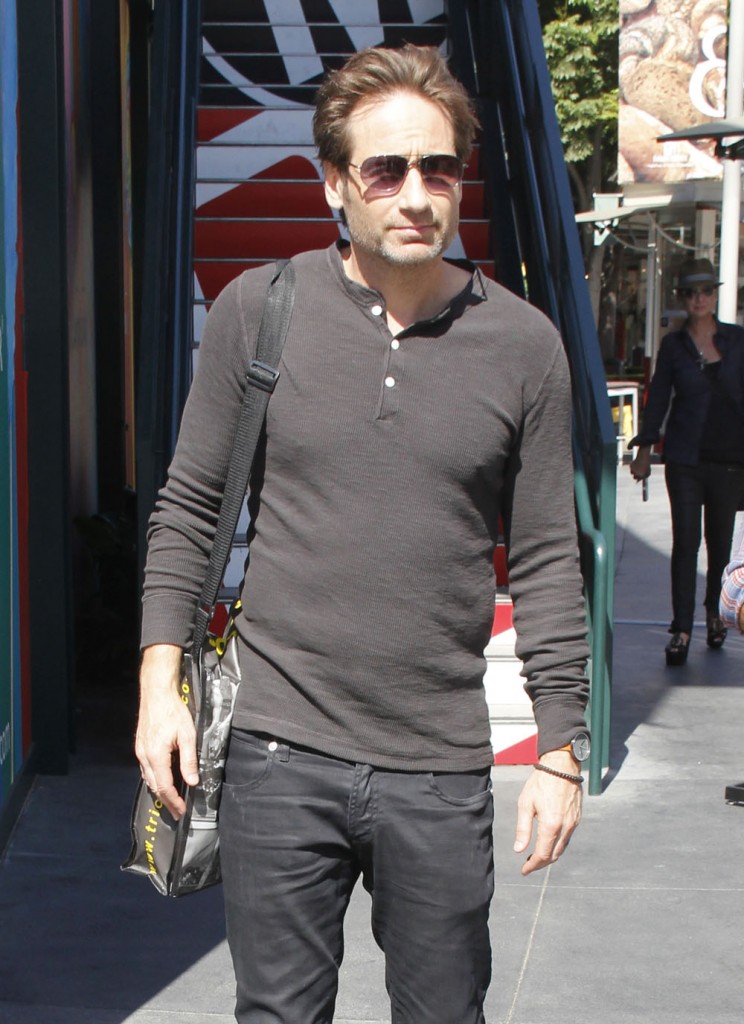 Anderson on 6-21-12: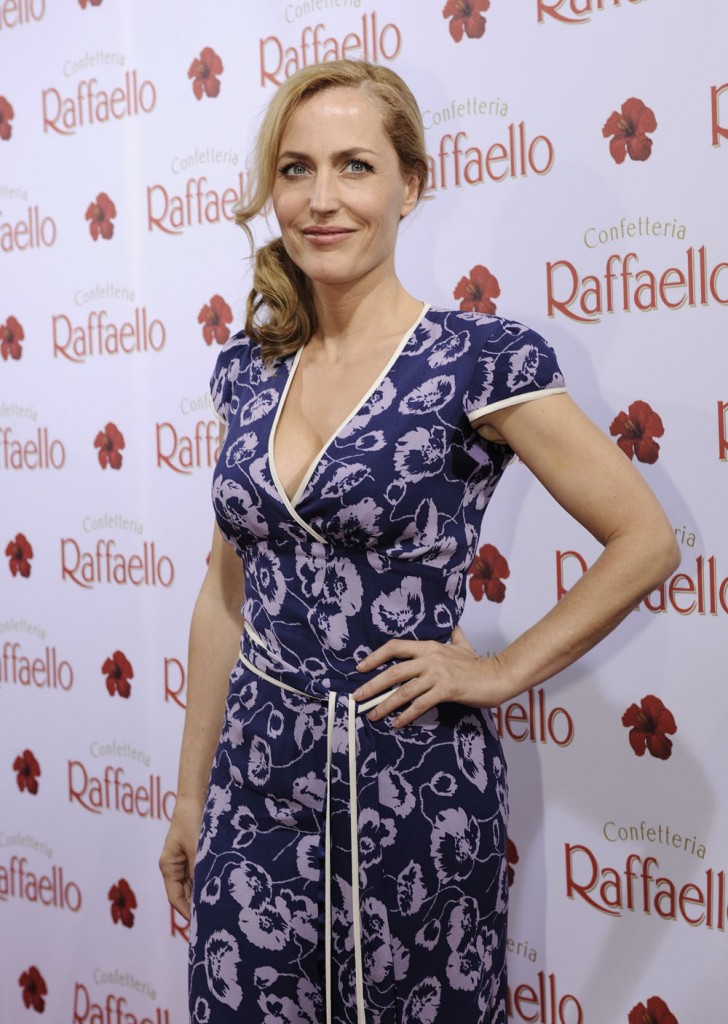 Back to 2008: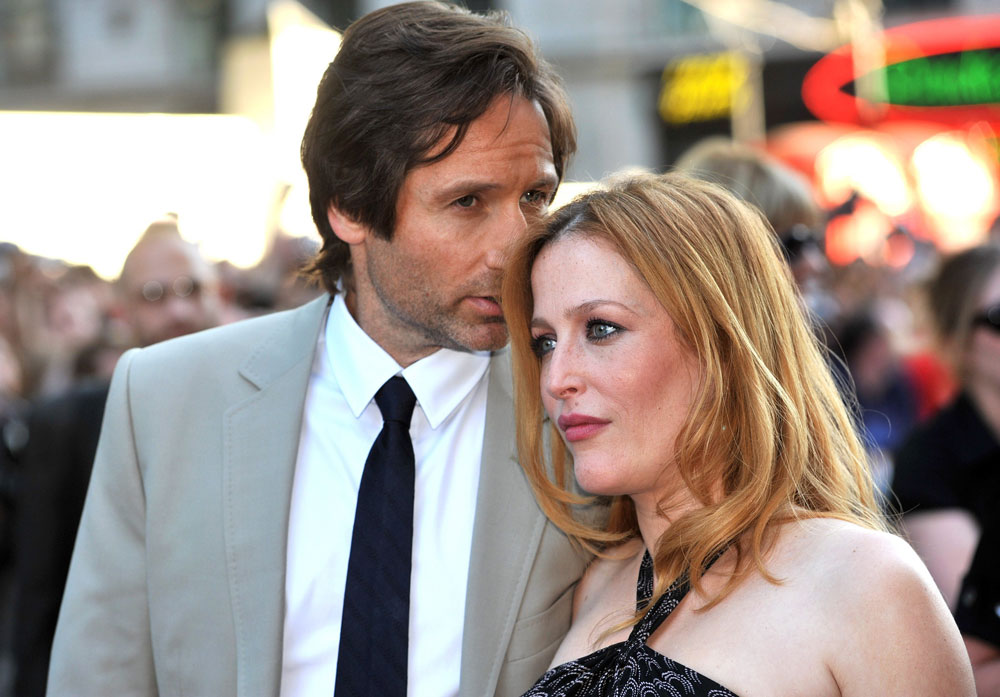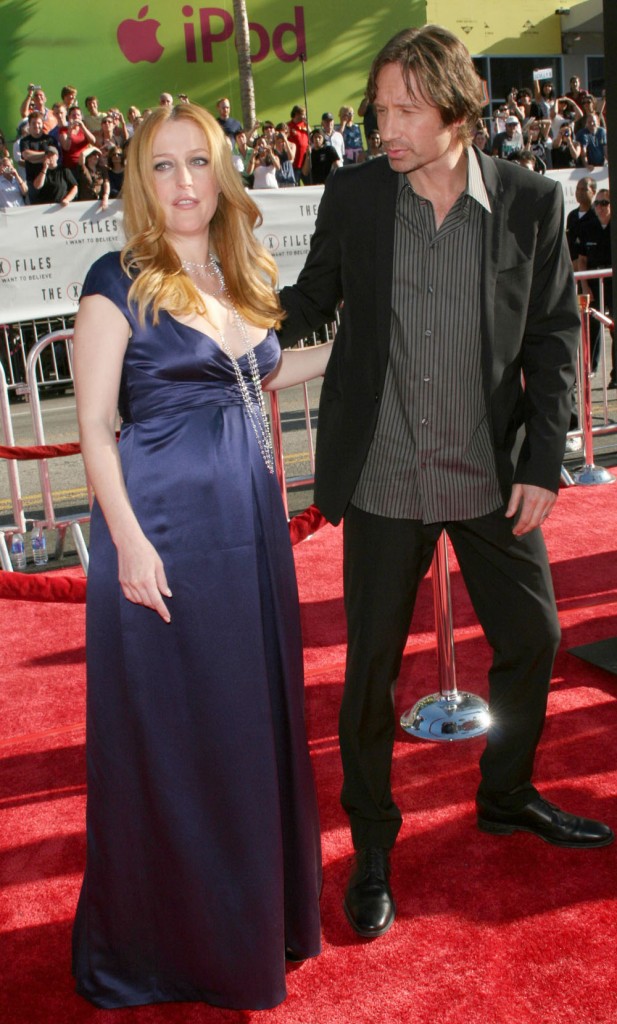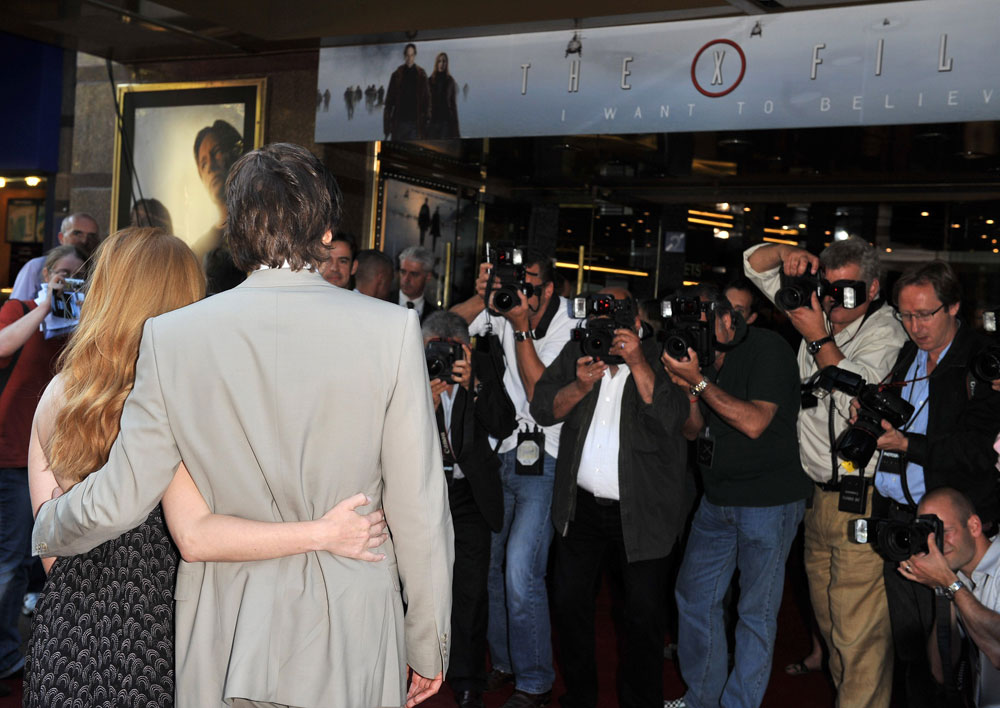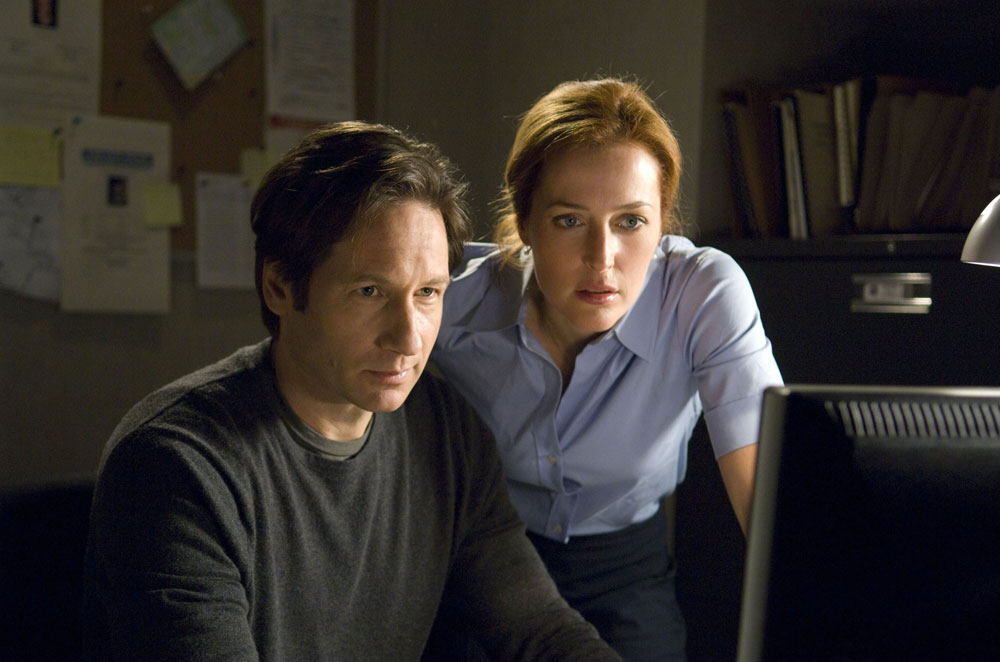 Photo credit: WENN.com and FameFlynet
Posted in
David Duchovny
,
Gillian Anderson
,
Hookups
,
Photos
,
X-Files