Kirstie Alley not looking her best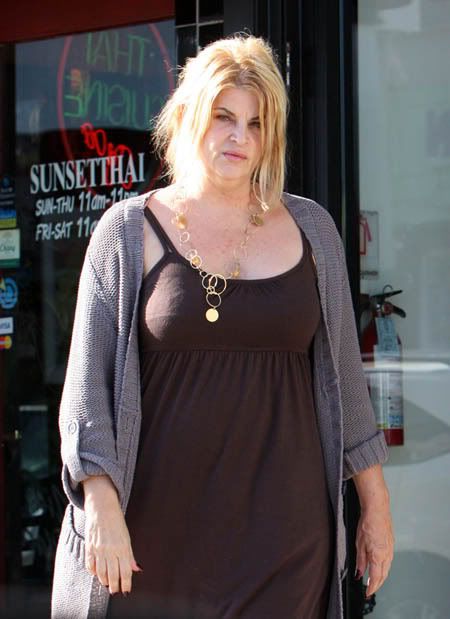 Every time Kirstie Alley is photographed, she inevitably makes it into one or more of the tabloids with some speculation over how much weight she's gained. So it makes sense that she would be annoyed with the paparazzo who scored these shots. The guy probably shouted a few unkind remarks to her as well.
It's not nice to point out weight gain on celebrities because it happens to the best of us and there are all sorts of valid emotional and medical reasons that can cause people to gain weight in a short period of time. It's kind of hard not to mention it in Alley's case, though.
Alley announced in February through a long ass statement in People that she was going to "start her own weight loss brand" in 2009. It's nearly the end of 2008 and she looks about the same size if not bigger. In February, 2007 she sported a remarkably slimmed-down figure but that didn't last for her and she was dropped as a Jenny Craig spokesperson a year later after gaining most of the weight back. it looks like she's eating away her pain. In June, 2008 the Enquirer had a cover story that she'd reached 240 pounds, but many of you thought that was incorrect and she weighed a bit more.
What I want to know is how can she put on makeup but leave her hair looking like that? Did she just not bother to blow it dry? Her nails look great though and I love that necklace. See, I said something nice. It's not all about weight and Alley might get some positive coverage if she would only smile once in a while. She seemed to be trying to poke fun at herself with her Fat Actress show in 2005, but that didn't last beyond a season and her dour mood crept back along with the weight.
Kirstie Alley is a longterm Scientologist who gave over $5 million to the cult.
Photos are of Alley outside a Thai restaurant with her daughter on 09/28/08. When she saw that she was being photographed she tried to go into a store next to the restaurant, only to find that it was closed. Credit: SLY/ Fame Pictures
Posted in
Kirstie Alley
,
Weight gain